2021 was a very favorable year for cryptocurrencies and NFTs, but 2022 proved to be a challenging year for the crypto market. The NFT hype in 2022 gradually faded away, Ethereum switched to PoS, Terra/Luna crashed, and then FTX crashed. However, something positive happened for the NFT market in 2022 as people stopped perceiving it as a tool for speculation. And also, despite the bear market in 2022, favorable trends were observed in the legal field of various countries to legalize the token market.
We can say that the NFT sector experienced a renaissance along with the growth of the investment attractiveness of the crypto market towards the end of 2022. The number of major participants is only growing, and more and more new brands are declaring their desire to release their own collections. Even the ardent critic of cryptocurrencies Donald Trump recently released a digital collection that instantly sold out for $4.5 million.
What was the trading volume on the NFT market in 2022?
Despite sales and prices declining for several months in 2022, the total number of NFTs sold in 2022 was almost the same as in 2021, according to DappRadar data. Ethereum-based NFTs have traded over $24 billion since the beginning of the year, up from $28 billion in 2021.
In 2022, the DappRadar analytics platform tracked approximately 101 million NFT trades, compared to approximately 58.6 million NFT trades in 2021. In other words, as the prices of cryptocurrencies and NFTs fell, more tokens traded at lower USD prices.
What were the trends and requests for NFTs in 2022?
As shown in the table below, the most frequently mentioned NFT phrases this year included "bayc", "boredapeyc", "bayc", "eth", "mayc", "floor", "twitter cryptopunks", "moonbirds", "nftcommunity ", etc.
Top #NFT mentions of 2022 including words, emojis, and hashtags. 🔥 pic.twitter.com/TUp9ZOLcKV

— LunarCrush (@LunarCrush) December 26, 2022
What were the events in 2022 in the NFT market?
The year was rich in both good and bad news. Let's recall the largest and most significant of them.
January
Sales growth continued as the momentum of 2021 carried over into the new year.
Justin Bieber bought Bored Ape #3001 for 500 ETH.
Largest marketplace OpenSea had a record month with $5 billion in transactions.
Meta announced the future integration of the NFT on Instagram and Facebook, new details appeared in October, namely, the launch in the US is revealed
MoonPay bought CryptoPunk #2681 for 900 ETH (about $3 million at the time).
February
CryptoPunk #5822 was sold for 8,000 ETH (about $23 million at the time of sale),
The war began in Ukraine. By March, users around the world had donated over $13 million, from ETH to BTC and USDT.
March
Yuga Labs announced the release of the Otherside metaverse and started selling tokens for it Otherdeed. The frenzied public interest and crazy sales led to a gas war and even to the collapse of Etherscan.
Artist XCOPY made $23M in just 10 minutes on his 'MAX PAIN' issue.
Released the ApeCoin token, which works as a governance token with the ApeCoin DAO and is a currency in the BAYC ecosystem. And this large-scale move confirms the fact that Gucci became the first boutique in the world to accept ApeCoin for payment.
April
Cool Cats announced the release of their own cat metaverse Cooltopia.
May
VeeCon 2022, a four-day conference led by Gary Vaynerchuk and his VeeFriends NFT collection, kicked off on May 19th. The event became one of the largest NFT and Web3 conferences ever.
The largest US cryptocurrency exchange by trading volume, Coinbase, has released its long-awaited NFT trading platform.
June
The largest global event in the industry – NFT NYC. The NFT event was a resounding success. Highlights included ApeFest parties, Deadfellaz Deadzone 13, and a World of Women party featuring Madonna.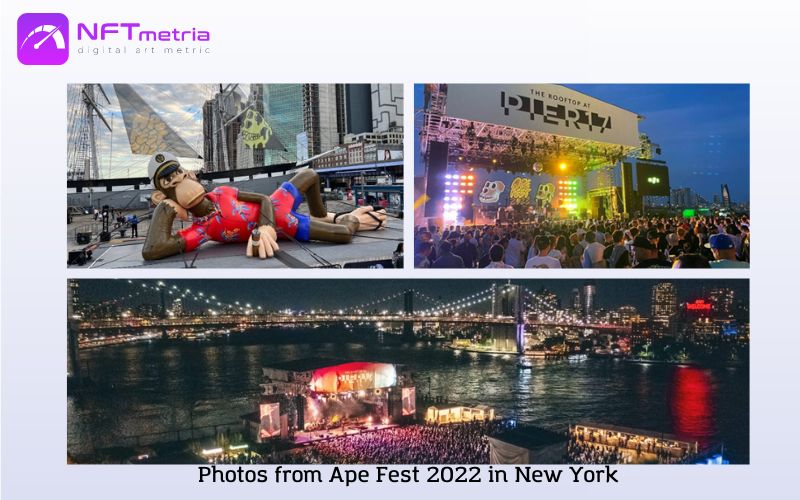 Former OpenSea product manager Nate Chastain arrested for insider trading. He, knowing in advance which collection would be curated by the marketplace, bought up tokens before the official release, and then resold them at a crazy markup.
July
General decline in NFT volumes and sales as a logical downturn in the industry cycle. Compared to volumes in May of $3.3 billion, these months volumes did not exceed $1 billion.
August
The number of ENS domain names has skyrocketed to two million. It took ENS five years to do this.
Reddit gave away free Polygon NFTs to its most loyal users. A month before, Collectible Avatars had been launched and also sold to those who didn't qualify for the giveaway. Reddit reported that over 3 million wallets have been opened by its users.
September
October
November
December
NFT Market Forecasts and Trends for 2023
Despite the end of the hype around digital art and GameFi, characteristic for 2021 and early 2022, the trends in the NFT industry are quite favorable. The NFT market is gradually becoming more mature. NFT is not necessarily digital art. You can also tokenize real art, transport, real estate – there are many ways to use NFT technology, just a few were ready to take legal risks. Now that the legal adoption of NFT has taken place, the technology may begin to gradually move beyond the virtual realm as well.
In other words, people began to look at the market as a whole, realizing that it was more than just cartoonish PFPs. Going forward, this means focusing on more interesting use cases like NFT ticketing, merch, charitable fundraising, and other useful real-life utilities. In addition, it will also likely result in users investing in artists and creators they truly believe in; rather than FOMO-fueled investments in virtually any outlandish "asset".
Also, in 2023, a boom and qualitative growth in the field of metaverses and P2E games is expected. In 2021-2022, the market, one might say, tested and understood the applicability, adaptability, and readiness of society for a new round in the development of Web3.