In addition to the news that Yuga Labs has acquired top WENEW Labs and their 10KTF collection, in today's NFT News Digest for the past week of November 12-18, you'll find:
Cool Cats, Animoca Brands and OneFootball Labs launch Cool Cats Football Club project,
Azuki to grace real Red Bull car at Abu Dhabi Formula 1 Championship.
Yuga Labs acquires top WENEW Labs and their 10-KTF collection
On November 14, Yuga Labs, a giant in the NFT market and the owner of all the most famous collections, announced the acquisition of the top studio WENEW Labs. In addition to the company itself, Yuga Labs now owns the successful 10KTF collection. But that's not all: Beeple, co-founder of WENEW will become a consultant for Yuga Labs, and co-founder and CEO of WENEW Michael Figge will now take over as chief content officer on the Yuga team. In addition to Figge, approximately 20 WENEW employees will move to Yuga, bringing Yuga to more than 100 full-time employees worldwide.
Today, we are excited to welcome the @wenewlabs and @10ktfshop team to the Yugaverse. Together we will push the boundaries of where the metaverse meets reality through creative storytelling and immersive experiences. Read more about the news here: https://t.co/6NPJgmzxck

— Yuga Labs (@yugalabs) November 14, 2022
What is WENEW Labs?
WENEW Labs is an NFT company co-founded by famous people in the field (Michael Figge, Beeple, Guy Osheary). WENEW is known for his numerous collaborations with brands such as Louis Vuitton, Gucci, Playboy and Wimbledon.
We built this company with storytelling at the forefront. Yuga's first class contribution to history, experience and community has been a huge source of inspiration. Their principles of openness inspired 10KTF to be compatible. We are excited to join Yuga and continue to create amazing things together in NFT and Web3. Said Michael Figge, co-founder and CEO of WENEW
To date, WENEW partners are already:
Time,
Universal Music Group,
Warner Music Group,
Endeavor Group,
Wasserman and so on.
Figge, Beeple, and the WENEW team found a way to create an engaging web3 serialized story, and tap into people's passion for their digital avatars and customization. Storytelling and world building are fundamental at Yuga and I'm thrilled that we can work with the WENEW creative team in a much more robust way. The possibilities of what we can do together are endless. Greg Solano, co-founder of Yuga Labs said.
What is the 10KTF NFT collection?
10KTF is already more than just a collection of approximately 24,000 NTFs created in September 2021. It is a fictional digital fashion store set in the "New Tokyo" universe, with the famous artisan Wagmi-san as its protagonist. Initially, 10KTF allows users to create derivatives of their existing NFTs from a variety of compatible NFT collections.
Each 10KTF accessory is a 1 of 1 digital collectible that will only be created once. It offers unique metaverse wearables for owners of specific NFT projects. Collectors could mint NFTs with high-top sneakers, backpacks, socks, and even Gucci collaborations.
But now 10KTF is an NFT browser game that allows players to supply heroes with crafted items and gear to complete missions. Missions reward players with APE coins, badges, materials, and free airdrops.
Welcome to the Otherside, Wagmi-san. pic.twitter.com/cNCNTqOd44

— Othersidemeta (@OthersideMeta) November 14, 2022
A couple more figures about the project today:
Total sales exceeded 12.5K ETH.
The minimum price for today is 0.269 ETH,
The most expensive token in the collection was sold on April 24, 2022 for 36.69 ETH ($107K).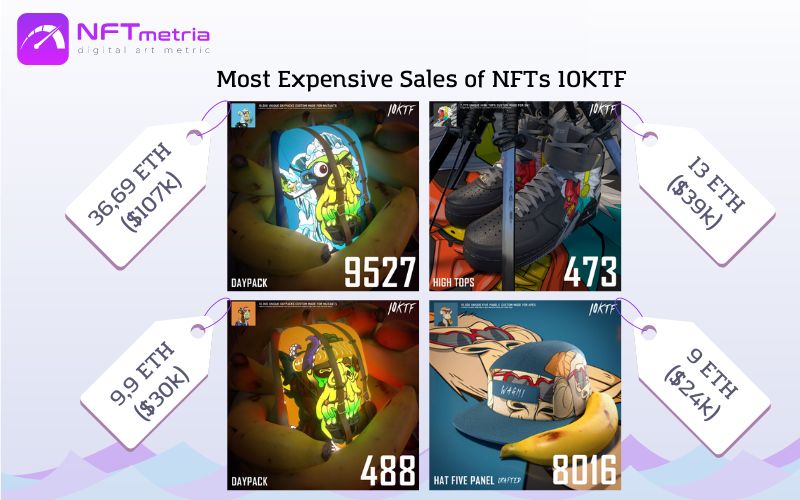 Which blue chip collections is 10KTF compatible with?
Technically, owners of the following well-known collections can mint accessories for their main tokens:
Bored Ape Kennel Club
CrypToadz by GREMPLIN
World of Women Galaxy
Gutter Cat Gang
0N1 Force
Nouns
Pudgy Penguin
Forgotten Runes Wizards Cult
Wolf Game
How has the acquisition by Yuga Labs affected the 10KTF collection?
As a result of the official news from Yuga Labs themselves, naturally, interest in the 10KTF collection has increased many times over.
What do we see in the context of 7-day analytics?
Floor price increased by 50% (from 0.17 ETH to 0.27 ETH),
The volume of sales increased by 300% (on November 13, sales were made for 6.6 ETH, and on November 14, after the announcement of the news, the total daily sales amounted to 168 ETH),
Number of sales increased by 200%.
The collection has previously attracted attention due to its integration with all the blue chips, but now its rank, value and prospects are increasing many times over.
In addition to the collection itself, such a takeover shows the determination of Yuga Labs to further capture the NFT market, increase its share of ownership not only through its collections, but also through the absorption of competitors and their projects.
Cool Cats, Animoca Brands and OneFootball Labs launch Cool Cats Football Club project
Cool Cats, Animoca Brands and OneFootball Labs recently announced the launch of their Cool Cats Football Club collection. The collection aims to bring the Cool Cats community and football fans around the world together to celebrate the world's biggest football event.
We are excited to partner with Animoca Brands and OneFootball Labs on the innovative Cool Cats FC Collection, which brings together Cool Cats and Cool Pets owners in celebration of the upcoming global football tournament. season. By being able to cheer on national teams and enjoy exciting IRL experiences and products, fans are getting a truly unique experience that money can't buy. Steven Teglas, CEO of Cool Cats speaks
What to do with Cool Cats Football Club?
Cool Cats FC owners will receive a Dynamic NFT representing one of the 32 countries participating in the tournament. As teams advance to the Round of 16, Quarter-Finals, Semi-Finals, Finals, and Ultimate Championship, the NFT Cool Cats FC associated with those teams will evolve to celebrate the team's progress.
As teams advance, NFT owners of those teams will also be able to claim a number of rewards including:
Tickets for the matches of the best teams in Serie A (Milan, Juventus and Napoli),
Signature and pre-owned jerseys,
OneFootball x Cool Cats special edition jerseys,
Cool Cats NFTs,
Cool Pets NFTs,
Cats FC NFTs,
OneFootball Digital Video Moments (DVM) Packs.
How to purchase Cool Cats Football Club?
A total of 4,000 NFTs in the collection.
The public mint started at 17:00 (EST) on November 17, 2022 and will end at 5:00 (EST) on November 19, 2022. Of the 4,000 NFTs, 1,900 are available to Cool Cats NFTs, Cool Pets NFTs, and winners of premint draws. price 0.069 ETH.
The rest of the tokens are available during the public mint for 0.1 ETH.
The last 500 NFTs will be set aside for community events and team drops. This edition is timed to coincide with some of the biggest events in the football calendar.
The volume of secondary sales in just a couple of days is already more than 55 ETH,
Floor price on secondary sales is 0.106 ETH,
You can buy Cool Cats Football Club on the official website https://ccfc.coolcatsnft.com or on the secondary market of OpenSea https://opensea.io/collection/cool-cats-fc .
Azuki to grace real Red Bull car at Abu Dhabi Formula 1 Championship
Oracle Red Bull Racing has partnered with Formula One racing team, Bybit and manufacturer of Azuki Chiru Labs to make Formula One history. One of the Azuki characters will be featured on Oracle Red Bull Racing race cars driven by Max Verstappen and Sergio Pérez during the 2022 Abu Dhabi Grand Prix.
We've scouted an electrifying next-level racing talent…

Introducing Lei the Lightning Azuki ⚡️ (#8494) pic.twitter.com/pl5mBo8gGi

— Oracle Red Bull Racing (@redbullracing) November 17, 2022
This is a historic event because it will be the first ever blue chip NFT on a Formula 1 racing car.
We are pleased to announce our partnership with Oracle Red Bull Racing and Bybit. Lei the Lightning Azuki captures the passion, precision and raw power of Oracle Red Bull Racing. We look forward to telling Ley's story throughout the 2023 F1 season. Said Zagabond, founder of Azuki.
Which Azuki will be featured on the sports car?
Lei the Lightning Azuki (#8494) is a brave and tenacious racer in the Azuki universe created by Steamboy, Azuki's lead artist. With unrivaled drive and determination, Lei Lightning Azuki was born to race – nothing can stop his dreams. In addition, Ley's bold and distinctive features symbolize the coming together of teams from different industries. And Ley's ability to use the power of lightning to gain strength and speed will be needed to make the ORBR team cross the finish line first.
Get your Lei of Lightning Azuki NFT in honor of Formula 1
To mark this time in F1 history, Steamboy created the Lei of Lightning Azuki NFT for the public. During the free mint on November 20, 8494 tokens will be released, of which 7700 NFTs will be available for pre-registration from November 17 to 19. The limited-edition collection will be available exclusively through the Bybit NFT marketplace and will be minted on the Tezos blockchain.
It is a unique work of art and a timeless moment. We look forward to exciting things from this unique collaboration with Lei the Lightning Azuki. She is such a fascinating character and a bridge connecting the racing, crypto and NFT communities. We know they will all jump at the chance to own a piece of history. Ben Zhou, co-founder and CEO of Bybit, said.