Despite the fact that Beeple's NFTs won't be the envy of other collectors, the demand for them is growing. People are willing to pay millions to buy Beeple's work. So, who is it?
Who is Beeple or Mike Winkelmann?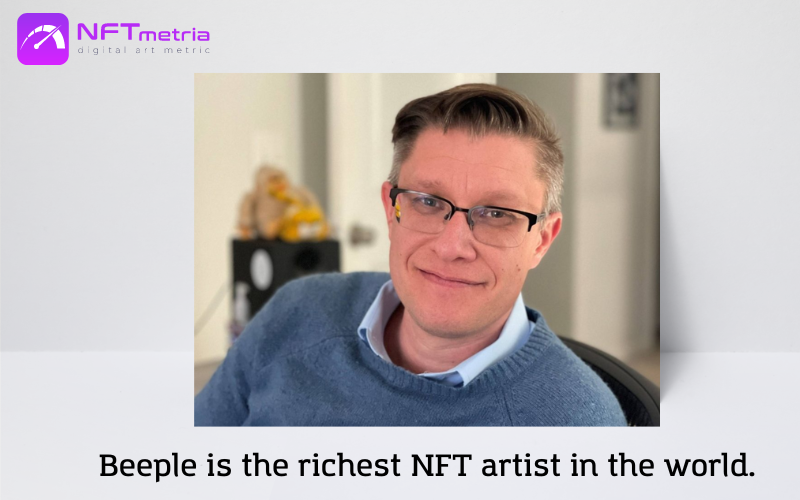 Mike Winkelmann or Beeple is an extraordinary person. This seemingly unremarkable man with glasses is more like an office worker than one of the most expensive NFT artists of our time. His NFT token EVERYDAYS: THE FIRST 5000 DAYS and its went under the hammer at Christie's for $69.35 million.
Beeple works in the style of digital art, where it raises important issues for society – politics, ecology, tolerance and others. His Instagram has 2,5 million followers and he collaborates with Louis Vuitton, while Winkelmann's paintings were broadcast during the Super Bowl. Despite such popularity, his work is not found in classical galleries or exhibitions. But at the same time, his Twitter account is in the TOP of the best NFT Twitter accounts according to the NFTMetria team.
But first things first.
Social activity
Biography
Mike Winkelmann is 40 years old, married to a school teacher, and has two children. Beeple grew up in the family of an electrician and nursing home worker. By education, Mike is a programmer, and at first he developed design for websites. This is an ordinary family, of which there are millions in the United States. But his success story strikingly sets him apart from everyone else.
Beeple success story
The idea to create paintings came to him after meeting a British artist who painted one study every day. Winkelmann decided to try this approach using Cinema 4D. Collage «Everydays: the first 5000 days», which Mike Winkelmann started 14 years ago, are drawings that were drawn every day: they were drawn on a computer every day since 2007 and then no one, let alone Beeple, knew about NFT, about blockchain. And even more so, no one yet knew who is Beeple.
Beeple products are very popular. In 2018 fashion house Louis Vuitton offered him cooperation. Together they created a collection of clothes with prints of Winckelmann paintings, the presentation of which took place at the Louvre.
Despite such success and the cost of the work, he himself never planned to sell his creations. Only in 2020 NFT-platform Nifty Gateway contacted Mike and offered to sell NFT's of his work. The first 3 paintings exhibited at the electronic auction simply collapsed the site – the site was not ready for so many people who wanted to buy the Beeple creation.
NFT – works Beeple
Mike Winkelmann has not always been such an expensive artist. Previously, his paintings were sold from hundreds of dollars apiece. After all, then no one could answer the question, who is Beeple.
In December 2020, the artist earned $582,000 for Crossroad. At the end of February 2021, an NFT with the image of Donald Trump was resold for $6.6 million. And the idea of the work is very interesting: if Trump had won the presidential election, then the image would have crowned new president walking through the flames. But, as you know, Biden won the election then. Therefore, in the animated image, Trump is lying in a pile of garbage.
Further in 2021, Beeple auctioned NFT, which features a collage of 5,000 paintings drawn by the artist. Bidding was carried out by auction house Christie's and started from $100. As a result of the auction, NFT was sold for a record $63.35 million. Collage «Everydays: The First 5000 Days» has become the most expensive NFT token item ever sold, and Winkelmann himself has been named one of the most expensive living artists. The buyer turned out to be Vignesh Sundaresan, hiding under the pseudonym Metakovan.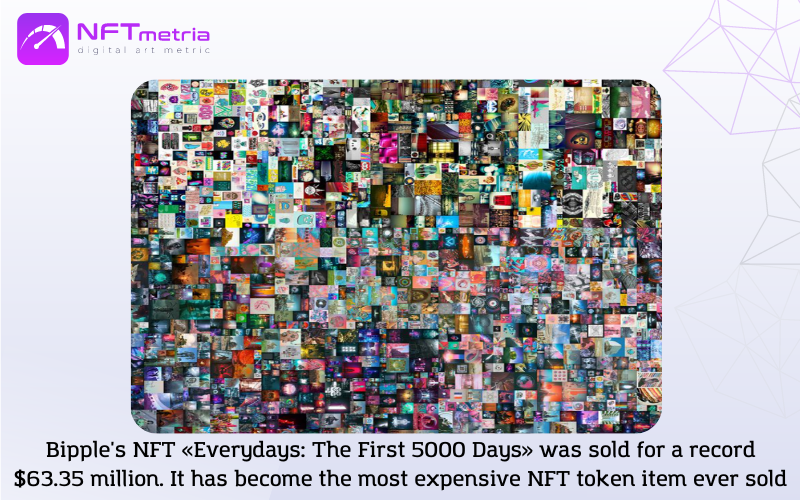 The popularization of NFT had a positive effect on the artist's income: last year he sold several of his works for tens of thousands of dollars, one for $3.5 million. Buyers also managed to earn money: the buyer of a series of digital paintings for $66,666 resold it four months later for $6 million.
Also, in 2021 NFT «Human One» was sold for $29 million, just think about those numbers!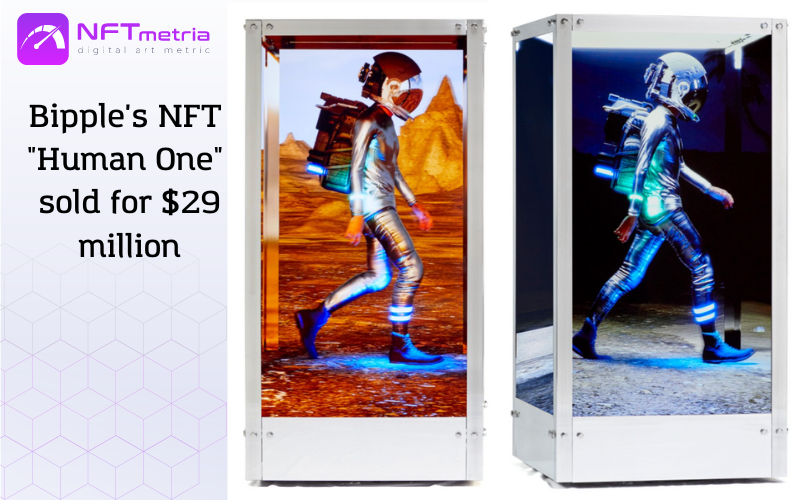 All of Beeple's work on his Instagram.
Where can I buy NFT from Beeple?
The author is hosted on the NFT marketplaces Nifty Gateway  and OpenSea. And this is not surprising, because NFT artists with well-known names in the community are published on these sites. By the way, we also did a review of the NFT marketplace Nifty Gateway and OpenSea, you can read and understand the features of the sites, and why Beeple is located there.
Our thoughts
Well? After such a review, you wanted to figure out how to sell my works in the form of NFT? And note that the artist actively creates his own community and actively maintains social networks. It was about such ways to become a popular NFT artist that we talked about in another article.