Last year, we witnessed a crazy rise in NFT projects, and in 2022 this trend has only intensified. Today, the total volume of the NFT market, according to analysts, is $ 22-26 billion, but over the next 10 years it can grow 10 times.
With a market crowded with different collections, it can be difficult to choose the right one. Therefore, we have compiled a list of the 10 best NFT collections of all time for you. In the article we will talk about what is in these collections, who are their creators and how much the lots cost. And also – how to buy them, and where you can follow the news of the collections, so as not to miss anything new.
All of them are located on the Ethereum blockchain. So far, this is the most popular platform for launching them. You can buy or sell the listed tokens using the OpenSea marketplace.
What is an NFT collection?
A collection is understood as a set of non-fungible tokens related by a common theme or direction. In addition, a collection can represent several separate parts of a single object.
1. The CryptoPunks
Creators: Larva Labs
Sales volume: 921 614.18 ETH
Assets: 9 999
Owners: 3 493
Price
In 2017, when the collection was created, punks were given away free, you only had to pay for the transaction. And today they set a record when Punk #5822 was bought 8000 ETH, which at the time of the transaction was equivalent to $23.7 million! At the moment, cryptopunks on sale are single and insanely expensive cases.
Uniqueness
Cryptopunks can be safely considered the progenitors of the NFT industry – they invented the concept of PFP (profile photo) as a collectible digital item. It is currently the most expensive NFT collection in history. Thanks to this achievement, The Cryptopunks #1 in the ranking of the best NFT collections. The collection consists of 9999 8-bit images of eccentric characters. All cryptopunks have characteristics – glasses, hairstyles, skin color, accessories, etc. No two punks are the same. Parameters differ in rarity. The pictures were created on the basis of generative art – a unique character was generated from a set of attributes, among which there are people, monkeys, aliens and even zombies. They have been featured in places such as The New York Times, Christie's of London, Art|Basel Miami and PBS NewsHour.
2. Bored Ape Yacht Club (BAYC)
Creators: Yuga Labs
Sales volume: 611 145.63 ETH
Assets: 10 000
Owners: 358
Price
The initial cost of each NFT from the Bored Monkeys collection was only 0.08 ETH ($370). Today, some of them are valued in the millions of dollars. November 2021 alone brought Yuga Labs $22 million in royalties from token resales on the secondary market. The minimum value for today is 86 Ethereum
Uniqueness
Who hasn't heard of bored monkeys yet? BAYC is one of the most successful collections on the NFT market, and even celebrities such as Jimmy Fallon, Post Malone and Eminem have managed to get their own monkey.
An important role is played by the social component, which provides a number of certain privileges to token holders, including:
access to an exclusive Discord server with over 30,000 members,
access to the bathroom (The Bathroom), which is a virtual board on which each monkey owner can draw,
ownership and commercial use rights, which allows the token holder to receive money for using his image, as well as release products based on it,
participation in private online and offline events,
exclusive access to other NFT collections of the company and free airdrop of their tokens.
BAYS owners have another key advantage: thanks to a special serum, they turn their monkeys into mutants, which are presented in the Mutant Ape Yacht Club collection.
This is the first NFT collection that gives owners the real statuses of the good that they control in the real world. Thanks to this, BAYS deservedly at the top of the list of the best NFT collections.
3. Mutant Ape Yacht Club (MAYC)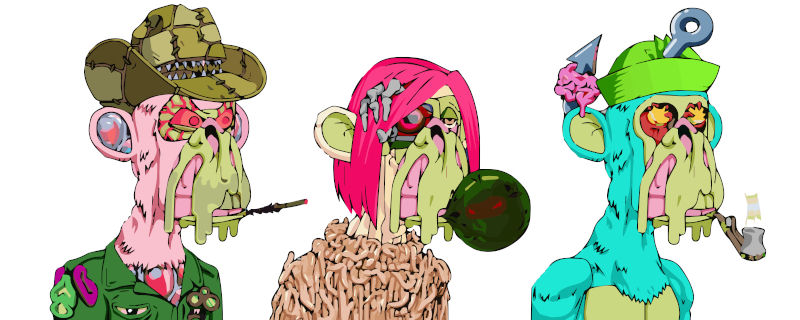 Creators: Yuga Labs
Sales volume: 418 399.11 ETH
Assets: 19422
Owners: 13146
Price
The starting price of MAYC was 3 ETH, and all MAYC tokens were sold out in August 2021 in an hour and brought the project team $96 million. The minimum cost today is 17.85 Ethereum.
Uniqueness
Mutant Ape Yacht Club (MAYC) is Yuga Labs' follow-up to BAYC and consists of zombie-like mutant monkeys, each with a unique set of physical imperfections such as rotting, growths, or blurry snouts.
MAYC monkey owners can create them with 3 different sera: M1, M2 and M3. Serum holders received NFT wallets. With the M3, you can create a monkey that will have rarer features than the original. And M2 and M1 create monkeys with the same qualities as before.
4. Otherdeed for Otherside
Creators: Yuga Labs
Sales volume: 300 220.61 ETH
Assets: 100 000
Owners: 34 373
Price
Minimum cost – 2.22 Ethereum, average cost 8.3 Ethereum, the maximum lot is currently sold 10000 Ethereum.
Uniqueness
Otherside is a 3D metaverse game world that brings together various NFT projects, including Apes, Cryptopunks, Meebits, Cool Cats, and more.
Otherdeed is the key to getting land in Otherside. Each has a unique mixture of environment and sediment – some with resources, some home to powerful artifacts. And on very few Koda roams.
Yuga Labs, creator of Bored Ape, is working on this experience with NFT game publisher Animoca Brands.
5. Axie Infinity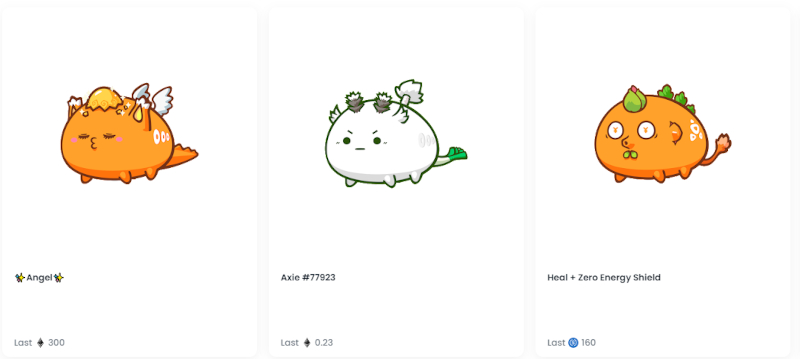 Creators: Sky Mavis
Sales volume: 1 316 945.4 ETH
Assets: 283 348
Owners: 45 369
Price
On sale are both the Axies themselves and the lands in the metaverse itself. For today, the minimum price is 0.13 ETH, the maximum price is 300 ETH. In the entire history of the game, a "rare" in-game piece of land has been sold for 550 ETH ($2.3 million).
Uniqueness
Axie Infinity was established in 2018 and is currently leading the gaming sector as a pioneer of the P2E movement. And since the launch of the staking program, which allows users to own Axie Infinity Shards (AXS) governance tokens, the trading game has become increasingly attractive to players.
Axie Infinity is not just a farming game, but a whole world with the sale of in-game elements in the NFT format: earth, trees, logs and cute Axies. Axies are creatures used to duel other players, fight enemies, and complete daily quests. These NFTs can be bred (minted), bought and sold, and are valued for their rarity and in-game advantages.
This NFT game is the undisputed market leader. When it appeared, tens of thousands of players got the opportunity to earn very good money while playing. And thanks to this breakthrough in the NFT community, everyone thinks that Axie Infinity is one of the best NFT collections.
6. Art Blocks Curated

Creators: Art Blocks Inc.
Sales volume: 255 076.34 ETH
Assets: 57 100
Owners: 11 737
Price
Depending on the exclusivity for different collections of Art Blocks Curated, the cost is completely different. The minimum price is 0.2 Ethereum, the maximum price is 5000 Ethereum.
Uniqueness
Art Block is a platform that allows artists to create sets of generative art. The curatorial council selects the collections of Art Blocks manually. Although the authors also offer artists a platform with less stringent standards for inclusion in curated collections. Popular Art Blocks Curated include Fidenzas, Ringers and Chromie Squiggles among others.
Launched in June 2021, Hobbs' Fidenza line has quickly become one of the most popular Art Blocks collections. Fidenza consists of 999 pieces, each of which is based on an algorithm that generates a distinctive part when minted. Each piece is different, but they are all marked with patterns of colorful rectangles and squares that fill the stage. Fidenza #313 by artist Tyler Hobbs sold for 1,000 Ethereum, or just over $3.3 million at the time of purchase.
7. Azuki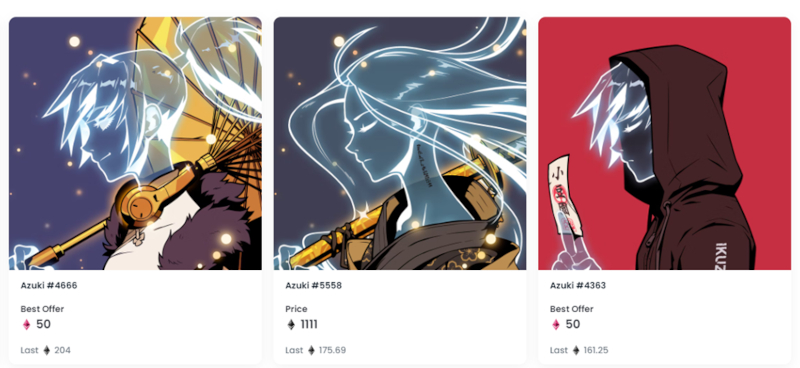 Creators: TeamAzuki
Sales volume: 249 181.16 ETH
Assets: 10 000
Owners: 5 154
Price
Azuki #9605 was previously sold for a record 420.7 ETH ($1.4 million). For today, the minimum price for sale is 9.75 ETH, the maximum is 1888 ETH.
Uniqueness
This is the first anime project to officially enter the metaverse. January 12, 2022. The first batch of 8,700 Azuki NFTs starting at $3,400 sold out in four minutes. It was one of the fastest NFT selloffs in history, with a total valuation of $29 million.
Azuki NFT owners get membership access to a unique metaverse called the Garden, as well as exclusive streetwear collaborations, NFT drops, live events and more. The Garden is a place in the Metaverse where developers, artists, and web3 masters can connect and actively participate in the evolution of the Metaverse ecosystem. Azuki will also allow token holders to try out a new class of media that has not yet been explored.
8. Decentraland
Creators: Decentraland Foundation
Sales volume: 237 432.75 ETH
Assets: 97 581
Owners: 7 349
Price
Record sale – land consisting of 116 lots in a trendy neighborhood was sold for $2,420,000. Today, the minimum price for sale is 2.79 ETH for a piece of land.
Uniqueness
Here, users trade digital plots, build real estate, create game and art projects, and simply have fun wandering around the territory. Today, Decentraland is the most popular multiplayer role-playing metaverse. In this case, the players exercise direct control over the rules of the online world. The DAO allows token holders to directly vote on in-game and organizational policies. This mechanism extends to everything from the types of items allowed to investments in the DAO treasury. The platform allows players to buy plots of land using their own MANA crypto token.
In recent months, this metaverse has attracted brands such as Coca-Cola, Sotheby's, NASA and Playboy, as well as many celebrities, not to mention dozens of the largest crypto companies and NFT artists. Due to its prospects and the presence of such large players, it rightfully occupies a line in ranking of the best NFT collections.
9. CLONE X – X TAKASHI MURAKAMI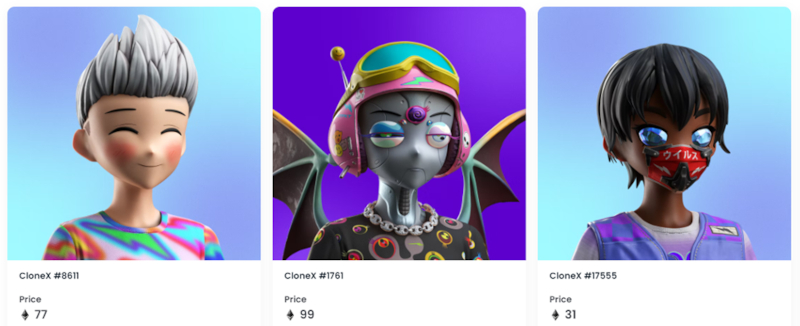 Creators: RTFKT
Sales volume: 213 214.98 ETH
Assets: 19 310
Owners: 9 470
Price
Today on sale the minimum price is 10.15 ETH, the maximum is 9 132 ETH.
Uniqueness
Avatars are part of the overall RTFKT collection. And buyers can use their assets in future NFT-based games, AR filters, Zoom gatherings, and Metaverse platforms. RTFKT also promises to release future Clone X wearables, IRL items, and member-only features.
Takashi Murakami is a leading Japanese contemporary artist, prior to CloneX, he has worked with Vogue, Kanye West, Louis Vuitton and Pharrell Williams.
10. The Sandbox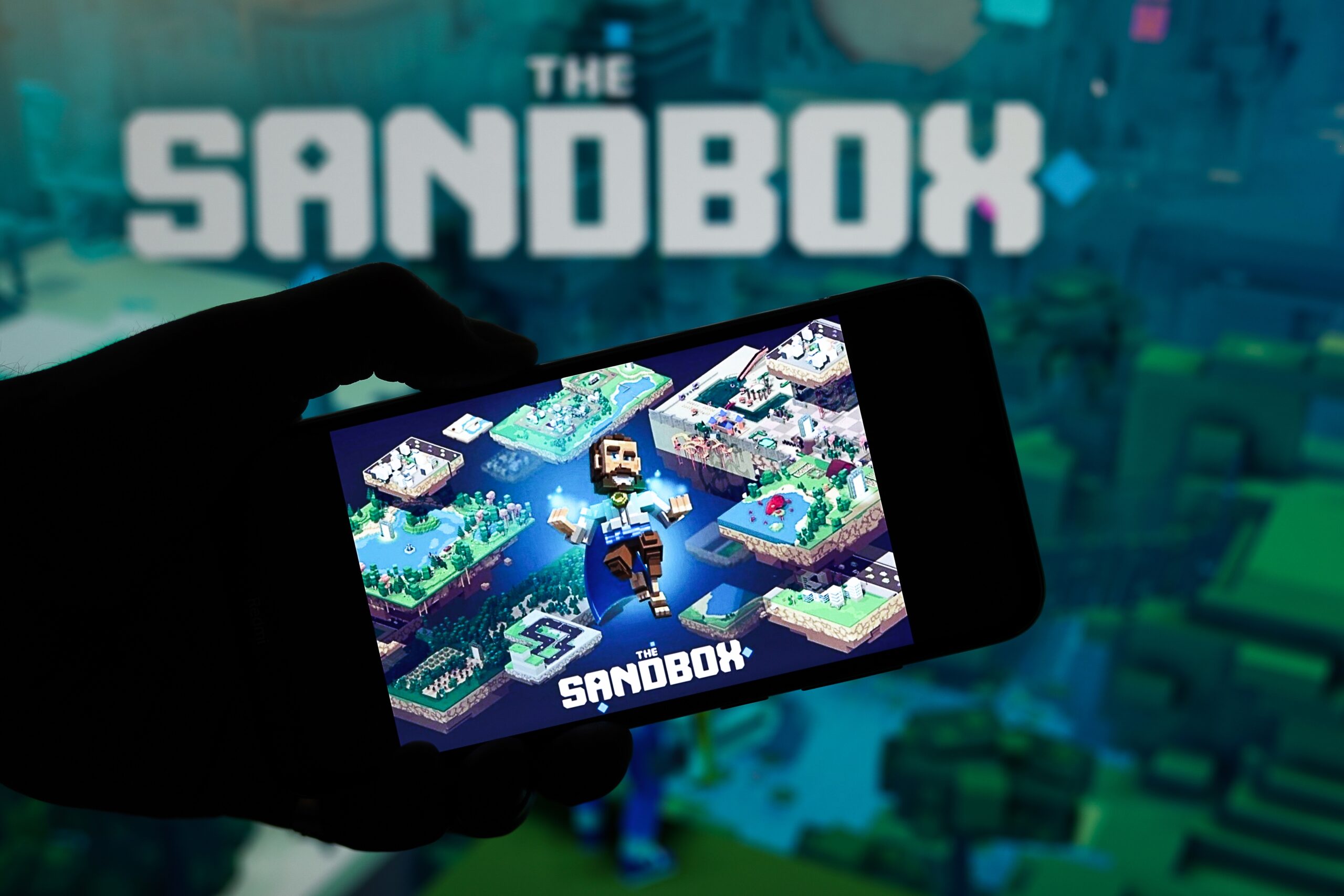 Creators: Arthur Madrid, Pixowl CEO
Sales volume: 159 988.81 ETH
Assets: 142 142
Owners: 21 302
Price
Record price – $ 650,000 for a four-story superyacht Metaflower with a DJ cabin, two landing pads for helicopters, a dance floor, a hot tub.
Today, the minimum price for sale is 1.73 ETH.
Uniqueness
It is a virtual ecosystem with its own metaverse where players can construct worlds and characters, develop adventures and stories, and create digital assets that can be traded with other players. The Sandbox is a map consisting of 166,464 lands. Land owners can run contests and events, stake their own SAND token to earn and customize assets, monetize assets and experiences, vote to rule the metaverse, play games you or others create, and more.
Celebrities and brands have backed the space, including Snoop Dogg, Adidas, Paris Hilton, The Walking Dead, Gucci, and more.
Conclusion
All the listed NFT collections are the best of their kind according to different criteria: uniqueness, demand, status, prospects, the possibility of good earnings, or just an exciting game. And this explains both their popularity and their value. But we are sure that there are collections ahead of us that can also reach the TOP NFT collections.