Unlike any other investment, including cryptocurrencies, the value of NFT for investment is extremely difficult to objectively assess. And all because those methods that work on stock exchanges, stocks, options and other investments are simply not suitable for assessing the investment attractiveness of the NFT. Why? First, the NFT market is still in its infancy, and the rules of the game here are changing fairly quickly. You should always be on the crest of the wave of hype and trends. Secondly, non-fungible tokens are based on creative projects. The arts are hard to fit into a statistical framework.
Therefore, every time the big question is how to choose NFT for investment. Specifically to resolve this issue, we will share our thoughts and answer this question for you, taking into account our experience, knowledge and observations of the market. And if you want to acquire fundamental knowledge, to be a confident player in the NFT market, then we invite you to our author's course. It is there that we give knowledge that you are unlikely to find freely available on the Internet. And remember – the one who owns the information – owns the world. Let's go!
How to choose NFT project for investment?
In September 2021, Sotheby's auctioned a collection of 107 different types of monkeys called "101 Bored Monkeys Yacht Club" and sold it a crazy price of $24 million. What does Bored Ape Yacht Club incredibly valuable? And this is a great example of what you should ideally look for when looking an NFT project that is about to explode. Let's try to deal with these.
When choosing an NFT project for investment, we, the NFTMetria team, have developed objective criteria by which we evaluate any project. In this article, we will analyze in detail with examples how you can easily and professionally look at each potential investment in your portfolio according to the criteria.
Assessment criteria an NFT project for investment:
Official site,
Team/author project,
Project roadmap,
Community size,
Rarity,
Utility,
Materiality,
Idea,
Promotion,
Liquidity,
Ownership history and prices,
Basic blockchain.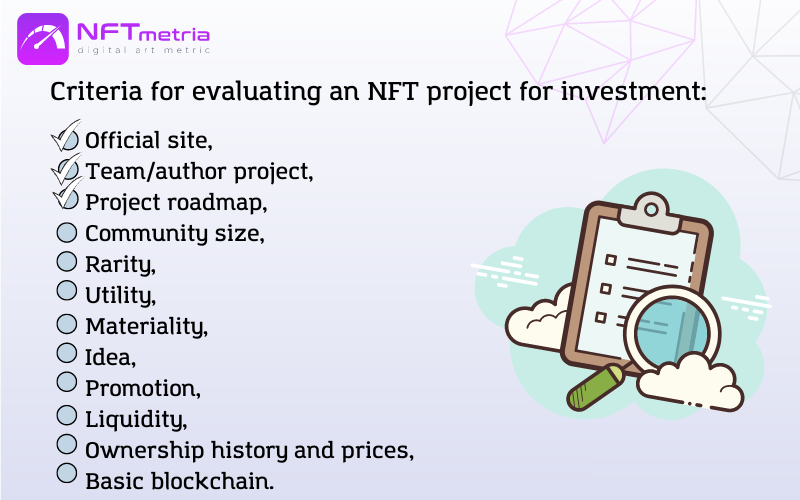 These are the qualities we look to every time we study an NFT investment project. These criteria are fundamental, which will help you turn off the subjective emotionality and approach the issue of investing objectively.
Official site
The website of the project is not only a beautiful business card and, possibly, a platform for sale. You, as an investor, first of all, must evaluate it in terms of content. A professional team creates an official website that lists all social networks, a roadmap, information about the team and its successful projects, all the benefits of the collection you are considering.
Almost all the criteria that we describe in this article must be displayed on the official website of the creators.
Team/project author
Project creators do not always speak openly about themselves on the NFT market. For example, the creators of Bored Ape Yacht Club or Murat Pak are still silent when it comes to their true identity. For some, this is a security measure, but to someone it is part of their own brand.
But in any case, you can see what role they play in the development of the project and what their different work experience is. One of the most relevant examples is VeeFriends, an NFT project founded and led by world-famous entrepreneur Gary Vaynerchuk, also known as Gary Vee. Being able to associate a project with a well-known founder (or group of founders) naturally increases the credibility of the project itself and gives NFT holders of that collection confidence in their investment. In addition, if the founders of the project already have a large social media user base, as in the example of Gary Vee, the credibility of the NFT project can increase dramatically.
So, if possible, you need to look at the founding team or the sole author to decide if they have the energy and drive to develop the project, and if there is a high probability that they will deliver on their promises.
Project Roadmap
The most iconic roadmap at the moment is the Bored Apes Yacht Clubs Roadmap. And their idea has inspired many other projects to get more and more creative with their future updates.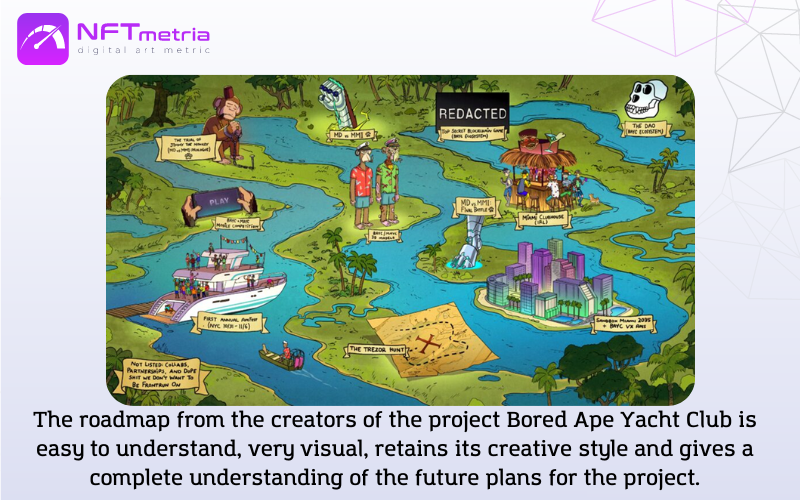 Reading a project's roadmap is critical to trying to determine its long-term growth and visualize upcoming events.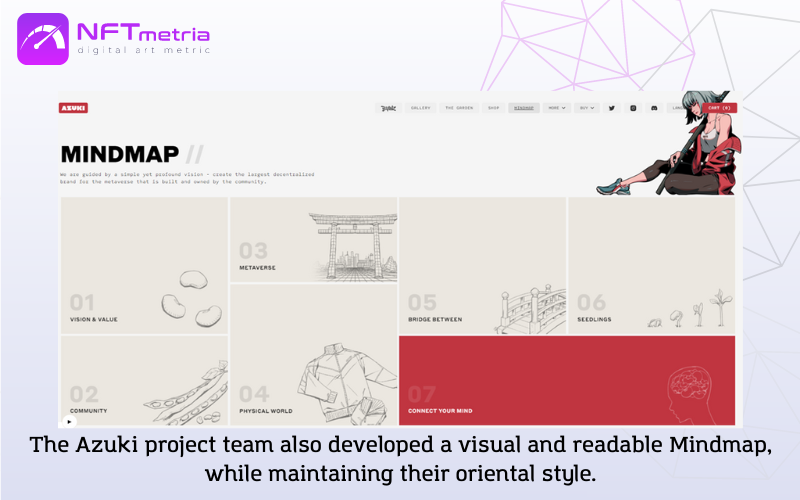 So far, the largest parabolic growth has been observed in projects that have brought some added value to their NFT holders continuously, from the very first day.
What are these additional values?
These can be free distributions of NFT directly in the wallets of holders,
distribution of ERC-20 tokens,
NFT projects for passive income,
"membership benefits",
early access to other NFT launches,
exclusive access to some launchpads,
even exclusive access to their outlets.
These are perhaps some of the more "desirable" features to look for in a project roadmap. Moreover, in this document, all plans must be indicated with specific deadlines. But until the development team proves that they deliver what they promise, the roadmap is nothing more than just a promise.
Always be careful, especially if the project in question is just invented and is in the early stages of its development.
Community Size
The most effective way to better understand how strong the project community is is to actively keep in touch with the official channels of the project, especially through social networks such as Twitter, Telegram, Instagram or more likely Discord.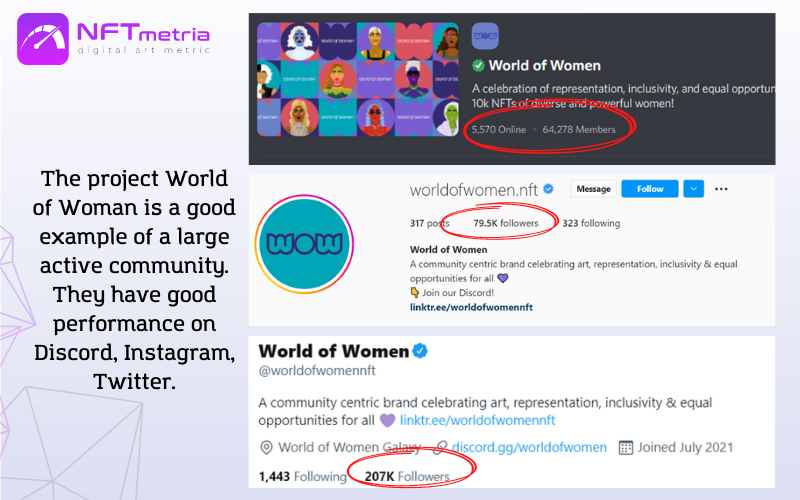 When you first come across a collection on Opensea or any other NFT marketplace, the most natural step forward is to check your Twitter and Discord follower and engagement levels.
What for? And in order to make the NFT project effective from an investment point of view, a huge, interested and active social community will become a market where NFTs themselves will be sold. In addition, due to their inherent quality of being a work of art, NFTs are still a social subject and should primarily thrive on social media attention.
As a result, if you see any project's Twitter account growing inexorably over the course of a few weeks, chances are that that particular project will make a big difference, and likely the demand to NFTs within that one will only grow.
Rarity
This factor shows how rare and difficult a particular NFT can be for investment. We consider the rarity criterion from 3 sides:
The rarity may depend on the number of copies produced, as well as on who is the author of the work of art. The fewer copies, the higher the cost of the submitted work. Also, the cost will be higher to the work that is made by a well-known representative of the art field in wide circles.
It is desirable that the collection contains as many rare images as possible. And the more properties the characters have, the better. Unfortunately, more than 80 percent of the collections do not have rare images or there are very few of them. Information about the rarity must be indicated on the platform website! Positive signal – the collection is created in 3D. This may suggest that NFTs can be used as avatars in the Metaverse, in creative contexts. Also, the level of detail of the images should be high enough.
Applicable to games – how rare an action gives NFT. People are attracted to these NFTs because of their intrinsic value as well as on-chain proof of ownership of such an asset. This gives a sense of exclusivity and determines the premium value of the NFT.
Utility
This implies the possibility of using tokens in various games, sporting events and other significant events. Of course, a work of art is valued for its appearance, but the ability to use an object greatly increases its value. This is the parameter, if the token is filled with it, it will put pressure in the direction of increasing the value of the asset. Such content, moreover, creates a digital identity that can personalize not only the asset itself, but also the author who created it.
In a virtual environment, binding is carried out to lands, islands, cities, real estate, transport, skills, weapons, elements of the metaverse, digital civilizations.
A digital token can be a tangible structure that is valuable in the real world. For example, a physical painting, a security, a precious metal, an apartment, a house, a car, a ticket to a sports competition or VIP access to an event. There are no restrictions. What is valuable is worthy of being a record in the blockchain.
At the same time, the more popular the "material" component, the more valuable the NFT itself. The non-interchangeable world is still in its infancy, and as it evolves, new innovative use cases will emerge.
Materiality
Utility and materiality are in some ways twin brothers, but materiality is more of a clarifying factor. Concretizing moment, what they see, feel, feel.
This term refers to the binding of NFT to any objects from the real world. If the tokens are tied to rare paintings or other works of art, their value will be much higher. The more valuable the item from real life, the higher the value of the token that is tied to it.
NFT will penetrate into all spheres of life. NFT can serve as a pass to various events, and this opportunity is extended indefinitely. A brilliant variant of the NFT community is the Bored Ape Yacht Club. We will not be surprised if luxurious restaurants appear soon, where the entrance will be only with the appropriate "pass".
Idea
The very idea and philosophy of the project is no less important, but more subjective criterion. For some, digitizing a famous music album is the # 1 idea. For some, issuing tokens to upgrade their heroes in the game will be super relevant. And for some, a token picture for an avatar on social networks will go with a bang. But we are now talking about specifics. And you consider NFT to investment in terms of the scalability of the idea. You need to find the project, the idea of which will be positively and actively accepted or already accepted by the audience. And the larger the audience, the better.
Promotion
What does the team do to promote their project? Carefully analyze their actions. Lots of options:
attract influencers,
Collaboration with experts in the field, and so on.
This is one of the key criteria that will ensure sales and investment attractiveness of your NFTs.
Liquidity
It is also important for you as an investor to check the supply and demand ratio within the collection. Let's explain with an example: if a total of 10,000 NFTs are issued, and they are in the hands of 5,000 owners, then we get two NFTs per holder. And we consider it a healthy balance and proportion.
But if, for example, 10,000 NFTs belong to 500 owners, then we get 20 NFTs per holder. And this is a strong imbalance between supply and demand. In this case, if several large holders simultaneously put up NFT to sale, they will flood the market, the price will fall, which will lead to a drop in liquidity.
In addition to the above analysis, be sure to look at the number of transactions per day/week/month. If NFTs do not get stuck in wallets to a long time, then this is also a good indicator of liquidity.
If you, as an investor, find a project with promising demand and low supply, then you will provide your investment with at least a stable growing base value.
Ownership history and prices
The beauty of the blockchain is that all the information in it is open. That is, you can easily see when the NFT mint was, when, to whom and for what price the token was sold. Thus, firstly, you can track the dynamics of pricing. And secondly, if there was a "whale" among the owners, then this already says a lot.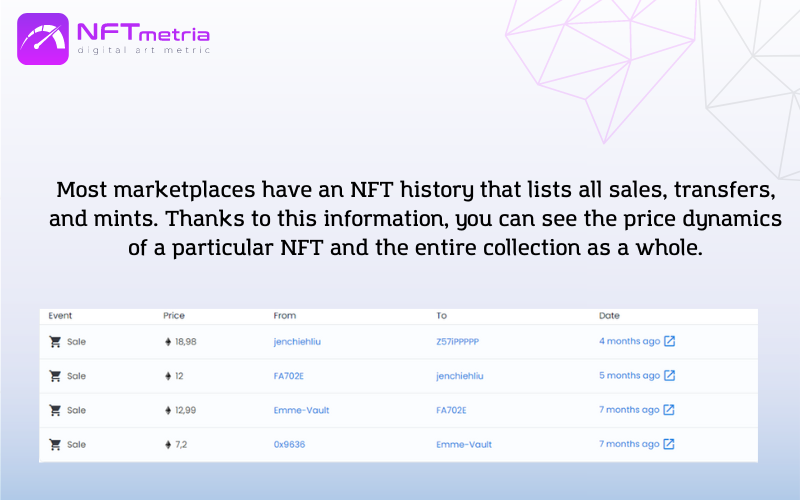 The identity of the issuer and previous owners of an NFT affects its value. Tokens created by prominent individuals or entities benefit from the high value of ownership history. You can improve the NFT value proposition by working in tandem with people or businesses with high brand value to release the NFT.
Basic blockchain
Blockchain on which the token is created is of great importance. Users pay a higher price for Ethereum-based NFTs. This network and the ERC-721 token standard are the basis to most NFTs currently on offer.
However, the choice of blockchain is not a burning issue for game assets (which use the faster blockchain) or NFT collections like NBA Top Shot (which uses its own blockchain Flow).
Apart from this, the question of the underlying blockchain is important because when you make a transaction, you will need to pay for the transaction. On different blockchains, the cost of commissions is different. And this point should also be taken into account when assessing NFT for investments.
Our opinion
NFTs are an asset class with endless possibilities, so we can safely assume that their versatility will steadily increase, with lucrative opportunities available in various sub-categories. The number of NFT use cases is growing at a rapid pace.
Remember that not all that glitters is gold. So be patient and take into account the whole range of criteria that we described in the article.
Valuing non-fungible tokens can be tricky, but the tips below should help you out in this situation. They are basic in order to have at least a basis for a preliminary assessment. To buy an NFT for investment that will be in demand and valuable, you will have to constantly study this market, and understand that the risk of acquiring a useless token is very high. In our author's course, we will teach you how to find the best NFTs for investment, analyze all the basic concepts and trends of the NFT market, teach you how to think like an investor and make up to 100 X`s on NFTs. Yes, it's real, you just need the right approach.