The dominance of the PFP NFTs segment is so great that many people outside the NFT space consider the entire ecosystem to be just PFPs. In 2017, this trend was spawned by the legendary CryptoPunks, and this segment is still in demand and is the most popular NFT type.
As a general rule, NFT artists create 1/1 NFTs, and their purchase is a collectible. With the development of the industry, market participants have shifted away from this type towards limited collections, which, in addition to the function of an avatar in social networks, are also an indicator of status, membership in a community, and a method of promoting various projects. After all, in fact, Web 3.0. – this is not only about decentralization; this is also the age of the community. And this type  perfectly copes with this task.
What is PFP NFT?
PFP (profile picture) is a NFT type that is the personification and portrait of a user on the Internet. Usually they have a static and two-dimensional image. As a rule, this is a digital portrait on the blockchain, which takes the form of a head and shoulders. Most often these are some kind of creatures, people, animals; sometimes it's a pixelated image.
PFPs have randomized traits that collectively generate the rarity of a given token. These traits can be glasses, headgear, head shape, skin color, and more.
In fact, we are used to making primary judgments about the user by the avatar, and he, thereby, demonstrates his interests, membership of a community or his social status. Therefore, the cost of PFP NFTs varies greatly – from a free drop to hundreds of thousands of dollars (for example, Doodles, Clone X, Moonbirds, Meebits and other top collections).
Main idea and applicability of PFP NFT
The main application of this PFP NFT is as an avatar in social networks and services that support Web 3.0. At the moment, PFP NFTs can be set as a profile picture on Twitter, Instagram, Galxe and many other services. For example, in the Zerion Wallet mobile application, you can put token as an address icon.
This idea is maximally implemented in Twitter, which is the main social network of the crypto market. It is there that you can see the holders of all the top collections, and they actively demonstrate this.
In addition, PFP NFTs have several other uses:
It is an indicator of social status. As mentioned above, not everyone can afford to buy the best collection tokens. In the Web 3.0 space. such an avatar is equated with Rolex watches, top sports cars and other material indicators of the user's success. Or here's another example – the Asian digital market is a separate universe from the whole world; they have their own trends, idols and influencers. And the demonstration of NFT from the profile collection shows commitment to a particular culture. These projects include Murakami. Flowers, PhantaBear, Renga, Capsule House, Lives of Asuna.
This is an indicator of membership in a community. By purchasing a token, you get not just a digital asset, but an entrance to a closed community of like-minded people. Accordingly, by your avatar, other holders can understand that you are "in the same boat" with them. Sometimes, such connections help to establish initial contact, and in the future, they allow reaching some agreements.
This is an advertisement and one of the ways to promote the project through famous people and influencers who use PFPs as their profile picture. For example, the famous actor Elijah Wood bought the DeadFellaz token and announced it on Twitter. Immediately after that, the trading activity of the project increased by 20%.
The history of the emergence of PFP NFT
It was with PFP NFTs that the global NFT market was born. Participants saw potential in an external indicator of a user's identity, membership, and status, and all previous methods were already obsolete. This is how this trend was born.
The first collections of PFPs are very valuable, and may signal that the user may be a pioneer in the NFT market. The first known project was CryptoPunks, which was released in 2017. And since then, these are the most recognizable non-fungible tokens around the world. Some of them were sold for hundreds of thousands of dollars, although they were originally given away to some users for free as an airdrop. Their value is already in the historical component for the entire market, and the owner of such a token receives recognition from the community.
Who buys PFP NFTs?
Collections of PFP NFTs are of value to several categories of users:
First of all, among users who want to identify themselves in some way in the world of NFT and Web 3.0. Avatars are already commonplace and a necessity in all social networks. But it is in the Web 3.0 space that PFP NFTs have become the very indicator that can tell a lot about its owner.
Influencers in social networks (primarily on Twitter). Many influencers have a profile picture in the form of collections of PFPs – this is a sign of their relationship to the culture of crypto-art as such. And, of course, this is a way to promote projects, collaborations will always be in demand. For example, well-known influencer and crypto investor Gary Vaynerchuk periodically promotes and focuses public attention on certain projects. After that, the collection's trading activity and floor price, of course, take off.
Best PFP NFT Collections
The best collections of PFP NFTs include many of the currently successful projects: for example, 3Landers, mfers, 0N1 Force, CrypToadz, Chromie Squiggle, Alien Frens, etc. But we will focus on a few:
CryptoPunks,
Bored Ape Yacht Club,
Azuki.
Having the non-fungible token of these collections as a profile picture is the coolest thing about all the others.
CryptoPunks NFT collection
CryptoPunks is a collection on the Ethereum network of 10,000 NFTs from Larva Labs. These legendary avatars look like various pixel punks (men, women, zombies, apes, aliens). Moreover, the type of token is also of great importance: among them there are rare apes and very rare aliens. Accordingly, the highest indicator is the ownership of these tokens. But their price is sometimes simply sky-high and inaccessible to the rough majority of market participants.
This is one of the first projects on the Ethereum network and the first among PFPs – it was created in 2017. The tokens from this collection have featured personalities such as Snoop Dogg and Jay-Z as their avatar.
Secondary trading volume of over 1.1 million ETH (over $2.2 billion!).
Floor price is 61 ETH.
The most expensive NFT from this collection – CryptoPunk #9998 sold for 124457 ETH (about $361 million at the time of purchase).
Bored Ape Yacht Club NFT collection
Bored Ape Yacht Club is a top collection of 10,000 NFTs created in April 2021 featuring monkeys with different traits and attributes, which also makes some of them rare and some of them elite. But in any case, owning this token is very prestigious. By purchasing it, you get not just an avatar for social networks, but also:
Membership in the most elite NFT community,
Entrance to ApeFest with the participation of world stars,
Full commercial intellectual property rights,
Access to one of the best metaverses Otherside.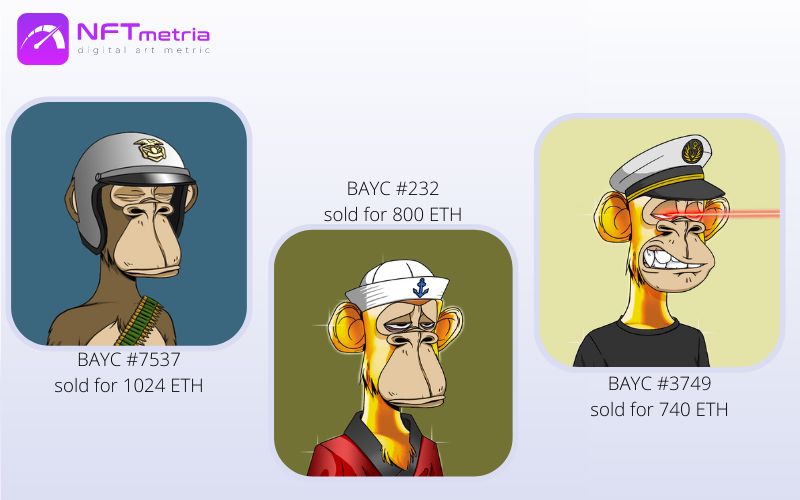 It is worth saying that the origin of these tokens gives status – all collections from the leader-studio Yuga Labs are doomed to success. And the project itself has long gone beyond just PFP; now it is a full-fledged Utility NFT project.
Secondary trading volume of over 990k ETH (over $1.9 billion).
Floor price is 60.3 ETH.
The most expensive NFT from this collection – #7537 sold for 1024 ETH (about $1.24 million at the time of purchase).
Azuki NFT collection
Azuki is a collection of 10,000 NFTs on the Ethereum network created in January 2022 by Chiru Labs. And this is the case when the possession of this token is not only a status, a demonstration of hobbies, but also a commitment to anime culture, which has been at the peak of popularity in recent years. In the Asian market, Azuki is the most desired digital asset, and the project itself is the leading anime project in the entire market. Apart from this, the presence of Azuki provides many utilities:
Member access to a unique community called the Garden,
Access to the Hilumia metaverse,
Airdrops (eg also the top collection of Beanz),
Branded merch (streetwear style),
IRL events and more.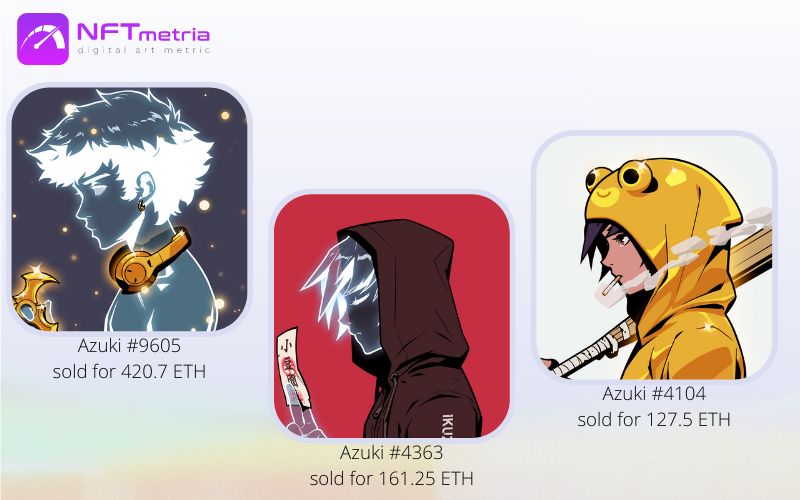 Here, the concept and the community play a decisive role – anime around the world has been gaining momentum for the second decade. Its supporters can number in the tens of millions, mostly in Asia. And, as you know, loyal fans will follow their idol far.
Secondary trading volume over 470k ETH.
Floor price is 13.4 ETH.
The most expensive NFT – Azuki #9605 sold for 420.7 ETH (over $1.4 million at the time of purchase).
What are the prospects for using PFP NFTs?
PFP NFTs, as mentioned above, are more often used as an avatar in social networks – this is its original purpose. Almost all users of the NFT and cryptocurrency world will not refuse to put the same CryptoPunks and BAYC on their avatar – this is a status on the network. And for projects, an avatar in the form of their token at the influencer is still an effective way to promote the project. But the industry is developing, and just one demonstration is no longer enough.
Further development of these PFP NFTs can only go as utility NFTs, which can be used not only as an avatar, but also as a ticket to an event, access to derivative collections or whitelisting, obtaining full image rights or access to project products who entered into a collaboration. All this increases the value and status of digital assets. Today, almost all projects see the potential in such a development, so we can observe an active bias in the market today towards utilitarian opportunities from the acquisition of digital assets.
Opinion of NFTmetria
PFPs (avatars) spawned the NFT trend in 2017 and remain at the top of the market chart. They are used as profile pictures by famous Hollywood personalities, athletes, politicians and many others to demonstrate partnership or sympathy for the project. The rest of the audience can use their favorite tokens as an avatar for the purpose of commitment and membership in a particular community. The development of PFPs as NFTs can continue in the future as utility tokens, which is generally what is happening on the market now. However, they make up a huge and leading part of the market and are a desirable digital asset for many users.