The commercial photography market has been developed for many years, and this is not news to anyone. There are also all the participants here – authors, collectors, fans, intermediaries, producers, organizers, venues, galleries. However, the problem of using and copying a photo without copyright has been standing for the same number of years. As you understand, blockchain technologies and, in particular, the NFT helped to solve this issue. That is, by minting a photo on the blockchain, you create a historical and undeniable value for your digital assets. And when you sell a work, you sell the copyright, unless otherwise stated by you. Thus, after the NFT market began to develop with PFP collections, then photographers saw a deep potential.
What is Photography NFT?
Photography NFT is a type of NFT and still an emerging trend in the fungible token market, but definitely has a pretty solid market share. Marketplaces even have a separate category for this type of NFT.
This type allows you to view and buy in one click a photo along with the rights of the copyright holder. After all, if NFT is on your wallet, then it means that you have the ownership rights, unless otherwise stated in the description for Photography NFT.
Main idea and applicability of Photography NFT
First of all, Photography NFT is a new way for photographers to earn money, as well as to declare themselves as a professional in this field. At the same time, a photo in the form of an NFT makes it easier to obtain rights to it. That is, the user who bought this token has all the rights to it, unless otherwise specified in the description.
It also simplifies the photo trade, because it is on the blockchain with the initial data, and for this it is enough to put it on the listing, and the sale process itself will be performed automatically through the marketplace smart contract.
History of Photography NFT
This type of NFT appeared in 2018, when the so-called NFT boom in the market took place. For photographers, this was a new opportunity to sell photos using blockchain technology.
But one of the most high-profile cases happened to photographer Cath Simard, who in 2017 posted a photo of a Hawaiian road online. Then the photo became viral, and the authorship was lost.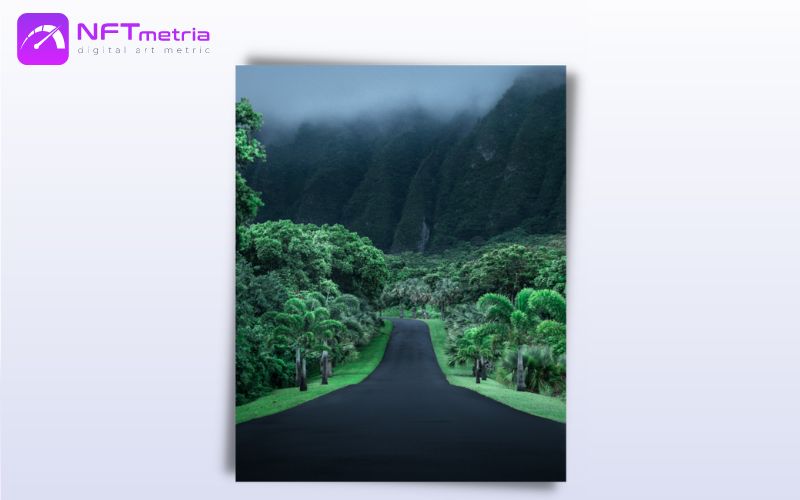 Later in 2021, Cath Simard turned to NFT technology and minted #FreeHawaiiPhoto on SuperRare. Just a couple of hours later, it was purchased by the well-known NFT investor GMoney for 100 ETH (about $185k at the time). Together with the photo, the artist, thanks to a smart contract, also transferred all copyrights. This case was the first and most high-profile statement about the return of control over the use of photographs and fair compensation.
Who buys Photography NFT?
First of all, Photography NFTs attract collectors and connoisseurs of unusual photographs, for example, some rare natural phenomena or animals. Some photos are sold for quite a lot of money. And, accordingly, collectors are attracted to the work of famous photographers who made a name for themselves even before the NFT boom.
Best Photography NFTs
The best Photography NFTs include:
Where My Vans Go
Where My Vans Go is a collection of 125 NFTs in the form of photos taken on high points – buildings, bridges, TV towers in the original image by the author DrifterShoots @Driftershoots.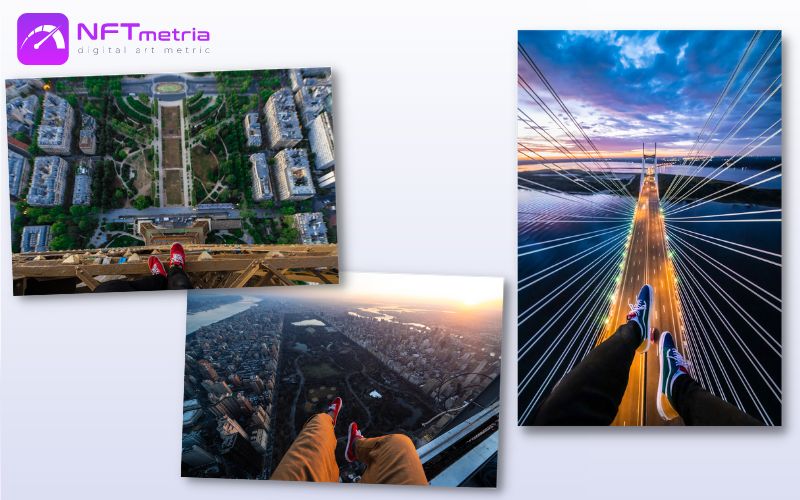 The trading volume of this collection exceeds 4500 ETH.
Floor price is 16 ETH.
The most expensive NFT from this collection, Where My Vans Go #0, was sold for 100.69 ETH. It was acquired by the famous NFT collector 6529.
The collection was minted in August 2021.
Twin Portraits by Justin Aversano
Twin Portraits by artist Justin Aversano is an NFT collection of 100 photographs on the Ethereum network. Each photo depicts twins in different designs. Creator Justin Aversano himself had a twin who died tragically, so this collection has a personal history. The photographer devoted more than a year of his time to the creation of this project, and the result exceeded all expectations. people in color.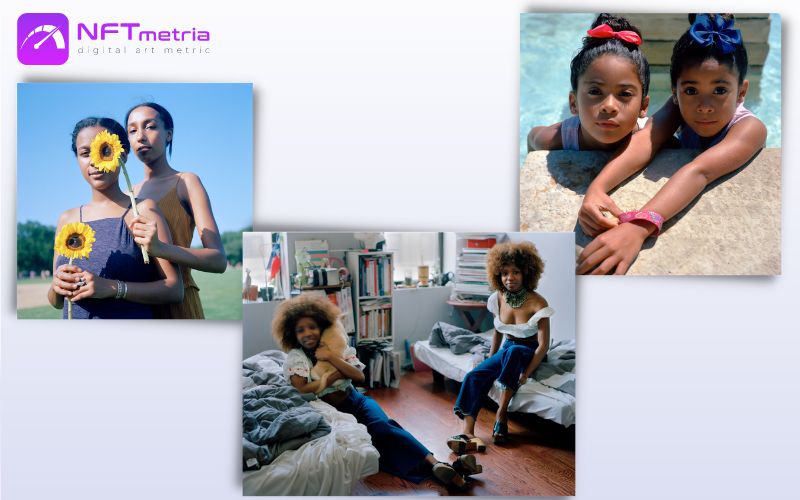 The total trading volume on the secondary markets is more than 5,900 ETH.
Floor price is 68 ETH.
The most expensive NFT of this collection was sold for 207 ETH – Twin Flame #2. Jessica & Joyce Gayo.
Minted in February 2021.
NFT works by Reuben Wu
Reuben Wu is a renowned NFT artist who works with National Geographic, Apple, Volkswagen, GE, Samsung, Audi and other major brands. In his NFT work, he adds some graphic effects, which makes his photographs a mesmerizing and fantastic symbiosis of natural landscapes and the play of light. The artist's works are presented mainly on the SuperRare and Foundation marketplaces.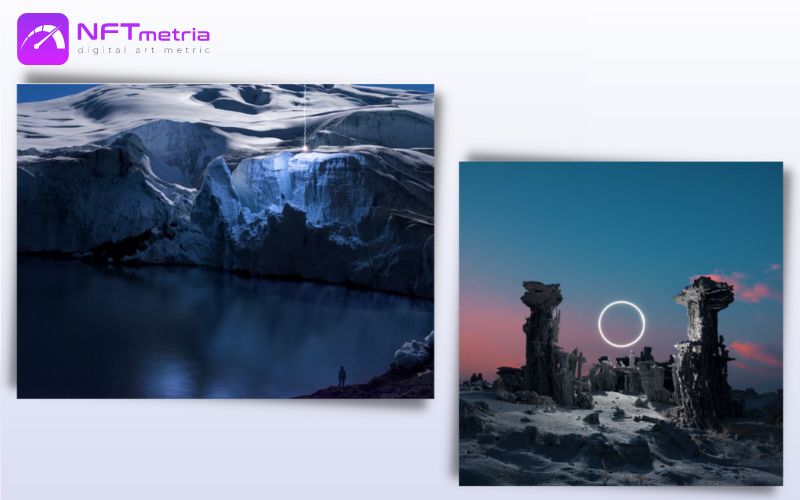 To date, the photographer has released over 400 of his own NFT works.
Total sales exceeded $2 million.
The most expensive work of the photographer – The Sea Of Ice was sold for 32 ETH.
What are the prospects for using Photography NFT?
Photography NFT definitely has a lot of uses and deep potential, and here's what:
Simplification in the rights of the copyright holder, as well as the process of selling / buying.
Photographers can mint their work on some marketplaces for free.
NFTs of this type provide an opportunity to capture a historically significant (on a different scale) moment more globally – in the blockchain.
Popularization of their creativity without territorial, temporal and political framework. Any user from different parts of the world can see the photo and, if desired, purchase it.
With the help of NFT technology and photography, in the future it will be possible to put up for sale goods or real estate with a description of the characteristics directly on the blockchain, which can be confirmed by an audit by the relevant authorities.
If not limited by the imagination, with the help of Photography NFT it will be possible to rent out real estate, a car by capturing them in a photo. At the same time, data on the lease of these objects will be permanently recorded in the blockchain.
Opinion of NFTmetria
Photography NFTs have some potential and are popular with collectors. Photography on the blockchain is a new way for photographers to make themselves known, using a more global option to sell their photos. At the same time, the author can thus be in direct contact with his audience without intermediaries, which has not previously been so successfully and transparently built. Undoubtedly, this type of NFT has the potential for development, but now it depends only on the human imagination.