Already well-known creative personalities often fall into the NFT space, and this round of a career is a logical continuation of it. In the world of professional commercial photography, there are not many artists whose style is clearly recognizable and unique.
Among such photographers, Reuben Wu stands out clearly, having managed to create one of the best careers in photography at the age of 47. He has worked with brands such as Asus, Acura, Apple, Audi, Google, IBM, Jaguar Land Rover, Samsung, Volkswagen. And long-term work with National Geographic allowed him to shoot the cover for the August 2022 issue. And in March 2021, Reuben Wu joined the NFT space, already having his big name, and is now actively developing there.
Who is Reuben Wu?
Reuben Wu is a multifaceted personality and well-known in several areas:
World famous photographer, has many awards, exhibitions, regalia, works with such brands as National Geographic, Asus, Acura, Apple, Audi, Google, IBM, Jaguar Land Rover, Samsung, Volkswagen.
In the past, a musician of the famous American band Ladytron,
Music producer, film director,
Global Brand Ambassador for Phase One,
Leading artist in the NFT space, whose art belongs in the permanent collections of the Guggenheim Museum, The Metropolitan Museum of Art and the MoMA.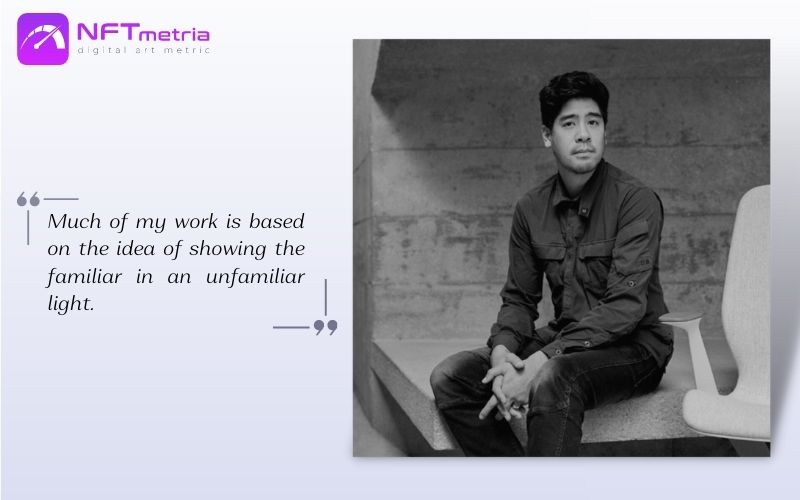 Throughout his musical career from 2000-2012, Reuben Wu traveled the world capturing magical images of everything from solar farms to open roads. Painstaking and long work led him to unprecedented heights and recognition of the world community. His work belongs in the permanent collections of the Guggenheim Museum, The Metropolitan Museum of Art and the MoMA. And his clients include Apple, Volkswagen, GE, Samsung, Audi and National Geographic.
The artist was born in 1975 in Liverpool, UK. Lives in Chicago, received US citizenship in 2022.
Reuben Wu Official Links
The creative path of artist Reuben Wu: from musician to NFT
Reuben Wu went to college in the UK as a designer and worked as an industrial designer for about three years. In parallel, he became interested in photography, but it was still just a hobby. In parallel, he became interested in DJing and writing music with his band Ladytron, which was founded back in 2000. Over time, the musical group became so popular that the musicians began touring around the world, including visiting the Coachella festival in the USA, Mexico City, Chongqing in China and Bogota in Colombia. At that moment, Reuben Wu left his career as a designer, but began to document all the tours as a photographer.
As a result, after releasing 5 studio albums and years of touring, in 2012 he left his musical career and devoted himself to photography and filmmaking. His path as a photographer has brought him recognition, fame, recognition and work with the biggest brands in the world of photography. The best of them is National Geographic.
My dad is a lifetime National Geographic subscriber. So, I grew up reading this magazine and looking at the pictures. And it made me obsessed with beautiful landscapes, stars in the sky and mountains; technology, outer space, dinosaurs, archeology and the like. I grew up with it. Photographer remembers National Geographic as a childhood dream
As a result, today his clients are such global brands as Asus, Acura, Apple, Audi, GE, Google, IBM, Interscope Records, Jaguar Land Rover, National Geographic, One Plus, Samsung, Snap Inc, Volkswagen.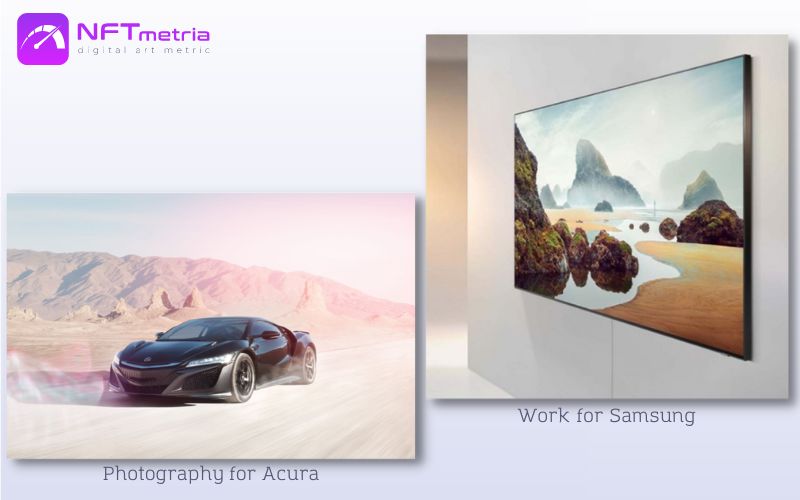 He has held over 10 photography exhibitions:
Change: a permanent polar art group exhibit (March 2020, aboard National Geographic Endurance, Arctic Circle),
Aeroglyphs & other Nocturnes (Aug 2019, PhotoEye Gallery, Santa Fe, NM),
The Photography Show presented by AIPAD (April 2019, with PhotoEye Gallery, New York City, NY),
2019 Group Show (February 2019, PhotoEye Gallery, Santa Fe, NM),
Photo la festival (February 2019, Los Angeles, CA – with PhotoEye Gallery),
The Fence (July 2015, Brooklyn Bridge Park, Brooklyn, NY),
Past Artists-In-Residence Group Show (April 2015, Filter Space Gallery, Chicago, IL),
Realities and Concepts (April 2015, Arena 1 Gallery, Month of Photography LA Group Show, Santa Monica),
Infinite Sustain (May 2014, Lot 21 Gallery, San Francisco, CA),
Distant Suns (January 2014, Schneider Gallery, Chicago, IL),
Remote Horizons (November 2014, Rational Park, Chicago, IL).
In addition, his merits include:
Winner of Graphis Awards 2018 (Audi USA),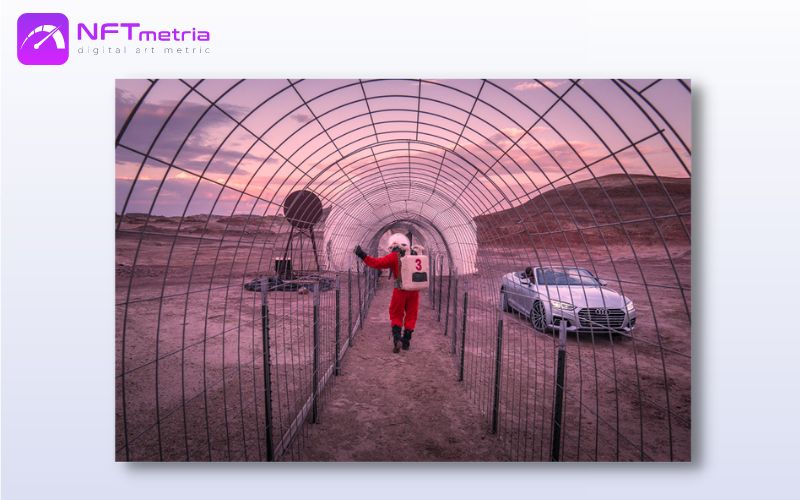 PDN Photo Annual 2017 Winner: Personal Work category,
In 2017, Reuben was commissioned to cover Zedd's single "Stay", which reached number one on the US charts,
In 2017, for the Shot on iPhone campaign, Apple commissioned Reuben to capture life from dusk to dawn using the iPhone 7's low-light capabilities,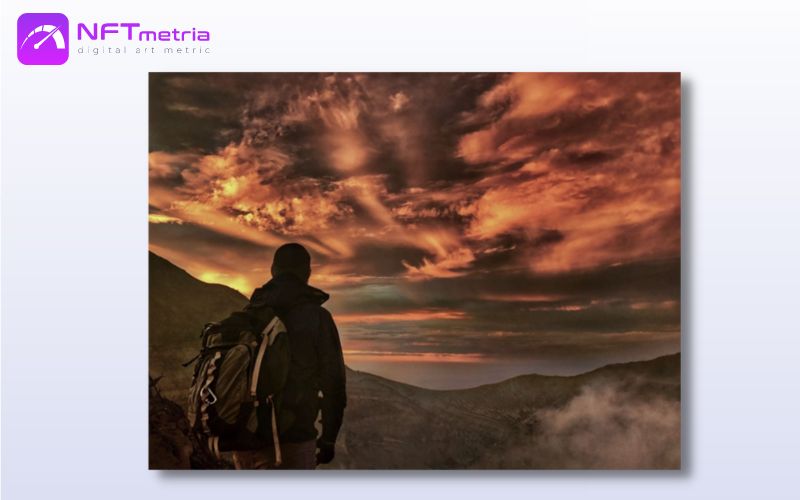 In 2015, one of his photographs of the blue fire at Kawa Ijen in East Java was selected by Wired Magazine as the Best Otherworldly Science Image of 2015.
In 2015, Google commissioned an artist and Digital Giant to create a video installation for their new 1K office in Fulton, Chicago.
In 2015, during the keynote presentation of Adobe Max, several of its images were used for title screens in the Photography section.
In 2022, he started working with ASUS and made a film together as part of The Incredible Comes From Within campaign.
The pinnacle of his career as a photographer was on the cover of National Geographic in the August 2022 issue. For her, the editors asked the artist to remove the iconic Stonehenge monument.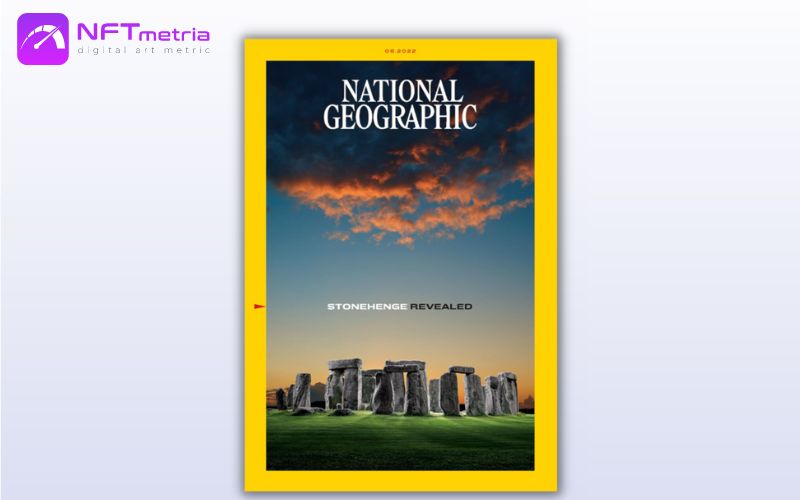 And after a series of Stonehenge photos, one of the images was included in "100 Best Photos: Iconic images from this century" by NatGeo
One of my Stonehenge images was included in @natgeo "100 Best Photos: Iconic images from this century".
Stunned to share the same special edition of National Geographic with so many luminaries. 19/22 pic.twitter.com/SilnbDy903

— Reuben Wu (@Reuben_Wu) December 31, 2022
Reuben Wu in the NFT world
Reuben Wu entered the NFT world quite organically in 2021. Continuing his author's style, he digitized some of his works and creates new ones already in the NFT format. The first non-fungible token he minted was Aeroglyph (Quartet) in March 2021. Then it was bought at an auction for a decent 30 ETH (about 54k dollars at that time).
In addition to his personal creativity, the artist develops in different directions on the crypto-scene:
is a member of TungstenDAO, founded by renowned industry influencer VincentVanDough,
has in its collection more than 50 different NFTs, including CryptoPunk #9631,
is a member and artist of the well-known digital art gallery AOTMGallery,
enters the circles of the best influencers and collectors of the market.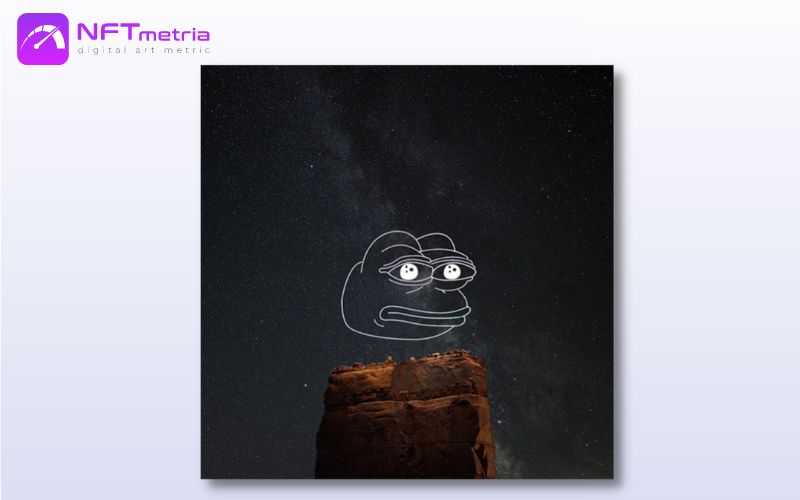 To date, the photographer has released more than 400 of his own NFTs, including 4 collections:
Fourteenth Century Series, which consists of 201 images,
Metamorphe, created in collaboration with Jenni Pasanen and consisting of 6 images,
Decal in the amount of 100 copies,
EX STASIS, including 4 images, total of 116 pieces.
In total, his crypto-creativity brought him more than $ 2 million in primary sales alone. In addition, he was included in the list of artists whose lots were put up by the auction house Sotheby's as part of the NFT Asia auction in the fall of 2022.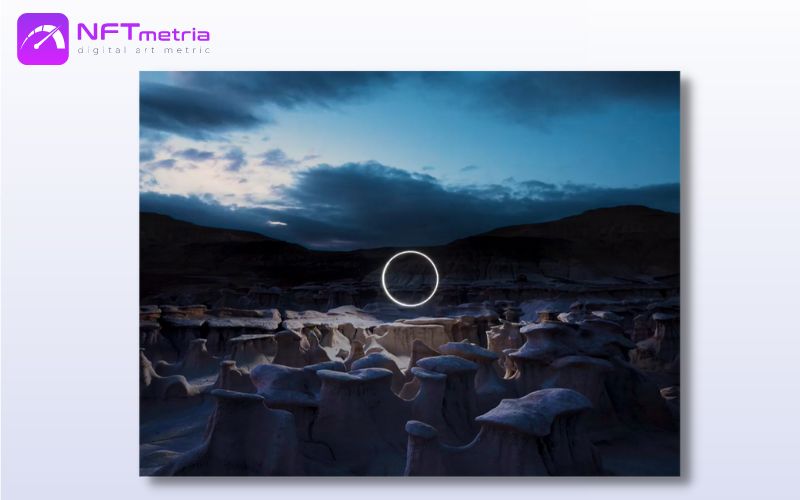 NFT corporate identity by Reuben Wu
The corporate identity of all the art by Reuben Wu is very recognizable. Most often, he photographs deep and large-scale views of nature and adds light rays to them with the help of technical capabilities and the subtle vision of the author. Due to his skills in the music and film industry, he often adds animation, sound, visual effects. So he turns a simple picture into a realistic mystical journey.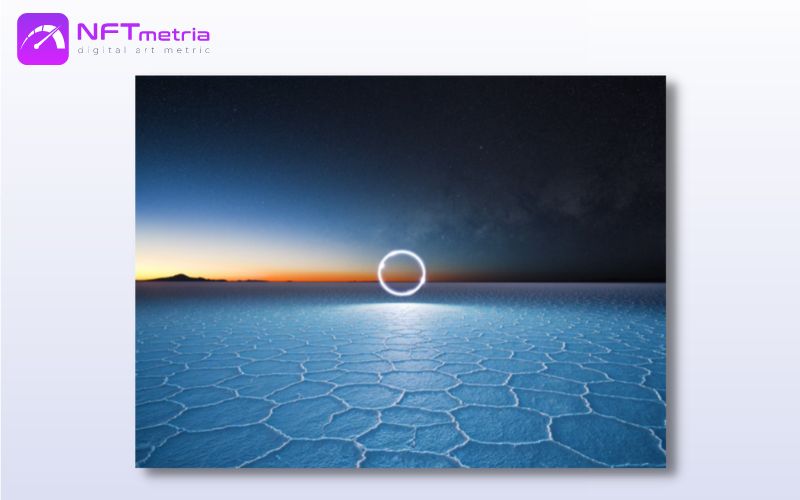 Reuben Wu is attracted by the themes of technology, science, human history in nature. He is not interested in just taking pictures of the natural environment. The photographer is looking for details that make the landscape more interesting. It's a kind of entertainment, it's an exercise in the imagination, a fantasy.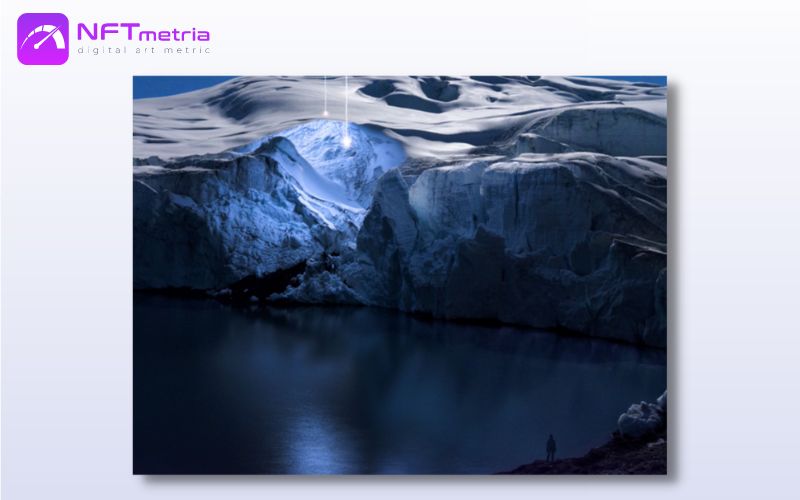 His art is mesmerizing, otherworldly, sometimes depicting twilight landscapes lit by LED drones. And sometimes we see volcanoes spewing neon blue lava. And then we see his collaboration with Jenni Pasanen using neural networks. Reuben Wu is experimenting, developing and looking for new ways to work with nature, but with cutting-edge technology.
ASUS in its advertising campaign showed how the photographer creates, and he, in turn, shared the features of his work.
The most famous NFTs by Reuben Wu
NFT by Reuben Wu is piece goods. Each non-fungible token is a work of art that can be viewed for a long time, looking for highlights, shadows, paying attention to details and colors. Among the sufficient number of released works, we have identified the most famous and expensive.
Aeroglyph (Quartet) NFT
Aeroglyph (Quartet) is the most original NFT created by the photographer. It uses light on a drone to track precise geometric shapes at night. As a result of these actions, Aeroglyph (Quartet) offers a new perspective, showing familiar places in an unfamiliar light.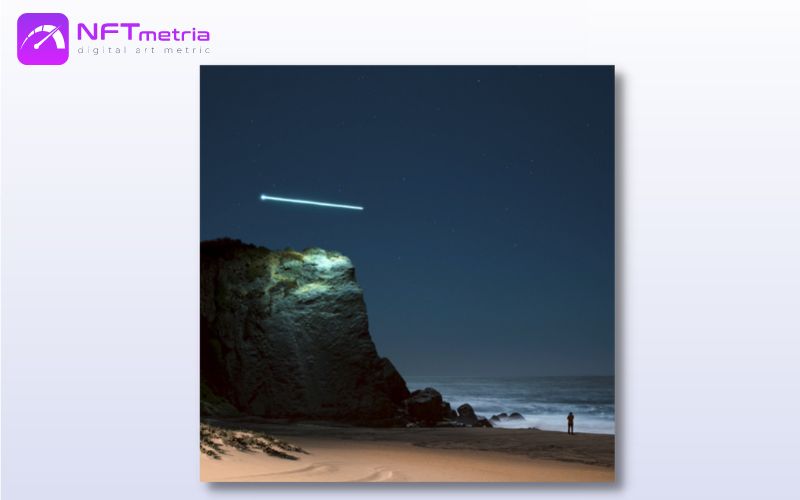 The photographer minted the work on March 18, 2021 at the Foundation and sold it in an auction on March 21 for 30 ETH (about $54k). He also donated a portion of the proceeds from the sale to the National Park Conservation Association to reduce environmental impact and the AAPI Community Fund for #StopAsianHate.
Fourteenth Century Sky (2022) NFT
Fourteenth Century Sky (2022) is also one of the most expensive and famous crypto art of the photographer. An already familiar use of light rays that refract space and show deep nature from a new angle.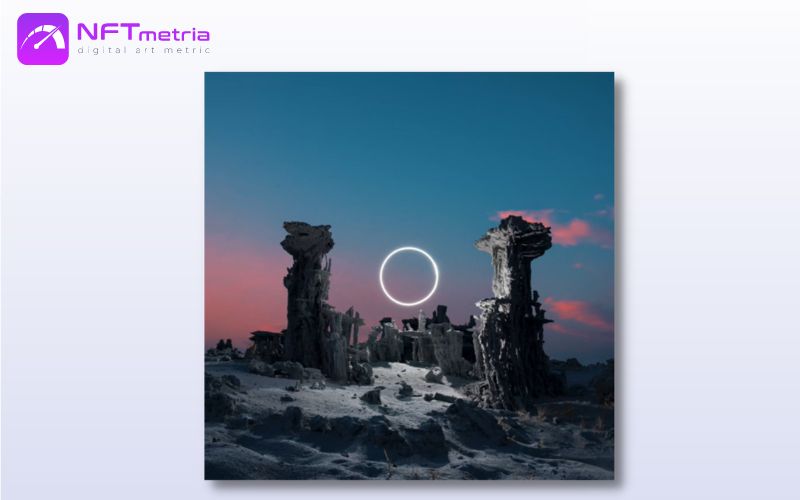 Fourteenth Century Sky (2022) was minted on March 6, 2022 at the SuperRare site, and on March 16, it was sold for 30 ETH (about $80k at that time) as part of an auction.
BILLENNIUM NFT
BILLENNIUM is an unusual work for an artist who usually works with nature. This time he depicted a dynamic metropolis in which millions of lives live simultaneously. Growing up in calm England, Reuben Wu is amazed by such large-scale and dense cities as, for example, Hong Kong.
On November 24, 2022, the photographer minted BILLENNIUM on SuperRare, after which he donated it to the MONOLITHGallery digital art gallery. As a result, on November 30, 2022, the work was sold for 25 ETH (approximately 30k dollars at that time)
I'm proud to present BILLENNIUM: a moving portrait of civilisation.
Now open for offer on SuperRare x @MONOLITHGallery, alongside genesis pieces from famed NatGeo photographers:@jimkchin ☀️@PaulNicklen 🐻‍❄️@cmittermeier 🌊@renan_ozturk ☁️@aaronhuey 🏔️@dguttenfelder 🤸‍♀️ pic.twitter.com/dvisZ5TE0I

— Reuben Wu (@Reuben_Wu) November 29, 2022
Where can you buy NFTs by Reuben Wu?
Now NFTs by Reuben Wu is available only on the secondary market, namely on such marketplaces as SuperRare, Foundation, OpenSea, Nifty Gateway. In addition, you can follow the artist's Twitter and Instagram for future updates.
Opinion of NFTMetria
Reuben Wu is a unique professional and artisan who develops beyond fashion, trends and art market trends. On the contrary, they follow his art, try to repeat it, dream of acquiring it. In confirmation of his unique talent and high performance, his portfolio speaks for itself, which includes work with global brands and major companies.
Thanks to the already well-known name, the photographer quite organically entered the NFT market, occupying his niche and immediately finding his audience. In the case of investing in his works, the owner receives not only a promising asset that will not fall in price. He also receives a unique picture, which the photographer often offers in a physical form when buying a token.