Analyzing trends and demand in the NFT market over the past couple of years, we can conclude that the most popular niche for digital creativity is PFP images, various animations and other illustrations. Many aspiring artists are trying to fit into trending directions. But there are also those authors who do not change their style and vision of art. And now we're talking about NFT artist and photographer Robyn Walsh.
She works in a not very popular direction of surrealistic photography, but she managed to create a fairly large community of fans of her subtle and not understandable art. Thus she was able to generate interest and demand for her art. Robyn Walsh is a story about creativity as a psychological therapy, about individuality and the expression of one's own thoughts and emotions.
Who is Robyn Walsh?
Robyn Walsh (also known as Ponygirl) is an anonymous photographer and NFT artist whose works lives on the edge of beauty and fear. First getting involved in a new field in 2021, her artistic prowess has earned her recognition as a unique contributor to the growing NFT photography sector. Basically, the girl publishes her art in a surreal style, using allusions and distortion of forms, temporary space and even physics. Despite the fact that there is a single style of work, each of its illustrations has its own peculiarity, and they all differ from each other.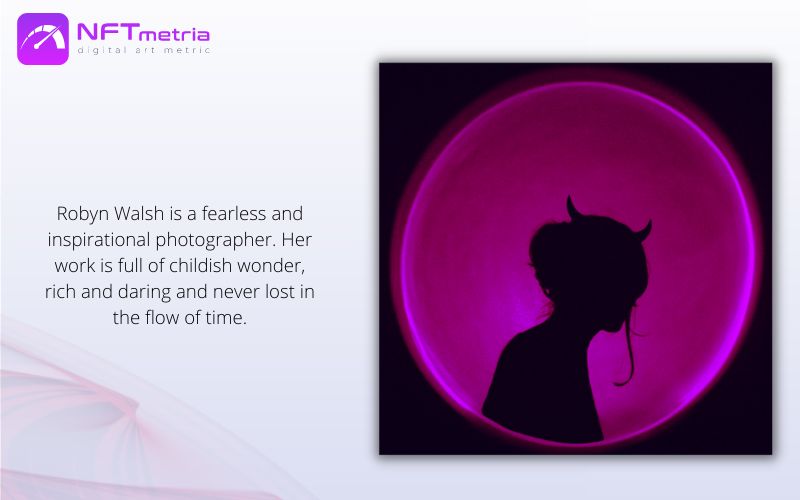 The artist hails from Bellingham, upstate Washington. She currently lives and works in Boston, Massachusetts.
Robyn Walsh Official Links
The creative path of Robyn Walsh: from photography to NFT
From 2005 to 2009 the future NFT artist studied at one of the prestigious law universities in Boston, Suffolk University. However, throughout her life, Robin Walsh felt like a creative person. Prior to joining NFT, she has been working as a professional photographer since the early 2010s. The artist did not hesitate to publish most of her compositions on various social networks in order to share her emotions with others. Thanks to these efforts, a local audience of fans of her art quickly formed around Robyn Walsh.
Robyn Walsh didn't limit herself to one style and shot stunning portraits, wedding and lifestyle photos. To find inspiration in her business, the girl traveled for a long time throughout the southern part of our planet. In addition to traveling, Robin often draws a lot of inspiration from films.
Robyn Walsh in the NFT world
Robyn Walsh entered the NFT world in early 2021. Due to the fact that for a long time she was associated with photography and graphic design, NFT art could not bypass her. To date, she has managed to sell a total of more than a hundred of her digital works, both in the format of collections and in the format of single works. The cost of one of them fluctuates in the range of 0.3-2.5 ETH.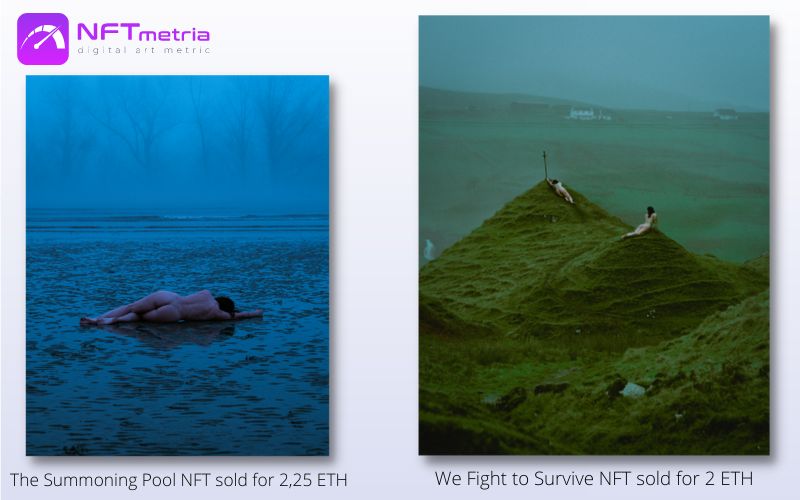 From the social networks of Robyn Walsh, you can understand that she wants to continue to develop in surrealism and publish digital compositions in this style, because her path in this area began not so long ago. However, she is already thinking about new concepts of her work.
I have other ideas in development, but I'm not quite ready to share them with the world yet!The artist intrigues with her future work
Features of NFT works by Robyn Walsh
If you look at the NFT paintings by Robyn Walsh, you will notice that most of them are united by the same style – surrealism.
The idea that the artist came up with in exactly the same form is transferred to the illustration. Images of paintings of this style are based on the fantasies, dreams and imagination of the author and do not recognize any framework. Therefore, the first impression of the compositions can be skeptical, because their meaning goes beyond the boundaries of adequate and familiar norms.
Robyn Walsh's ideas show a beautiful interplay between nature and the human form using reality distortion techniques.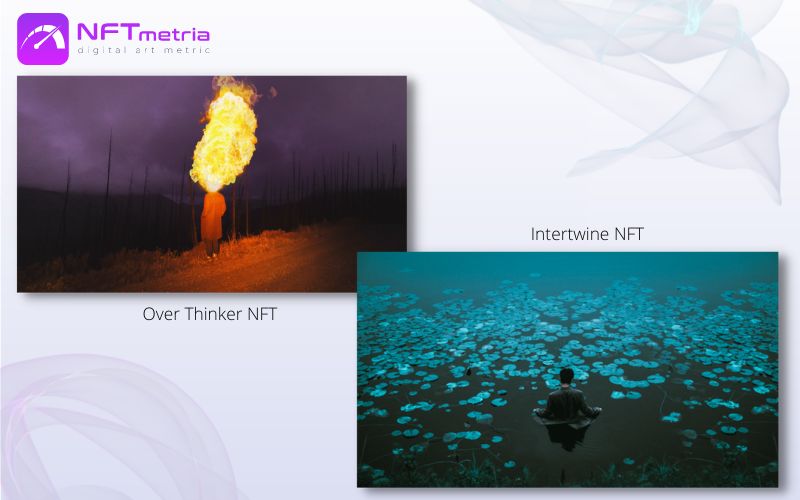 Physiologism, physicality and eroticism – this is the concept of the artist that is often overlooked. Image of the human body, often in the nude against the backdrop of nature. Such candid works can be seen in all manifestations – there are no prohibitions in surrealism.
Sometimes you can see how a part of a person's body (for example, a hand, a finger, a foot) becomes a self-sufficient figure and begins to live as a separate creature, move freely in space and acquire its own face and character. Or separate parts of several people are combined into a single whole.
The most famous NFT works by Robyn Walsh
Robyn Walsh has released two collections and over 30 single NFTs to date. But all her work is permeated with one style, one presentation and one spectrum of emotions. Together, these factors make her art stand out and stand out from the rest of the digital art crowd.
My art is weird and dark and doesn't really fit into the commercial world. My process may be triggered by a certain emotion or memory that struck me and of which I want to make a photograph. Sometimes the vision is very specific. If it's more like an emotion I want to capture, I'll jump in my car and just drive around looking for the perfect spot to inspire me to capture the emotion in a photograph. The artist describes her art
Somethings Not Right NFT Collection
Somethings Not Right is the first collection in the artist's portfolio, released on September 20, 2021 on OpenSea. The total volume of secondary sales is 13 ETH, and the Floor price is 1.5 ETH.
I often feel like I never want anyone to see me again. I want to exist and at the same time crawl out of my own skin, always feeling out of my element. This is how Robyn Walsh describes this project
The collection consists of 40 surreal photos from Ponygirl, which she took over the past two and a half years. A mixture of beauty and fear, a naked and slightly deformed human body, nature in pessimistic colors are the main elements of the compositions in the collection.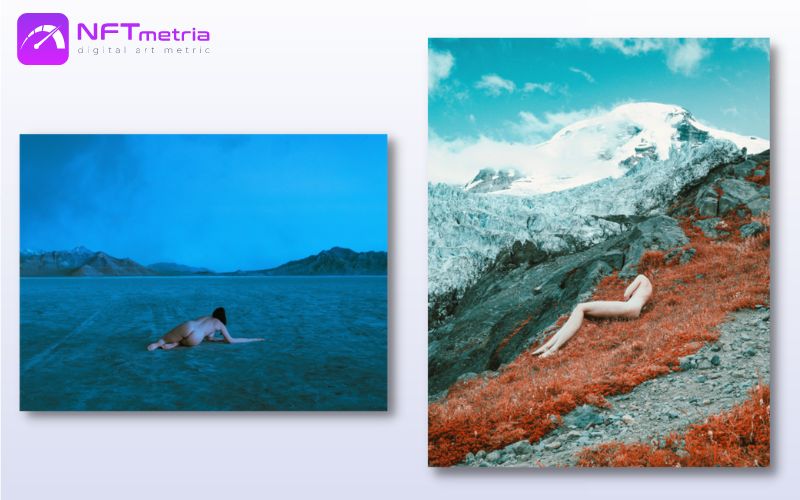 What Will Become Of Us NFT Collection
"What Will Become Of Us" is the second collection in the artist's portfolio, which is released on Foundation and consists of 10 works. The artist did not name each of them, but only numbered them from one to 10. The collection was replenished gradually – from April 30 to November 29, 2022. Now the total sales volume is 3.52 ETH (~$4200), and the floor price is 0.44 ETH.
The chaos is over, and those of us who made it here are on the other side. Every day I wake up with this post-apocalyptic loneliness that weighs heavily on my chest. Yet there is something soothing about the state of the world right now. Everything is still and quiet. The smog dissipated. For those who are still left, what will become of us? Collection Description
The paintings show a still and silent world, a post-apocalyptic loneliness in which there is still something soothing.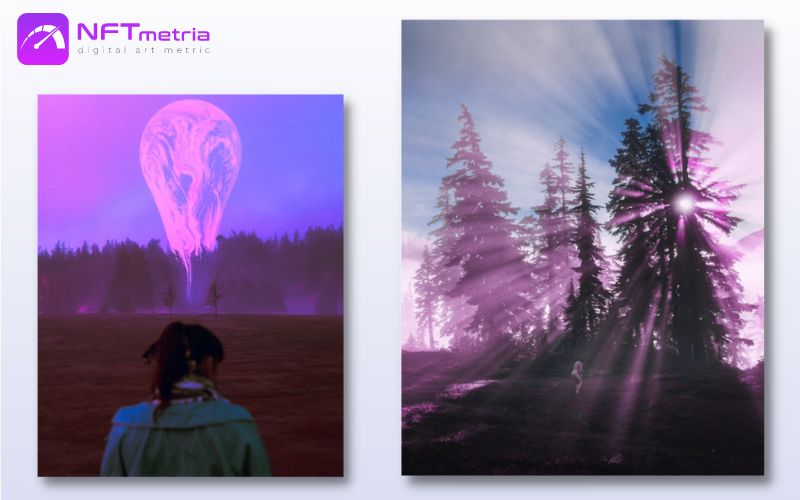 Respawn NFT
Respawn was released on August 16, 2021 on Foundation, and was auctioned on September 22 for 2 ETH (about $2.4k at the time of sale). Auction winner @JacqScripps received a signed 12×16 canvas along with the token.
This photo is about the transformations that we experience in ourselves throughout our lives. Revival is a fresh start.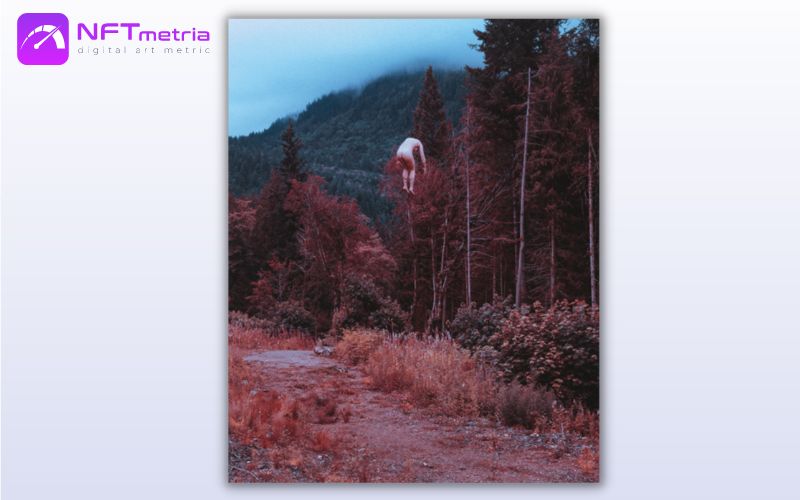 Where can you buy NFTs by Robyn Walsh?
Now the NFTs of the artist Robyn Walsh are available only on the secondary market, namely on such marketplaces as OpenSea, Foundation, SuperRare. In addition, you can follow the artist's Twitter and Instagram for future updates.
Opinion of NFTMetria
From a commercial point of view, there are many styles in the NFT world that are ahead of the imagery of Robyn Walsh's work. But the modern trend towards individuality, exclusivity and the erasure of generally recognized boundaries is drawing more detailed attention of society to such creativity as that of Robyn Walsh. It is worth noting that among niche authors who do not pursue hype and meet the demands of society, the artist clearly stands out among her colleagues.
Her photographs are psychological therapy, self-immersion and distortion of reality. Connoisseurs of such art know the value of such works – this is the very individual exclusive that not everyone will understand. But then everyone will stop to carefully consider the gloomy fantasies of the author.