The world is changing, and art with it. A couple of years ago, no one could have thought that people would be ready to pay thousands, hundreds of thousands of dollars for "pictures" from the network. Someone is outraged, someone is happy, and someone perceives this phenomenon as an inevitable evolution of classical art, its transition to digital format. The world of NFT has opened up many talented artists and creators to the world. Thanks to digital art, they have received long-awaited recognition and worldwide fame. Their work and creativity has become recognizable, and their personalities – symbols, eternal symbols that will be immortalized in digital. One of these people was a young transgender artist, a representative of the FEWOCiOUS queer cryptographic community Victor Langlois.
Who is FEWOCiOUS?
FEWOCiOUS Victor Langlois is a LGBT and transgender artist based in New York City. What is amazing about it? This talented artist has been able to earn over $50 million by selling his art in NFT format.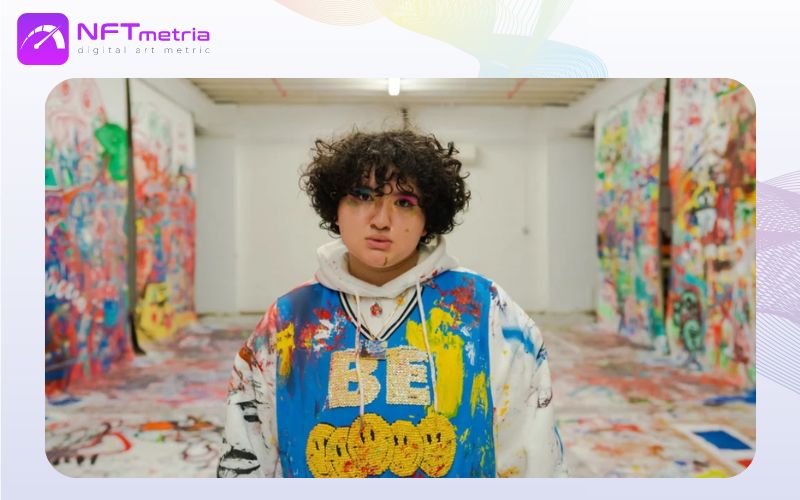 At just 19 years old, the artist has achieved resounding success in digital art. Fame came to the young millionaire after several of his works "shot", became known and were sold for more than 2 million dollars. But why? Why did the work of the young creator have such success?
He is distinguished by the fact that he transfers a part of himself into art and his works, tells his story to the audience, shares his emotions, feelings, and impressions. His works are a reflection of the inner world, a sense of oneself. This is what made the artist stand out among thousands of competitors.
FEWOCiOUS Official Links
FEWOCiOUS creative journey: from inception to NFT
From an early age, Victor Langlois has been drawing. His childhood was not easy, because the young man lived not with his parents, but with his grandparents. The future NFT artist starts drawing in notebooks using markers. It helps to cope with boredom and loneliness. Later, he will switch to digital art using a tablet.
From the age of 13, the young artist has been making art in Las Vegas, and the first non-fungible token sale was made at 17. A little later, Victor Langlois will discover and join the community of NFT creators on Twitter.
The author revealed his creative potential by collaborating with friends and creators, creating interesting lines and joint projects (like "Fabricated Fairytales" in March 2021). On the Langlois twitter, you can follow the evolution of the works and paintings.
Despite the lack of art education, he increasingly uses acrylic to create real paintings and works. The young man reads literature, communicates with other famous artists, absorbs their experience and learns. The result was not long in coming: the latest works by FEWOCiOUS are animated.
FEWOCiOUS NFT corporate identity
Stylistics does not fall within the clear framework and definitions of classical art. The author conveys his feelings, sensations, experiences, thoughts, expressing them on canvas and digital media.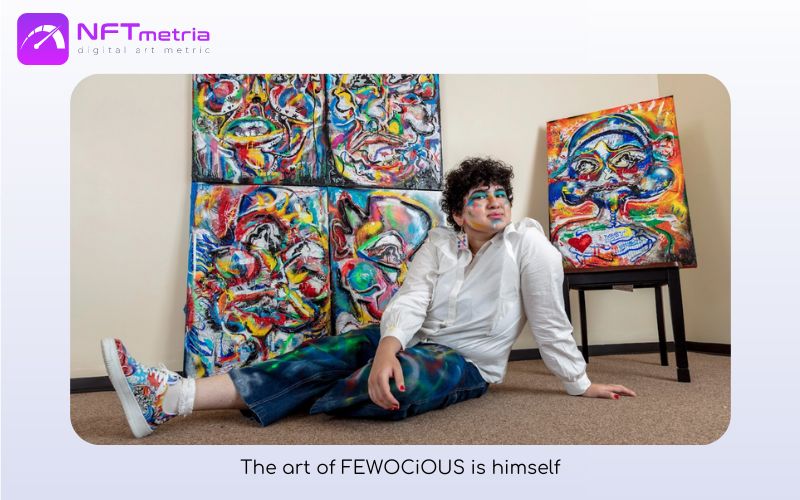 The author's works successfully combine "psychedelic art" and surrealism. Psychedelic is visible in the combination of abstract curvilinear shapes, the presence of clashing colors and fonts, which is difficult to read.
From surrealism, the author took for his paintings the paradoxes of forms and their combination, the unrealistic rendering of colors, shadows, the phantasmagoria of the plot and characters.
FEWOCiOUS in the NFT world
In just a year of work, the young artist was able to achieve truly impressive heights.
FEWOCiOUS x RTFKT
In February 2021, a collaboration with the famous NFT studio RTFKT followed. This idea brought in over $3 million. The essence of the project is to sell not only tokens for the metaverse, but also to give users real items. That's how the collaboration with Victor worked. In a couple of minutes, more than 600 pairs of sneakers (both virtual and real) were sold for the same 3 million.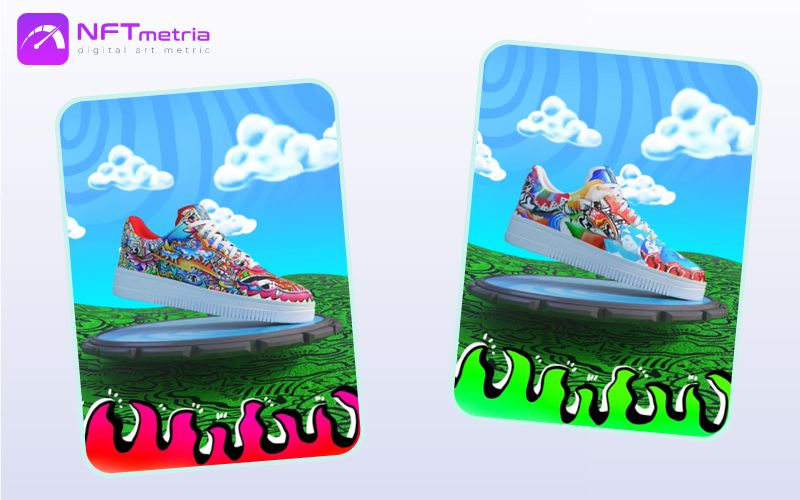 To date:
907 tokens issued,
Sales volume for the collection exceeded 4800 ETH,
The average selling price is 1.6-2.2 ETH.
The most expensive work was sold for 17.4 ETH.
Hello, i'm Victor (FEWOCiOUS) and This Is My Life
As he grew as a creator, Victor Langlois met interesting projects, industries, new artists, imitated and experimented with them. Everything led to the fact that the artist created his own project. In 2020, a young author receives an offer to try himself as a seller of NFT paintings. The proposal was intriguing and was accepted. At that time, no one even suspected what would follow the debut, what the first digital exhibition would lead to.
The hour has come, which brought glory to the creator. At 10 a.m. on June 23, 2021, the first exhibition-auction of the artist's works on the Christie's portal was to open. It was presented with a series of paintings and was called "Hello, i'm Victor (FEWOCiOUS) and This Is My Life". The collection consists of 6 works. Subsequently, they will become the most expensive in the career of the creator.
The exhibition began with a collapse… a collapse of the site. The servers could not withstand the influx of customers and visitors.
It's just… wow.This is the only way FEWOCiOUS was able to react to this whole sales situation
Currently, there are more than 3,000 works in the hands of collectors. But he didn't stop there.
Universe FewoWorld
It is now known that a large-scale FewoWorld project in its own universe is being prepared with might and main. For the artist, this will be the first generative art project. And he was able to immediately interest his community. According to the NFT artist, this project will have no analogues. And it arose from the thoughts and ideas of the creator himself.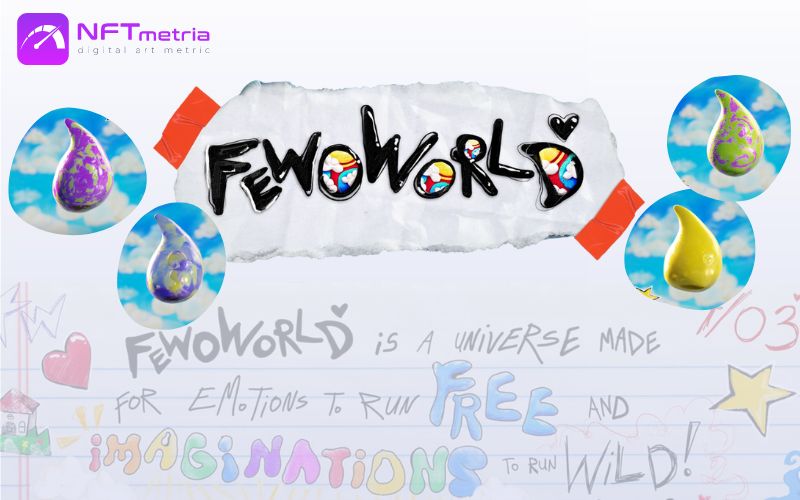 The main token is "Paint Drops". The more tokens a user has, the more he will be able to create inside the universe. "Paint Drops" are made in the form of drops of paint, they will serve as a kind of building blocks of the universe. With their help, it will be possible to endow the characters with individual characteristics. Also available as rewards are unique rewards called "Canvas" and "Fewos", which are paintings drawn using Paint Drops.
To date:
more than 7300 NFTs issued,
total sales exceeded 2400 ETH,
on average, trades are within 0.4-0.7 ETH per 1 NFT.
Since April 2022, the sale of tokens has been in full swing to participate in it. And now the profit from the project for the artist has exceeded 20 million dollars. You can also join the new world of the artist.
The most famous works of FEWOCiOUS
As mentioned earlier, the most famous works of Victor Langlois were a series of 6 paintings and was called "Hello, i'm Victor (FEWOCiOUS) and This Is My Life":
"Nice to meet you, I'm Mr. MiSUNDERSTOOD" was sold for 654 ETH ($2,857,702 at the time of sale),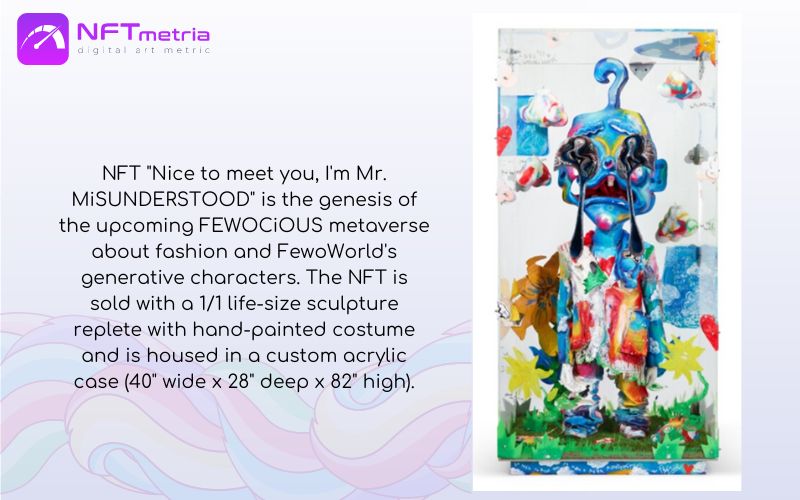 "Year 5, Age 18 – I Taught Myself How To Fly" sold for 186.07 ETH ($437,000 at the time of sale),
"Year 4, Age 17 – His Name Is Victor" sold for 186.07 ETH ($437,000 at the time of sale),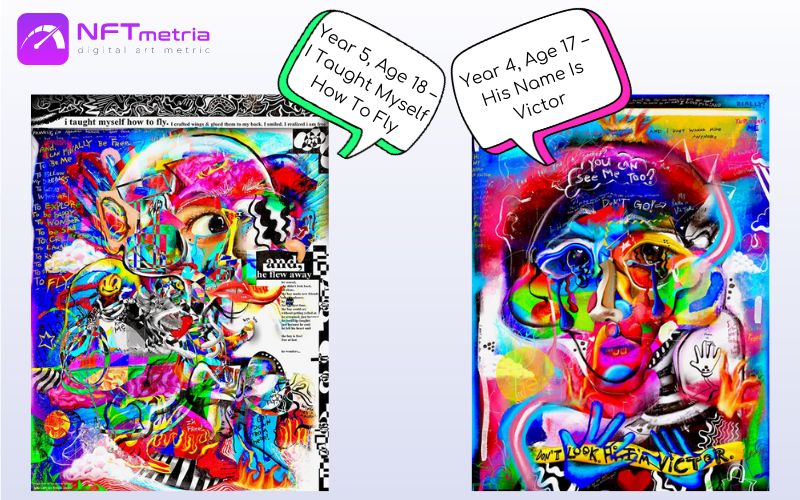 "Year 3, Age 16 – When A Child Feels Lost" sold for 186.07 ETH ($437,000 at the time of sale),
"Year 2, Age 15 – My Mama's Dream" sold for 186.07 ETH ($437,000 at the time of sale).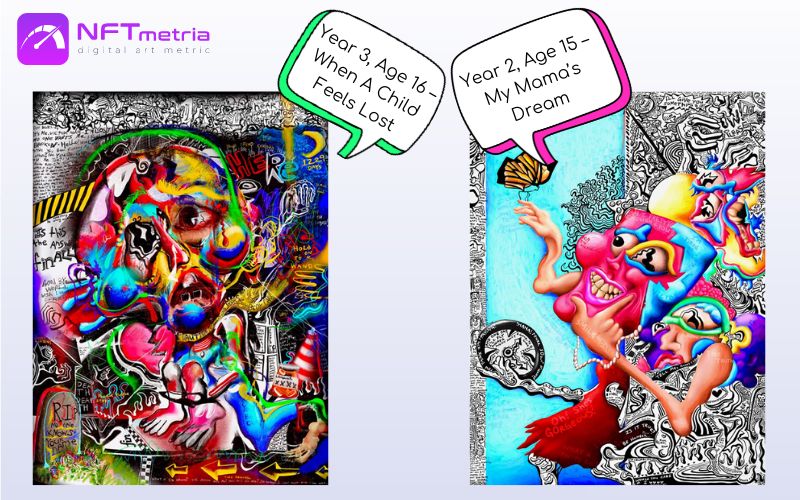 "Year 1, Age 14 – It Hurts To Hide" sold for 186.07 ETH ($437,000 at the time of sale)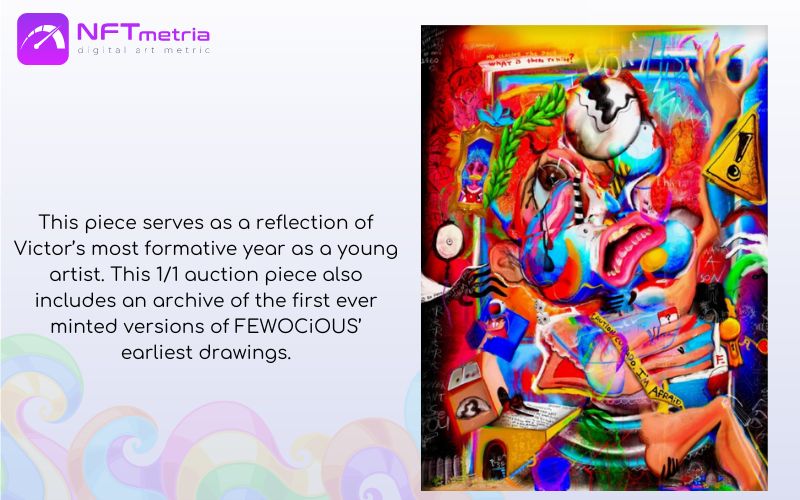 Where to buy FEWOCiOUS works?
Some of the author's works are still in the public domain and can be purchased by those who wish. Yes, the legendary "five" from the first exhibition can only be seen in pictures and photos. It is in the possession of private collectors.
Here are some NFT marketplaces where you can buy FEWOCiOUS works:
Opinion of NFTMetria
Victor Langlois FEWOCiOUS – has become one of the phenomena in the field of NFT. The author does not just take pride of place among other eminent creators from the industry, such as Mike Winkelmann (Beeple), Justin Blau (3LAU), Trevor Jones and others.
The Creator has come a long way. His path was special, starting from an early age, when he was left alone with himself, his personality, problems and difficulties in choosing, finding himself. And in the end, finding himself in digital art and gaining thousands of fans and a strong community around him.
So far, FEWOCiOUS has earned close to $50 million in sales of their art, solidifying their place among the most popular NFT artists today.