Who is Trevor Jones?
The NFT boom has changed the lives of artists like Trevor Jones. Over the past two years, Trevor Jones has broken several crypto art records. It has led the highest stakes in non-fungible token (NFT) markets including SuperRare, Nifty Gateway and MakersPlace. In February 2021, his «Bitcoin Angel» set the record for the most expensive open-source NFT work, earning $3.2 million.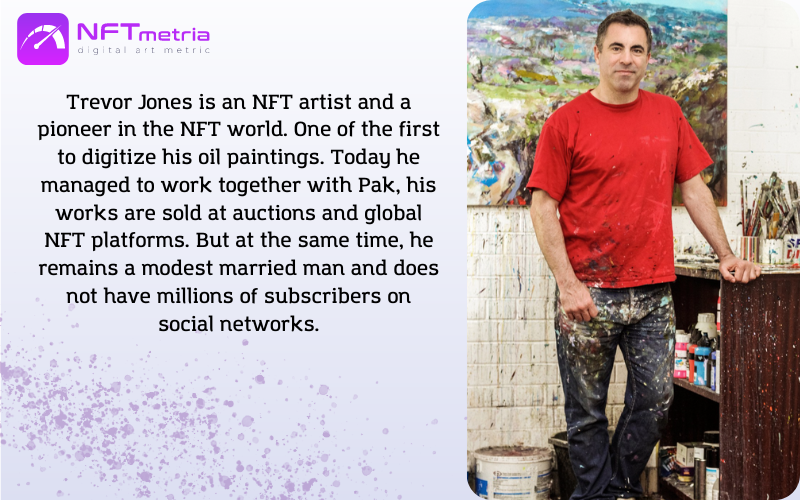 Since his foray into «crypto art» in 2018, Trevor Jones has become one of the most important artists minting NFTs. Everyone in the NFT community knows his name. He has collaborated with Pak, whose work recently sold at Sotheby's for $16.8 million. And when Beeple first approached him in the summer of 2020 for advice on how to make drops on Nifty Gateway, Jones was too busy to answer. Later Beeple who in March 2021 became famous for selling an NFT at a Christie's auction for $69.3 million.
But with all the regalia, he does not actively maintain social networks and does not have hundreds of thousands of subscribers like Beeple. We talk about this and more in this article.
Social activity
Biography of Trevor Jones
Raised in a little logging community in Western Canada, Jones has always excelled in art classes, but his dream was to be a rock star. When things didn't go according to his plan, he began backpacking the world and found himself "at a crossroads" in his early thirties while living in Edinburgh. Jones, 52, did not go to college as a young man, working three or four jobs after graduation to support his career as an artist. At 38, he graduated from the University of Edinburgh and the Edinburgh College of Art. He immediately got a position as director of the non-profit organization Art in healthcare . At the time, Jones also taught drawing classes and rented out spare rooms in his apartment to make ends meet by working on solo exhibitions. He quickly realized that solo performances would not pay the bills. With galleries commissions of 50% and artists paying their overheads such as framing, he was left with around £9,000 from an exhibition that had taken a year to complete. After that, he thought about a different format of art. At that time, no one really knew who Trevor Jones was.
History of success
2017-2018
Around 2017, the prices of Bitcoin (BTC) and Ethereum (ETH) began to rise dramatically. Jones became interested in trading. As a result, his efforts to invest did not end well. But they introduced him to a new topic, the crypto sector, which had not yet been explored by traditional artists. He has painted portraits of Vitalik Buterin and John McAfee and created his hidden augmented reality exhibition at the Scottish National Portrait Gallery. Again, Jones made a bet by spending so much time working in this uncharted territory. This time the game paid off.
2019
More and more people followed Jones on Twitter, where he was not shy about self-promotion, and interest in his work spread throughout the crypto market. By 2019, he was painting portraits for the publication's «Most Influential» series.
While NFTs have been around for a while, Jones didn't know about them until April 2019, when the CEO of digital art marketplace KnownOrigin David Moore approached him at CoinFest in Manchester. And so began his career in the NFT world. Collaborated with artist Alotta Mani to launch NFT EthGirl. It features an animated girl in the shape of an Ethereum symbol that splits apart to reveal Picasso's pixelated eye. It broke the SuperRare sales record when it was sold for 72.1 ETH in December 2019.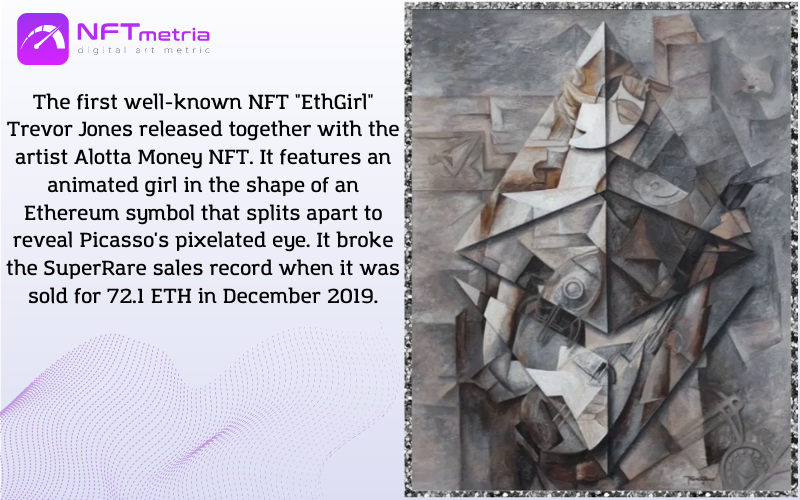 2020
NFT art markets like Nifty were launched the following year Gateway, which expanded the audience for NFTs by allowing buyers to pay with fiat money. Jones sold his Picasso Bull there in July for $55,555, again breaking the platform's record. This was followed by the multi-million-dollar NFT auctions of both Christie's and Sotheby's in 2021.
By the end of 2020, Trevor Jones released his second collaboration with Alotta Money, which was sold for approximately $140,000. His collaboration with Park cost $1.4 million.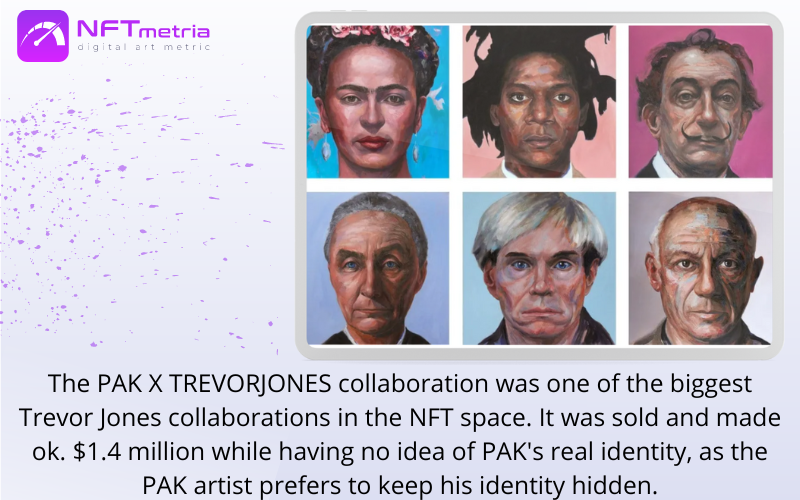 2021
In February 2021, Trevor Jones releases a 4,157-piece Bitcoin Angel collection on Nifty Gateway. So, the collection sold out in just seven minutes and cemented Trevor 's place as a trailblazer in the industry. In doing so, he earned $3.2 million.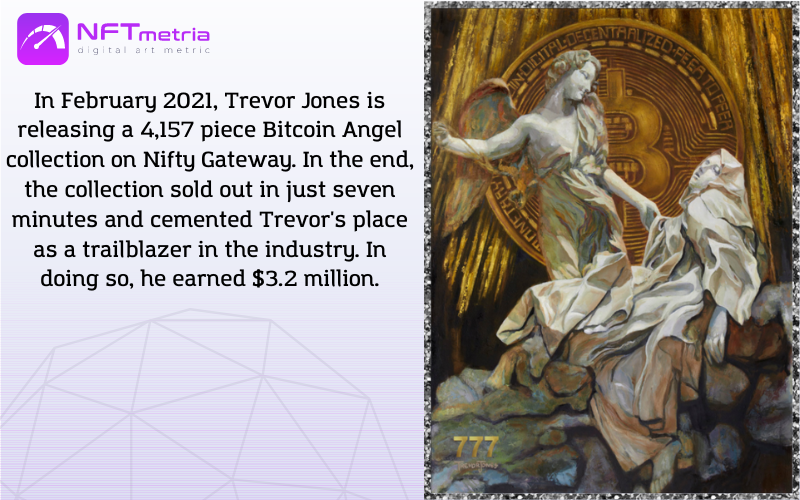 Today
Today, he still leads a relatively quiet life with his wife outside of Edinburgh, Scotland. For him, his journey into the NFT art world was «an insane success story».
Despite his great success last year, Jones' sudden wealth remains «a number on the screen» (well, a few numbers – he has bitcoin, ether and fiat). He still shops at the cheapest grocery store and doesn't have a car, but he and his wife plan to move to southern Germany next year.
Now he is using artificial intelligence in a secret project and is starting research for his latest collaboration with Ice Сube.
Where to buy NFTs Trevor Jones?
The author exhibits his work on Nifty Gateway, SuperRare and OpenSea.
Our thoughts
More and more people know who Trevor Jones is. As the hype around NFT grows, Jones continues to stand out as a classically trained artist in the digital world. While many of his works include technical components (such as animation, AR and of course NFT), his primary medium remains oil on canvas. Meanwhile, he has watched the world of crypto art evolve in a very short period of time. In a way, it became similar to the traditional art world in which he appeared. However, he does not consider the NFT market a bubble. Rather, it is fertile ground for «the future of e-commerce and art».