There are only about 16% of the total number of female artists on the crypto market, therefore, special close attention from the community is paid to their personalities and creativity. And among the artists, Cath Simard stands out. It is thanks to Cath Simard that photographs have become the subject of excitement and demand: earlier, nft collectors preferred drawings, animated art, which allows them to use the possibilities of digital art. What is the secret to the success of the artist, who learned the art of photography on her own? Her life story is about courage.
Who is Cath Simard?
Cath Simard is a professional photographer, NFT artist and explorer from Canada. Her talent to convey through photos the power, scale and depth of nature in various parts of our planet is highly appreciated.
And digital art by Cath Simard sells on prestigious NFT marketplaces and Sotheby's for six figures. She is also recognized as the most expensive female artist and #18 among the best-selling artists of all time on the SuperRare marketplace (as of March 2022).
Shocked and proud to discover that I'm the #18 all time highest selling artist on @SuperRare and I believe highest selling woman? 😳🤝😭https://t.co/CvV4yNHQPo

— CATH Simard (@cathsimard_) March 7, 2022
Her digital work FreeHawaiiPhoto became the world's first NFT with free rights. The uniqueness is that, as a rule, after the purchase of art, buyers have limited commercial rights, and in this case, after the auction, the buyer received the right to use a well-known photograph even to create a business without specifying the author.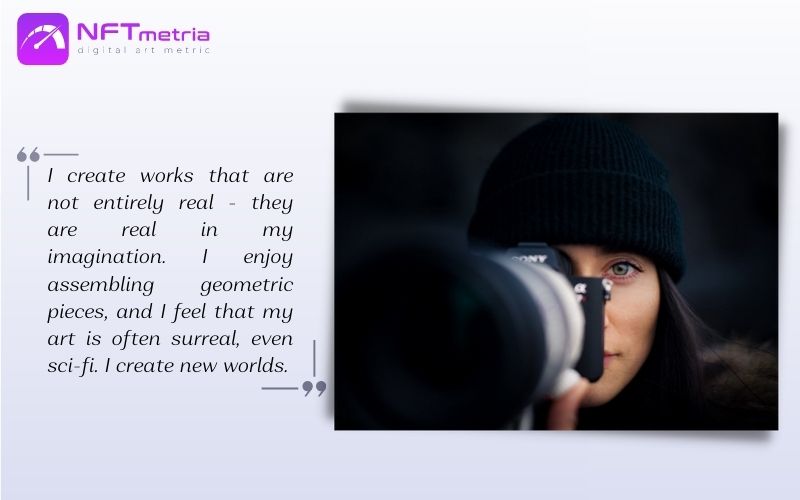 And this is what the world looks like through her eyes:
Cath Simard Official Links
The creative path of Cath Simard: from a fashion model to the NFT
Cath Simard was born in 1989 in Quebec, Canada. She worked as a model for 10 years from the age of 15. She then pursued a career in fashion as an art director and stylist. The turning point came in 2014, when she sold everything and stepped into the unknown. A one-way ticket to Australia and a new life. The bold decision did not immediately bring her fame. For two whole years she worked on a farm in an unfamiliar country, like most travelers, she took pictures on her phone.
Cath Simardfollowed the voice of her soul, and luck smiled at her. An Australian company that made and sold bandanas approached Cath for a promotional shoot. The girl was required to take pictures of tourists in bandanas during their outdoor activities. Cath Simard didn't have a professional camera or photography experience, and she shot with an iPhone 3. She followed the motto "always say yes!" and with the filming fee I bought a Sony a6000 camera with a 35mm F1.8 lens.
After Australia, the girl went to study new countries for three months. Mountains in the Canadian province of Alberta conquered Cath Simard at first sight. On long hiking trips to the most remote peaks, she felt herself, in her words, "real", understood what the calling of life is.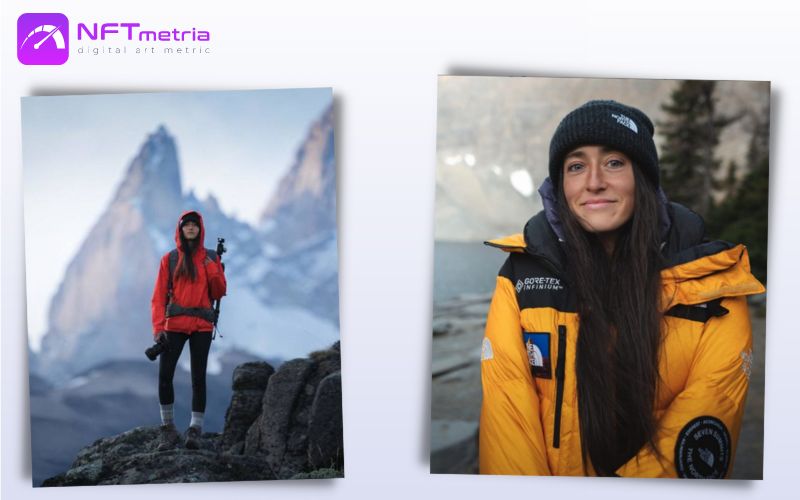 Cath Simard has published in Outdoor Photography Magazine, Open skies Magazine (Emirates airlines), Holiday Magazine (Condor airlines). The famous company THE NORTH FACE was the sponsor of the expeditions. Her professional success is confirmed by an impressive list of her clients: DJI, GOSSELIN PHOTO, SIMONS, HAPPY CAMPERS CAMPERVAN RENTAL, DURACELL and others. Cath Simard is also an ambassador for Sony Alpha.
Cath Simard in the NFT World
A friend told Cath Simard about the crypto industry at the beginning of 2021. And the girl began to study a new area for 12 hours a day, blockchains, how to place NFTs. In this, she was helped by communication with future colleagues through the Clubhouse rooms and Twitter applications. Crypto art attracted Cath Simard for being avant-garde, innovative, and for the fact that society in the crypto world is cohesive.
NFTs were amazing for building my name and my brand as an artist, but at the same time it was hard to balance that with research.Tells Cath Simard
At the same time, the artist thus found a solution to her problem – before that, in October 2017, she posted the author's photo of the Hawaiian road on Instagram, and it quickly became viral, and the authorship was lost. And it was this photo that launched her career in the NFT world. At the same time, the artist wanted to work with the SuperRare platform, which is distinguished by its selectivity and fairly strict moderation of artists.
I was only the third photographer whose work was accepted on SuperRare. I remember SuperRare saying at the time that they weren't sure if they were going to have photos on their platform in the long run.The artist remembers
To date, she has released more than 25 tokens 1/1, and among the buyers of her work are such influencers and famous collectors as WoWfund (World of Women Foundation), Deeze, GMoney. The average cost of her work ranges from 4 to 10 ETH. In addition, in 2022 she released a joint Metascapes collection with Ryan Newburn and Yuri Belegursky, the secondary sales of which exceeded 300 ETH. And in total, the artist was able to earn over 3 million dollars on the NFT.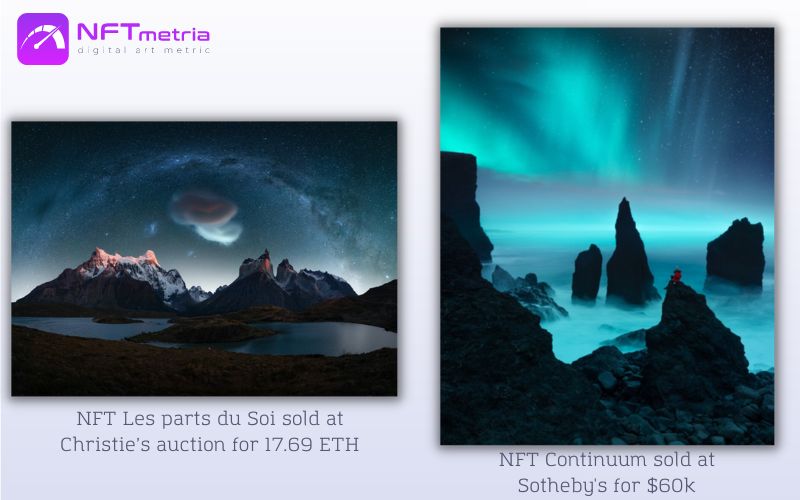 Features of NFT works by Cath Simard
NFT artist Cath Simard positioned herself as a master of composition from the very beginning. Critics wrote that retouching was visible, but she did not pay attention, now her style has received worldwide recognition.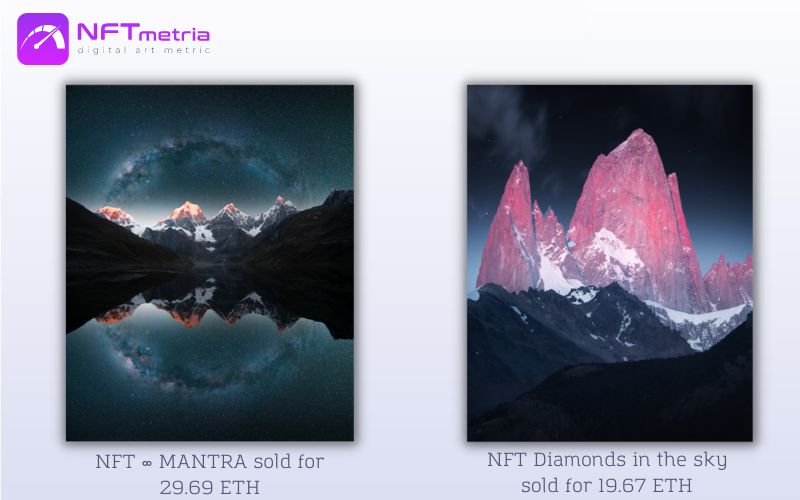 Her works are distinguished by contrast, clarity and color saturation. It is important for Cath to photograph the scene of nature as she sees the future art with her own reality, so she can come back again, take some pictures of the place. Sometimes a girl returns from an expedition without taking a single picture. Behind every NFT work of art is the story of a unique journey, hours of work after.
Most of my work is compositional. In recent years, I've been developing a technique that really allows me to be as creative as possible. I like to photograph each element individually, and then, when I get home, put it all together like a puzzle. I think it makes my work a little recognizable. The artist talks about her signature style
Careful selection and the desire to convey their feelings as accurately as possible lead to the fact that Cath Simard creates a limited collection of nft art in a year: 5-6 photos. The subject of these photographs often includes the vast highlands of New Zealand, Scotland, Nepal, Canada and other countries. Shooting in cold mountain ranges also allows her to capture ephemeral landscapes in these already unique topographies. These scenes often depict the planet in the midst of rapid climate change, which she strives to demonstrate through her art.
The most famous NFTs by Cath Simard
The art of Cath Simard is understandable, on the one hand, and very deep on a semantic level. NFT photographs of the ice caves of Iceland, the mountains of Peru, Patagonia, and other incredible landscapes are mesmerizing. To capture nature shots, she walks miles, climbs mountains and is ready to stay up at night. And with joy, doing what is really passionate about.
NFT is a new opportunity to make a living from your art. I have earned more from NFT in the last 6 months than I have made from licensed images in my entire life. The artist speaks
#FreeHawaiiPhoto NFT
#FreeHawaiiPhoto is an asphalt road leading to the sky, palm trees on both sides of the road in a rich, unnatural shade of green. Combining the unreal with the ordinary has made Cath Simard a resounding success. For the first time this picture was posted by the author on Instagram in 2017, and then it became viral, and the authorship was lost among the reposts. In September 2021, the authorship was restored thanks to a sale on SuperRare for 100 ETH (about $300k at the time of sale), and the famous collector Gmoney became the buyer.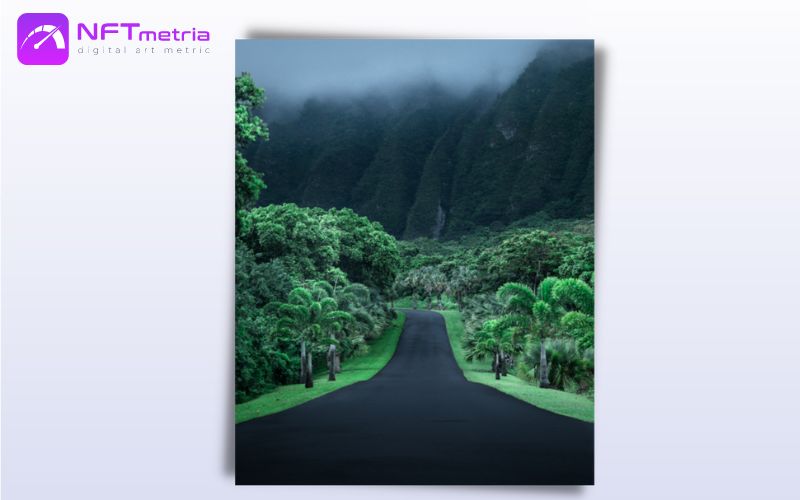 And it was the first NFT in history to be completely transferred after the purchase. The moment proved to be a watershed in the NFT photography community, media rights, and photography in general, generating nationwide interest and media coverage.
(1/4) Introducing the #FreeHawaiiPhoto Project, the first NFT to have its rights released to the world after its purchase. Dropping tomorrow on @SuperRare !https://t.co/FZ2HBp3EKA pic.twitter.com/rxKLokzv8r

— CATH Simard (@cathsimard_) September 18, 2021
LUMIÈRE DU NOIR NFT collection
The LUMIÈRE DU NOIR collection includes a series of 4 pieces of art created from several images taken from inside caves around the world. And a special purchase is LE DÉPART. The buyer, along with the token, received a unique personalized 5-day trip to the Canadian Rockies, including a 2-day canoe trip to Spirit Island. As well as learning the art of photography from the artist herself.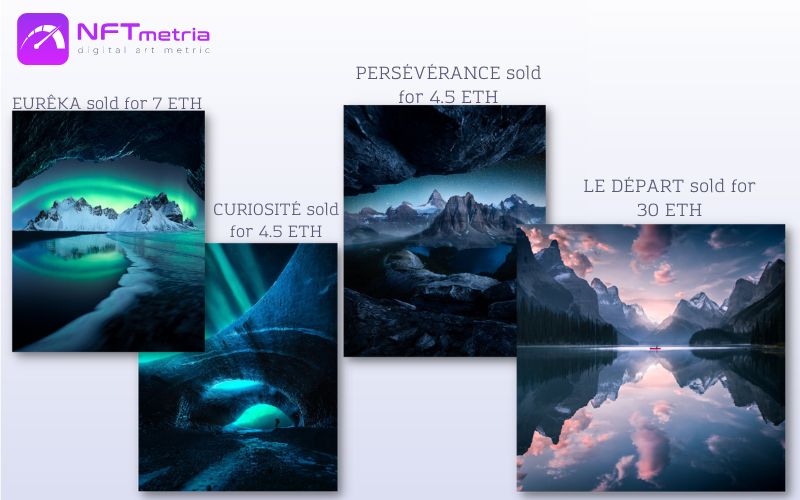 Metascapes NFT Collection
In January 2022, Cath Simard, in collaboration with Ryan Newburn, a glacier guide and professional landscape photographer, and Yuri Belegursky, the owner of one of the largest photography tour companies in Iceland, launched the Metascapes project, which combines artificial intelligence and the talent of photographers. The neural network creates an NFT based on landscape photos taken by three authors. Now it has 2555 pieces of nft-art modified by artificial intelligence. And the volume of secondary sales exceeded 340 ETH.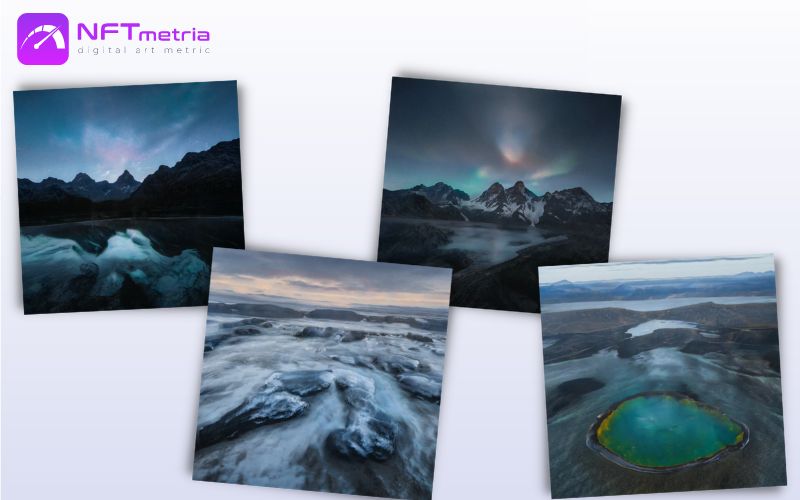 Where can you buy NFTs by Cath Simard?
Now the NFTs of the artist Cath Simard are available only on the secondary market, namely on such marketplaces as OpenSea, SuperRare, Nifty Gateway. In addition, you can follow the artist's Twitter and Instagram for future updates.
Opinion of NFTMetria
Creativity Cath Simard invites you to break out of your comfort zone and set off on a journey to the wild majestic nature through the eyes of the creator. This is the very unique case when non-standard thinking and work outside the framework brought recognition, career and fame to the author. Moreover, at first, professionalism and talent were revealed by global companies such as Sony, DJI, Simons, and then she revealed her potential on the blockchain art scene. That is why her works are appreciated by collectors and NFT investors, and the cost of her works will be beyond the time frame and fashion trends.