Over the past few years, the NFT universe has opened up many unique and extraordinary creators who stand out for their special approach to work. Illustrations by American artist Jen Stark instantly attract everyone's attention, because they literally put you into hypnosis. Incredible paper products with a psychedelic element cyclically shimmer and create the impression of merging with the picture into something in common. You literally drown in the illustration and have the ability not only to see it, but also to feel it.
Who is Jen Stark?
Jen Stark is a multi-disciplinary, multi-media artist based in Los Angeles who has become famous in the NFT community for her animated compositions. She creates unique optical art using a variety of artistic techniques. Elements from her illustrations are reminiscent of pictures from the Rorschach test, and incredible patterns refer to the sacred system of Mandela. It is worth paying tribute to how versatile and multifunctional the artist is, since in addition to paper she managed to work with materials such as wood, paints, mirrors and metal. In addition, Jen Stark works with sculpture, mural and animation.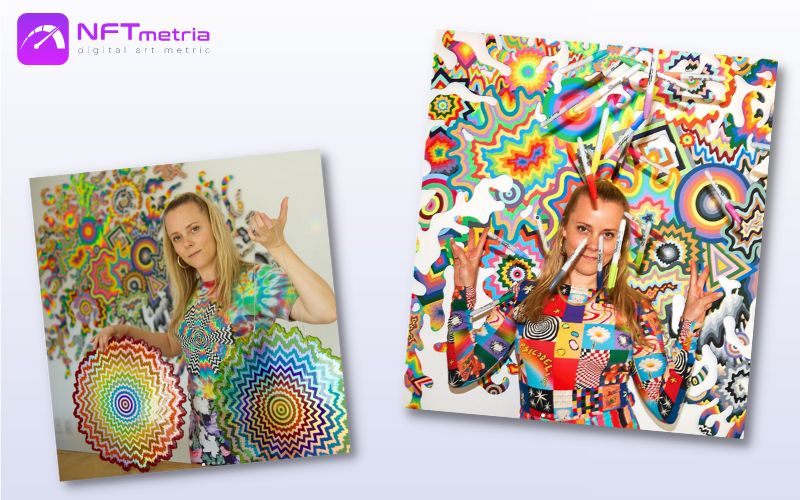 Jen Stark Official Links
The creative path of Jen Stark: from public installations to NFT
Jen Stark was born in 1983 in Miami, Florida. She graduated from MICA in 2005, earning her bachelor's degree in animation and fiber. After graduation, she began to forge her creative path through bright abstractions, made in various techniques, but always using bright colors, hypnotic lines and a riot of geometry.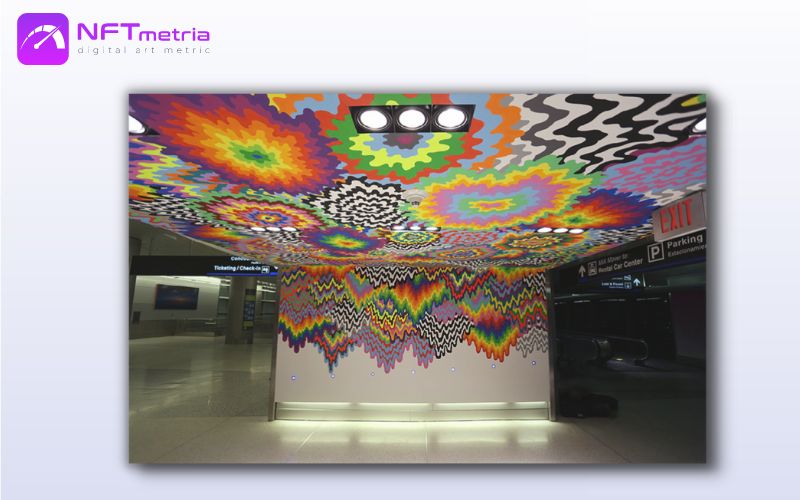 So, in her piggy bank in the period from 2005 to 2021:
15 solo exhibitions,
More than 45 group exhibitions,
More than 10 public installations and frescoes.
In 2015, Jane drew illustrations for the MTV Video Music Awards hosted by Miley Cyrus.
In 2018, she collaborated with Smashbox for a special Holidaze collection. Around the same time, Stark offered several of her Vans sneaker designs. In addition, Jen Stark worked on a mural at Facebook's headquarters in Menlo Park.
The artist's work has been honored many times by being exhibited at the Smithsonian American Art Museum in Washington DC and the Museum of Modern Art in North Miami.
At the same time, the artist develops not only in the public art space, but also experiments with 2D graphics and 3D installations.
https://www.instagram.com/p/CRzxnaSl_8V/
Her gradual entry into the world of NFT was logical and natural, as today it is the next stage of development for many contemporary artists.
Jen Stark in the NFT world
In early 2021, Jen Stark began to try her hand at the NFT world. She began by looking for a site. And her choice fell on Foundation. Then she published the first animated work Multiverse, which was purchased at auction for 150 ETH (258k dollars at the time of sale). Several other works followed. As a result, her efforts led the artist to a certain record – Jen Stark became the first female artist to be included in the top ten best-selling creatives of the NFT Foundation.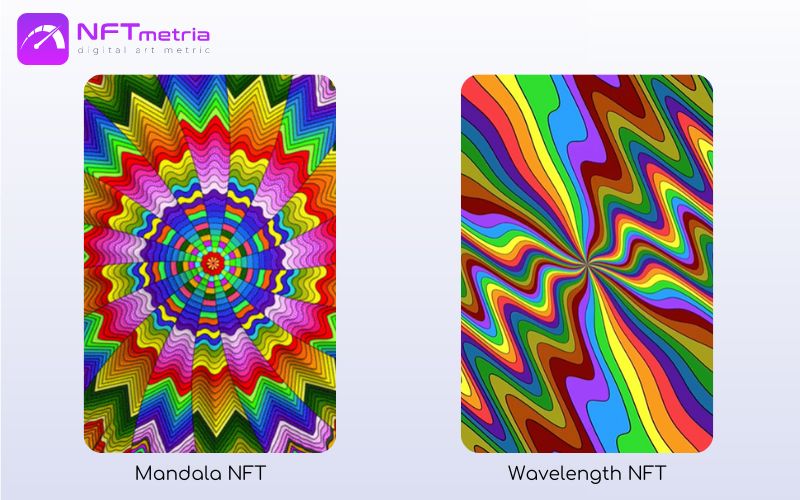 The first three NFT entries: Multiverse, Mandala and Wavelength were created in collaboration with renowned animator David Lewandowski. Accordingly, animation was handled exclusively by David, while Jen Stark at that time concentrated entirely on the visual component and art design. These works allowed the artist to gain a foothold in the world of NFT and continue to develop in this direction, having worked with such animators as TJ Pulliam, Christopher Rutledge and the CutMod team along the way.
I see the NFT meta universe as another possibility that an artist can use. An opportunity that opens up another universe for the artist to express themselves and create a whole new community around their work.The artist is thinking
Since then, Jen Stark has released 3 themed collections and several solo animations with a face value of over $5 million.
Features of NFTs by Jen Stark
The artist draws inspiration for her illustrations from a variety of natural phenomena and many geometric abstractions like a mandala. These pictures are literally mesmerizing and cause an extraordinary hypnotic effect on observers. For a long time, Jen Stark worked exclusively in two-dimensional space, but successfully got used to more voluminous matter, which made her work even more fascinating.
https://www.instagram.com/p/CkLnVtGpLFp/
Her signature style is formed from a combination of multiple materials that act as a catalyst to reflect spiritual images expressed in hypnotic configurations.
The most famous NFTs by Jen Stark
To date, Jen Stark has released several single NFT works and several collections. Moreover, one of them came out under the curation of the largest platform for generative art Art Blocks.
Vortex NFT collection
On December 14, 2021, under the curation of the well-known generative art platform Art Blocks, the Vortex collection was released, which became a breakthrough for Jen Stark. It is worth saying that the curatorial collections include projects after strict moderation, where the key factors are innovation, manufacturability and aesthetics. This partnership brought the artist great popularity and high primary and secondary sales.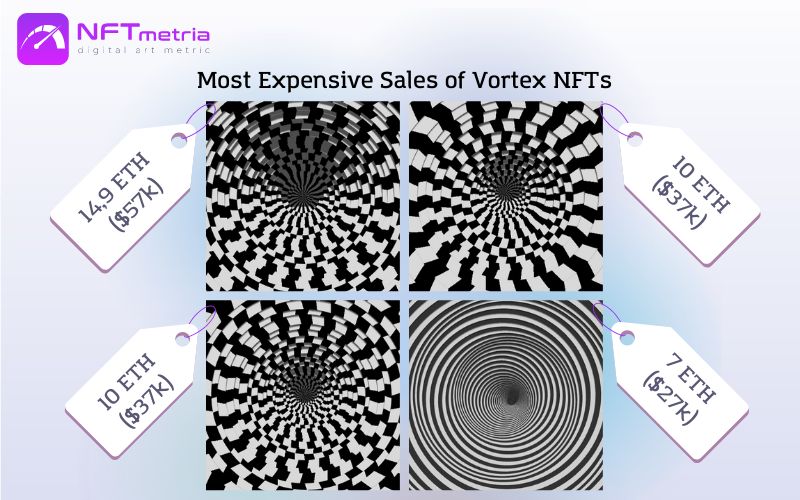 Her 1000 incredible animated abstracts mesmerize with their swirls, spirals, lines and vibrant colors that draw the eye into a tunnel.
Some numbers for today:
The total volume of secondary sales exceeded 1.5k ETH,
Average sales are in the range of 1.1 ETH – 2 ETH,
Floor price is 1.35 ETH,
The most expensive Vortex #190 was sold on December 14, 2021 for 14.9 ETH ($57k at the time of sale).
Multiverse NFT
Multiverse NFT is the artist's debut digital work in collaboration with acclaimed animator David Lewandowski. Jen Stark started her journey from the Foundation marketplace, where the auction took place. As a result, his animation was sold for 150 ETH (over $256k at the time of sale). Multiverse is a hypnotic kaleidoscope of layered geometric shapes.
https://www.instagram.com/p/CM6BsC7LU5h/
Where can you buy NFT work by artist Jen Stark?
Now NFTs are available only on the secondary market, namely on such marketplaces as OpenSea and Foundation. In addition, you can follow the future updates on the artist's Twitter.
Opinion of NFTMetria
Jen Stark is a multi-faceted, unique artist with an extraordinary hypnotic style that transcends the NFT market. On the contrary, it only complements her work. In the digital art industry, she is a prominent spokesperson for women's creativity and out-of-the-box thinking.
Given her bright and successful collaboration with Art Blocks, thanks to which she became known to an even larger public, we should expect even greater success and non-standard projects from her ahead.