Today, generative art has perhaps never been more popular and accepted by the general public. A quick look at Google Trends – a cursory but powerful indicator of general interest – shows that "generative art" searches worldwide have hit an all-time high in 2021.
By now, even casual NFT followers will likely be aware of Art Blocks, an Ethereum-based generative art platform. Today, the project has passed the $1.4 billion mark in sales, and artists who want to join their ranks are on the waiting list. What is the secret of success, and how the system is built, read in our review.
Community
Art Blocks in numbers
The project was launched in November 2020.
To finance and launch the project, the owner of the future platform, Eric Calderon, sold more than 20 of his CryptoPunks.
There are 3 categories of projects on the platform: Curated (66 collections released), Playground (65 collections), Factory (more than 240 collections).
In total, the project has published more than 200K NFTs, and there are already more than 200 people in the ranks of their approved artists.
Curated entries are rigorously moderated by a Curation Board of more than 20 members.
Platform royalty is 10% for primary sales and 2.5% for secondary market sales.
Total sales exceeded $1.4 billion.
The most expensive work of Ringers #109 was sold for 2100 ETH ($7.1 million at the time of sale).
Data (including exchange rates) are given at the time of publication of the article.
What are Art Blocks?
Art Blocks is an Ethereum based NFT creation platform where artists can create and sell generative art on demand. Every work is unique, and buyers usually don't know exactly what a work of art will look like before they buy it.
Some projects include interactive artwork, as in the case of Asterisms, while others may be static, as is the case with Archetype. But in general, the concept of the site follows abstract works – it can be floral, geometric, industrial or natural motifs.
What does the working mechanism look like? Releases of projects on the platform take place every second Thursday of the month with the participation of different artists. After that, collectors go to the project page and mint tokens from there, not knowing exactly what they are minting until it is in their wallets.
To date, the platform has released:
66 supervised projects,
65 projects in the Playground,
more than 240 projects in the Factory.
What is the meaning of Art Blocks?
Art Blocks doesn't just showcase and sell generative art. It contains the artist's generative script itself. And then allows collectors to interact with the script so that they get a unique result. The result is the artwork itself, full of random variables, which makes it different from all other results of the same scenario.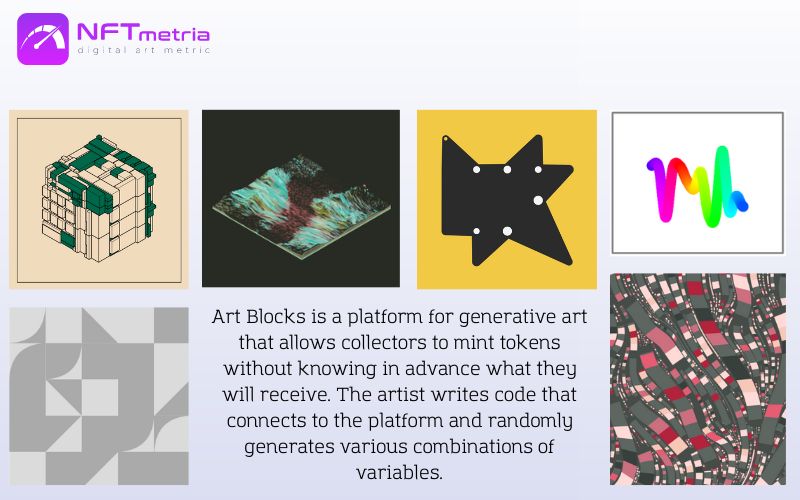 In short, when an artist creates a work of art on Art Blocks, they create a token on the Ethereum blockchain. This token is unique (because it's an NFT) and contains a seed value. The seed then determines the artistic outcome of the scenario, highlighting variables such as color, geometry, and other features of rarity.
In this way, Art Blocks is a bit like an artist creating an individual work of art on demand using a blockchain to randomize the output. Is it successful? The answer is a firm yes.
How it works?
Art Blocks takes control of the characteristics that make a project unique and passes them on to the algorithm for generation. Since the project is built on the Ethereum (ETH) network, all parts of the collections are standard non-fungible ERC-721 compliant tokens.
In this way, the artist creates a piece of code that is loaded on the platform and random combinations of variables are generated. Most projects are created using a JavaScript framework that supports creative coding called p5.js.
After submitting your code to Art Blocks, the following sequence of actions occurs behind the scenes:
A seed or randomized hexadecimal string is generated.
Each element in the seed defines an attribute of the artwork within parameters that match the aesthetics of the artwork. For example, Chrome's Squiggle algorithm wouldn't just randomly discard emojis as it runs, unless it was programmed to do so by the creator.
Finally, the final product is created. All variations come down to what the algorithm produces – you can specify a yellow tint, or you can green, and so on.
The final NFT can be anything: a 3D model, an interactive interface, or just a static image. All NFTs are minted by the customer, not the artist. The buyer is only shown the base artwork, which will be sent to the generator before the NFT is created.
What is generative art?
The generative type of art is the algorithmic processes that make artistic creation autonomous. In the code, the author introduces random factors to make each work of art unique.
Renowned artist Tyler Hobbs could, for example, change his code to reduce the presence of red.
Because red does not go well with large shapes. Therefore, I will force him to use only blue in such cases.Tyler Hobbs says
Artists upload their algorithms to the Art Blocks platform and set a maximum number of print runs. In some cases, collectors can choose from a selection of styles to create a piece of art. The artwork is minted in real time on the blockchain as soon as it is purchased, and the result sent is a randomly generated artwork in the form of an ERC-721 NFT sent directly to the collector's wallet.
Who created Art Blocks?
Eric Calderon, aka Snowfro, launched Art Blocks in November 2020, citing his experience getting CryptoPunks in 2017 as inspiration for the project.
History of Art Blocks
Despite being a historic NFT project, CryptoPunks has failed in one area. Each punk was pre-generated and minted, leaving collectors to pick them up. In this sense, the Ethereum blockchain simply served to record and store punks, but did not participate in the creative process.
This experience led Calderón to explore the possibility of creating a version of the NFT where the end user could not foresee what NFT they would receive. At the same time, he wondered if blockchains could ever help create art. As a result, Eric Calderon encrypted the NFT properties in code and launched the first collection on Art Blocks called Chromie Squiggle. And to create the project itself, Snowfro sold part of his collection of CryptoPunks to finance the creation of the platform.
To date, sales have exceeded $1.3 billion at current exchange rates, reaching over 15,000 collectors and dealers worldwide. His popularity seemed to have peaked in March 2021. The attention was also heightened by Tyler Hobb's release of the Fidenza collection. It was around the same time that generative art projects like the Bored Ape Yacht Club began to gain momentum, which crossed paths with many of the same Art Blocks collectors.
What is an Art Blocks Curation Board?
Such a global idea of ​​Eric Calderon is not possible to implement alone. Then he created the Curation Board, whose members are responsible for reviewing, criticizing and selecting projects for inclusion in Art Blocks Curated. The council is made up of leaders and supporters of the generative arts industry. More than 20 people in total.
In its work, the curatorial council is guided by the following values:
To help artists by providing clear and constructive feedback to elevate the artist's work.
Serve collectors by facilitating education, research and dialogue around generative art online.
Serve Art Blocks by choosing and protecting the future of generative art.
Why are Art Blocks so popular and expensive?
Art Blocks has become very popular among NFT artists and collectors for several reasons:
This platform embodies the generative art that more and more people are becoming followers of.
The value of the algorithmic principle. This is a distinctive moment from everything that is now on the market – the artist does not draw, but writes code, as a result of which a full-fledged work is generated. And this mystery is not only for the artist, but also for the buyer, who sees the final work only after the purchase in his crypto wallet.
An opportunity to purchase not just a funny GIF, but a full-fledged work of art with industrial, abstract or natural notes.
Rich variety. At the moment, Art Blocks is a total of more than 200 artists, more than 360K placed NFT. Everyone will find what he likes to his taste and wallet.
Project Roadmap
There is no project roadmap on the official website of the project. But it's worth saying that this is not a typical NFT collection. This project is much wider, and their plans are accordingly also ambitious. You can read about them in the section "The Future of the Art Blocks Project".
Types of Art Blocks Projects
There are three categories of art on the Art Blocks platform:
Art Block Curated
The Art Blocks team selects works in this category as an example of a high level of creativity and execution, reflecting the concept of the project. Since these artworks are verified by the platform and have a special place on the website, the selected artists often become popular and their work can become very valuable.
With projects like Fidenzas by Tyler Hobbs and Ringers by Dmitry Cherniak, Art Blocks Curated only accepts collections from artists officially approved by the Curation Board. Not every collector will be able to buy a work from this category because of the high cost. The NFT of the category is the best representation of Art Blocks' vision.
The curatorial section is art blocks equivalent to visiting the Louvre or the Museum of Modern Art. They push the boundaries of generative art with their aesthetic beauty, conceptualization, technical quality and innovation.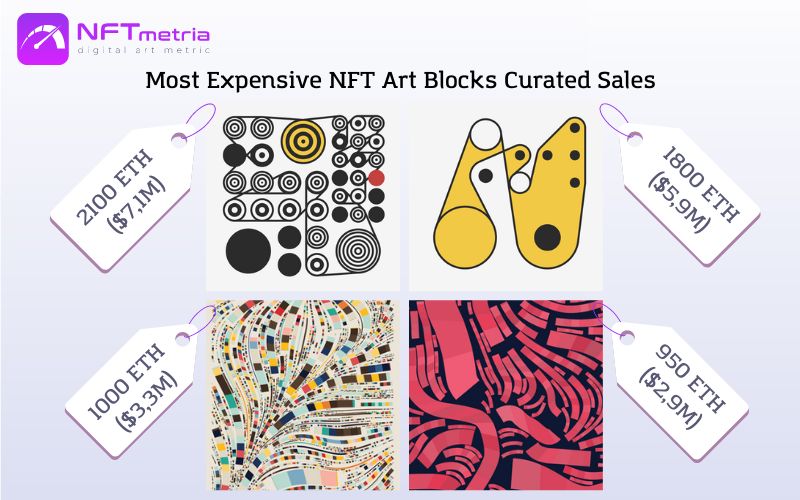 Projects are published quarterly. To date, a total of 66 collections have been placed in the project, which is more than 60K images. You can purchase the cheapest of them for 0.3 ETH. And the most expensive sales were for 950-2100 ETH.
Art Block Playground
When an artist posts their work in the Art Blocks Curated collection, they can place their next work in the Playground section. If you're a fan of a popular artist but don't have the assets required to purchase a Curated NFT, the Playground Collection might be preferable.
The playful name suggests that this is a place for experimentation and for artists to explore what's next in their projects. Individual projects are not reviewed by the Board, but the artists are reviewed so you know they are of high quality.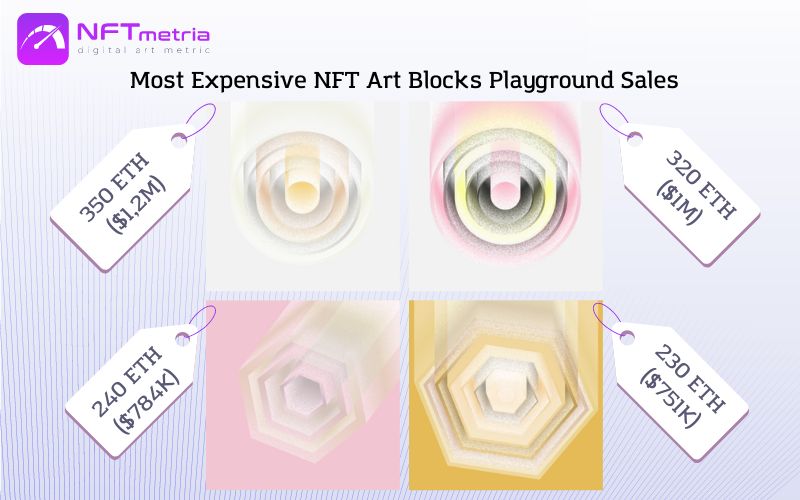 To date, a total of 65 collections have been placed in the project, which is more than 30K images. You can purchase the cheapest of them for 0.07 ETH. And the most expensive sales were 230-350 ETH.
Art Block Factory
Art Blocks created the Factory collection for artists who don't want to wait for their work to be added to the Curated collection. This collection is also available to artists who have been waived from the Art Blocks Curated collection.
Despite lower entry limits, these projects are meant to reflect the innovation and creativity of the community.
Artists must sell all their work to Factory before releasing another Factory project on the platform. Artists must wait two months between project launches.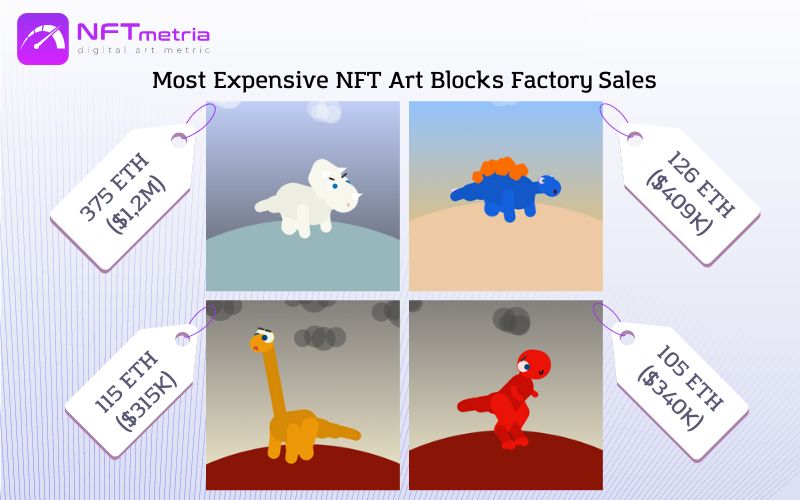 To date, the project has more than 240 collections, more than 110K works. Among them, the most expensive ones were sold for 100-375 ETH. And you can buy the cheapest work for 0.025 ETH.
Notable Art Block projects and artists
There are a lot of very popular Art Blocks NFT projects that you might consider investing in NFTs while looking into. Each project has its own characteristics. Major projects detailed below include Fidenza, Chromie Squiggle and Ringers.
Chromie Squiggle by Snowfro
Chromie Squiggles was the first collection to be published and minted on the platform. The OG project was developed by the founder of the Snowfro platform himself. He believes that they "embodie the soul of the Art Blocks platform" and says that each one is his "personal signature of an artist, developer and craftsman." Minting of the iconic rainbow traces has been permanently suspended, so no more will be produced. By the way, these colored lines are also the logo of the platform itself.
What can we say briefly about the collection?
Collection launched in November 2020,
It consists of 9675 images,
Sales exceeded 53K all-time,
The minimum purchase price is now 11.25 ETH,
Sales are on average within 11-15 ETH,
Only 28% of unique owners. That is, according to statistics, there are approximately 4 NFTs per wallet. This is 2 times higher than the market average.
The most expensive sales of the Chromie Squiggle collection by Snowfro: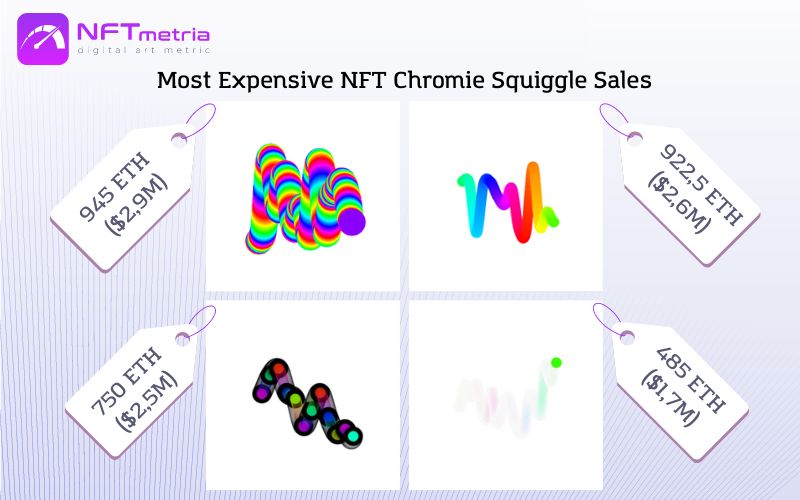 Chromie Squiggle #4697 sold on September 26, 2021 for 945 ETH ($2.9 million at the time of purchase),
Chromie Squiggle #7583 sold on September 21, 2021 for 922.5 ETH ($2.6 million at time of purchase)
Chromie Squiggle #3784 sold on August 14, 2021 for 750 ETH ($2.5 million at the time)
Chromie Squiggle #6339 sold on September 18, 2021 for 485 ETH ($1.7 million at the time). By the way, it was purchased by the famous NFT collector punk6529.
Fidenza by Tyler Hobbs
One of the most economically successful projects is the Fidenza series created by artist Tyler Hobbs.
The collection, named after the Italian city, includes 999 works of generative art inspired by the work of the abstract expressionist Francis Klein. It was launched at an initial price of 0.17 ETH.
A few words about the collection:
Collection launched in October 2021,
It consists of 999 images,
Sales exceeded 52K all time,
The minimum purchase price is now 96 ETH,
Sales are on average within 90-150 ETH,
Only 53% of unique owners. That is, according to statistics, there are approximately 2 NFTs per wallet.
The most expensive sales of the Fidenza by Tyler Hobbs collection: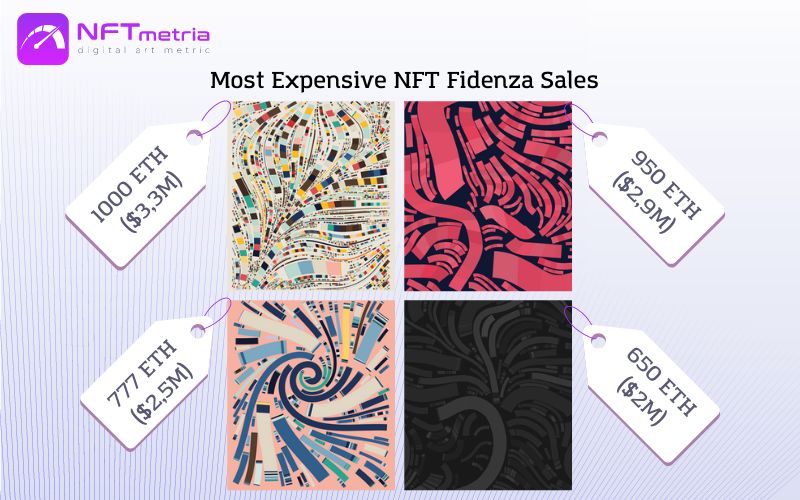 Fidenza #313 sold on August 23, 2021 for 1,000 ETH ($3.3 million at the time of sale). By the way, it was purchased by the famous NFT collector punk6529.
Fidenza #77 sold on September 30, 2021 for 950 ETH ($2.9 million at the time).
Fidenza #772 sold on September 25, 2021 for 777 ETH ($2.5 million at the time).
Fidenza #723 sold on August 18, 2021 for 650 ETH ($2 million at the time of sale).
Ringers by Dmitri Cherniak
Ringers by Dmitri Cherniak is another notable Art Blocks project, whose works are the most expensive in the history of the entire project. Cherniak, a prominent figure in generative art circles, explores the concept of winding a thread around a set of pegs, where the algorithm can produce an almost infinite number of combinations. Variations include the number of pegs, size, layout, wrapper orientation, and a few colorful swirls for good measure.
Briefly about the collection:
Collection launched in October 2021,
It consists of 1000 images,
Sales exceeded 28K all time,
The minimum purchase price is now 60 ETH,
Sales are on average within 60-80 ETH,
Only 28% of unique owners. That is, according to statistics, there are approximately 4 NFTs per wallet. This is 2 times higher than the market average.
The most expensive sales of the Ringers collection by Dmitri Cherniak: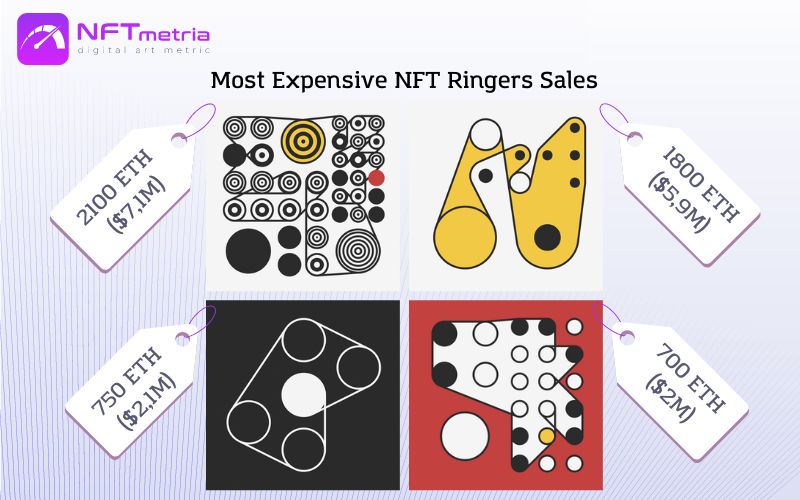 Ringers #109 sold on October 2, 2021 for 2100 ETH ($7.1 million at the time of sale)
Ringers #879 sold on August 27 for 1800 ETH ($5.9 million at the time)
Ringers #220 sold on September 29 for 750 ETH ($2.1 million at the time)
Ringers #621 sold on September 29 for 700 ETH ($2 million at the time of sale)
How much do Art Blocks cost?
There is no universal answer to this question, because Art Blocks is not one collection. This is a platform where more than 370 different collections are hosted in total. All of them are divided into 3 categories of "eliteness" and curation by the Curation Board.
Below is a brief overview of the average prices for real sales in each of these 3 categories:
Art Blocks Curated from 0.3 ETH to 6 ETH,
Art Blocks Playground from 0.1 ETH to 3 ETH,
Art Blocks Factory from 0.01 ETH to 1 ETH.
The price depends primarily on the category of the project, the popularity and celebrity of the artist, the visual and aesthetic component.
Most Expensive Art Blocks Sales
The status of one of the best NFT collections and blue chips gives a green light to buying for a lot of money. So, consider the most expensive sale of the entire collection.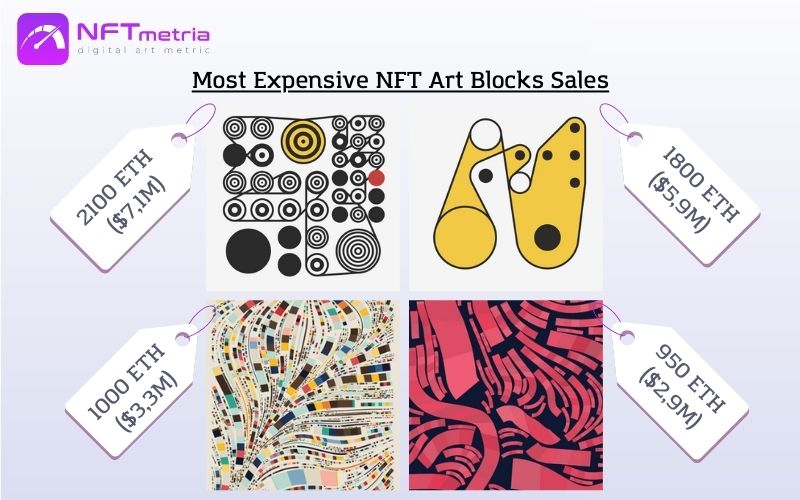 Ringers by Dmitri Cherniak #109 sold on October 2, 2021 for 2,100 ETH ($7.1 million at the time of purchase).
Ringers by Dmitri Cherniak #879 sold on August 27, 2021 for 1800 ETH ($5.9 million at the time).
Fidenza by Tyler Hobbs #313 sold on August 23 for 1,000 ETH ($3.3 million at the time of purchase).
Fidenza by Tyler Hobbs #77 sold on September 30, 2021 for 950 ETH ($2.9 million at the time).
Here's what NFT influencer @bonafidehan had to say about the third most expensive job on Twitter:
Just brokered the first 4-digit @artblocks_io sale at 1,000ETH ($3.3M)

I present to you @tylerxhobbs Fidenza 313, 🌷 "The Tulip" 🌷. A remarkably beautiful and memorable onchain artifact now owned by legend @punk6529. Unmistakably one of the top 5 Fidenzas

Now vaulted forever pic.twitter.com/TVcCmYIFuN

— bonafidehan.eth ⬛ (@bonafidehan) August 23, 2021
Project pricing
You will come across two different pricing formats for Art Blocks: Fixed Price and Dutch Auction. For example, in the first case, the artist can throw away 200 pieces at a price of 0.1 ETH each. Very simple.
In a Dutch auction, the price starts at a certain level and gradually decreases until it reaches its final and lowest level. For example, an auction could start at 2 ETH and go down by 0.2 ETH every half hour until it reaches 0.4 ETH. You can buy at any time – until the project is sold out!
Where to buy Art Blocks?
There are 2 options for purchasing these NFTs:
In the primary market, that is, coinage or mint. Any new project is launched on their official website at a certain time with a set price and amount of work. You can visit their website to view upcoming releases and keep track of when sales start.
How to buy Art Blocks?
Depending on the place (official site or marketplaces) and time (initial mint or secondary sales after a full mint), we distinguish 2 options for buying Art Blocks:
If you buy at the mint stage on the official website
Please note that sales on the site are in the format of a Dutch auction. That is, the price will go down over time until it reaches an extreme low. You have the opportunity to wait for the price to drop, but then there is a risk that especially attractive works will be sold out by then. Advice!
Install and connect a crypto wallet,
Visit any open project on Art Blocks.
If the project is open and there are mints left in the series, you will see the buy button.
Once purchased using ETH, the platform will mint your unique generative artwork in your wallet.
If you want to be among the first to purchase a token from a certain collection, then follow the releases on the official website. They come out every second Thursday, that is, once every 2 weeks on Thursdays.Life hack
If you buy on the secondary market through marketplaces
Find the official collection using the marketplace search bar,
Analyze and choose the NFT you want to buy; click on it and then on the "Buy" button.
Or you can bet on the token you like. Make sure you leave enough ETH for gas or transaction fees. If the seller approves your bid, the deal goes through.
When choosing in secondary markets, be careful and conduct a deep analysis of pricing, analogues and investment attractiveness. Advice!
Why do we keep talking about this? It's simple – there is a lot of speculation and scam in the market. In our NFT investor course, we give you all the fundamental knowledge, as well as various life hacks, subtleties of work and tools of a competent NFT investor, so that any analysis that we describe in the articles is simple, understandable and informative for you.
Latest news about the project
This extensive review would be incomplete if we did not touch on important news about the project itself. So, below are the largest of them.
Sales at Sotheby auction
In June 2021, Sotheby held an auction titled "Natively Digital: Curated NFT/Lot4 Sale". The lot included 19 pieces of art selected by Eric Calderon and Geoff Davis from their Art Blocks collections and sold for $81,900.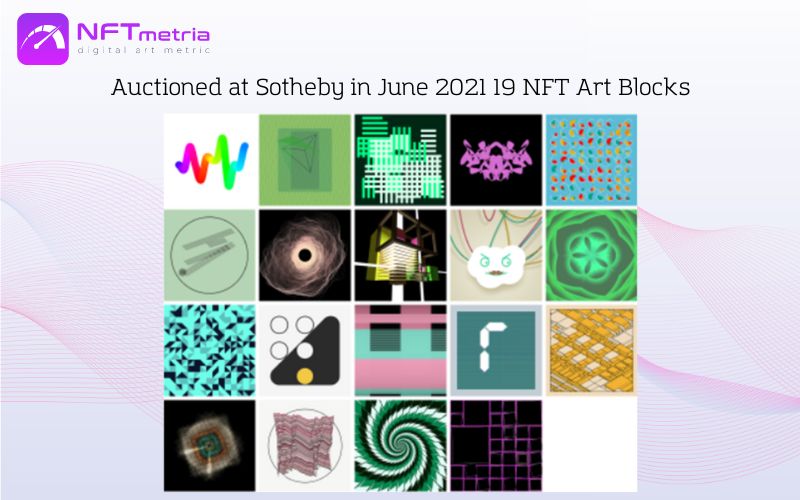 In December 2021, ten never-before-minted editions from the original Chromie Squiggle collection were auctioned off at Sotheby's Metaverse. The collection was found by a buyer for $478,800.
Sotheby's and Snowfro @ArtOnBlockchain proudly present an iconic sale for an icon of generative art. Chromie Squiggle: MINT IT! features one lot of 10 unminted, never before seen Chromie Squiggles. Bidding is open now through Dec 13 https://t.co/hZvYIkO3xx pic.twitter.com/9iHcb6rJ3Z

— Sotheby's Metaverse (@Sothebysverse) December 6, 2021
The NFT Art Blocks project launches an engine for creating generative assets
In August 2022, the Art Blocks Team launched a new product allowing creative teams to launch their own generative assets.
According to the FAQ page, it has two versions. The first is the Art Blocks Engine, which the team used to store generative assets on the network. Art Blocks Engine Flex is the second one that creates and stores generative elements off the network using decentralized storage protocols such as IPFS.
These engines allow third parties or Art Block partners to use Art Block smart contracts and the rendering infrastructure to create an unlimited number of branded generative projects.
Our main thesis is that often, when people are offered two options at the same price, they are more likely to prefer personalized items to impersonal ones. Unique, not generic.wrote on Twitter Art Blocks founder Eric Calderon.
Eric added that Art Blocks Engine can be used not only by web3 teams, but also by those involved in fashion, sports, events, media and games.
Brand update
At the end of September 2022, the project announced the start of the transition to an updated version of the Art Blocks 2.0 project. Founder Eric Calderon said the company has begun work on a new version, including updates to the brand and requirements of the Board of Curators.
The platform is aiming for a more refined experience in the new version of Art Blocks 2.0 and is ending the NFT Curated series at this stage. declared Calderon
The future of the Art Blocks project
Money is a big part of why Art Blocks is gaining attention in the art world and the blockchain arena. But Calderón says his biggest goal is to help generative artists increase the reach of their work. For decades, their work has been underestimated in the traditional art world, and their talents for creating through coding have been misunderstood.
There is genius in playing a violin or a musical instrument. For me, this is an ingenious automation.says Calderon
What are they planning?
Art Blocks hopes to enter the video game arena. Snowfro is pushing the idea of ​​using the NFT platform as a form of online gaming license. After the player has completed the game to a satisfactory level, he can sell the NFT, which grants access to his account. This is a common practice in games these days. And developers could make it easier with NFTs.
In terms of its system, the project is testing new auction methods for dropping projects. This was a response to the advent of flashbots, which quickly acquired works of art without participating in the gas wars. Art Blocks hopes to develop a fair and efficient way to manage the ecosystem and the buying process.
Is Art Blocks Worth Investing in?
Many serious NFT collectors will tell you that Art Blocks is the most important platform in NFT art history. We partly agree with them. And while more platforms have entered the space, Art Blocks is still a popular destination for generative art. And it will probably always be recognized for its historical significance.
That being said, the platform is also not immune to the rampant speculation that has taken place in the NFT space as a whole over the past two years.
However, the various projects mentioned in this guide have risen in price over the past few months. This indicates that the platform and NFT for generative art will continue to be in high demand in the coming months and years. And given the involvement of an entire moderating board in choosing collections within the Curated project, you are more likely to acquire an investment-attractive NFT.
In any case, do your own in-depth analysis and research when investing in NFTs, and then make your own decisions.
Conclusion
Art Blocks are unique among other NFTs due to their element of surprise and have attracted substantial price tags. The Art Blocks collections are algorithmically complex, aesthetically pleasing, and set the bar quite high for carefully curated content. Tokens have a distinct advantage over other NFTs due to the use of algorithms for generative art. It engages collectors in the creation process, allowing them to create a one-of-a-kind interpretation of the artist's preferred concept.
The project has experienced a meteoric rise in popularity from a niche art startup to a blue-chip NFT studio of sorts, and it plays a unique role in blockchain art history. Art Blocks has become a valuable target for NFT investors, especially as the system gains momentum and curated collections gain more interest. The platform has huge potential for collectors, traders and artists.