Clone X is an exciting new project and complete ecosystem developed by RTKFT (owned by global sports brand Nike) and world-famous art artist Takashi Murakami. The combination of these brands and names gave the collection an insane boost, providing a strong community, a place among the top NFT collections and blue chips. At the moment, in terms of sales, the project ranks seventh among the best collections on the largest NFT marketplace OpenSea. And among the owners you will see personalities with world names.
Read in this article:
What kind of collection it is,
How much the most expensive characters from the collection were bought for,
What ecosystem the project is.
CLONE X Official Links
CLONE X in numbers
The collection was released on November 27, 2021 as a pre-sale for RTFKT NFT holders at a price of 0.05 ETH, and on November 29, 2021, a public sale opened for everyone at a price of 2 ETH.
The project takes the seventh place among the best collections on the largest NFT marketplace OpenSea.
Sales exceeded 400K ETH (over $700 million).
With a 5% royalty on secondary sales, RTFKT received approximately 10.5k ETH in royalties.
The floor prices peaked at 20 ETH in April 2022 when the team introduced new airdrops for core collection holders.
The floor price at the moment is 1.5 ETH.
A total of 9.5K unique holders (49%).
Only about 4% of the collection is for sale, most of which are quoted in the price range of 1.5-22 ETH. This shows that most holders are not thinking about selling.
74% of the collection is stored in the crypto wallets of the owners for at least 90 days. Which shows the optimistic mood of investors and a minimum of speculation for a quick profit.
The takeover of the sportswear maker caused CloneX's value to skyrocket from 3 ETH before the announcement to 6 ETH after.
Data (including exchange rates) are given at the time of publication of the article.
What is CLONE X?
Clone X is a collection of 20,000 NFTs with randomly combined traits created by RTFKT and Takashi Murakami on the Ethereum blockchain. They can be used for Metaverse platforms, NFT based games and augmented reality filters.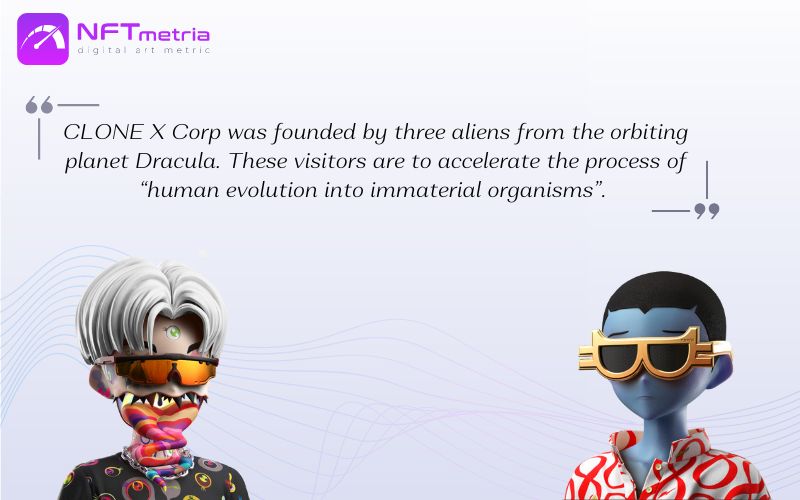 Clone X and its creators aim to transfer all human consciousness into advanced clone forms and force them to create the perfect Metaverse. In their Metaverse, humans are no longer in organic form, but are represented by their digital avatar.
CLONE X types and attributes
Avatars are made up of eight different types of DNA in 20,000 NFTs.
These types of DNA are:
Humans: 9701 pieces,
Robots: 5811 pieces,
Angels: 1695 pieces,
Demons: 1694 pieces,
Reptiles: 244 pieces,
Undead: 114 pieces,
Murakami: 96 pieces,
Aliens: 30 pieces.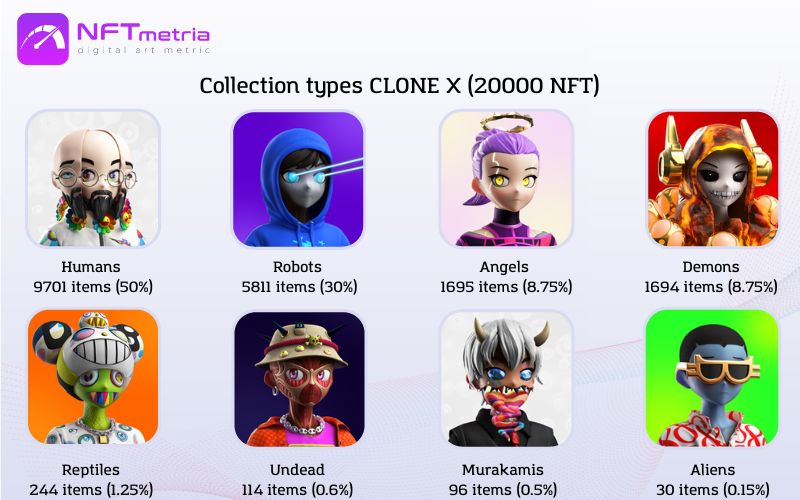 Note that in this collection, the surprisingly rarest type does not guarantee the most expensive sales. The most expensive alien sold for 270 ETH. On the other hand, Murakamis, demons and humans sell for more.
The Clone X collection also contains over 300 unique 3D features.
By attributes they can be divided into:
accessories,
back,
clothes,
eye color,
eyewear,
facial feature,
air,
helmet,
jewelry,
mouth,
type.
To celebrate the collaboration of legendary artist Takashi Murakami, Clone X has added a brand-new subtype to the clone pool: Murakami clones. These respected clones make up just 0.5 percent of all NFTs currently in circulation. There is one more difference from the rest of the collection – they cannot be used for commercial purposes.
CLONE X distribution
The team at the time of the release of the collection distributed all 20,000 NFTs as follows:
11133 pieces got RTFKT holders during presale. This is 55.7% of the entire collection.
8367 pieces were sold out during the public sale. This is 41.8% of the entire collection.
500 pieces reserved for RTFKT team. They are for the team, artists, F&F and community.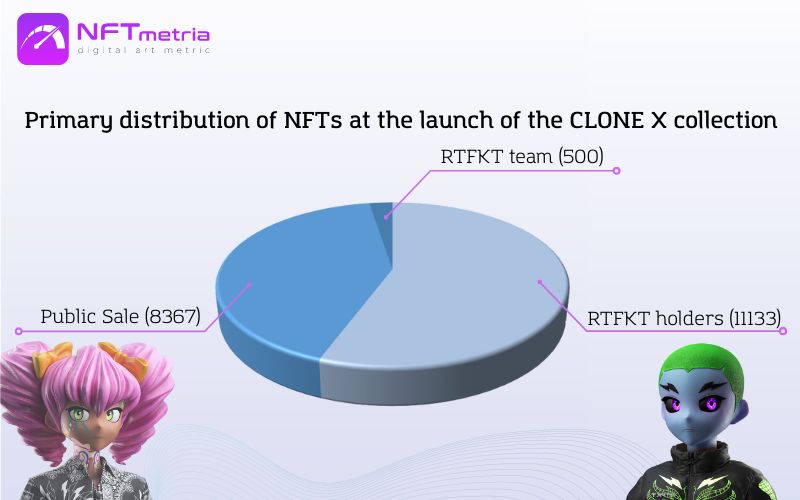 Who created CLONE X?
Clone X is a collaboration between legendary Japanese artist Takashi Murakami and NFT studio RTFKT (pronounced "artifact").
RTFKT made headlines in the NFT space when it was acquired by Nike on December 13, 2021. Not only has the big brand invested directly in NFT, but it may also be the first real acquisition of an NFT company with a big name.
At the same time, Clone X was not the first RTFKT project. Even before the release of Clone X, the studio quickly gained recognition with original creations of virtual sneakers and other artifacts from collections planned for the Metaverse. They started out by creating virtual sneakers, gradually evolving into fashion items that could be used on Decentraland, and even hosted events that allowed users to get physical sneakers with their NFTs.
Takashi Murakami is an iconic Japanese contemporary artist. The collection has his unmistakable style from Murakami: he rendered body parts as NFTs, including important character traits such as eyes, clothing, helmets, mouths, and more. Critics praise: Murakami's handwriting – a futuristic cartoon drawing – is immediately recognizable on Clone X.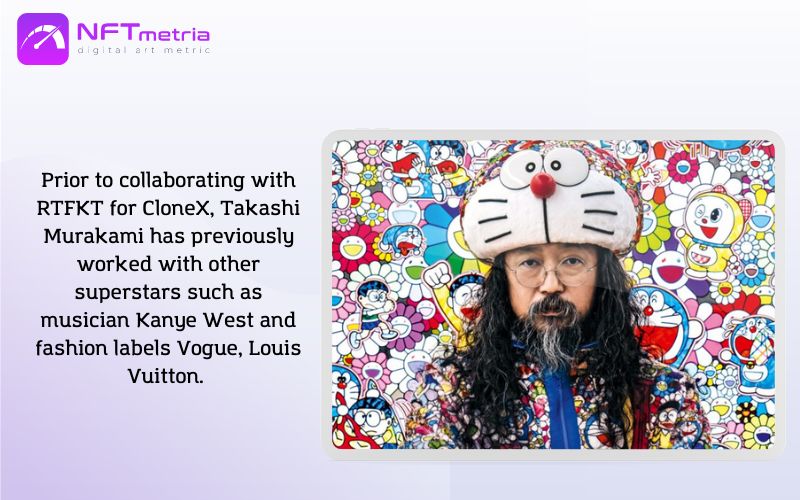 Which celebrity owns CLONE X?
The collection has aroused the interest of many popular collectors.
Among them are the following individuals:
World famous DJ Steve Aoki,
American singer Justin Bieber,
American rapper Tyga,
World rap star Snoop Dogg,
English footballer Peter Crouch,
American UFC fighter Anthony Pettis,
CEO of TAG Heuer Frédéric Arnault.
How did CLONE X become blue chip?
The launch of Clone X opened up a new dimension for the RTFKT brand. The collection was created in collaboration with one of the most influential Japanese artists in the world today, Takashi Murakami.
On November 27, 2021, a pre-sale of 11133 NFTs was held in the collection for existing studio NFT holders at a price of 0.05 ETH. During the airdrop, owners of the original NFT RTFKT Studio could receive up to 3 NFT Clone X during the presale. And owners of MetaKey 2: RTFKT Edition were eligible to receive 1 NFT.
And the public launch of 8367 NFTs took place 2 days later using the Dutch auction method with a starting price of 3 ETH. However, attacks on the website forced the team to switch to the standard price of 2 ETH for the remaining vials.
And already on December 13, Nike officially announced the acquisition of RTFKT. The acquisition of the entire team and product line is a testament to the quality of the brand they have built.
This was followed by large-scale airdrops, which together form a full-fledged project ecosystem and development prospects. To date, in terms of sales, the collection has overtaken the well-known Decentraland, The Sandbox, Doodles, Meebits.
Why is CLONE X so popular and expensive?
Of course, as in any other project, we highlight the reasons for the popularity and high cost of NFT:
Without a doubt, most of the popularity and such a high price of NFTs are due to its creators. Murakami is as big as modern art can be. He is a well-known artist whose work is often sold at high prices and exhibited in the world's top galleries. It is no coincidence that on the Opensea collection is listed not as "Clone X", but as "CLONE X – X TAKASHI MURAKAMI".
But the RTFKT studio also managed to make a name for itself by that time in the metauniverses and collaborations with other participants in the NFT market. And their subsequent merger with the giant of the sports world Nike predetermined the successful future of the studio and all subsequent projects.
Clones without Murakami Drip traits can be used for any of your commercial purposes for up to $1,000,000.
Variety is another reason for the success of the Clone X collection. Clones are available in different skin tones and races.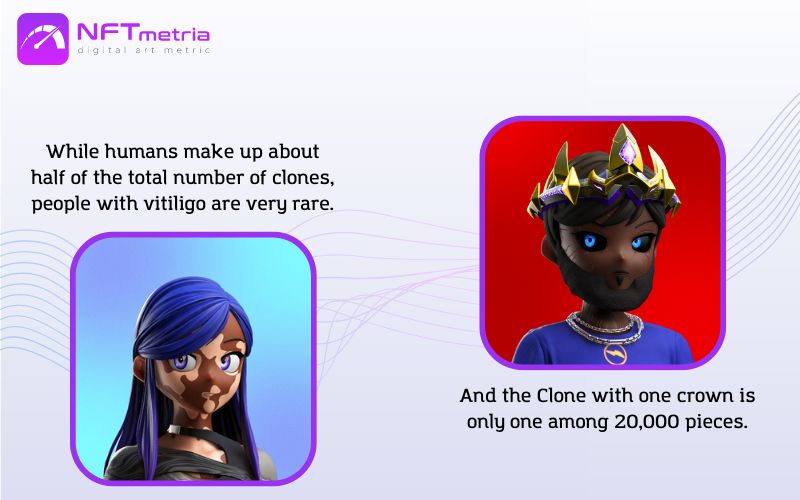 Clone X is also a way to enter the RTFKT ecosystem. It focuses on metaverse products such as digital wearables. Clone X owners can enjoy special benefits including access to live events, airdrops, and early opportunities to purchase NFTs from new collections.
Entrance to the world of metauniverses. The project is globally aimed at the metaverses. And already now, each owner can "revive" his character, turning it into a 3D version and using it in various metaverses and other platforms.
CLONE X Roadmap
Their interactive roadmap is posted on the official website of the project. What can we say about the completed plans?
The team created a meta-repository for 3D NFT visualization for use in various metaverses. Any owner can transform their character on the site.
As part of Forging, all owners can now receive real, physical collectibles. We are talking about a full-fledged clothing collection, which includes T-shirts, caps, jackets, socks, etc.
The team has really created a promising ecosystem with various drops for owners.
Unfortunately, plans for the future are not published on the official website. But we can assume that further according to the plans:
Development of ecosystem projects,
Maximum penetration into the metaverses,
Development of integration between virtual and real world.
Forging events,
Own marketplace to fully combine the team's expertise in the specific area of ​​exclusive fashion and fashion avatars.
Ecosystem of the CLONE X project
Since the acquisition, RTFKT has continued to grow and build its ecosystem alongside Nike. To date, project Clone X has released 3 airdrops for owners of basic NFTs:
Space Pods,
Loot Pods,
MNLTH.
CHAPTER 2 is about ECOSYSTEMS 🌐♾🌐
From now on, every release will have native Clone Wearable and Pods display utility 🤌

Introducing the Clone and Pod Ecosystems 👇 pic.twitter.com/DwCgGx78Ku

— RTFKT (@RTFKT) February 3, 2022
NFT collection Space Pods
Clone X collectors received one exclusive 2021 space capsule each. These virtual spaces are powered by the OnCyber ​​Virtual Gallery. They are metaverse-ready capsule galleries for customizing, updating, and showcasing your NFTs. The launch comes just a few days after the much-anticipated Clone X launch.
Space Pod Airdrop
The first item of the roadmap will be airdropped by the end of the month. Your Clones very own @oncyber_io SPACE POD 🚀

1 Clone=1 Space Pod NFT
Clones will be airdropped their Space Pods.
Unrevealed Vials will have to pay a gas fee to claim their space pod pic.twitter.com/giYN84kVMW

— RTFKT (@RTFKT) December 12, 2021
NFT collection Loot Pods
Loot Pods are an extension of Space Pods. They were dropped to Space Pod holders during RTFKT Chapter 2 as part of the PodX expansion system.
It adds another large location next to the main capsule, made in the style of a marble hall. Pods looks like a spacious hall in a museum where you can display your NFT art.
It is noteworthy that the logos of the family of brands are applied on the wall: Nike, Jordan, Converse and RTFKT. It can be assumed that this room can also become a place for a collection of virtual sneakers. Like the shoe racks that sneaker collectors place in their homes in the real world.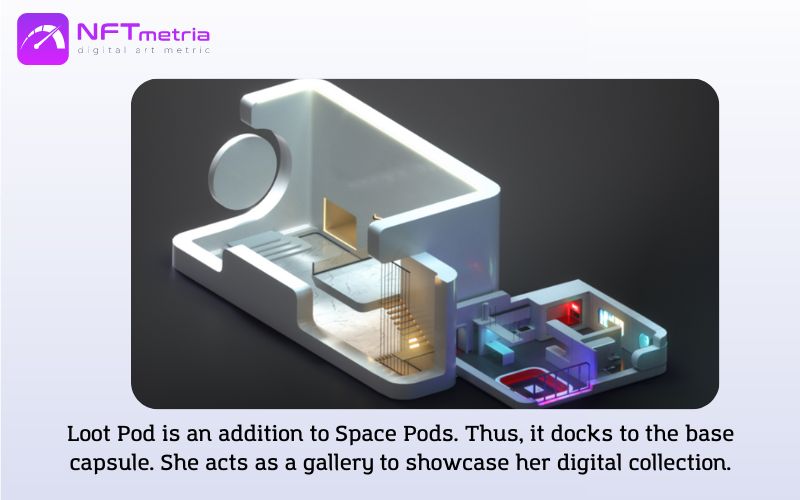 NFT collection MNLTH
MNLTH is CloneX's second airdrop and the first Nike branded NFT. The presentation took place on April 22, 2022. This gift, given to every Clone X owner in the form of an Airdrop, marks the beginning of a new story. The deployment process for MNLTH uses a new deployment technology called DART X.
MNLTH was the most mysterious of all. NFT owners had to complete various virtual quests and the community had to band together to find the answers to the riddles. MNLTH holders were given the opportunity to burn their MNLTH NFTs to receive 3 separate NFTs – Skin Vial Evo X, Dunk Crypto Kicks and MNLTH 2.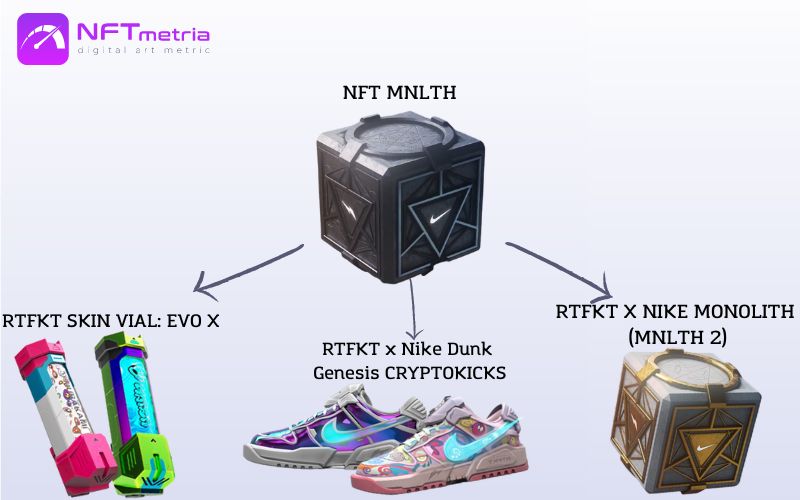 RTFKT SKIN VIAL: EVO X
This collection is divided into 8 different bottles depending on the DNA of your Clone.
As a result of mint, 14172 skin bottles were produced,
The volume of secondary sales exceeded 6K ETH,
Average sales are within 0.13-1 ETH,
The lowest price on the market now – 0.13 ETH,
The most expensive sale – 150 ETH (bottle for the skin of the rarest type of DNA – alien),
Creator fee 10%.
RTFKT x Nike Dunk Genesis CRYPTOKICKS
This is the first NFT with the Nike logo. Depending on the type of DNA your Clone has, you get a pair of sneakers with their own characteristics and distinctive appearance.
As a result of the mint, 13369 sneakers were produced,
The volume of secondary sales exceeded 7.5K ETH,
Average sales are within 0.4-0.5 ETH,
The lowest price on the market now – 0.5 ETH,
The most expensive sale – 45 ETH,
Creator fee 10%.
RTFKT X NIKE MONOLITH (MNLTH 2)
While this project keeps intrigue. And the authors do not disclose the specific purpose, which makes it even more interesting.
5K owners,
4K total,
The volume of secondary sales exceeded 11.7K ETH,
Average sales are within 1.4-1.6 ETH,
The lowest price on the market now – 1.55 ETH,
Creator fee 10%.
Murakami.Flowers
Clone X owners with "Murakami drops" as traits were also eligible for a spot on the whitelist of Takashi Murakami's latest NFT collection Murakami.Flowers.
The collection consists of 9671-pixel colors with different features,
Sales volume exceeded 19K,
Average sales are within 1.1-1.6 ETH,
The lowest price on the market – 1.2 ETH,
The most expensive sale – 100 ETH,
Creator fee 7.5%.
How much does CLONE X cost?
Initially, on November 27, 2021, the Dutch auction was held at a price of 3 ETH. But due to virus attacks, the very next day the team set a single price of 2 ETH. As a result, all NFTs were sold out very quickly.
To visualize the price dynamics, we made a cut at the average price for 1 NFT:
in December 2021 – 7.5 ETH,
in February 2022 – 18.8 ETH,
in May 2022 – 15.6 ETH,
in July 2022 – 11.2 ETH,
in September 2022 – 7.2 ETH,
in February 2023 – 5 ETH,
in July 2023 – 2.2 ETH.
Now (September 2023) the floor price is 1.5 ETH. On average, the latest sales are in the range of 1.5-6 ETH.
The most expensive CLONE X sales
The status of one of the best NFT collections and blue chips gives a green light to buying for a lot of money. So, consider the most expensive sale of the entire collection.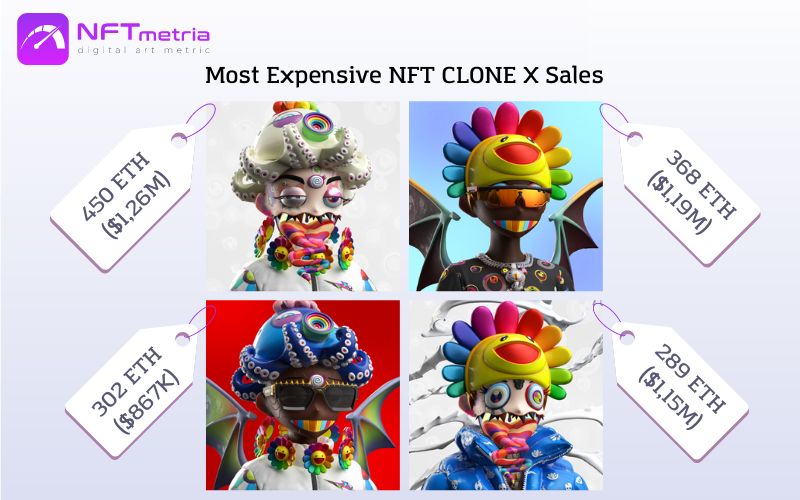 #4594 sold on February 1, 2022 for 450 ETH ($1.26 million at the time of purchase). This is a rare Murakami with half-open eyes, a rare type of mouth, a flower necklace, and an octopus on its head. All these attributes are found in no more than 2% of NFTs from the entire collection. That is, it is indeed a valuable NFT given the exclusivity of the Murakami DNA type.
#13134 sold on February 9, 2022 for 368 ETH ($1.19 million at the time). This is a commonly seen Human with bat wings, a flowered hat, a smiley face, a panda necklace, and a black t-shirt. Each of these attributes occurs no more than 1% of the entire collection. It is worth noting that here the value is precisely in rare attributes and their combinations, despite the popular Human, which is found in half of the collection.
#16891 sold on February 13 for 302 ETH ($867K at the time). This is a fairly rare Demon with bat wings, a flower necklace, half-open eyes, a blue octopus on its head, and spiked glasses. Each of these attributes occurs no more than 1% of the entire collection.
#15920 sold on December 18, 2021 for 289 ETH ($1.15 million at the time). This is a rare Murakami with splashes on the background, a flower hat, a rare type of mouth, a panda necklace, and wearing a blue jacket. Each of these attributes occurs no more than 1% of the entire collection.
Where to buy NFT CLONE X?
Primary NFT sales took place on the official website. Clone X can now be purchased on many secondary marketplaces, including OpenSea, Rarible and Coinbase.
How to buy NFT CLONE X?
Remember that initially you need to connect your crypto wallet with self-storage to the marketplace of your choice.
Next, find the official collection using the search bar on the marketplace,
Analyze and choose the NFT you want to buy; click on it and then on the "Buy" button.
Or you can bet on the token you like. Make sure you leave enough ETH for gas or transaction fees. If the seller approves your bid, the deal goes through.
Latest news about the project
This extensive review would be incomplete if we did not touch on important news about the project itself. So, below are the largest of them.
Granting full commercial rights to NFT owners
As of July 5, Clone X owners have full commercial rights to their avatars. Owners can unlock their 3D files in a dedicated section of the website. People can also use their avatars to release merchandise, create NFTs for fan art, modelling, create music and videos, build brands and businesses, and more.
3D graphics are available in the following file formats: .max, .blend, .c4d, .gltf, .fbx and can be opened with Unity and Unreal Engine.
We believe this will be the beginning of a new wave in the creator economy, connecting collectors and creators around the world, generating and unleashing new talent, content, value, intellectual property and brands based on clones and RTFKT. The start of the avatar economy. says the RTFKT team
It is worth noting that Murakami Drip clones do not have full commercial rights as they are considered fine art.
A new Era begins
3D Files 🌐
Full Commercial Rights 👩‍⚖️
It's time to CREATE 🧵#clonesunlocked 🔓 pic.twitter.com/fYqx6Sbg23

— RTFKT (@RTFKT) July 4, 2022
Clone X released the first clothing collection as part of Forging Season 1
On August 30, 2022, RTFKT announced the first collection of phygital clothing under their Forging system, which fans can access based on the traits of their specific Clone X avatars.
There are over 10 unique sets and over 60 individual items in total.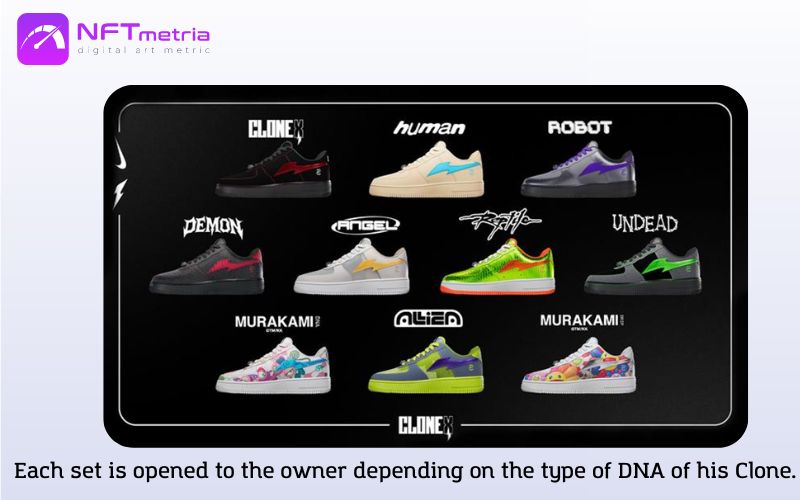 Premium wearables include hoodies, jackets, t-shirts, hats, socks, and sneakers, making this one of the biggest drops in the NFT space. The number of items each owner will be able to order depends on the number of tokens they have and their type, with an average of two per Clone. However, the limited-edition Clone X Genesis T-shirts will be free for all owners.
Mint was from 1 to 7 September. And the physical clothing items were available from September 7 to September 14. However, prices range from $30 to $600, which makes some users unhappy.
To create another level of connection, every item, with the exception of socks and hats, is equipped with Near Field Communication (NFC) tags. These tags make items "figitals" and open up the possibility of using goods using tokens, for example, access to events.
At the same time, the studio shared a lookbook showing some of the products:
Clone X Forging SZN 1 :

Next Gen Fashion unlocked by your Avatar 🧬⚒️

Here's all you need to know 🧵👇 pic.twitter.com/3X7LxPY611

— RTFKT (@RTFKT) August 29, 2022
The future of Clone X
In addition to releasing physical goods linked to their NFTs, RTFKT has used augmented reality tools to help connect the two worlds. This allows their virtual goods to be present in the physical world and shared across all social networks. Clone X is the basis of the universe they create and acts as avatars for the inhabitants of this world. By unlocking open source development and ideas through a creator challenge, they allow anyone to participate in the creation of this universe.
With the resources of a giant like Nike, they will only increase their capabilities and allow them to operate on a scale that only a brand the size of Nike can achieve.
Should you invest in CLONE X?
There are reasons to be positive about this line of NFTs:
RTFKT has released several popular collections and is now working with Nike.
As an owner of Clone X, you can get early access to new studio releases.
Murakami's art is extremely popular, including his NFT art.
This project stands out for its unique concept and background. All these factors convincingly indicate that the project has great potential and is a promising investment.
But in any case, do your own in-depth analysis and research when investing in NFTs, and then make your own decisions.
Opinion of NFTmetria
Clone X is an integral part of the world RTFKT is building. What sets the team apart is their ability to create a brand that bridges the digital and the physical. It's still too early to tell what else RTFKT has in store for Clone X owners. But if past results are indicative of future success, we'll likely see the team go from strength to strength and continue to impress. The collection has a high percentage of holders with a long-time horizon who are optimistic about the future of the collection.
The uniqueness of these avatars and the strength of their partnership with Murakami, who is now delving deeper into the NFT space, hint that the Clone X universe is just getting started. As people seek to present themselves in the metaverse, galleries like Space and Loot Pods will be a way to diversify NFT collections and digital wearables.