Almost everyone has heard about the NFT market by now. Someone considers it a soap bubble, someone a global scam. But in reality, we see every day more and more public people who invest millions of dollars in this industry. And among all, only a few people stand out who are definitely not chasing hype, but see digital art as a global future and a market for investment. One of them is Steve Aoki, whom you have heard about from the world of electronic music.
And in 2021, the world learned about it from the point of view of the NFT. Now he is an active supporter, investor and industry influencer.
Who is Steve Aoki?
Steve Aoki is a legendary American DJ, music producer, voice actor, fashion designer and writer. In 2018, he took 11th place in the world ranking of DJs according to DJ Magazine. He owns almost 3 billion music streams, released 6 albums, 106 singles and many collaborations with world stars. He has collaborated with Lil Uzi Vert, Maluma, BTS, Linkin Park, Louis Tomlinson and many more. Nominated for two Grammy Awards with Netflix documentary I'll Sleep When I Die (2016) and memoir BLUE: The Color of Noise (2019).
Biography
Steve Aoki was born in Florida but grew up in California. Japanese by nationality. At the age of 19, in 1996 in Los Angeles, he founded Dim Mak, a recording studio, in his college dorm room. Since then, the company has grown to a large scale. Today it is a record label, as well as an event management agency and a lifestyle brand. The label has grown such global bands as The Chainsmokers, Bloc Party, The Bloody Beetroots and The Kills, ZEDD, Diplo. And it's all thanks to Steve Aoki.
However, he is not only the founder of the label. The whole world of electronic music knows him as an independent artist. Since 2010, he has conquered all sorts of peaks of the musical Olympus and public recognition. Here are some facts:
In 2009 he played 250 concerts a year as part of his tour of America
In 2012, he was ranked 15th in DJ Magazine's Top 100 DJs and was named America's 2nd Best DJ
Nominated for a 2012 Grammy Award for Best Dance/Electronic Album
In 2012, he founded the Aoki Foundation, which invests in regenerative medicine and raises humanitarian funds for global organizations.
In 2013 he took 6th place in the competition "Best DJ of America 2013"
Received two Guinness World Records in 2014, one for "longest crowd cheer" and one for "most glow sticks in thirty seconds"
In 2009-2021, he is constantly touring around the world, collaborating with various stars and has already released 6 albums.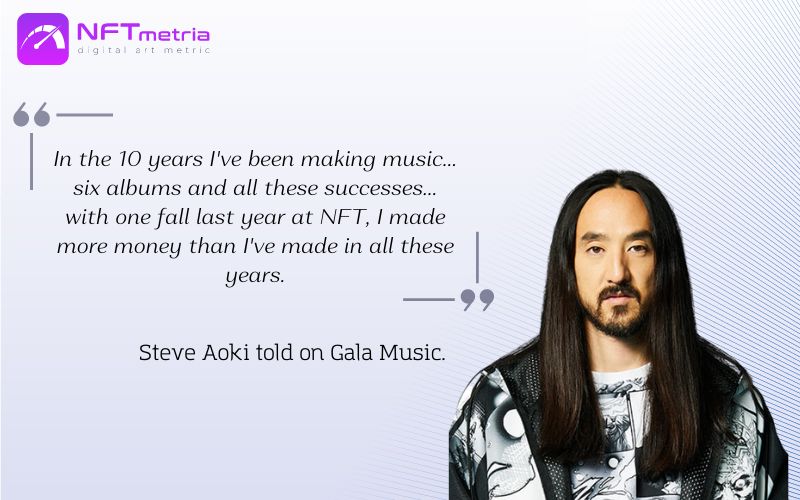 Steve Aoki in numbers
On his YouTube channel @SteveAoki he gathered an army of fans of his work, there are now more than 3.12 million people, and more than 641 million views.
He has over 8.2 million followers on Twitter @steveaoki
Steve is active on Instagram @steveaoki with over 10.3 million followers.
On his Tiktok profile @steveaoki, he makes short, entertaining videos that have earned him 24 million likes and 2.3 million followers.
DJ works exclusively with Nifty Gateway @steveaoki, where he has a collection of almost 6000 works.
On OpenSea @SteveAoki he has a collection of more than 3000 non-fungible tokens, including famous collections such as Cryptopunks, Meebits, Azuki, Otherdeed for Otherside.
The maximum balance of his crypto wallet was fixed on June 11, 2022 with a fortune of 169 ETH (about 547 thousand dollars).
The DJ sold his first NFT Hairy for $888,888.
The latest NFT portfolio is valued at $5.6 million.
During the year, the influencer made more than $6 million in profit from the sale of its non-fungible tokens.
The path to the NFT
After years in the business, the DJ spied on the multi-billion-dollar non-fungible token market and reacted like the real collegiate entrepreneur he is: he joined in and joined forces.
Music has always been what my life is rooted in, but I have been an avid collector of collectibles and art forms for as long as I can remember. NFTs have given me the opportunity to finally combine art, collectible culture and music in a way that I have never been able to achieve before. I had no idea what to expect when we started this project, so the feedback and response from the NFT community has been overwhelming, to say the least.
NFT collection by Steve Aoki
The influencer not only actively creates his own collections, but also invests in various well-known collections, although not as actively as his colleagues such as Pranksy, Gary Vee and Snoop Dogg.
To date, his collection has more than 3 thousand works, and it includes such famous tokens as:
Cryptopunks – 3 pieces
CLONE X – X TAKASHI MURAKAMI – 4 pieces
Otherdeed for Otherside – 19 pcs
Moonbirds – 3 pieces
Azuki – 4 pieces
CoolCats – 1 pc.
VeeFriends Series 2 – 7 pcs
Meebits – 2 pieces
Bored Ape Chemistry Club – 1 piece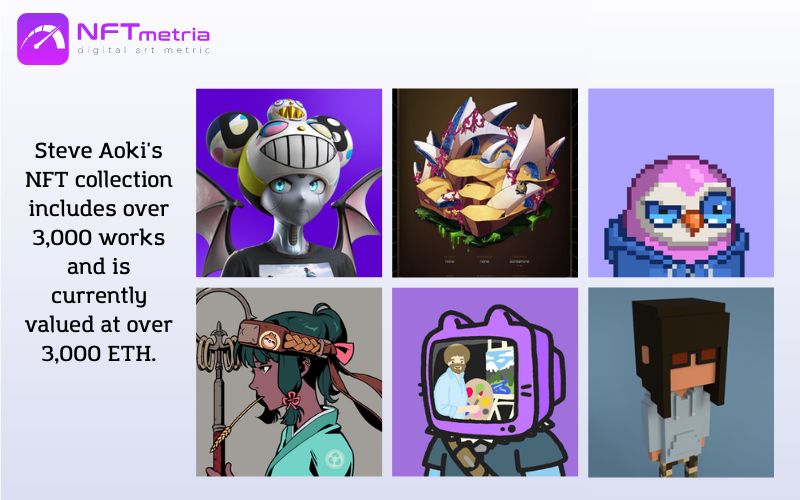 NFT projects by Steve Aoki
The famous DJ did not stop at one major project, but embraces the crypto market of digital art from all sides. The NFTMetriya team has prepared a detailed overview of all major influencer projects in chronological order. Note that all projects are related to the artist's musical profile. That is, for each visual element, it releases a music track. This is the nature of his genre.
First NFT Dream Catcher Collection
On March 8, 2021, Steve Aoki collaborated with German artist Anthony Tudisco to release the Dream Catcher collection.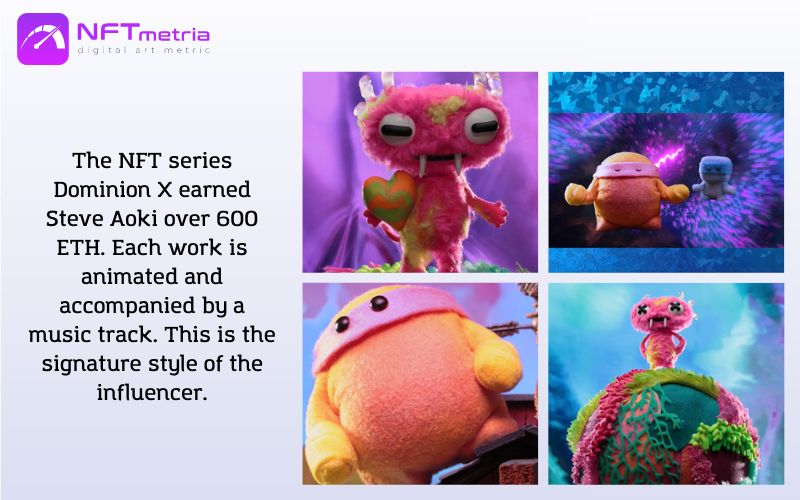 And the main work among the entire collection is "hairy", this is a double video clip about a werewolf. At the same time, Anthony Tudisco painted the character with his trademark bright psychedelic color scheme, complemented by purple and yellow hues. The Hairy token was sold a year ago for $888,888.88. And in total this collection brought the DJ $4.25 million. Which is a good result for the initial entry into the market.
NFT series Dominion X
Millions seem to be the norm as the Dominion X animated series is now available as an exclusive token up to 1000 ETH.
Released in March 2021, the series currently includes 16 animated non-fungible tokens. Each of which is presented in various quantities – from 1 to 371 pieces.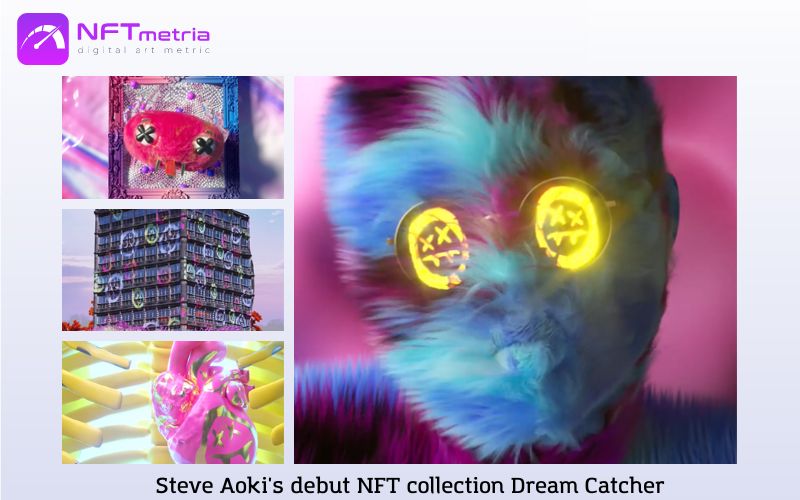 NFT track for $1 million
Jenny Dow paid Steve Aoki and 3LAU $1 million to create the NFT track. This is the first time that Jenny Token (uJENNY) is involved in coinage. The release of the token was announce on May 16, 2021. The work itself is track 1/1, "Jenny", and is accompanied by visual art by Peter Hergert. Minted on OpenSea, it was then transferred through the Unicly Protocol smart contract repository.
Series of NFT collections "Neon Future by Steve Aoki x Maciej Kuciara"
On April 28, 2021, Steve Aoki and digital artist Maciej Kuciara released a new collection "Neon Future by Steve Aoki x Maciej Kuciara" exclusively on Nifty Gateway.
In collaboration with Impact Theory Studios, the new art and music collection is inspired by the 2018 Neon Future sci-fi comic book series co-produced by Aoki, writer Jim Krueger and Impact Theory CEO Tom Billeu. The DJ released five new tracks alongside the collection, with the expectation that non-fungible tokens will define the future of music through collectible values ​​and experiences stored in digital wallets.
The Neon Future collection embodies my passion for the series and irreverently addresses the themes of the future of technology that we explore in the world of Neon Future stories. The fusion of comics and music provides a powerful collectible art experience that is more than just a snapshot. Steve Aoki said in a statement
To date, several series have been released within this collection: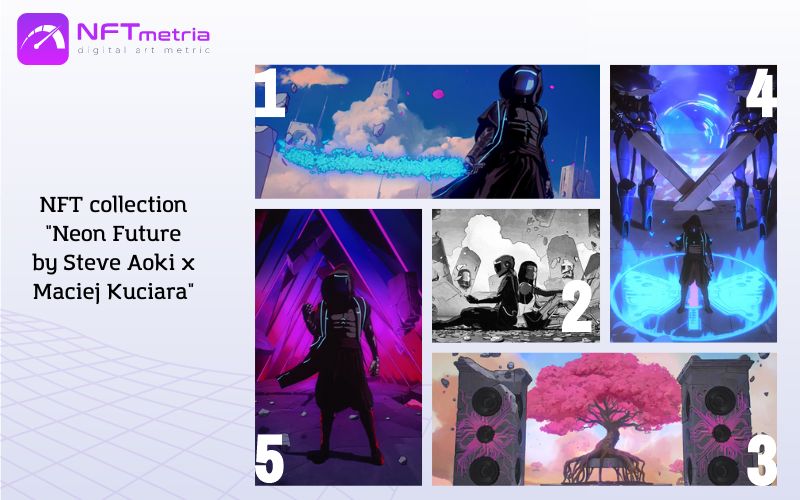 Neon Future 04/28/2021 – 65 pieces of different rarity. The volume of secondary sales is more than 88 thousand dollars
Neon Future Packs 04/28/2021 – 167 pieces of different rarity. The volume of secondary sales is more than 113 thousand dollars
Neon Future Open Edition 04/28/2021 – 271 pcs. The volume of secondary sales is more than 181 thousand dollars
Neon Future 05/30/2021 – 100 pcs. The volume of secondary sales is more than 86 thousand dollars
Neon Future Gift 06/12/2021 – 12 pcs. There are no secondary sales.
NFT marketplace OddKey
In November 2021, Steve Aoki and comic book creator Todd McFarrlane launched Solana-based NFT marketplace OddKey.
Since we are not worried about making money, we will be fearless in our experiments with what we do," he said. "We're going to be the kind of guys who are going to try some hopefully experimental, crazy things…and a couple of them – fingers crossed – will work. We're going to invite people with the best ideas.
The influencer said they chose Solana over competing platforms (such as the leading Ethereum) due to aspects such as lower fees and much lower power consumption due to the proof-of-stake consensus model. With low transaction fees, the artists on the platform won't feel like they have to sell at high prices, according to the DJ.
It is too early to talk about the results of almost a year of work – only 3 collections that are directly related to the creators of the platform have been released and sold on it.
Own metaverse A0K1VERSE
In February 2022, the influencer introduced the A0K1VERSE metaverse to the community. This is a new platform that connects the real world with web2 and web3 through non-fungible token collector rewards.
The musician's new blockchain-backed initiative provides fans with a host of both physical and digital rewards:
free tickets to Steve Aoki concerts,
early access to his NFT releases,
private events,
experience of the metaverse,
free goods,
digital wearable devices,
exclusive access to clothes and collectibles,
cooperation.
Since I started my first Dim Mak company in 1996, I have cared for the community concept, matured and embraced it. Now that we're looking to the future of what our community wants, I believe the utility should be diverse, engaging, and evolve with the culture. This is where IRL meets the meta – not just in my world, but in many of the worlds I'm a part of. Participants will have access not only to my own projects, but also to many NFT projects of friends and family, as well as real-life experiences. Said Steve Aoki in his statement
The platform itself is built on the Ethereum blockchain. The basis of the metaverse is A0K1 credits and a passport. The first are ERC-1155 with a total volume of 25,000, which were first distributed to current Aoki token holders and then went on sale. Meanwhile, Passport is a "revolutionary NFT that evolves dynamically over time" and can be obtained by redeeming a certain amount of A0K1 credits.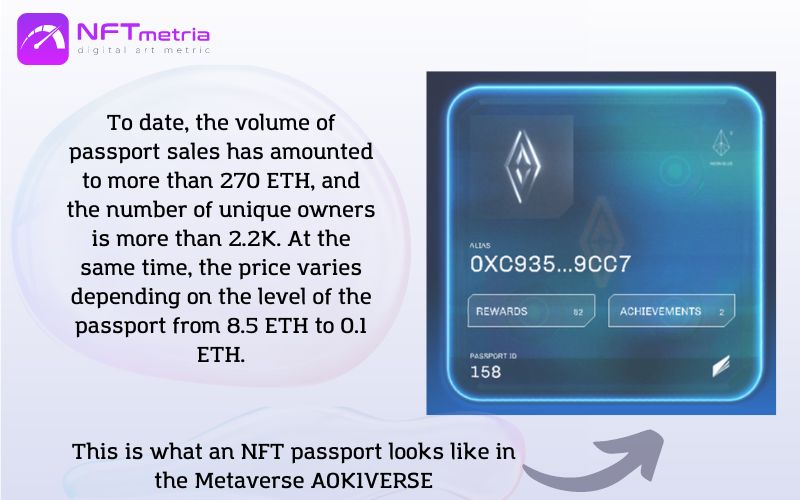 NFT Avatars at The Sandbox
In July 2022, a collection of 3333 animated NFT avatars by Steve Aoki himself was released in The Sandbox metaverse. Each avatar is a playable avatar in The Sandbox, unlocking unique features and allowing owners to earn SAND as they play. There are three levels of rarity. The rarest is "Gold", which accounts for only 2% of the collection. And the most common version is the "human" version, which occupies 35%. It is noteworthy that with a starting price of about $ 130, almost immediately all the avatars were sold out.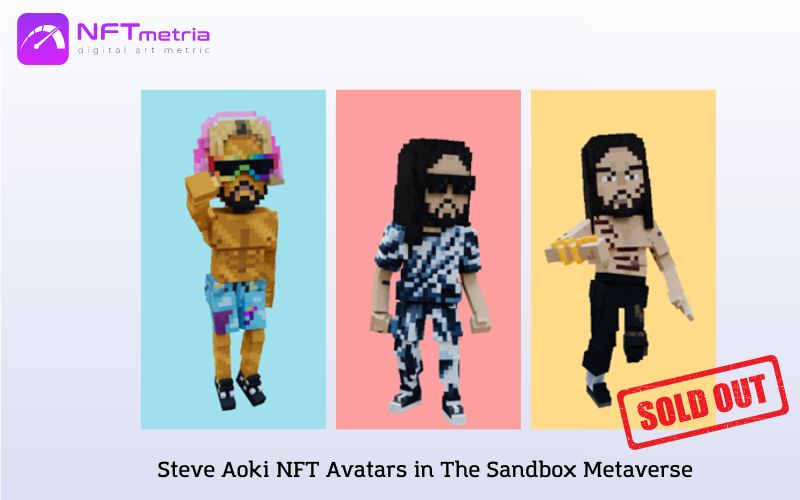 NFT Collection "Neon Future x Heavy Metal"
Steve Aoki teamed up with iconic artist Greg Hildebrandt to release 777 non-fungible cover-inspired tokens collected into a collection.
It is made up of artwork designed by Greg himself and includes some of the characters from the highly acclaimed Neon Future comic book published by Tom Bilieu's Impact Theory.
Generally, this collection is especially important for the musician – this is his first work released on his own OddKey marketplace.
So, sales began on August 29, 2022. For members of the OddKey community, A0K1VERSE the price is 1 SOL ($32). And for the public sale, the price is 1.5 SOL ($48).
Steve Aoki's Opinion on the NFT World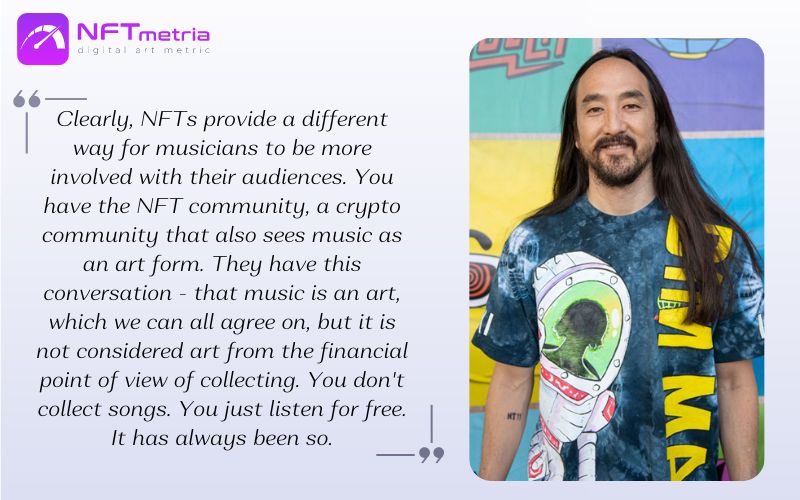 I believe that the world is moving towards this by any means. NFT is a relentless force that cannot be stopped. It will soon normalize and become the structural pillar of our culture. If you are reading this now, then you are still early. Time to build, innovate and destroy the whole space.