Even before the NFT market boom, Farokh Sarmad Tehrani, already a well-known Instagram influencer in the luxury goods space, entered the NFT space in early 2021 and quickly made a name for himself by organizing Clubhouse chats with celebrities and creators around their drops.
Who is Farokh?
Farokh (fully Farokh Sarmad Tehrani) is an expert in building social communities on the Internet. He is currently the CEO of Goodlife Media. Today, Goodlife Media & Communication owns and operates one of the largest luxury and real estate networks on Instagram (over 13 million followers). He also became a major player in the NFT club and a mega-host who channeled his community building skills by helping other members with his market vision tips.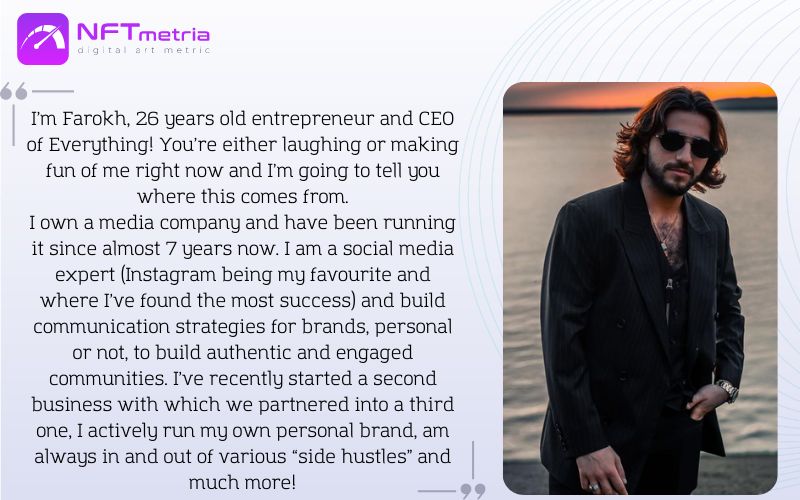 Apart from his outstanding success in the world of social media marketing, Farokh Sarmad has become one of the most visible influencers in the NFT space. A committed advocate for the community, he's the kind of person you want to have in your club room during the NFT's downfall.
With over 13 million followers on his various Instagram pages alone, Farokh is well versed in the art of growth hacking and already had a fantastic social media know-how base before becoming an active member of the NFT community.
Farokh in numbers
He has over 315K followers on Twitter @farokh. By the way, his account is included in the Top of the Twitter profiles in the NFT industry.
His project managed to collect more than 82K fans on Twitter @RugRadio and more than 9K members in the Discord channel @RUGRADIO
His collection on OpenSea @Farokh has a collection of over 1.3K NFTs, including the famous Cryptopunks, Bored Ape Yacht Club, World of Women, Moonbirds, Azuki, Cool Cats, Doodles.
On Instagram, he gathered an army of fans from more than 231K subscribers @farokh
To celebrate his 27th birthday, he created the Baby Farokhs NTF collection of 27 of his baby photos for a starting price of 0.27 ETH. The collection brought 64 ETH to the author at the time of writing.
In his wallet @farokh.eth, the maximum was 101 ETH in February 2022.
In 2017, according to Forbes magazine, he was included in the list of 15 Instagram influencers to follow.
In April 2021, a 26-year-old entrepreneur accidentally blocked his MetaMask wallet containing one of the rarest bored monkeys and two M2 mutant serums, resulting in the loss of at least 250 ETH (or about 385 thousand USD)
Previously owned social media agency Goodlife with an advertising reach of over 150 million subscribers.
Biography
Faroh was born on September 7, 1995 to Persian parents. He studied at the University of Quebec in Montreal. Now lives in Quebec, Canada. Meets a girl, leads an open social lifestyle.
Starting his own business at 18, working primarily in Instagram marketing, Farokh has always been a digital freak. However, it took him some time to transform from a spectator to a reliable cryptocurrency holder.
I have always had an interest and curiosity about cryptocurrencies. I've always been a strong believer, always been someone who wanted to explore this. But for some reason I never made the right move. I've just always been sort of on the sidelines.
But when he decided to dive into crypto and NFT, he was successful almost immediately. After he set up several rooms on the ClubHouse social network for his friends and colleagues to discuss everything related to the blockchain, things started to snowball.
Something crazy happened tonight. There were only 9 or 10 people in this room discussing collectibles and it ended up becoming an NFT frenzy. This room is iconic. Many people like Fewocious, FVCKRENDER, Victor Mosquera, and the guys from Artifex have joined us and all these people are crushing it today. I knew nothing, absolutely nothing. So, I started asking questions. Realizing the potential of NFTs, Farokh bought his first one the next day.
His NFT collection
Farokh's collection is rich, including most of the famous collections that are in the top of the best collections in world. Today it consists of more than 1.3K NFT.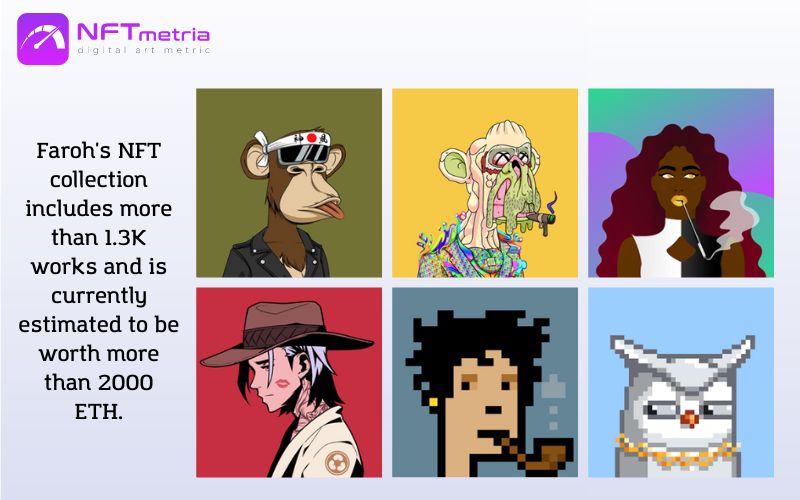 Among them:
Cryptopunk – 1 pc.
Bored Ape Yacht Club – 1 piece
Otherdeed for Otherside – 5 pieces
Moonbirds – 2 pieces
CLONE X – X TAKASHI MURAKAMI – 6 pcs
Mutant Ape Yacht Club – 2 pcs
Azuki – 2 pieces
World of Women – 1 piece
Doodles – 1 pc.
BEANZ Official – 3 pcs
Cool Cats NFT – 5 pcs
Farokh projects
Like any public person, he is the owner and active participant in various projects. But we have identified the most significant for him and the industry as a whole.
Supporter and active member of Clubhouse
Throughout the changing media landscape, the NFT Clubhouse has continued to be an important platform for bringing the community together. Countless artists, collectors and even just speculators come together to learn how to create, sell, test, flip and enjoy NFTs.
The most powerful tool you have is your voice, right? It's stronger than a tweet, stronger than a photo, stronger than a video. It's that powerful voice that people have and that's amplified through Clubhouse. And that's really what made me so addicted to the platform.Farokh believes the platform is invaluable for attracting subscribers and accelerating community growth.
Farokh became a strong supporter of Clubhouse and he was in the right place at the right time during the NFT boom in 2021 thanks to his large Instagram following. Every night in February of this year, it seemed that some celebrity was peeking into the room with Farokh.
He quickly placed rooms and used the app 70 to 80 hours a week, and managed some of the largest rooms on the platform. During this time, he quickly turned the Clubhouse into a gathering place for NFT fans and creators.
Agency Goodlife Media & Communications Inc
Farokh created his first Tumblr blog in 2011 called "Mr. Goodlife", which then became one of the biggest luxury blogs on the platform.
In 2014, he decided to take it all to Instagram and built a network of over 10,000,000 followers in two years. Since then, Farokh has been helping CEOs and entrepreneurs develop their personal brands on Instagram, creating true engaged and authentic communities.
Goodlife Media & Communication is a digital marketing agency created to develop communication strategies for brands and people online and help promote them through our extensive network of influencers.
The agency offers personalized services for brands, individuals and companies to increase their visibility and build strong relationships with consumers.
GM&C now owns and operates one of the largest luxury and real estate networks on Instagram (over 13 million followers) with over 250 million monthly views.
Farokh has also focused on building his personal brand across all platforms. He actively builds brands and helps entrepreneurs and companies that are looking for new, inventive and original ways to promote themselves and target Gen Z and millennials.
Rug Radio is the first DAO media
Farokh is the CEO and owner of Rug Radio. It is claims to be the first fully decentralized Web3 media platform. This means that the community owns the platform, which the community then participates in. It is essentially a DAO that allows members to decide which memes, conversations, and stories they consume.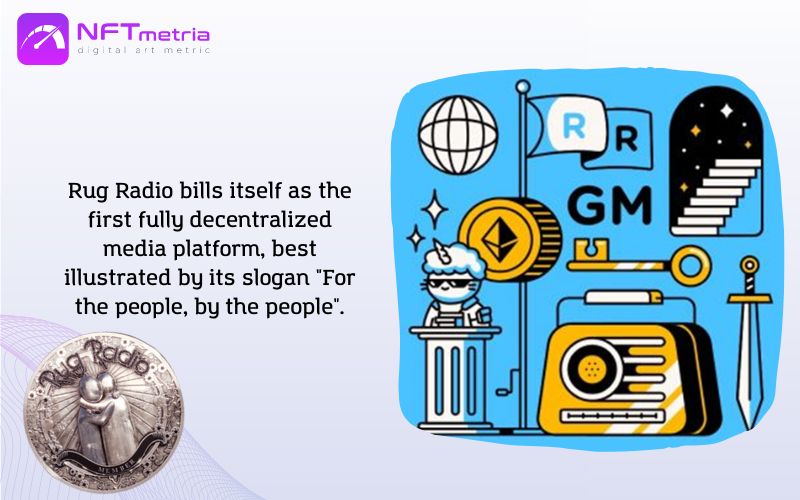 The influencer has created a media platform where each member is the owner and can determine the platform's storytelling. Many shows and series have already been proposed by existing members and will be launched on the platform very soon. The hosts will own all commercial rights to the show. And now there are various podcasts on the platform on the topic of NFT, Web3 and the crypto world every day.
Project tokenomics
As part of the project, a collection of 20,000 NFTs has been created on Ethereum, each of which is a membership card to the community. January 11, 2021 was the mint of the collection, as a result, all tickets were sold out in 4 days. Now on the secondary market you can purchase a token from 0.017 ETH. Each NFT in the DAO will produce $RUG domestic currency for 5 years. Depending on the rarity, one NFT will bring from 1800 to 4500 $RUG per year. The total emission is planned to be 255 million units.
NFT Collection Baby Farokhs
In 2021, in honor of his 27th birthday, Farokh created the Baby Farokhs NTF collection of 27 of his baby photos for a starting price of ETH 0.27. The collection brought 64 ETH to the author at the time of writing.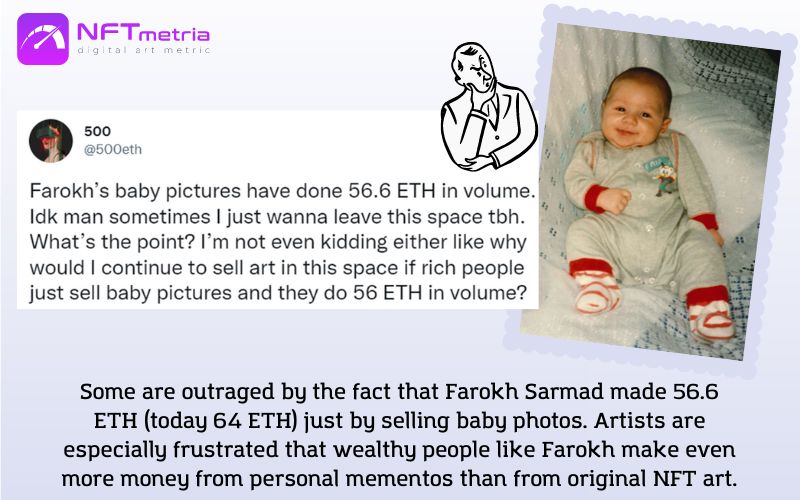 The future of the NFT according to an Farokh
Although he already seems to be having a great time, he is still relentlessly ambitious and does not yet consider himself successful.
Community building and marketing has been his craft for 10 years. It now aims to build a metaverse and continues to be the bridge between NFT and the mainstream. Help artists, creators and collectors build their brands on social media.
We must not build alone, it is too difficult. Let's just do it together. He enjoys working with friends and sharing his skills
Regarding his involvement in NFT innovation:
They will write about people like us in art history books!