If you are studying NFT, you will see the same name over and over again. This is Gary Vaynerchuk, aka Gary Vee, and his VeeFriends project. Who is this person and why is he often mentioned when talking about the NFT? In short, he is a wine critic-turned-entrepreneur active in digital marketing and social media. He started an NFT project called VeeFriends and launched the first collection in May 2021. The purpose of the project is to provide other people with a blueprint for successfully launching an NFT project.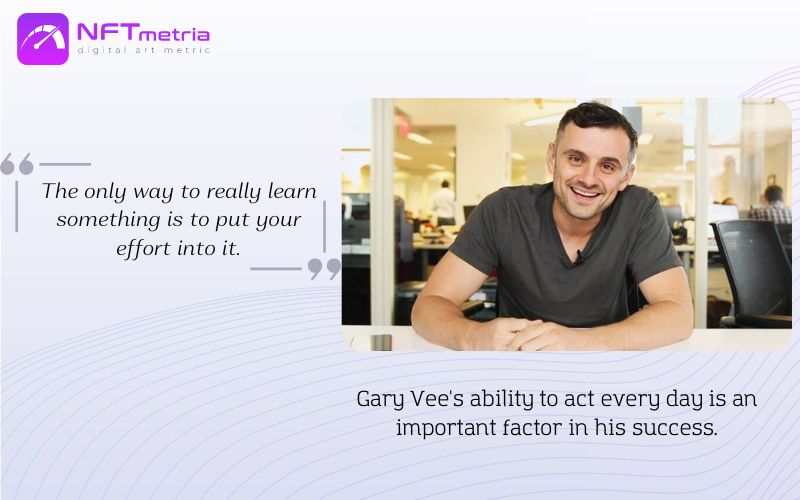 Who is Gary Vee?
By the age of 45, Gary Vaynerchuk, the son of immigrants from Belarus, managed to open about 20 businesses. He has become a pioneer in internet marketing and an influencer in the world of wine, the NFT world and business in general. The NFT community is watching his investments, his actions and words. He knows exactly what a competent NFT promotion.
He helped other businesses reach millions of dollars, and then published more than a dozen books, where he shared the secrets of his work. But it all started with the creation of a website for a small wine store founded by his father.
The NFTMetria team tells the success story of an immigrant from Belarus, who has recently achieved great success in the NFT world.
And it is no coincidence that we will start from his childhood – throughout the years he accumulated knowledge and experience that found implementation in the NFT.
Gary Vee in numbers
To date, the fortune of 45-year-old Gary is estimated at more than $200 million.
He has five New York Times bestselling novels out of 12 books.
Gary's podcast is one of the world's top 100 podcasts on iTunes.
At the moment, the entrepreneur has more than 10 million followers on Instagram – @garyvee
Gary has over 3.1 million followers on Twitter – @garyvee
His YouTube channel has over 3.9 million subscribers and over 480 million views @GaryVee. By the way, we included his channel in the TOP of the best YouTube channels from the NFT world.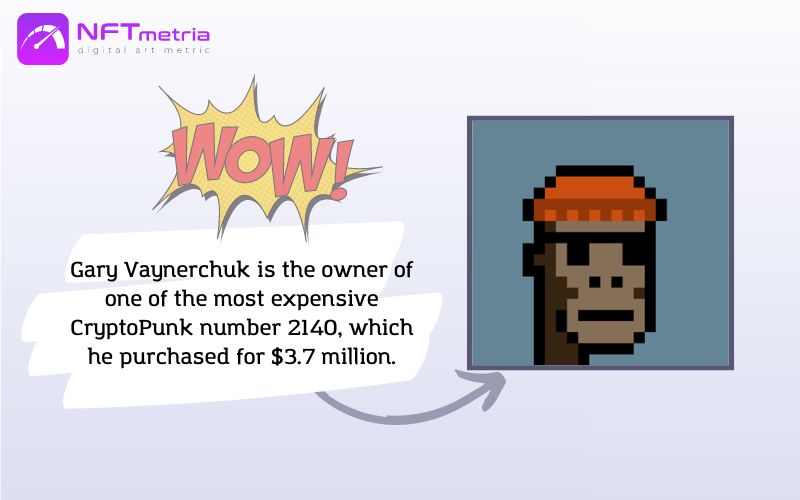 Biography
Gary, who is actually Gennady, was born in Soviet Belarus. His parents are Soviet Jews who decided to immigrate to the United States a couple of years after the birth of their son. In 1979, the family ended up in Queens, New York, where they rented a small apartment. They had no money, no one knew the language, and even a certificate of education was not accepted anywhere. Finding a job was almost impossible. As a result, distant relatives helped his father with the work.
Gary Vee Projects
To understand the significance of the figure, we will talk about the implemented and successful projects of the influencer and entrepreneur.
Wine Library
Ten years after moving to the US, the family bought their own small shop and named it Shopper's Discount Liquors. But the business did not expand, because Gary's father did not markup alcohol, he was generally not worried about profit. And then Gary entered the business. At that time, he was already 14 years old.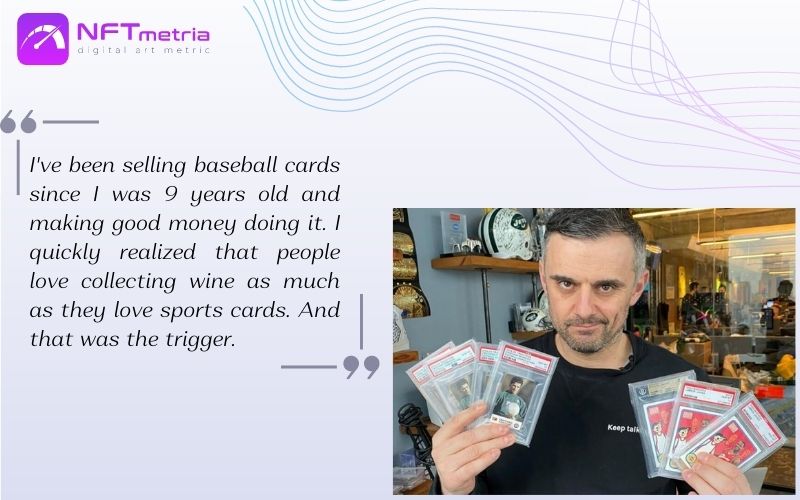 It was the cards that helped him learn the basics of business. By the age of 14, he understood how important it was to make beautiful and understandable signs, where to put a table so that there would be more customers, how to communicate with people. And he applied all the skills in his father's store.
Already as a student, he learned about the Internet. I saw this as an opportunity to expand my business. Created a site for the sale of wine and called it Wine Library.
Entrepreneur decided that the best advertising was email. But how do you get those emails?
I did not let customers leave the store until they gave their email so that they would receive a newsletter. I lured them in such a way that they simply could not leave me without an email. I received 13,000 emails in a year. And this is the 90s. Few had mail at all. In this case, I persuaded her to start. says Gary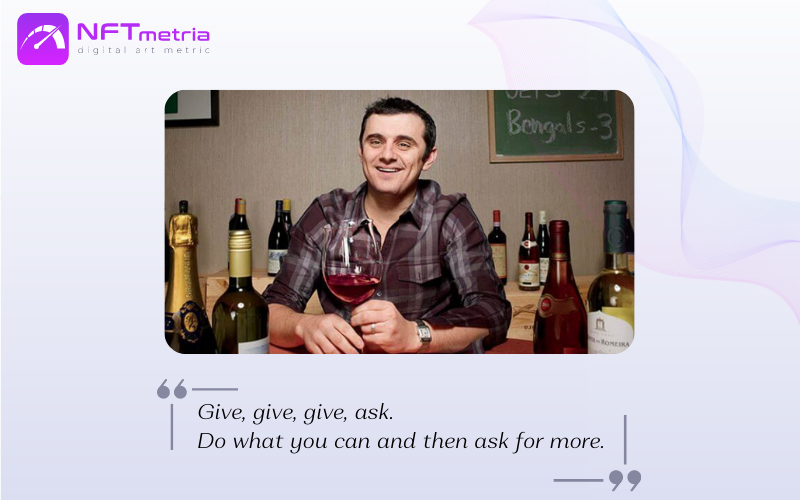 The business began to flourish and eventually brought in $60 million a year. In August 2011, Vaynerchuk announced that he would leave the wine business to develop VaynerMedia, a digital advertising agency he founded with his brother in 2009.
YouTube channel and the rise of social media
In 2006, Gary launched his YouTube channel. The goal was simple – to become an influencer in the world of wine and attract even more customers. And he succeeded. His began to be recognized as "the same Wine Guy from YouTube."
Promoted his channel he through Facebook and Myspace. And over time, I realized how exactly it is worth working with the audience in social networks. He has turned himself into a brand.
Youtube brought me into the world of social media. I began to enthusiastically look for new platforms, I was delighted with Twitter. I wanted to understand how to work with this. I felt that such things were the future. So I found another passion of mine, in addition to winewarns Gary
He realized the power of social media when he once invited his 500 Twitter followers to a conference with free wine. And all 500 people came! So, he decided that the future belongs to social networks and began to actively invest in them.
VaynerMedia
I began to be recognized already in the circle of entrepreneurs creating social networks. I spoke with many. And in 2009, he decided to create an Internet marketing agency VaynerMedia together with his younger brother. For two years I was torn between the two businesses, because I couldn't leave the wine business so easily, and marketing was not such a big project to do it to the fullest.says Gary
His agency was one of the first of its kind. Brands at that time did not know how to work with social networks at all. They advertised there just like they did on television or radio. The agency provides services to Fortune 500 companies such as General Electric, Anheuser-Busch, Mondelez International and PepsiCo. In 2015, VaynerMedia was named one of the Ad Age Agencies. With 600 employees in 2016, VaynerMedia generated $100 million in revenue. The company is also partnering with Vimeo to connect brands and filmmakers for digital content.
I understood that social networks have a different audience. And it needs a completely different approach. She can and should be played with. She needs to be listened to, so I always recommend responding to comments and drawing conclusions.says Gary
So, he came to the conclusion that it was time to write books about Internet marketing. At the moment, he has already published twelve books, four of which have become bestsellers according to the New York Times.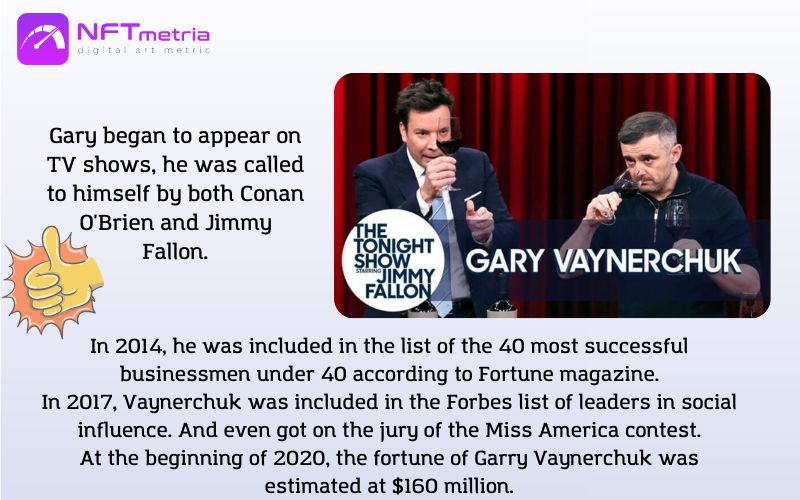 Other businesses of Gary Vee
The biography and work experience of the entrepreneur is so wide that we simply list his further successes:
In 2014, Vaynerchuk launched #AskGaryVee on YouTube with his personal content production team. In the show, Vaynerchuk answers questions from Twitter and Instagram and responds in a signature, impromptu manner.
Founded DailyVee in 2015. It is a daily YouTube documentary series that chronicles Vaynerchuk's life as a businessman. Vaynerchuk records live, interviews others, broadcasts investor meetings and strategy meetings on VaynerMedia. In the series, Vaynerchuk implements social media strategies, especially through Snapchat and Instagram, to showcase social media marketing.
In 2016, the entrepreneur founded VaynerX, a communications company that owns media properties, technology companies, and a social media agency. VaynerMedia is now part of the VaynerX holding. And in America it is truly a giant in the media market.
In 2017, Vaynerchuk founded The Gallery, later renamed Gallery Media Group. It is a subsidiary of VaynerX that hosts PureWow, the male-focused news portal ONE37pm.com, and other media outlets.
He co-founded restaurant booking app Resy and sold it to American Express in 2019, and co-founded Empathy Wines and sold it to Constellation Brands in 2020.
In 2020, the entrepreneur began to invest in the NFT with interest, and in 2021 he founded the large-scale project Vee Friends. We will talk about it further.
In fact, there are many more projects in his piggy bank, but we have covered only the largest ones.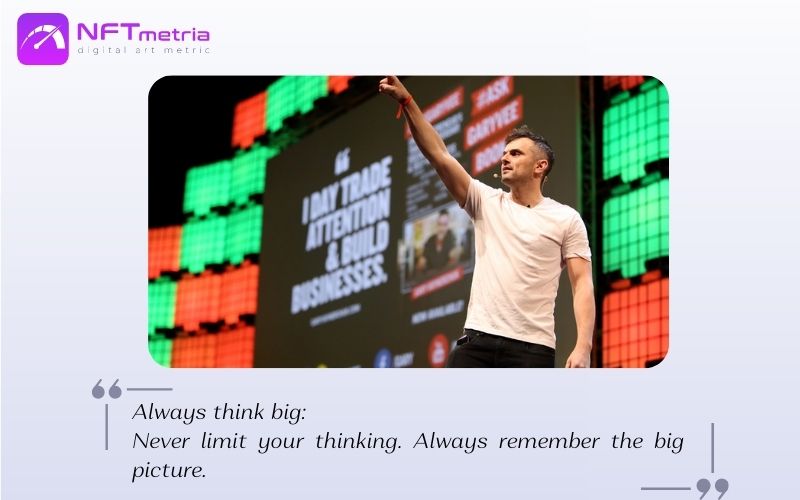 NFT project Vee Friends
In May 2021, Vaynerchuk released his first VeeFriends NFT collection, which, by the way, he partially drew himself. The VeeFriends collection consists of 10,255 token characters, and each of them is an intellectual property. The benefit of owning VeeFriends is a three-year token for the VeeCon multi-day super conference. One token called "Hangout Hawk" even provides the opportunity to get mentor sessions with Vaynerchuk. One of the collectors, YouTuber Dan Markham, traded in his Tesla Roadster for graphic writer Eli Burton's "Positive Porcupine". In the following tweet, VeeFriends talks about their latest collaboration with companies from card game maker Uno to department store Nordstrom.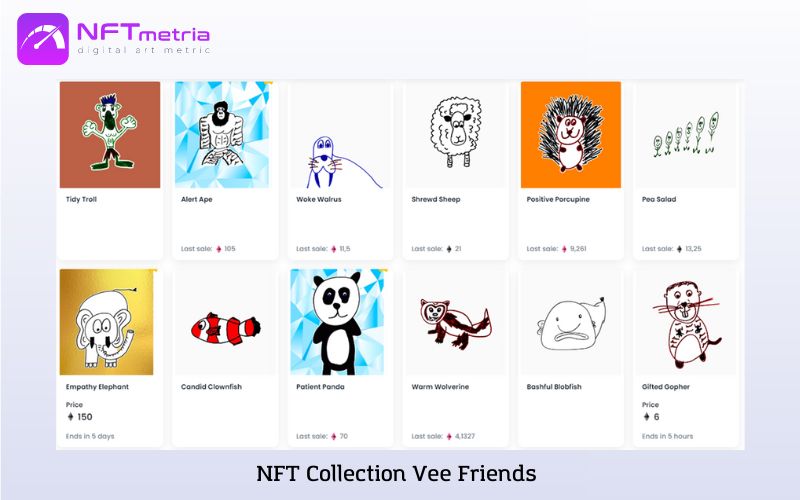 His hand-drawn doodles of animals sold in May 2021 at auction for $51 million in their first week, which Vaynerchuk said on an episode of his podcast he pocketed. After 90 days, VeeFriends made $91 million in revenue. And Vaynerchuk received an additional $40 million at the expense of 10% royalties from each secondary transaction. In October, a Christie's auction sold five VeeFriends characters for over $1.2 million.
After completing several trademark deals, he effectively incorporated many trademarks directly into his collection. In May, for example, he partnered with Johnnie Walker in an outstanding collaboration where some Vee Friends owners are sure to win containers of minimum version from a well-known alcohol brand. Despite his success in the field of NFTs, Vaynerchuk also spoke of the requirement to focus on the technical benefits that tokens provide, rather than on getting their uniqueness.
Now the minimum price of NFT from his collection is 6 ETH, and the maximum sale was in December 2021. Then the Empathy Elephant token was sold for 130 ETH. And you can buy his work on the OpenSea marketplace, which we also did a detailed review of.
Vee Friends project feature
From the very beginning, he saw the importance of adding utility to the NFT, and not just a piece of art. Unlike most tokens, the VeeFriends cover really has nothing to show off. However, it is what the token opens up to the holder that gives them real value.
There are three types of NFTs:
NFT approval: 9400 pcs.
Gift Goat NFT: 555 pcs.
Access to NFT: 300 pcs.
All NFTs provide owners with 3-year access to VeeCon, Gary's own conference dedicated to business, marketing, ideas, creativity, entrepreneurship, innovation and entertainment. The first conference was held on May 19-22, 2022. And Beeple, Steve Aoki and even Snoop Dogg were announced among the participants. This is essentially a mega-chain opportunity as the current floor price of the cheapest token starts at just under 6 ETH.
As the name suggests, Gift Goat allows owners to receive gifts from Gary in addition to being admitted to VeeCon. It will send out 6 Mystery Gifts per year to every holder.
Access to the NFT is top notch because it gives the owner access to Gary's time. Whether it's a joint activity or a one-on-one virtual or personal interaction, for his fans, it's like meeting an idol.
Development of the Vee Friends NFT project
Entrepreneur, through his Vee Friends NFT project, raised $50 million in a 2022 seed round led by Andreessen Horowitz (A16), a leading U.S. financier. The firm is gearing up to use funds to expand the Vee Friends space through its innovative, technological and experimental procedures. The strategy is to improve the future copyright of the 283 Vee Friends characters in order to gain access to various multimedia systems consisting of completely new physical and electronic areas. In addition, the funds will be additionally used to exploit new opportunities from the gaming and web markets.
Influencer's opinion on the NFT account
The creator of the Vee Friends collection is confident that people's perception of NFT will soon change, and 98% of projects will lose value.
Crypto investor and creator of unique tokens, influencer said that as soon as the general NFT craze subsides, people will begin to take such tokens more calmly, and this could mean zeroing almost all current projects.
In the future, people will stop talking about NFTs as NFTs and start looking at the core of the technology. Instead of getting hung up on the term, we will ask: "What is the use of this or that digital object for me? Vaynerchuk warns
The crypto investor has in mind that NFTs could be used as a vaccination certificate or concert ticket in the near future. That is, to become the most ordinary thing.
A few more words about Gary Vee
He now has over three million followers on YouTube, almost the same number on Twitter, and another ten million on Instagram.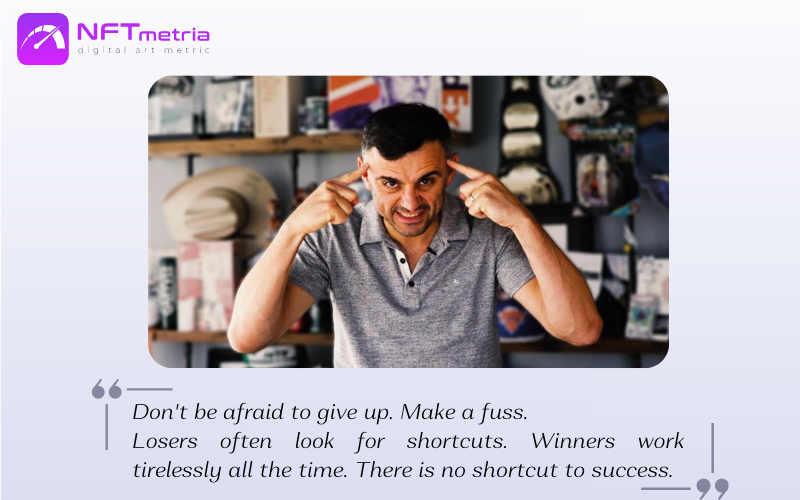 In America, he is known as Gary Vee and is loved for his energy. In his videos, influencer gives advice to those who want to make money. He believes that only what you love can make you happy and bring success:
I just love the entrepreneurial process itself. I have seen many people become miserable in the pursuit of money. Therefore, you need to stop dreaming about how to earn millions and concentrate on developing the business. And of course, you should not do things that you hate.
Over the past year, he successfully debuted on the NFT scene and instantly became one of the main market influencers. Which of his stories can we conclude? Competent marketing promotion of yourself and your projects will make you a truly successful person and opinion leader.