The popularity of non-fungible tokens is unimaginable. In the next decade, NFTs will become part of our daily lives. But before investing in this cryptocurrency, you need to understand what it is and what risks exist. If you want to learn all about NFTs and how to create, collect and earn from them, these YouTube channels will help you. Below we have collected for you the TOP 20 YouTube channels about NFT.
1. GaryVee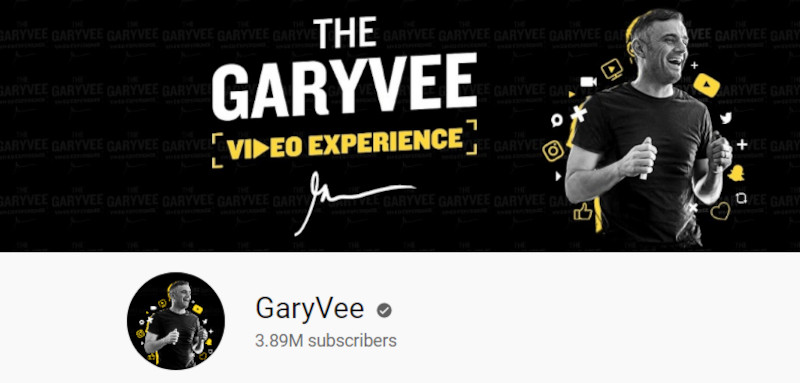 YouTube channel @garyvee – over 4.1 million subscribers
Date of registration: 7 Oct. 2007
GaryVee is a legend, authority, opinion leader in the world of cryptocurrencies. On his channel, he talks both about NFT on a large scale and makes detailed reviews with an expert assessment of news from the world of tokens. In addition, he recently launched his own NFT platform – VeeFriends. Also, according to the results of 2021, GaryVee is included in the Fortune 50 list of the most influential people in the NFT industry.
2. Max Maher

YouTube channel @MaxMaher – over 950k subscribers
Date of registration: 27 Jan. 2019
The Max Maher channel covers all types of modern cryptocurrency investments and of course teaches how to earn on tokens. Interesting and boring videos no longer than 10-15 minutes long can immerse you in the world of non-fungible tokens.
3. NFT Verse

YouTube channel @NFTVerse – over 145k subscribers
Date of registration: 24 Jun. 2021
NFT Verse reviews everything related to NFT: news in the world of newsbreaks, events, interesting deals, new collections, ways to earn money. The channel is quite young, but is actively gaining popularity due to its versatile and high-quality content.
4. Brett Malinowski
YouTube channel @TheBrettWay – over 260k subscribers
Date of registration: 8 Nov. 2017
Thanks to the power of YouTube, the young guy has gone from enthusiast to NFT influencer. His videos help people navigate the virtual crypto space more confidently. He considers NFT games to be the most exciting innovation of his life and he shares his experience with his audience not only on YouTube but also on Twitter.
5. CAGYJAN

YouTube channel @CAGYJAN – over 70k subscribers
Date of registration: 4 Nov. 2015
Cagyjan is a respected blogger in the NFT gaming world. Makes reviews, streams and shows how to earn real money in virtual games on the blockchain system.
6. NFT Buzz
YouTube channel @NFTBuzzNetwork – over 65k subscribers
Registration date: 24 Mar. 2020
YarRamish not only highlights upcoming NFT projects, but also showcases useful tools, discusses the market, and discusses liquid collections that will generate passive income for holders.
7. Carl Hustle
YouTube channel @CarlHustle – over 64k subscribers
Date of registration: 31 Dec. 2020
Carl Hustle makes cool reviews of NFT collections, and the channel will help you create your own collection, as well as buy and sell tokens profitably.
8. NFT TIMES

YouTube channel @NFTTimes – over 60k subscribers
Registration date: 16 Mar. 2021
There are many videos available that you can watch to learn more about NFTs, creating, selling and promoting tokens. There are also exciting videos on big projects and how to market them with very little money.
9. BentoBoi

YouTube channel @BentoBoi – over 51k subscribers
Date of registration: 24 Oct. 2019
The BentoBoi channel is entirely dedicated to NFTs. The author tells from his expert opinion sensational collections such as Crypto Punks, Bored Ape, and analyzes still unknown collections. In addition, he makes cool reviews in the world of NFT games.
10. Ryan D Crypto
YouTube channel @ryandcrypto – over 48k subscribers
Date of registration: 2 Dec. 2020
Ryan D Crypto is another popular YouTuber who consistently posts valuable content. It covers all the NFTs you should have at your disposal. Obviously, Ryan D Crypto has a clear idea of ​​what can bring good results and he brings these projects to your attention.
11. CHAMP
YouTube channel @champtgram – over 43k subscribers
Date of registration: 9 Dec. 2021
NFT Champ Crypto is another one of my favorite channels on Youtube with daily very valuable content. The vast majority of his videos are shorter than 10 minutes, which is perfect if you want to get up-to-date and relevant information and get on with your day.
12. Kosher Plug

YouTube channel @KosherPlug – over 38k subscribers
Registration date: 11 Aug. 2019
Kosher regularly brings to your attention new cool NFT projects. In the past, he has covered many high profile projects such as Karafuru, Mutant Shiba Club and Invisible Friends. And more understated (but equally cool) designs like Dippies, Fishy Fam and Wonderpals, all of which fit the very popular, cute, funny pfp art with thick lines.
13. Jerzy NFT
YouTube channel @JerzyNFT – over 36k subscribers
Registration date: 18 Jun. 2021
Jerzy not only tells you which projects to keep an eye on, but also discusses certain market trends to watch out for and regularly highlights important market updates in the Solana space.
14. The Nifty
YouTube channel @cashcity3 – over 30k subscribers
Registration date: 15 Sept. 2021
The Nifty Alpha discuss everything related to the token market, metaverses, Solana and more. The channel has a lot of live dynamic interviews with invited experts, which gives you the opportunity to learn new information with an expert assessment.
15. Ameer Hussain
YouTube channel @AmeerHussain – over 25k subscribers
Date of registration: 3 Sept. 2021
Most of his recent videos are very short and concise, which are great for finding interesting NFT projects and saving time. Ideal if you want to quickly identify upcoming projects and then do some additional research yourself (which is a must!)
16. DCL Blogger

YouTube channel @DCLBlogger – over 22k subscribers
Date of registration: May 14, 2018
DCL Blogger is one of the first NFT channels on Youtube. He was able to tell many people in an accessible way about tokens, blockchains, mining, mint at a time when few people understood about it. Now the blogger reviews upcoming projects, monitors the collections in dynamics, tells how to create your own collection, and also shows by example how you can invest and earn in cryptocurrency.
17. NFT Nate
YouTube channel @NFTNate – over 20k subscribers
Date of registration: 12 Nov. 2018
Nate without hype with detailed analytics explores the NFT market together with subscribers. In an accessible language, he sanctifies the advantages and disadvantages of marketplaces, specific collections, and projects. Thereby helping all traders and other market participants to make as few mistakes as possible.
18. Reece Hunter
YouTube channel @ReeceHunter – over 20k subscribers
Registration date: 22 Sept. 2021
Reece Hunter is a supporter of the Solana blockchain. It shows in detail how to create liquid NFTs of your own, how to promote and sell them.
19. NFT Land
YouTube channel @NFTLand – over 15k subscribers
Date of registration: 27 Oct. 2021
The channel not only highlights upcoming NFT projects, but also showcases useful tools, discusses the market and collections that will generate passive income for holders.
20. Pugbits

YouTube channel @Pugbits – over 2k subscribers
Registration date: 30 Jul. 2021
How about getting tips and advice from an artist? Her videos will teach you how to draw NFTs, how to use different editing software, how to establish yourself as an NFT artist, and how to use social media to your advantage.
We made a big analysis of the entire YouTube space. A good way to authenticate some news is to subscribe to multiple sources from TOP YouTube channels about NFT.