AI-powered art is gaining more and more attention from NFT collectors around the world. Advances in technology have allowed works to become visually more complex and appealing, and have given rise to new artistic genres.
Now this genre generates hundreds of millions of dollars. But a couple of years ago, an avid enthusiast initially decided to popularize generative art by creating the largest specialized platform and showing how it works with his own example. And it was Snowfro, the creator of the first generative art platform ArtBlocks and one of the best-selling figures in contemporary art. His work made it possible to prove that technology can be an excellent tool for creating world masterpieces.
Who is Snowfro?
Snowfro is the creative pseudonym of NFT artist Eric Calderon, who was able to make a real breakthrough in the world of digital art. It is he who is the author of the cult collection Chromie Squiggle as the first project on the ArtBlocks generative platform, the creator of which is also the artist. It allows artists to create their own unique paintings by experimenting with code. And buyers at auctions, in turn, receive NFT and full rights to it. This can be compared to buying the originals of the most famous paintings that you have ever seen in museums.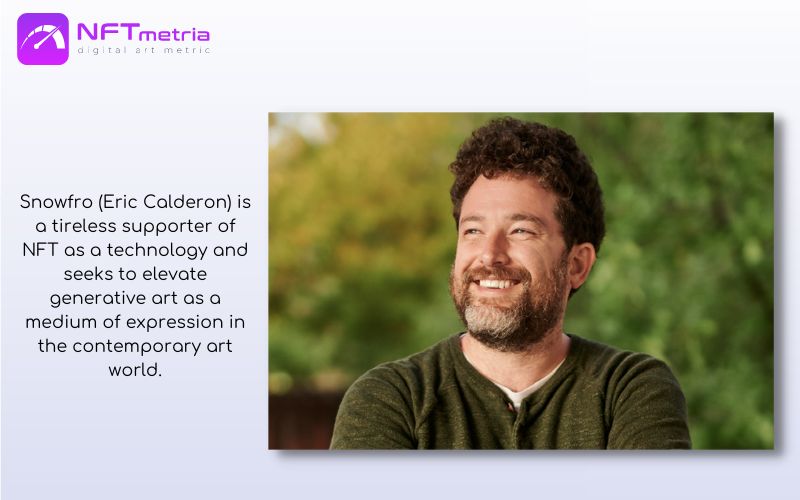 Eric Calderon was born in May 1981 in Mexico. Current residence: USA, Texas. The artist was educated in international business because he wanted to become a businessman, like his father. This is what inspired him to look for new ideas for profit. But before he succeeded, Eric worked in a toy store assembling construction set. It remains his favorite hobby to this day.
Snowfro Official Links
The creative path of Snowfro: from porcelain stoneware to NFT
Snowfro always dreamed of becoming an artist, but, lacking the necessary skills, briefly left this idea alone. Wanting to combine creativity and business skills, Eric started selling ceramic tiles. This option of earning provided him with stability, but did not bring sufficient satisfaction. Then, with the support of his wife, he resumed experiments with another old hobby – coding.
Before starting his first steps in NFT, Snowfro tried himself as a buyer of this kind of art. It all started with the acquisition of one of the most famous and popular collection – CryptoPunks from Larva Labs, which cost $1 at the time of minting. As Calderon himself says, others thought that paying money for this was real madness. But he felt it was a great example of a promising art direction with great potential. He was fascinated by the possibilities provided by blockchain technology and was especially excited by the revolutionary nature of smart contracts. Eric himself did not immediately begin to consider himself as a creator who himself would be able to create such incredible things.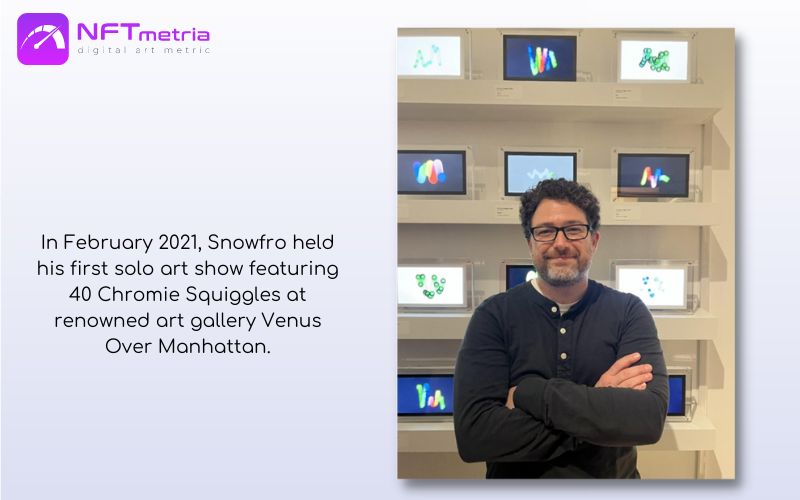 In 2017, Snowfro became seriously interested in Bitcoin and Ethereum. It was then that the idea and the first sketches of the ArtBlocks platform were born. And for the implementation, he had to sell all his Cryptopunks, thanks to which the project was launched in November 2020. This format quickly gained popularity. This is due to the fact that artists could generate paintings using a digital code.
I really felt that whether or not it became popular, it would be a viable way to document digital art created with code. At least during this period. Eric Calderon speaks about ArtBlocks
To date, sales have exceeded $1.3 billion at current exchange rates, reaching over 15,000 collectors and dealers worldwide.
Snowfro in the NFT world
Since 2017, Snowfro has been actively monitoring non-fungible tokens. He thought about the rational use of the blockchain in the field of NFT.
I learned about Ethereum and the blockchain amazed me. It was amazing that you can program money. Then, around the same time, I got really into NFT. Eric Calderon understood the potential and prospects of the market much earlier than it became very popular
This is how the global idea to create a platform for generative art appeared. In 2018, Calderon began selling his own CryptoPunks zombies for $200 each. This allowed him to pay for helping the developers to realize his idea. So, in November 2018, the world-famous ArtBlocks appeared. It was there that artists could download the algorithm as code and sell its unique integrations as tokens.
Snowfro decided to give opportunities for self-realization for everyone. In September 2022, he launched a second, updated version of ArtBlocks with a new concept and updated curator board requirements.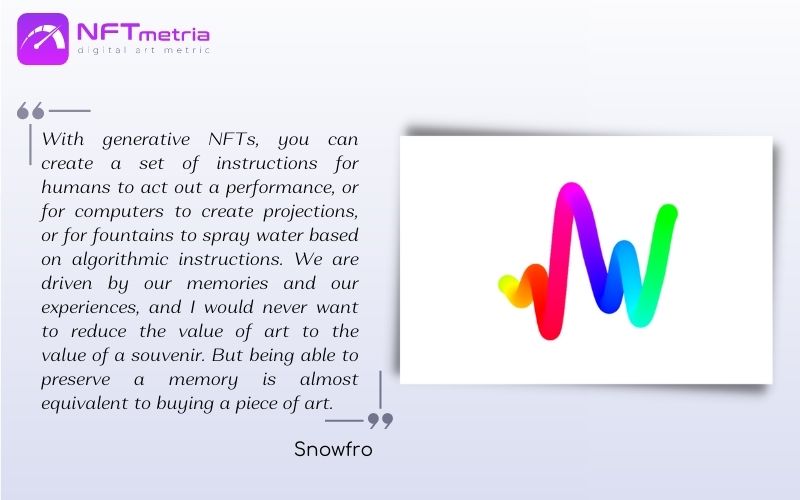 If you look at the list of the best-selling generative art artists, you can understand that most of them come from the project created by Eric. This says a lot about the fact that his influence on the NFT goes far beyond his own writing.
But the artist is known not only for this project. We are talking, of course, about the sensational NFT collection Chromie Squiggles, which we will talk about in more detail later.
Features of NFT artworks by Snowfro
Snowfro's work cannot be called something incredibly complex. The concept of his ideas is clear to anyone who looks at the finished product. And that is what attracts the viewer.
When the artist created his first works, he reflected on the fact that everything in this world had already been invented by someone. When creating his squiggles, Snowfro thought he had already seen similar work somewhere, but after searching the Google gallery, he did not find anything even slightly similar to his final product.
What makes his work special is that the author experiments with forms and challenges himself: how many wavy lines or dots can fit into one object, what combinations of colors will seem the most interesting. The paintings were created by a man who, by his own admission, does not know how to draw at all, but who needs self-expression through creativity. Snowfro in his business is a bit like a child who just has fun and genuinely enjoys the process.
The most famous NFT works by Snowfro
Snowfro is known not only as the creator of ArtBlocks, but also as the author of one of the bestselling NFT collections in the world, Chromie Squiggle. After her success, he continued his own development.
Chromie Squiggle NFT Collection
The Chromie Squiggle Collection is 10,000 unique non-fungible tokens in the form of various colored animated lines, created entirely with code and programming. At the same time, out of 10,000 pieces, 756 Squiggles have not yet been minted. Snowfro keeps them to distribute as he sees fit. In addition, Chromie Squiggle has become a recognizable logo of the ArtBlocks project.
Simple and easily recognizable, each Squiggle embodies the soul of the ArtBlocks platform. Count each of my personal artist, developer and craftsman signatures. Says Snowfro himself on his official website
Chromie Squiggle is one of the key projects on ArtBlocks in the curated category. So Eric Calderon was able to demonstrate the range of possible integrations that the algorithm is capable of producing. The collection includes lines of six different types: standard, ribbed, concave, tight, bold, fuzzy. Also, the viewer can observe a variety of spectrum of colors. And what's more, each squiggle is able to move, which turns the presented object into art into something unique and alive.
Chromie Squiggles was never going to appear on ArtBlocks. It was a proof of concept that I used two or three years ago to demonstrate to other artists the infinite variability of what can be achieved with blockchain.Told the artist in his revelations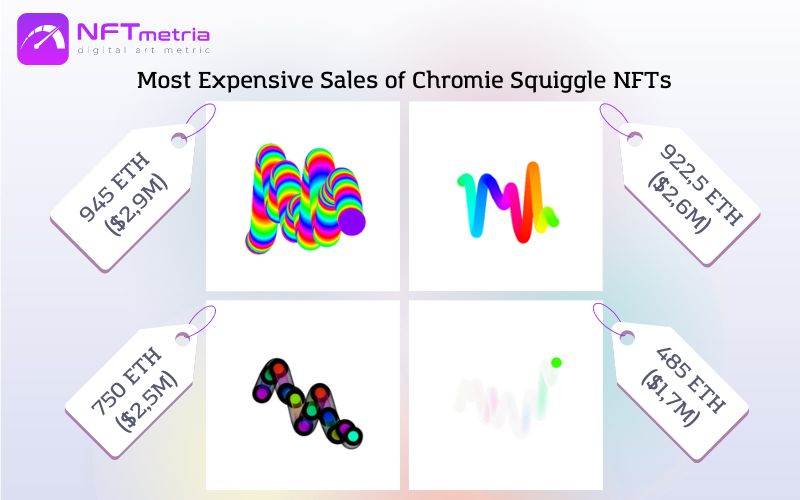 Today in numbers:
Total secondary sales exceeded 58K ETH (over $70 million),
The most expensive Chromie Squiggle #4697 was sold on September 26, 2021 for 945 ETH ($2.9 million at the time of sale),
Floor price is 13.5 ETH.
Friendship Bracelets NFT Collection
In November 2022, Eric Calderon announced a new Friendship Bracelets project in collaboration with artist Alexis André.
To date, this is more than 24K non-fungible tokens in the form of generative animated friendship bracelets. At the heart of the project is a plan to create a unique generative art friendship bracelet that includes instructions for making a simple bracelet in minutes using a few dollar embroidery floss.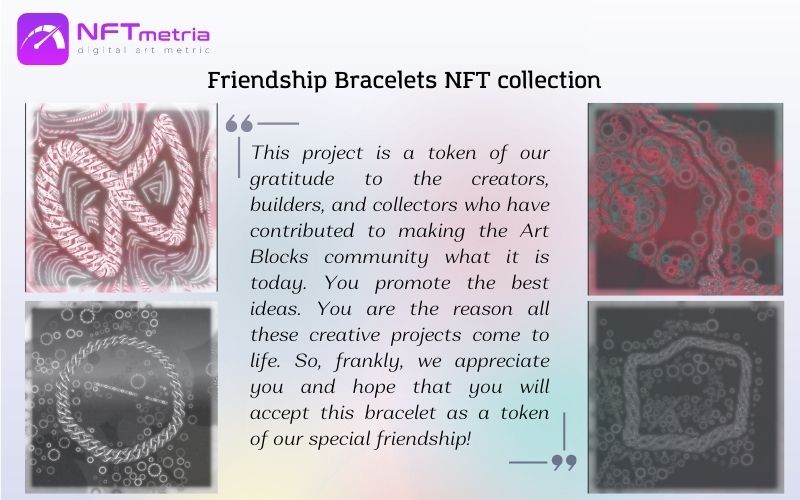 Thus, Friendship Bracelets, conceptualized by Eric and aesthetically and programmatically designed by Alexis, combines creative coding with a beautiful range of embroidery floss colors.
In addition, for owners of any work with ArtBlocks (purchases made before October 26, 2022 are taken into account), 2 free tokens will be available. This decision is a sign of recognition and respect from the creators of ArtBlocks. Friendship bracelets symbolize the accessibility of digital art and the strong connection of community members.
Where can you buy the NFTs by Snowfro?
You can purchase and invest in the NFT the works of the artist Snowfro (Eric Calderon) on the OpenSea marketplace. In addition, the author's new projects can be tracked on the ArtBlocks generative art platform and on his personal Twitter page.
Opinion of NFTMetria
Snowfro (Eric Calderon) is a pioneer in the genre of generative art, who was able to show new sides of creative coding. His works seem too simple to many, but there is always something catchy in them. This is a man who managed to make his dream come true, becoming an artist, businessman and programmer all rolled into one.
In his relatively short career in the NFT space, the artist has created a new art niche, paving the way for other talented people as well.
Eric Calderon is the very unique case of a combination of ingenious entrepreneurial activity and creative talent. To date alone, his ArtBlocks project has generated over $1.3 billion in sales, and his Chromie Squiggle collection has over $70 million in secondary sales. Impressive, isn't it?