A creative developer from Canada is doing code research. Matt DesLauriers' attention is focused on a wide range of NFTs, from geometric shapes to 3D moving images. The total value of his works of art is estimated at almost 55 million US dollars. While developing the NFT works, the artist wrote independently and contributed to many open source programs. His portfolio also includes:
Budo is browser-based rapid prototyping server,
Canvas-sketch is a JavaScript-based NFT framework.
Who is Matt DesLauriers?
Matt DesLauriers is an original programmer and generative artist. The Canadian developer currently lives in London. His works of generative art are highly valued in the NFT investment market. Many of the collections are based on algorithmic data, thus declaring new trends in the crypto space.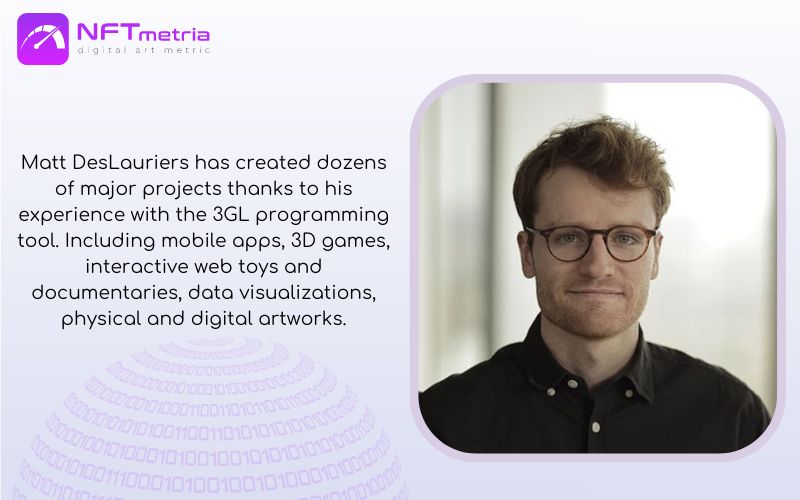 Digital installations and interactive light sculptures of the artist are based on traditional images, natural creations. For example, the cairns, which have been used for centuries as warming huts during winters in Canada.
Matt DesLauriers Official Links
The creative path of Matt DesLauriers to NFT
Matt DesLauriers gained his first work experience in film and media, honing his skills at Queen's University. His interactive installations have been shown at events in North America and Europe:
Winter Light 2018 Exhibition at Ontario Place
JSConf EU 2018 at Arena Berlin
Winter Lights Festival 2019 in Reykjavik in Iceland
When creating physical works, the artist used such means as pen drawing, engravings, laser cutting. He applied his knowledge of both computer science and design to the creation of new products. For example, Matt DesLauriers launched Wayfinder, an art game that combines illustration art with computational poetry.
In addition, the artist participates in classes:
UCL Bartlett School of Architecture in London,
FITC in Toronto and Amsterdam,
Frontend Masters in Minneapolis,
GROW in Paris and Nodeschool in Toronto.
Matt DesLauriers in the NFT world
Matt DesLauriers is actively involved in the open source community. The modern artist maintains hundreds of small modules and libraries to help fellow media artists with creative coding. But he is known for two collections: Subscapes and Meridian.
By November 2022, the artist demonstrates the following indicators:
The total value is more than $55 million,
Tokens sold – more than 2 thousand pieces,
Maximum sales volume – 37K dollars,
Average selling price – $26K.
Matt DesLauriers creates tangible results for successful investments in NFT by translating the complex algorithms of emergent systems into minimal codes.
Features of NFT works by Matt DesLauriers
The British artist presents the best possible versions on the Art Blocks generative art platform. While many of the best-known works of generative art are abstract, his works are concrete.
Collaboration is not always with the machine, but more often with the algorithm and its parameter space. By carefully tweaking NFT work over many iterations, I compress a huge multidimensional set of probabilities into a beautiful and tangible artifact.Matt DesLauriers describes the creative process of creating his works.
The most famous NFT works by Matt DesLauriers
The work of Matt DesLauriers creates endless unique visual effects. The same work is never reproduced twice. And all of them are united in sensational collections.
Subscapes NFT Collection
The collection was created in April 2021 in the Curated category on the ArtBlocks platform. And this project has become a visiting card for the artist. The works use a generative algorithm that creates a three-dimensional picture of the landscape from a variety of possible options. Artworks are in demand for investments in NFTs.
To date:
A total of 650 images in the collection,
The most expensive Subscapes #190 was sold on August 31, 2021 for 200 ETH ($645K at the time of sale),
The total sales volume is more than 7K ETH,
The minimum selling price is 12.5 ETH,
Average trades are in the range of 9-16 ETH.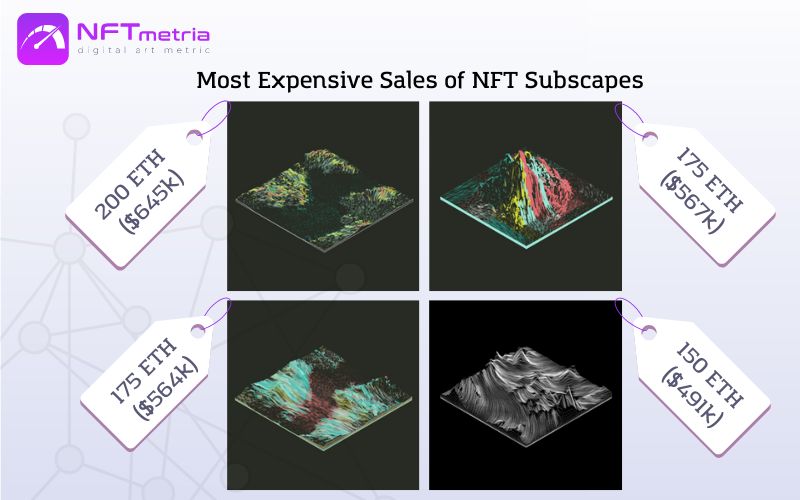 Meridian NFT Collection
The collection was released on September 28, 2021 and immediately became a hit among NFT investors. In the images, you can see layered landforms built from many small strokes of color.
To date:
A total of 1000 images in the collection,
The most expensive Meridian #738 was sold on October 1, 2021 for 200 ETH ($600K),
The total sales volume is more than 19K ETH,
Minimum selling price 10.5 ETH
Average trades are within 9-12 ETH.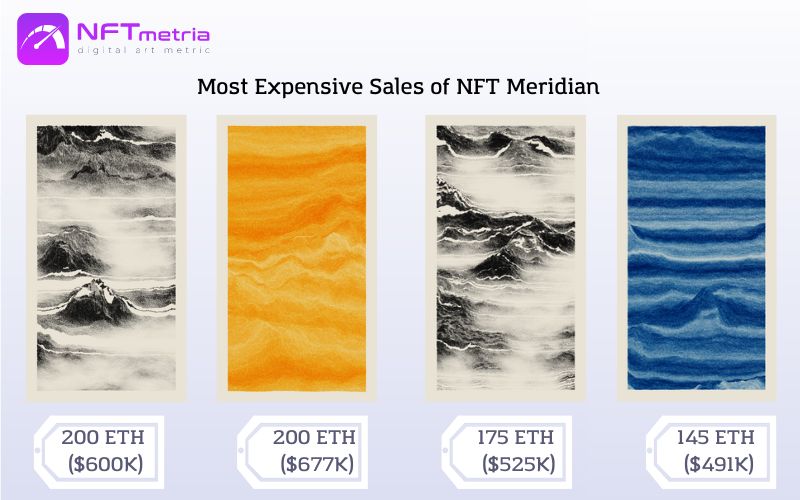 Where to buy Matt DesLauriers NFTs?
To date, the well-known works of the artist can only be purchased in secondary markets, namely on the OpenSea marketplace. In addition, follow the new drops on the author's Twitter. And then it will be possible to purchase the work on the ArtBlocks generative art site, which, by the way, made Matt DesLauriers so famous.
Opinion of NFTMetria
Matt DesLauriers passion for generative art leads NFT computational creativity to the best result with code. The value of the artist's works lies not only in the fact that they are becoming more expensive. They contain an important philosophy about the fragile beauty of nature. Therefore, his works have become attractive and stable assets that are successfully sold.