Kevin Abosch is an Irish conceptual artist who creates portraits of businessmen and celebrities. However, his work is not limited to photographs – the artist's portfolio includes installations, sculptures, art in the field of NFT, artificial intelligence and cinema. In his works, the primary attention is paid to conceptualism, and some social problems are also raised. At the same time, the Kevin Abosch's works are recognized all over the world and have already been exhibited in the Hermitage (St. Petersburg), the National Museum of China, the National Gallery of Ireland, the Jeu de Paume (Paris), the Irish Museum of Modern Art, the Museum of Contemporary Art of Vojvodina, the Museum of Contemporary Art of Bogotá, ZKM (Center for Arts and Medicine) and Dublin Airport.
If much is already known about his artistic activity, then in this review we will consider the photographer as an active NFT artist. And it is no coincidence that he also managed to achieve great success in this market and earn recognition and authority.
Who is Kevin Abosch?
Kevin Abosch was born in 1969 in Los Angeles to an Irish family (apparently this explains his notorious love for potatoes). There he spent his childhood. Kevin has both Irish and American citizenship, but currently lives in New York.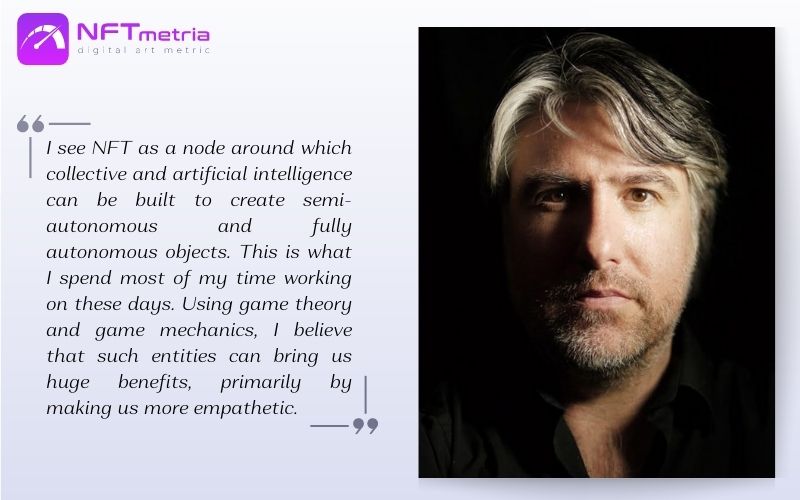 A former biologist, Kevin Abosch has also always been interested in technology – for example, he is fluent in the Python programming language. With his technical expertise, he developed the OneOne free messaging app and the private messaging platform Kwikdesk. This had a noticeable impact on his art, because the Kevin Abosch's works combine technology and art in an amazing way.
But he received public recognition and fame as a portrait photographer. His portraits against the iconic black background have become somewhat of a status symbol among the business and entertainment elite – the rich and famous paid over $150,000 for a photo shoot and up to $500,000 if commercial use is included.
Kevin Abosch did not stop there and continued his journey towards the blockchain, and then the NFT market.
Kevin Abosch Official Links
The creative path of Kevin Abosch: from photos to NFTs
Kevin Abosch is far from new to the art. Since the 1990s he has been working as a photographer for CBS Records. And only at the age of 48 the whole world learned about him.
In 2015, a photograph of an Irish potato (Potato no. 345) was sold for 1 million euros ($1.16 million). The name of the buyer is not called, it is only known that he is a businessman from Europe. This picture is considered one of the most expensive in the world.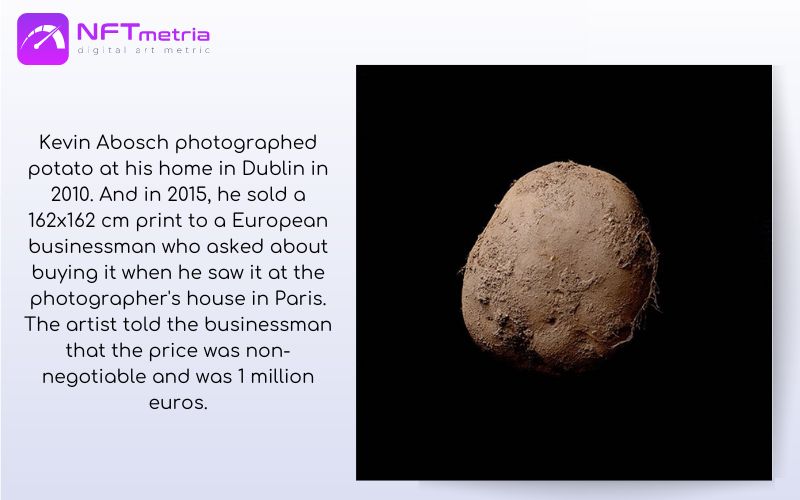 In January 2018, Kevin Abosch, as part of the IAMA Coin project, connects his physical body with virtual art, in an attempt to reflect the culture of cryptocurrencies in this way. He created 10 million digital tokens on the Ethereum blockchain, a kind of "virtual art", which he gave the ironic name IAMA Coin and sold to collectors.
In order to link these tokens to his physical art, Kevin Abosh also printed the blockchain addresses of the tokens on 100 pieces of physical art he created. The physical part of the project was stamped with his blood, while the virtual part is the tokens of the ERC-20 standard. Kevin Abosch has earned over $2.5 million so far (one token is worth $10).
Potato Sale #345 caused the focus to shift from the artistic value of my work to the monetary value. As an artist, you see your work as an extension of yourself. So in a way you start to feel like a commodity. I started to feel like a coin. Kevin Abosch reflects on the reason for the emergence of the IAMA Coin project.
In the same year, no less famous work by Yellow Lambo appeared. The Lamborghini sports car has become a desired symbol for a large group of enthusiastic cryptocurrency traders who use "#lambo" in their social media posts, perhaps as confirmation of their ambition to make huge profits from their cryptocurrency investments. On April 26, 2018, the sculpture was bought by Michael Jackson for 400 thousand dollars – in the past he worked as a top manager of Skype.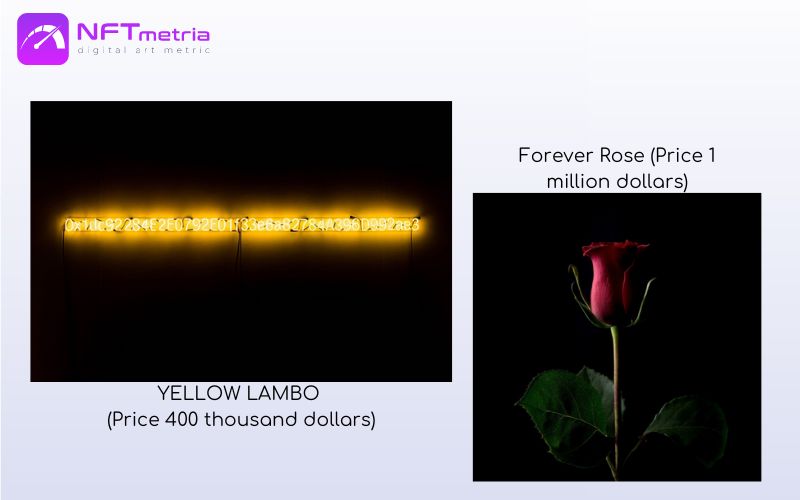 Also, in 2018, Kevin Abosch releases the work Forever Rose. This is an ERC-20 token on the Ethereum blockchain based on a photo of a rose taken by Abosh. For 100K dollars, each buyer receives 1/10 of the ROSE token. Thus, the total cost of the work is 1 million dollars. All proceeds were donated to the CoderDojo Foundation for free coding classes for kids and teens ages 7-17.
The intersection of art and science often provides explanatory surprises. Art and science are just a means to an end. The artist himself says this
Another important moment in the career of Kevin Abosch was a photograph of Johnny Depp. This work turned out so great that many other celebrities also wanted to be photographed by him. Among the artist's clients were such famous people as Yoko Ono, Claudia Schiffer, Angelina Jolie and more.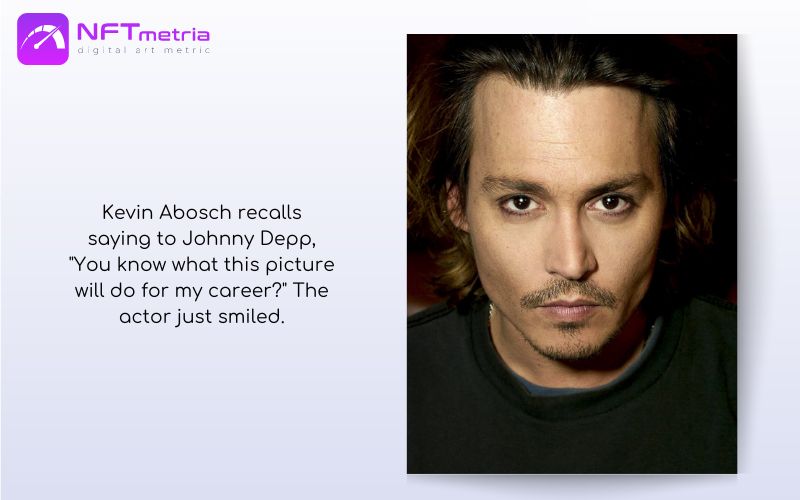 Kevin Abosch in the NFT world
In NFT, Kevin Abosch was one of the pioneers, having been attracted to the industry back in 2016. He was famous before, but the IAMA Coin project brought him fame in the NFT world. Now many other artists look up to this person. And no wonder, because he can definitely be called a successful person – at the moment his fortune is more than $ 20 million. The main achievement of the Kevin Abosch is that he popularized NFT art – now it is widely known.
I am not a crypto-maximalist, not a supporter of crypto-currency, and not even a fan of NFT. But I like to use tools that help me up the ante as an artist. Blockchain for me is much more than a ledger. It's a playground – a forest where I can play hide and seek, but also a place where I can build things and invite people to interact with them. Blockchain has helped me gain a deeper understanding of where I end and where the public begins, and vice versa. In this sense, I can accept being called a "crypto artist". This is how an artist defines himself.
Corporate identity artist Kevin Abosch
The signature feature of the Kevin Abosch's photographs is the permanent black background. He is present both in photographic portraits and in his other works – in the picture of the same potato, a photograph of a half-eaten Christmas goose and not only. Also, this black background has become a symbol of high status and a business card of a business portrait of Silicon Valley employees. The black background is also actively used in his NFT art. But in his latest works, the artist increasingly uses bright colors, geometry and various abstractions, putting in them all the same conceptual meaning.
The most famous NFT works of Kevin Abosch
Kevin Abosch has several well-known collections in his piggy bank, in which he lays an individual meaning. Although, let's be honest, he is such a big name in itself that his art are bought up by NFT investors anyway, who understand the value of his paintings as investment assets.
1111 NFT collection
1111 collection created in 2021. It is a collection of 1111 unique works. These numbers are cryptographic alphanumeric characters. The idea of ​​this art is that the author shares secret knowledge, the code of which not everyone can unravel.
Some numbers for today:
Total sales of over 6.1K ETH ($7.4 million),
The minimum price of tokens is 2.98 ETH,
The most expensive token 1111 #0263 was sold on April 4, 2021 for 128.7832 ETH ($267K).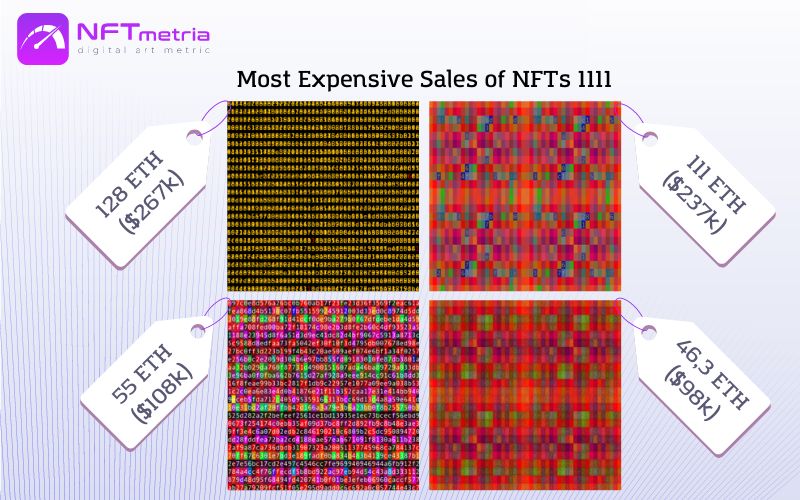 Most Expensive Sales of NFTs 1111
888 NFT collection
A collection of 109 images created in August 2021. Based on visual data collected in China. Each work is a combination of multi-colored circles that represent encrypted data. In Chinese numerology, the number 8 means good luck, and the number 888 is an auspicious number, indicating triple luck. The number 888 is inextricably linked to the art itself.
Some numbers for today:
Total sales of over 1.2K ETH ($1.5 million),
The minimum price of token is 3 ETH,
The most expensive NFT 888 #97 was sold on August 24, 2021 for 17.69 ETH ($56K).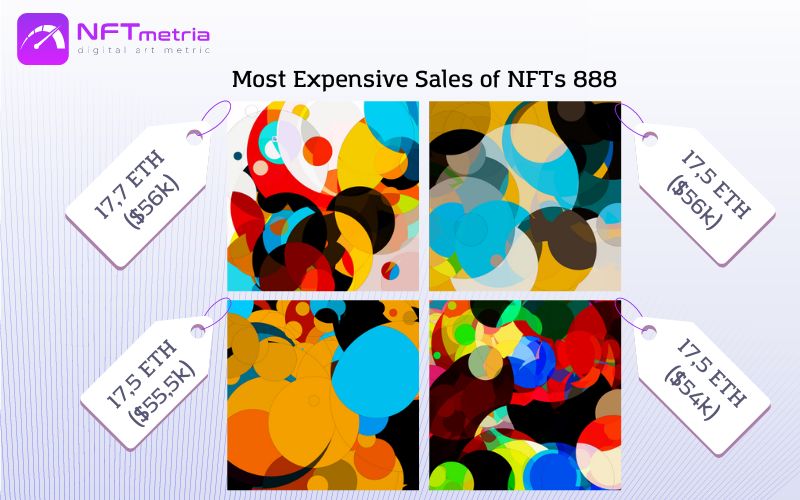 SUN SIGNALS NFT collection
The collection was created in October 2021 and consists of 1010 works based on the analysis of solar cycles and solar radiation on Earth. This art both celebrates the star that powers all life processes on Earth and at the same time reminds us of the deadly specter of industrial-driven climate change. The solar signals are generated "off-grid" using the artist's solar-powered computer servers. Images and metadata are stored in Arweave's Permaweb.
Some numbers for today:
Total sales of more than 962 ETH ($1.1 million),
The minimum price of token is 0.9 ETH,
The most expensive NFT Sun Signals #0001 was sold on October 24, 2021 for 8.4 ETH ($35K).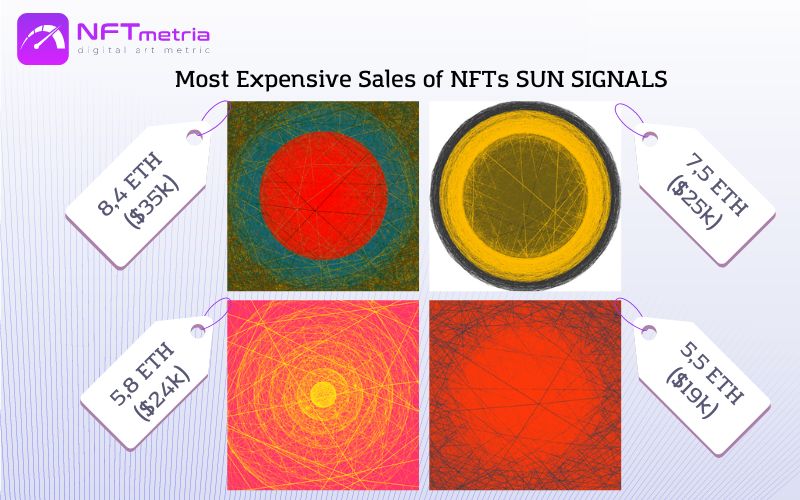 Where can you buy NFTs by Kevin Abosch?
His works can be found on NFT marketplaces such as OpenSea and Rarible. And on the official Twitter page, announcements of new drops are posted.
Opinion of NFTmetria
Kevin Abosch is a pioneer in the field of NFTs. Thanks to him, the black background in photographs was popularized, it became a symbol of a high-quality image. Interesting are his works in the NFT, where he raises various social issues.
The artist is a symbol of conceptual digital art, in which NFT investors willingly invest. The reason for this is simple – he does not promote himself on one-day popularity, he does not look for hype, his work will always be in price due to the conceptual approach and the name as a brand.