There are not so many women among NFT artists, according to 2021 estimates – no more than 10%. Among them is the fairly well-known author Monica Rizzolli, who has come a long way from an ordinary artist to a major creator in the NFT field. As she developed her skills, she moved from canvas and brush to programmable code, but did not lose her love for nature, flowers and plants. Her natural paintings, created using generative algorithms, are exhibited in major NFT galleries and sold around the world. As a result, the artist has earned more than $12 million for her paintings.
In today's review, you will find out who is Monica Rizzolli, what was her path to recognition and what project made her famous.
Who is Monica Rizzolli?
Monica Rizzolli is a young NFT artist from Brazil. She was born in the city of Sao Carlos, and now lives and works in the city of Sao Paulo. She was educated at the Kassel Higher Art School in Germany. Monica Rizzolli gained her fame in the field of generative art thanks to her ability to combine nature and programming. Her paintings reveal topics such as urbanization, ecology and the perception of space. Monica Rizzolli has participated in exhibitions all over the world: in the USA, China, Germany and in her native Brazil.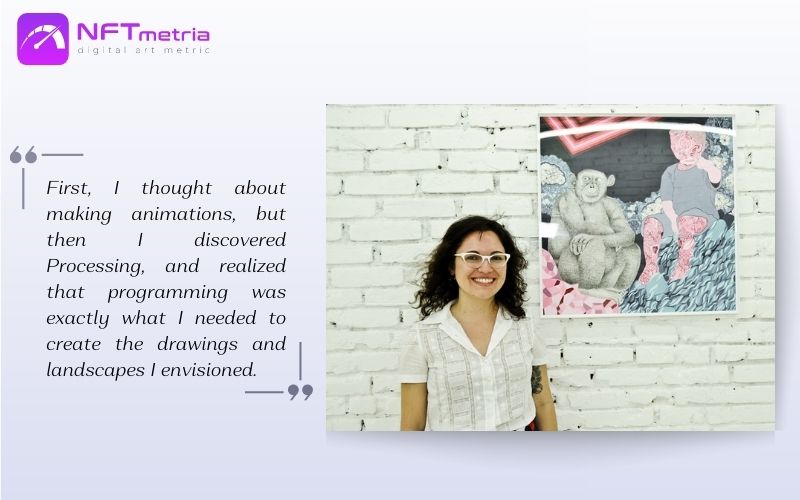 Monica Rizzolli Official Links
The creative path of Monica Rizzolli: from inception to NFT
Monica Rizzolli started as an ordinary artist, painting nature and symmetrical ornaments.
In 2014, the artist published her first painting "Caylus", created using code, on an online gallery. It was the image of the central square La Place de la Mairie, which changed with each new launch of the program.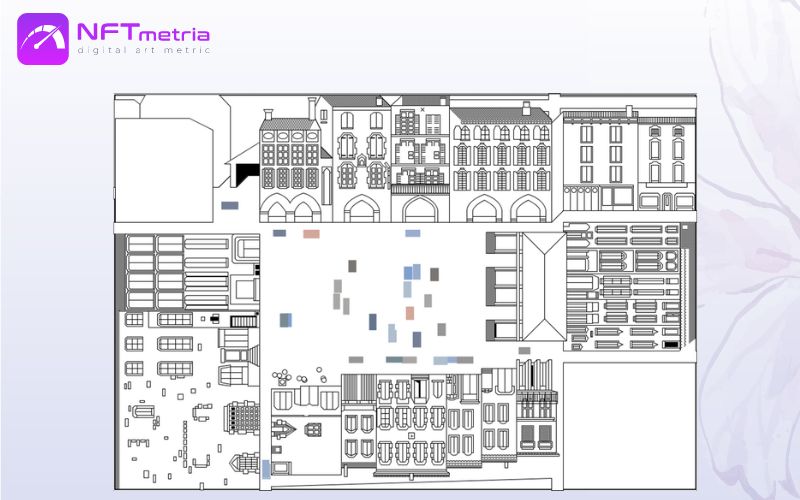 As early as September 5, 2015, Monica Rizzolli entered the digital art exhibition held at the MAKCenter in Los Angeles. It was devoted to the perception of the space of a large metropolis.
the first #generative artwork I showed in an exhibition was in 2015 at @MAKCenter , it's been a fantastic journey from there to here https://t.co/XaeeMNNMWj pic.twitter.com/8vbF96Hz5U

— Monica Rizzolli (@MonicaRizzolli) June 9, 2022
Her self-generated computer simulation project "FROM Home – TO supermarket" was presented there, it was an experimental look at the space of Los Angeles. In the work, you can see how the artist every day slowly walked a small way from the apartment to the grocery store, enjoying the surroundings of the big city.
And in 2017, Amarello magazine published her generated Praça do Patriarca cover in its 27th issue.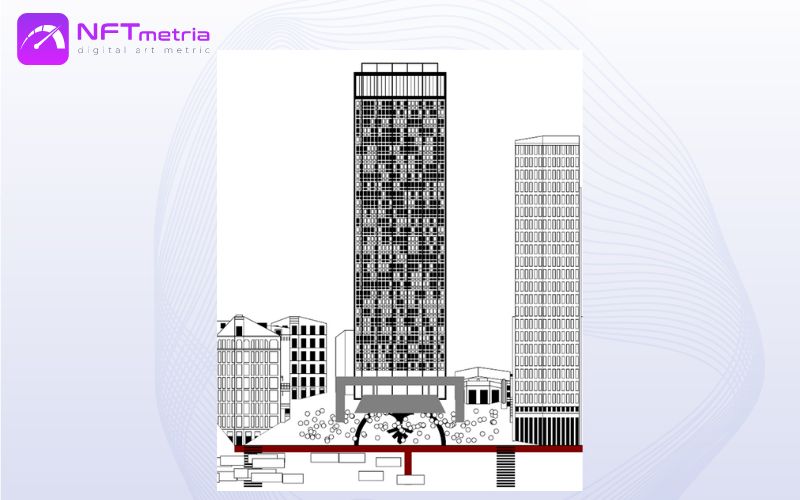 It was Patrick's Square in Sao Paulo, where you can customize the elements of the picture yourself. Also, this cover was chosen to participate in the FILE ONLINE 2018 festival.
At this time, the artist was already actively comprehending the NFT world.
Monica Rizzolli in the NFT world
Monica Rizzolli started her journey into the world of digital unique art with a social event. In 2016, together with Nino Arteiro, an artist and programmer from Brazil, she organized "Noite de Processing" (Portuguese. Processing Night). This is a conference on technology and art, which, by the way, she is the organizer of now. It was there that she learned about creating paintings based on the blockchain.
With Nino Arteiro, a pioneer of crypto art in Brazil, I learned how to make a contract ERC-721 and publish it to a blockchain. Monica Rizzolli says in an interview.
Monica Rizzolli has always wanted to reproduce pictures of natural landscapes, but the limitations of the canvas prevented her from creating what she envisioned. Having discovered programming, the artist was able to embody all her ideas about the constantly changing environment.
During her 5 years of creativity in this field, she gained great fame, mainly due to her successful collection "Fragments of Infinite Field". This was due to her collaboration with the generative art project Art Blocks.
In addition, she participated in CloutForum (a monthly podcast about artists in the NFT world). Recently, the artist has also been creating training courses on art and technology. She realizes her pedagogical talent in the Contrast project with her colleague Tony de Marco. To date, Monica Rizzolli has earned over $12 million from her NFT work.
Features of NFT works by Monica Rizzolli
Her signature style is natural images of flowers and landscapes combined with smooth geometric elements. This unique interweaving of the natural with the artificial has made it easy for her to stand out from other artists. Her love for architecture, landscape and urbanism gave rise to her unique style of work. While studying in Germany and while traveling with exhibitions around the world, she made notes and sketches of the architecture of European cities.
Corpos na paisagem. Corpos sao paisagem.Bodies in the landscape. Bodies are the landscape (Portuguese)
These words, written in her notes in the workshop, highlight the axis of the NFT artist's work and describe her direction in art. She also lived in China for a long time, at the Creatives in Residence, where she gained experience in depicting architecture. Currently, he focuses more of his work on natural images, such as flowers and plants.
The most famous NFT works of Monica Rizzolli
The artist has released several collections. Having tried her hand at independent work, the first collection Tropical Garden was released, after which the generative art project Art Blocks included her next collection "Fragments of Infinite Field" in the Curated section. After that, fame and recognition came to her.
Tropical Garden NFT Collection
The first collection called "Tropical Garden" was presented in January 2021. It consists of 9 generated animated images on the Ethereum blockchain. The main idea of ​​the collection is to reveal the fusion of Brazilian flora and geometric shapes.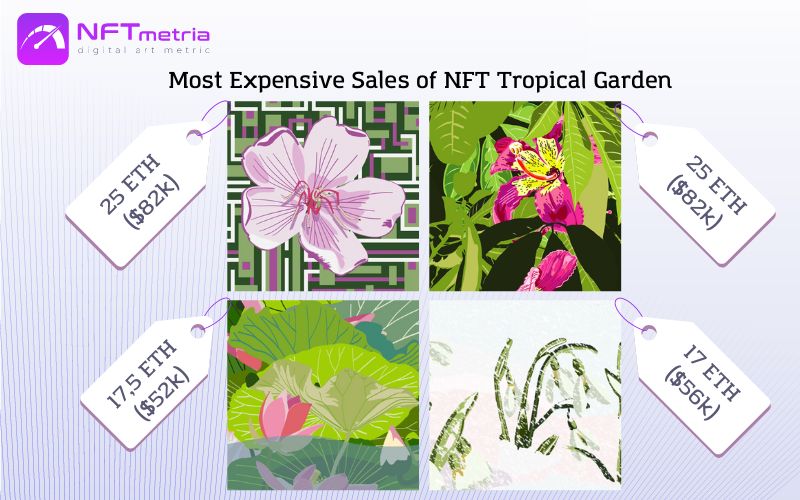 Among the famous owners you can meet:
Rapper Snoop Dogg, who owns the collection account Cozomo_de_Medici,
NFT Collector Punk6529,
NFT influencer VincentVanDough,
Co-owner of online investment management service Wealthsimple Inc. and major NFT collector Rudy Adler.
To date:
The total volume of sales is 143 ETH (181K dollars),
Only one of the 9 tokens "Aristolochia, pigmentation depigmentation" is for sale,
The minimum cost of the image is 15 ETH (18K dollars),
The most expensive work "Tibouchina mutabilis, origin" was sold on September 14, 2021 for 25 ETH ($82K).
Fragments of Infinite Field NFT Collection
NFT collection "Fragments of Infinite Field", approved by the administration of Art Blocks and included in the Curated section, brought the artist great fame. This is a collection of 1024 generated paintings on the Ethereum blockchain for different seasons. It is a complex system where each plant is generated and accompanied by a potentially infinite field of vegetation. Variables in the program determined the time of year, color, weather, and character of the image.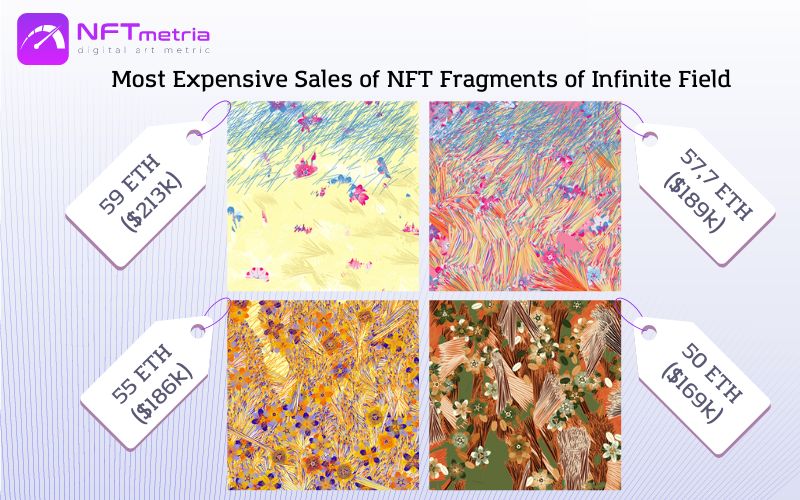 To date:
On September 13, 2021, all 1024 paintings from the collection were sold at Art Blocks in less than an hour,
Total sales exceed 13.4K ETH (currently $17M).
The minimum price is 3.7 ETH ($4.7K).
The most expensive work "Fragments of an Infinite Field #684" was sold on September 15, 2021 for 59 ETH (currently $213K).
By the way, rapper Snoop Dogg bought a work from this collection:
Ladies & Gentlemen, I'm thrilled to share I've just broken the high sales record for an @artblocks_io Fragments of an Infinite Field piece.

Presenting what I consider to be a grail of the collection, # 972, "Midnight Dance"

Now vaulted in the House of Medici🍷~CdM pic.twitter.com/FU2i49q6wV

— Cozomo de' Medici (@CozomoMedici) September 13, 2021
Where to buy NFT works by Monica Rizzolli?
At the moment, all of her works are sold out in the primary market. You can only buy them on the secondary market, for example, on the Opensea marketplace.
It is worth waiting for the release of her future collections on ArtBlocks. And also, on November 16, an exhibition will begin in New Mexico, which will show the work of many famous NFT artists. At this event, Monica Rizzolli will present its new collection "Underwater", dedicated to the aquatic life.
Opinion of NFTMetria
Monica Rizzolli has created one of the most recognizable NFT collections. The artist deservedly enters the top of the best NFT artists. Her idea to generate nature based on random weather and season parameters made a splash within the NFT community. It was her style that helped her stand out from other digital artists.
But what really made her famous was her curation of Art Blocks, which made her breakthrough collection Fragments of Infinite Field known to the entire community. And now everyone is waiting for her new projects.