In recent years, the world of cryptocurrencies and digital assets has undergone a true revolution, with one of the most vibrant phenomena of this era being the emergence of NFT technology. This technology allows the creation and exchange of unique digital assets, often associated with art and entertainment. Celebrities have become a significant component of this world, actively engaging in the creation, promotion, and acquisition of NFTs. In this article, we will delve into the role of celebrities in the realm of NFTs, citing real examples ranging from Madonna to Snoop Dogg.
How do celebrities influence and participate in the NFT market?
The role of celebrities in the NFT market cannot be underestimated: they promote, sanctify various NFT projects, interact with their audience through NFT campaigns, expand the fan community, and promote their own products using blockchain technology.
What other benefits do they bring to the market and its development?
Uniqueness and Exclusivity. Celebrity NFTs stand out due to their uniqueness. Celebrities create digital artworks and collections that cannot be duplicated. This uniqueness makes these assets particularly valuable to collectors and investors.
Increasing Popularity of NFT Technology. Celebrities' involvement in the world of NFTs attracts the attention of fans and art enthusiasts towards this technology. It leads to increased interest in NFTs, expanding its audience and making the technology more accessible to the general public.
Unique Creative Projects. Celebrity NFTs go beyond selling digital paintings. Celebrities create unique creative projects such as exclusive videos, musical compositions, audio recordings, and even interactive games. These projects not only satisfy the interests of collectors but also enrich the cultural heritage.
Philanthropy and Support. Many celebrities use the proceeds from Celebrity NFT sales for charitable causes. A percentage of the sales of these digital assets is directed towards supporting various charitable and social projects, making these initiatives even more valuable to society.
Professional Collaborations and Partnerships. Celebrities often collaborate with talented artists and developers to create unique NFT projects. These collaborations enhance the quality of art presented in the NFT community, making it more diverse and interesting.
Which celebrities are actively involved in the NFT movement?
Of course, just like in any other field, among their colleagues there are celebrities who are more actively involved in the movement. Below we will talk about only a few of them, but know that in fact there are ten times more of them.
Snoop Dogg
Snoop Dogg, the renowned rap artist and music producer, is a fervent advocate of the cryptocurrency and NFT universe. He has delved deep into the NFT world, collaborating with various NFT initiatives and operating under his Ethereum alter ego, Cozomo de' Medici.
In December 2021, Snoop Dogg made headlines by acquiring the digital artwork titled "Right Click and Save As Guy" by the artist XCOPY for 1600 ETH, equivalent to $7,088,229 at that time. Additionally, in 2022, he invested in the NFT animation titled "LIFE AND DEATH" by DeeKay for 310 ETH, approximately $1 million.
These acquisitions added significant value to his collection, worth millions of dollars, under his Cozomo de' Medici pseudonym.
Snoop Dogg made his mark in the NFT world by releasing his inaugural collection, "A Journey with the Dogg," in late March 2021. Following its success, he introduced "Young Snoop" featuring an original NFT tune. His ventures expanded to include unique releases such as "Snoop Doge Coins," "Diamond Joint," and "Deez Nuts." Furthermore, he collaborated with the Sandbox to launch his exclusive 'Snoopverse,' featuring Snoop avatars known as "The Doogies" and NFT passes.
Embracing the NFT frenzy, Snoop Dogg brought in other celebrity friends, including Eminem, Billy Ray Cyrus, and Wiz Khalifa, among others. In June 2022, he and Eminem collaborated on a new song and video titled "From The D 2 The LBC," in association with the renowned Bored Ape Yacht Club NFT collection. The official video has amassed over 87 million views on YouTube, showcasing the immense popularity of his NFT endeavors.
Snoop Dogg's extensive involvement in numerous projects has solidified his position as a trailblazer in the world of Celebrity NFTs. His innovative ventures continue to shape the future landscape of the market, making him a prominent figure in the cryptocurrency and digital asset realm.
Paris Hilton
Paris Hilton has long been a cryptocurrency enthusiast. Her journey into the world of NFTs began in April 2021 when she launched her own NFT collection titled "Planet Paris" on Nifty Gateway.
This collection comprised three masterpieces: "Hummingbird in My Metaverse," "Legend of Love," and "Iconic Crypto Queen." The first two pieces were sold in multiple editions for $10,000 each, while the unique "Iconic Crypto Queen" was auctioned off for a staggering $1.11 million to an anonymous bidder known as Adirolls.
Since then, the socialite released official NFTs in collaboration with artist Blake Kathryn, fetching nearly $1.1 million. Paris Hilton also introduced series like "Hummingbird in My Metaverse," "Legend of Love," and "Forever Fairytale," captivating audiences with her creative ventures.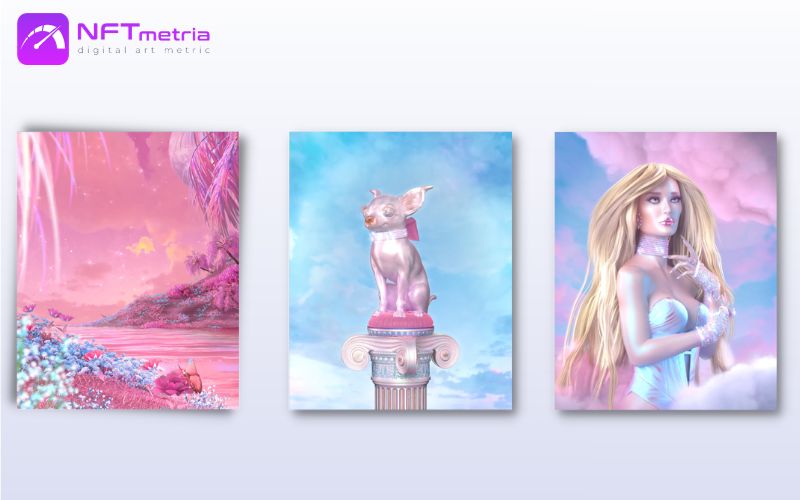 In 2022, Hilton collaborated with the enigmatic digital artist PAK and participated in the Carbon Drop PAK program alongside several other artists, showcasing her dedication to the NFT space.
So honored & excited to be a part of $ASH Chapter 2 "Metamorphosis" drop with @MuratPak 😍🥰😍 So many incredible artists a part of this! Stay tuned… March 28 at https://t.co/VYm2CFNsZn 🔥 #NFTs ⚡️ pic.twitter.com/xkr6AjBCru

— ParisHilton (@ParisHilton) March 23, 2022
As if this wasn't enough, the OG crypto queen entered the metaverse in collaboration with 11:11 Media and The Sandbox, further solidifying her presence in the digital realm.
Paris Hilton's significant contributions to the NFT world demonstrate her pioneering spirit and commitment to pushing the boundaries of creativity within the cryptocurrency universe.
LeBron James
LeBron James stands not only as one of the most legendary basketball players in history but also as one of the globe's most influential and successful celebrities.
With four NBA championships, four MVP awards, two Olympic gold medals, and a plethora of accolades, James has crafted a global empire spanning sports, entertainment, media, education, and philanthropy. His impact in the NBA is unparalleled, but his influence extends far beyond the basketball court.
In the ever-evolving crypto industry, LeBron James has made significant strides with his highly coveted NFT collections. In 2021, he sold his most expensive NFT for over $200,000, featuring a dunk paying homage to Kobe Bryant, showcasing his unique blend of athleticism and respect for basketball legends.
Teaming up with Crypto.com, a leading platform for crypto and NFT transactions, James became their ambassador in 2023, joining forces with renowned figures like Matt Damon and Snoop Dogg. He launched his own exclusive collection, "The Moment of Truth," which fans could access for free by scanning a QR code during their Super Bowl commercial.
Driven by personal motivation, James is dedicated to ensuring communities similar to his are not left behind amidst the wave of innovation and opportunity. His collaboration with Crypto.com reflects his commitment to bringing these newfound prospects to the sports community.
In the realm of NFTs, LeBron James retains his position as one of the most influential and passionate celebrities. He has rightfully earned the title of the NFT king of the NBA, marking his enduring impact on the digital landscape.
Madonna
The pop icon delved into the world of NFTs through a year-long collaboration with the visionary digital artist Beeple. Together, they introduced 'Mother of Creation,' a charitable initiative aimed at supporting women and children globally.
Since the beginning of time……..👀🌎🤰🫃 Leaning into a new virtual world with @beeple

Check back here on Wednesday May 11 at 3pm PST / 6pm EST for the nativity. NFTs dropping on @superrare.

All proceeds to benefit these organizations: @NationalBailOut@vday @voices_org_ua pic.twitter.com/ab2RkP47kv

— Madonna (@Madonna) May 9, 2022
"Mother of Creation" comprises three digitally crafted videos, depicting Madonna as a nude woman giving birth to a fusion of flora, fauna, and technology. Each video was complemented by poetry, featuring verses written by Madonna herself and others by the renowned mystic poet Rumi.
Madonna, an advocate for sexual minorities and gender equality, actively backs initiatives like the prominent World of Women NFT collection. She not only supports but also actively participates in their annual large-scale party, furthering her commitment to these causes.
Finally Enough Love…,,,,🏳️‍🌈💙🏳️‍🌈💛🌈💙🏳️‍🌈 Thank you NYC and all who were part of the show!! Happy Pride! ❤️‍🔥 @worldofwomennft @MACcosmetics @belvederevodka @TheSandboxGame @Linktree_ @madeinnypizza pic.twitter.com/A9zMo5d3Bd

— Madonna (@Madonna) June 24, 2022
Forecasting Celebrity Participation in the NFT Market
As you've seen in this article, we've highlighted just a few well-known personalities among the hundreds supporting the NFT movement. Celebrities play a crucial role in the development of the market, making it more diverse and captivating. Their creativity, inspiration, and social activism help make NFTs accessible and intriguing to millions worldwide, setting new standards in the realms of digital art and investments.
Predicting the future is always challenging, but we can anticipate that celebrity involvement in the NFT market will continue to grow and evolve:
Increase in Participants: More celebrities will engage in the world of NFTs, drawing the attention of new users and investors.
Diverse Creative Projects: Celebrities will create increasingly unique and diverse projects, pushing the boundaries of this technology's possibilities.
Deepened Partnerships: Celebrities will actively collaborate with talented artists, developers, and platforms to create outstanding NFT projects.
Strengthened Regulation: With the growing interest and celebrity involvement, regulatory bodies might intensify their control over the NFT market to prevent fraud and ensure compliance with legislation.
Ecosystem Expansion: NFT platform developers will enhance technologies and develop new tools to meet the needs of celebrities and their audiences.
Overall, the role of celebrities in the NFT market will continue to expand. They will play a significant part in shaping and advancing this innovative field, broadening its influence on global culture and the economy.