If you have been following the NFT space for a while, you must have heard of World of Women (WoW). Their founder, Yam Karkai, wondered how active women's participation is in the NFT world. The results are surprising – women artists accounted for only 5% of all NFT art sales (in the context of almost 2 years). And so the most important question arose, why are there so few women in the crypto world? How did this market become traditionally male? Eventually to change this situation, the artist created the WoW collection with the goal of equalizing the position of women in the crypto community.
Madonna sang at their party at NFT NYC. And Reese Witherspoon, through its media company Hello Sunshine, entered into an agreement with the project and will promote the brand in movies, TV shows, and record tracks. The Sandbox Metaverse is giving the project $25 million to support women in the Metaverse. And this is only part of the merits of a little more than a year. Impressive?
As a result, the project today is one of the best NFT collections and one of the main diversity leaders in the entire web3 industry. In this review, you will learn about the creators, reasons for popularity, the most expensive sales, latest news and much more.
Also watch our video review:
World of Women Official Links
World of Women in numbers
Collection of 10,000 NFTs released on July 27, 2021,
A total of 11 categories of various traits, and a total of 189 various attributes,
Total sales exceeded 83K ETH (over $135 million),
Market capitalization has passed the threshold of 49K ETH (over $65 million),
The starting price per mint was 0.07 ETH,
All NFTs after the drop were sold out in 10 hours, and in the first two weeks of sales, the project raised more than 40 million dollars,
After the first sales, the team immediately reinvested 15% in crypto art, gave 5% to two charities ("She is the first" and "Too young to marry") and even invested 2.5% in the hospital bills of one member of the community,
In March 2022, thanks to the launch of the WoWG derivative collection and a partnership with The Sandbox metaverse, the average price of NFT increased from 3.2 ETH to 10.9 ETH,
When purchasing NFT, owners receive an identical 4000×4000 high resolution file that can be used for any commercial purpose,
The most expensive NFT #9248 was sold for 260 ETH ($635K),
MoonPay bought NFT for 253 ETH (750K dollars) at Christie's auction,
The floor price is 0.6 ETH,
The Sandbox is providing $25 million to support women in the metaverse.
Data (including exchange rates) are given at the time of publication of the article
What is World of Women?
The World of Women is an NFT community built to celebrate representation, inclusion and equal opportunity in the world of non-fungible tokens.
The collection, consisting of 10,000 randomly generated graphic images of various rarities, lives on the Ethereum (ETH) blockchain in the form of ERC-721 tokens and is hosted via the InterPlanetary File System (IPFS) protocol.
At its core, project aims to empower women by promoting diversity and gender inclusiveness in an industry where women make up only a small fraction of NFT artists. It became the first centric project in the NFT space to realize this vision.
Collection attributes
The collection consists of portrait images of women with different cultural backgrounds and aesthetic qualities. Wherein the diversity of the collection goes far beyond skin color, offering unique and sometimes abstract accessories and features that make every look completely unique.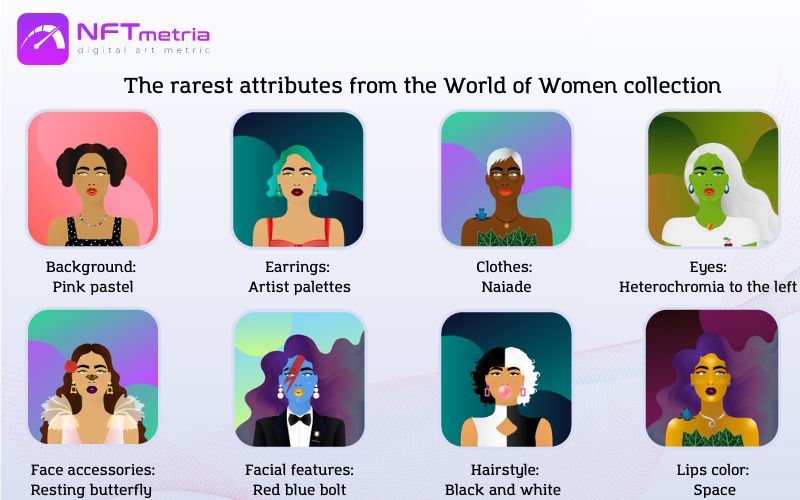 The collection consists of the following attributes:
11 backgrounds (the rarest: Pink pastel);
17 pairs of earrings (the rarest: Artist palettes);
27 outfits (the rarest: Naiade);
28 eye combinations (the rarest: Heterochromia to the left);
13 face accessories (the rarest: Resting butterfly);
23 facial features (the rarest: Red blue bolt);
25 hairstyles (the rarest: Black and white);
7 lip colors (the rarest: Space);
9 varieties of mouths (the rarest: Bubble gum);
15 necklaces (the rarest: Art lover);
14 skin tones (the rarest: Night goddess).
Who created World of Women?
One cannot speak of World of Women without praising Yam Karkai, the talented artist who created these NFTs. She is now considered one of the most influential NFT artists and has always been a great supporter of the work of emerging talent.
Let's start the list of collection creators with it: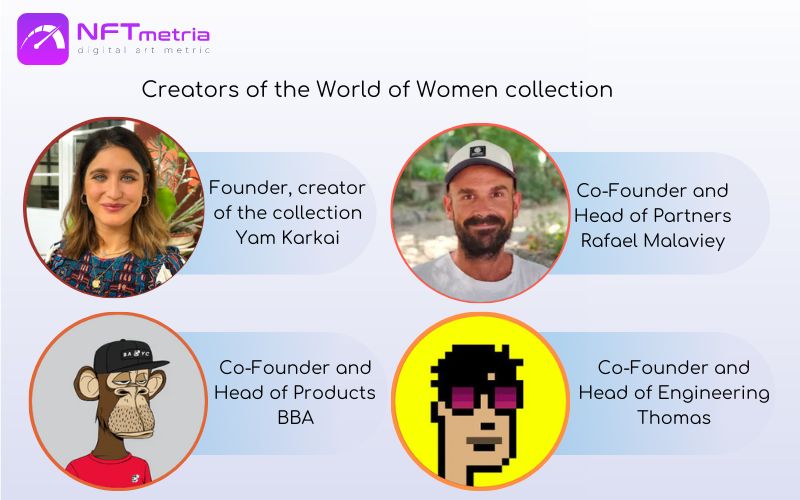 Which celebrity owns World of Women?
The list of celebrities who own the NFT World of Women is really extensive, which is something that not every blue-chip project can boast of.
We have highlighted some individuals from different areas to understand the scale:
👀✨🪐 @worldofwomennft #WoWG pic.twitter.com/tUSv01cYSU

— Reese Witherspoon (@ReeseW) March 25, 2022
American film and television actress Gwyneth Paltrow,
American actress, producer Eva Longoria Baston,
American screenwriter, director and producer Shonda Rhimes,
British singer, member of the band «One Direction» Liam Payne,
Rapper Snoop Dogg, also known as Cozomo de' Medici,
American professional basketball player Napheesa Collier,
NFT influencer Farokh.
How did World of Women become blue chip?
Karkai is a digital illustrator who entered the NFT space in the early days of 2021 as a single edition NFT artist. Generally she has always been committed to the idea that women should be at the forefront.
As the 2021 NFT boom was in full swing, Karkai saw an opportunity to spread her message even further. It was then that modern WoW was born.
I knew that I was not the only one who felt and saw that women and minorities were underrepresented in this space. I hoped it would attract people like me and people who share the same thoughts and values.Says founder Yam Karkai
Initially, the collection went on public sale on July 27, 2021. It sold out in 10 hours. The price for minting was 0.07 ETH per piece. A month later, WoW's trading volume was 745 ETH. Today, that number is an astonishing 76K ETH.
The blue chip NFT project continues to grow. So, in March 2022, Karkai and the WoW team expanded their community's universe by launching World of Women Galaxy (WoWG), a new collection of 22,222 WoW NFTs created using NFTs from the original collection. It was no surprise to anyone that the next WoW collection sold out in three days. And then there was cooperation with:
top media manager Guy Oseary,
actress and producer Reese Witherspoon,
famous magazine BillBoard,
The Sandbox metaverse,
auction house Christie's
Madonna,
marketplace CoinBase NFT.
We talk about the largest transactions in more detail in the Latest news about the project section.
Why is World of Women so popular and expensive?
We identify several reasons for the popularity of the project and, accordingly, the high cost that is retained:
This is the leading and top project dedicated to women in the NFT ecosystem. The community was just waiting for a similar project to come along that would give women a prominent voice in the world of crypto.
A number of well-known celebrities have joined the project and started using PFP on their social media accounts. These events have certainly helped raise awareness in the WoW community, solidly cementing the level of notoriety it currently enjoys.
This is one of the few projects that actively supports philanthropy through coverage of social issues and contributions to non-profit organizations, seeking to transfer its mission from the digital world to the real world. For example, the team supported Too Young to Wed, a women-focused non-profit organization that aims to end child marriage worldwide.
The project appeared at the intersection of the NFT hype and the hot topic of gender discrimination and diversity in the modern world. This combination immediately found a great response among the community.
This is the first large-scale project that supports sexual minorities, which is also loved by the public.
A large number of collaborations and partnerships with the most famous brands and personalities (see News about the project) have added significant weight in society.
Benefits of Owning World of Women NFTs
Buying NFTs from the top collection, which is included in the list of blue-chips, you of course receive a number of advantages of owning WoW:
Full ownership of intellectual property rights (including commercial use),
Original monthly ArtDrops from select NFT artists,
All NFT WoW are available for viewing in 800×800 resolution; however, owners receive a high resolution 4000×4000 file upon purchase. This permission allows the image to be used for any commercial purposes.
Curated pre-sales and receipts for high potential collections verified by DAWoW.
Lotteries and discounts for owners only,
Annual gala for holders and IRL events,
Access to exclusive groups that have come together around certain traits within the collection. The clubs were created in July 2021, with membership dependent on specific types of jewelry worn by the NFT WoW.
World of Women in Charity
This project is really socially significant. Because the team directs part of the multimillion-dollar sales proceeds to various funds to help women, children, and emergency funds. Note that this project in charity is the most striking example of the entire NFT market.
So, what the team managed to do in the field of charity:
She`s the first foundation, which fights gender inequality through education – a donation of 17.15 ETH ($41k),
The Too Young to Wed Foundation, whose mission is to empower girls and ban child marriage worldwide – a donation of ETH 17.15 ($44k),
Rockflower Fund, which aims to improve the lives of women and girls in various developing countries – a donation of 15.8 ETH ($48k),
Code to Inspire, the first digital school for women and girls in Afghanistan – a donation of 15 ETH ($48k),
Choose Love Fund – $100k in assistance to Ukraine on vital issues,
Save the children fund – $100k support for vulnerable children in Uganda,
Mercy Corps Foundation – providing people in Uganda with food, drinking water, medicines in the amount of 100k dollars,
Care International Foundation – $100K in food and medicine for women and children in Gaza.
And this is not a complete list of all charitable activities on the part of the project. Its creators, in addition to real help, thus showed the entire community that everyone in the crypto world can help those in need in the real world.
Roadmap of the World of Women NFT project
The roadmap for the World of Women project shown in the image below is called StarMap. And this is not surprising, because women make an intergalactic journey, and the result of their journey promises to be very impressive.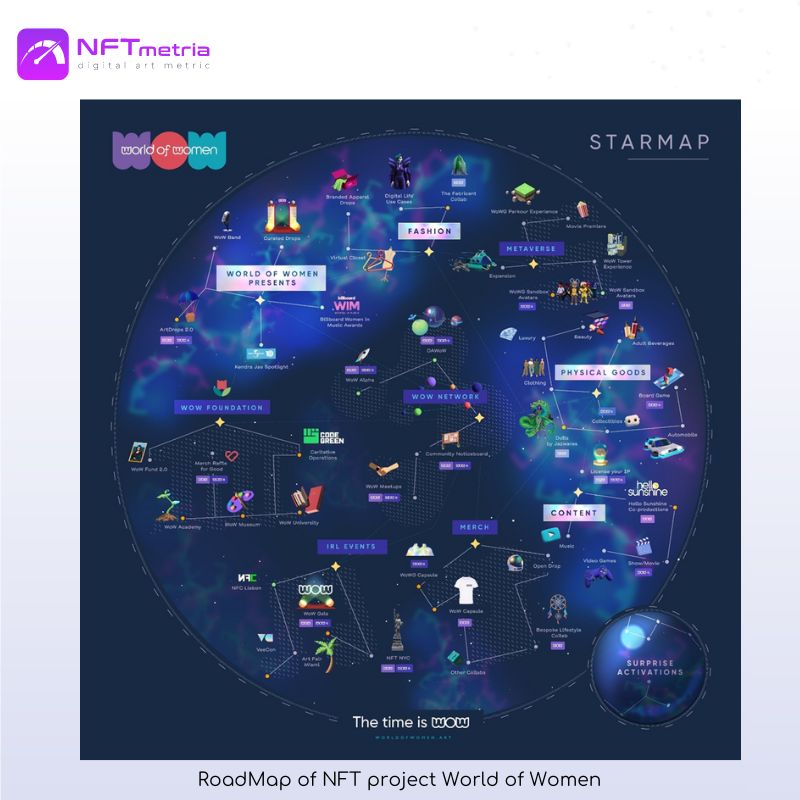 What are they planning:
Creating your own musical group, cinema and computer games,
Expansion of Artdrops and the emergence of Curated Drops,
Launch virtual clothes,
Expansion into the metaverses (own 3D avatars, museum, academy and university to help women in the metaverses),
Real items such as clothing collections, cosmetics, board games,
Development of DaWoW,
Expanding partnerships,
Conducting and participating in offline conferences and festivals,
Large-scale development of the own WowVerse metaverse,
Get more involved in charity and raise public awareness of the various social issues faced by women around the world.
The plans and goals really correspond in scale to the project, which seeks to expand its horizons and conquer ever greater peaks. With such success that they have achieved during their existence, they have every chance to realize this.
Ecosystem of the World of Women NFT project
All events and collaborations are necessary for the most productive and global development of the World of Women project ecosystem. Starting from the standard path as a derivative collection, the creators have gone further and have already shown the idea of their WowVerse metaverse through the NFT Capacitors.
NFT collection World of Women Galaxy
The logical continuation of the basic collection was the World of Women Galaxy, launched on March 26, 2022. It contains 22,222 NFTs, which are a mutation of the original collection in the intergalactic environment.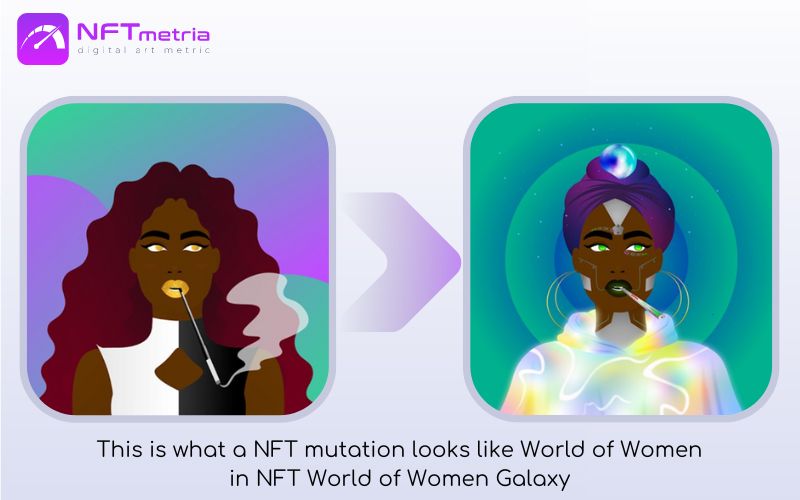 The idea behind the collection is that when WoW NFTs cross the time travel portal, they undergo a transformation. They then transform into an NFT WoW Galaxy from the planet Nova Gaia. WoWs that evolve into WoWG retain their origins.
Initial holders could claim one Galaxy NFT for each underlying NFT they held.
And an additional 2,222 Galaxy NFTs were offered at a lower price to "certain individuals and communities" who are working to increase access to the NFT market.
The remaining 10,000 Galaxy NFTs were put up for sale using the Dutch auction format, where they started at 3 ETH.
The success of the collection is phenomenal: sales amounted to about 79 million dollars during the first 24 hours of availability. This includes $34 million in primary sales as well as $45 million in secondary sales.
There are also 8 pieces of NFT 1/1 "Champions and Guardians" inside the collection. These artworks are individually drawn by Yam K and are not generated. They are the most expensive sales in the collection.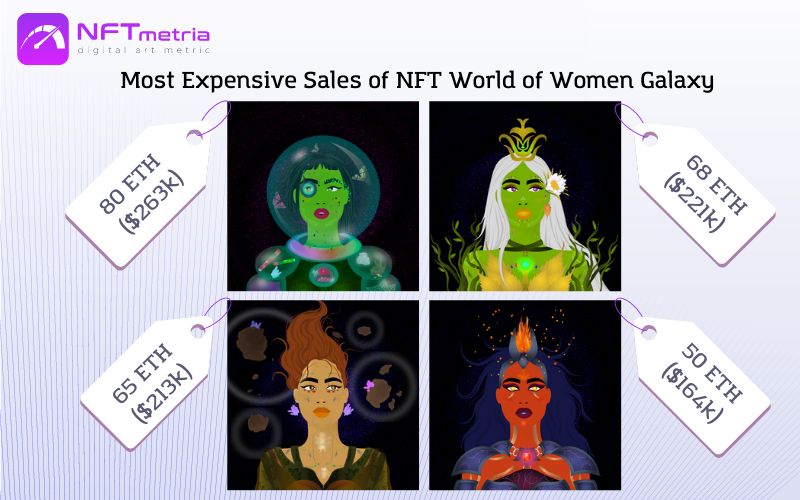 As a result, for today:
7K owners,
The volume of secondary sales exceeded 30K ETH,
Average sales are within 0.3-1 ETH,
The lowest price on the market now – 0.3 ETH,
Creator fee 4%.
NFT Capacitors are the first step towards the WowVerse metaverse
In July 2022, after several months of intrigue and fan anticipation, the team presented a new part of their ecosystem called Capacitors, And it is the first step towards the launch of WowVerse, a huge universe for the WoW.
But what is it? According to legend, in an attempt to help New Gaia, the Assembly of Women (WoW) sent help in the form of capacitors, devices that can store electrical energy.
In total, 2 types of them were released and went to the owners in the form of a free airdrop:
Blue for WoW holders
Today there are 9.4K of them.
The purchase price on the secondary market is 0.08 ETH.
Converting them gives you access to the beautiful Origin Virtual Residence.
Green for WoWG holders
Today there are 20.1K of them.
The purchase price on the secondary market is 0.019 ETH.
Converting them gives you access to the outstanding quarters of Nebula.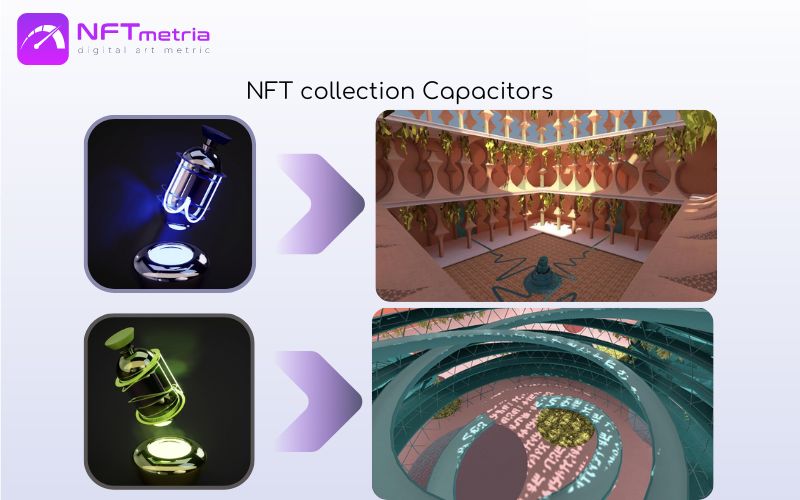 What do they give?
Once you've set up your space the way you want it, you can start making the most of it. Create a personal and exciting place to connect with friends, members of the WoW community, and the wider web3 world. Hang your favorite NFTs, post Youtube videos on your walls, and more.
The virtual apartments were created in collaboration with the leading web3 world building platform OnCyber.
WoW has created a brand that allows people to represent themselves digitally through PFP. As the first female-focused NFT brand to break into the mainstream, we're excited for the next iteration and expansion of WoWverse, which gives you the ability to create and empower your digital identity in new, innovative ways.Says Shannon Snow, COO of World of Women.
DAO for World of Women is DAWoW
The WoW NFT project also includes a decentralized autonomous organization (DAO) for investors and community members. Called DAWoW, DAO for World of Women, the group allows NFT token holders to vote on the future of the project. From future artworks and projects to various community-supported charity events, DAWoW will have a say in these matters. And at the same time, each work of WoW art gives exactly one vote.
WoW Foundation
Thanks to the cooperation of the project with the metaverse The Sandbox (from Animoca Brands), a charitable foundation was created, to which the brand will send $ 25 million over 5 years. In addition, a portion of the primary and secondary royalties from the token sale go to the WoW Foundation, which is pursuing opportunities for women in the evolving spaces of the Web3 and Metaverse.
The fund is divided into four main areas:
Financial support for women artists and their projects,
Training of new artists,
Raising awareness of existing projects owned by women,
Donations to eligible charities.
The WoW Foundation receives 10% of proceeds from primary sales of WoW Galaxy and 25% of royalties from secondary sales. Wherein 50% of this appropriation will go to Code Green's charity, meaning 5% of primary and 0.5% of secondary sales are for Code Green.
How much does World of Women cost?
Initially, on July 27, 2021, NFTs were sold at a price of 0.07 ETH. And then they sold out in just 10 hours. Now, of course, the price is completely different.
To visualize the price dynamics, we made a cut at the average price for 1 NFT:
In August 2021 – 1.9 ETH,
In October 2021 – 2.9 ETH,
In December 2021 – 2.7 ETH,
In March 2022 – 10.9 ETH,
In June 2022 – 4.5 ETH,
In September 2022 – 2.8 ETH,
In December 2022 – 2.0 ETH,
In March 2023 – 1.5 ETH,
In June 2023 – 0.8 ETH,
Now (September 2023) the floor price is 0.6 ETH. On average, the latest sales are in the range of 0.6-1 ETH.
Most expensive sales of World of Women
The most expensive sales are led by the following NFTs from the World of Women collection:
#9248 sold on January 24, 2022 for 260 ETH ($635K at the time of sale). This is a beautiful woman with sparse green hair (found in 4% of the collection), blue eyes looking to the left (4%), coin earrings (4%), coin necklace (5%), polka dot top (6%) .
#5672 sold March 1, 2022 at Christie's to MoonPay for 253 ETH ($750K at the time of sale). This is a star woman with "night goddess" make-up (found only in 0.85% of the NTF in the collection), "sunset" facial features (3%), blue eye roll (4%), in a tuxedo (only 1% of the NTF have from the entire collection).
#706 sold on January 24, 2022 for 210 ETH ($533K at the time). This is a thoughtful woman with a rose tattoo (present in 3% of NFTs from the entire collection), a wave-shaped hairstyle (4%), a coin necklace (4%), coin earrings (4%).
#6025 sold to The Sandbox metaverse on January 5, 2022 for 200 ETH ($707K at the time of sale). This is a cosmic woman with "night goddess" make-up (only found in 0.85% of NFTs in the collection), chewing gum (4%), long dark hair (4%), blue eyes looking to the left (4%), wearing a Naiade costume (0.98%).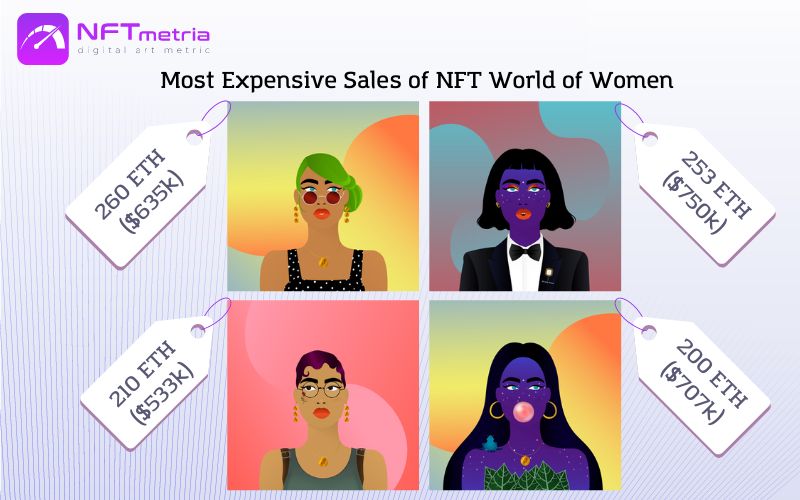 Where to buy World of Women?
Currently, World of Women can only be purchased from secondary markets such as:
How to buy World of Women?
Remember that initially you need to connect your crypto wallet with self-storage to the marketplace of your choice.
Next, find the official collection using the search bar on the marketplace,
Analyze and choose the NFT you want to buy; click on it and then on the "Buy" button.
Or you can bet on the token you like. Make sure you leave enough ETH for gas or transaction fees. If the seller approves your bid, the deal goes through.
Latest news about the project
This extensive review would be incomplete if we did not touch on important news about the project itself. So, below are the largest of them.
World of Women signs BAYC, Madonna, U2 manager Guy Oseary
On January 12, 2022, the project signed a representation agreement with Guy Oseary, a manager known for developing the careers of Madonna, U2 and the Red Hot Chili Peppers. Guy is also the manager of Bored Ape Yacht Club.
The deal will allow World of Women to explore opportunities in film, television, music, gaming, consumer products and licensing deals led by Guy Oseary. It is probably thanks to him that the collection has reached such heights in 2022.
We have exciting news to share 🥳

🤝 @guyoseary is now WoW's manager
🙌 We're updating our IP rights to grant YOU complete ownership of your WoW!

More information on our Discord.

— World of Women (@worldofwomennft) January 12, 2022
World of Women signs with Reese Witherspoons Hello Sunshine media company
In February 2022, World of Women signed a partnership with Hello Sunshine, a media company owned by actress and producer Reese Witherspoon. She is a longtime fan of the project and its mission. Through the partnership, Hello Sunshine will transform the WoW character universe and franchise into entertainment properties, including feature films and television series.
They will also be launching a Hello Sunshine x World of Women live event. The goal is to educate women about this new space.
While the cryptocurrency and NFT space is largely male-dominated, there are inspiring leaders like World of Women who are creating incredible communities for women during this massive transition to media and technology. We are proud to partner with WoW to expand their character universe and develop innovative content. We look forward to engaging with the amazing community at every stage of this partnership and creating opportunities to work with Hello Sunshine to transform WoW art into powerful stories.Witherspoon said
Yam Karkai drew NFT covers with singers for the famous magazine BillBoard
As part of the partnership, WoW creator Yam Karkai drew exclusive covers for the 02/26/2022 issue for music industry giant BillBoard. The release was timed to coincide with the Billboard Women in Music 2022 event and summit. And on the covers were the most famous women in music: Christina Aguilera, Madonna and Mariah Carey.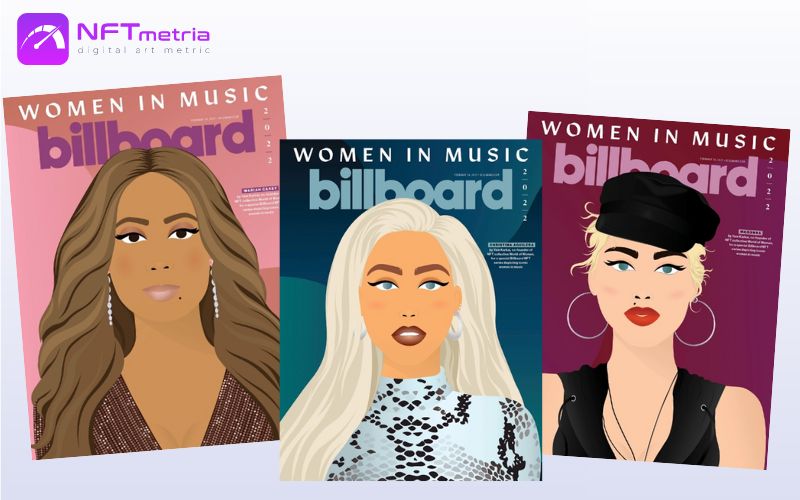 The respective NFTs were then auctioned off through the FTX NFT marketplace. As a result, sales amounted to 20K dollars. And some of the funds from them are directed to charity: to the National Coalition against Domestic Violence, the City of Joy Women's Fund, the Fresh Air Fund, which supports children from low-income families.
As an added bonus, Billboard will be taking new NFT owners to Los Angeles for the Women in Music 2023 event.
We are thrilled to partner with World of Women and Yam Karkai for this monumental first for Billboard. The cultural significance of this partnership aligns perfectly with our commitment to protecting women who break down barriers and shape culture in music and beyond.Said Julian Holguin, president of Billboard.
MoonPay buys NFT World of Women for $750k at Christies auction
On March 1, 2022, digital currency payment company MoonPay was the lucky winner of WoW NFT Auction #5672, which was purchased for £567,000 ($754,340) in an auction held at Christie's London Evening Sale.
WoW #5672 just sold for 567,000 GBP at @ChristiesInc London Evening Sale! 🤩

Thanks to everyone 🤵‍♀️ who witnessed this historical moment with us 😉 and welcome to the WoW fam to our new buyer! 💜 pic.twitter.com/sO6WPjzyAa

— World of Women (@worldofwomennft) March 1, 2022
The Sandbox provides $25 million to support women in the metaverse
In celebration of International Women's Day, WoW and The Sandbox metaverse from industry giant Animoca Brands have signed a contract to create a charitable foundation.
The foundation is providing a $25 million grant from The Sandbox with a mission to expand women's representation in decentralized virtual reality. The collaboration between the two brands aims to encourage more female participation in this new and evolving Web3 environment.
The two organizations are creating a series of interactive events, including:
improve the ecosystem by supporting artists and funding projects,
educate newcomers by networking to make women's causes more visible, inspire others and help charities.
The Sandbox will support creators and lead them to success. This includes mentoring, funding their first NFT mint for metaverse shows, and their first sale.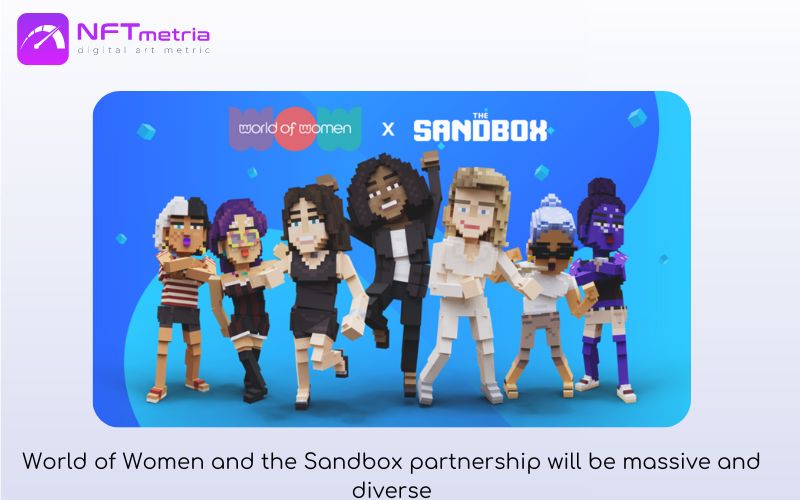 Going forward, their plans for The Sandbox also include:
Compatible avatars WoW 3D
The WoW Museum in a 2×2 Sandbox that will serve as a showcase for the WoW Foundation and support its activities.
WoW University, which will provide free online tutorials on how to get started with Web3 and master it. At the end of the "students" are certified and receive an NFT diploma.
WoW Academy for projects and artists. Its purpose will be to act as an incubator and provide advice, funding, mentorship and access to The Sandbox and WoW networks.
Madonna performed at The World Of Women party at NFT NYC
On June 23, 2022, the long-awaited annual festival dedicated to non-fungible tokens took place. On it, of course, the WoW project was also presented. The fans were delighted with the large-scale event: first there was an official part, and then performances of various artists in a nightclub. The icing on the cake was the performance of Madonna herself, who is a longtime fan of the project.
Finally Enough Love…,,,,🏳️‍🌈💙🏳️‍🌈💛🌈💙🏳️‍🌈 Thank you NYC and all who were part of the show!! Happy Pride! ❤️‍🔥 @worldofwomennft @MACcosmetics @belvederevodka @TheSandboxGame @Linktree_ @madeinnypizza pic.twitter.com/A9zMo5d3Bd

— Madonna (@Madonna) June 24, 2022
The future of World of Women NFT project
The World of Women project is striking in its community capture rate. And here strategic partnerships are very important, such as The Sandbox metaverse, a contract with media manager Guy Oshii and producer Reese Witherspoon. With such iconic people and brands, the project opens up new horizons and peaks.
In the future we will see:
Participation in the most iconic galleries and exhibitions in the world.
Participation in films and series,
Development of the music NFT sector.
Your own music album thanks to the original soundtrack by David Magiel.
Expansion into the metaverses (own 3D avatars, museum, academy and university to help women in the metaverses),
Real items such as clothing collections, cosmetics, board games,
Development of DaWoW,
Expansion of partnerships,
Holding and participating in offline conferences and festivals,
Large-scale development of own WowVerse metaverse,
Greater involvement in philanthropy and public awareness of the various social issues faced by women around the world.
The team has big plans. And taking into account their path of success and strong team, the likelihood of achieving all goals is high.
Should you invest in World of Women?
There are reasons to be positive about this line of NFTs:
The mission of the project, which is very actively responded to in society. Accordingly, a decrease in the attention of the community with proper activity is excluded.
Strategic partnerships with the metaverse The Sandbox, Guy Oseary and Reese Witherspoon will ensure successful collaborations, competent marketing, and community growth.
For such a promising project, there is a relatively low entry threshold, which today is at least 2.6 ETH.
Very active, lively and loyal community. And, as we know, this is the key to success in any support and development of the project.
This project stands out for its unique concept and mission. All these factors convincingly indicate that the project has great potential and is a promising investment.
But in any case, do your own in-depth analysis and research when investing in NFTs, and then make your own decisions.
Opinion of NFTmetria
Having succeeded in a male-dominated ecosystem, World of Women has proven to be something special. The success of WoW is largely due to its mission, community building and marketing initiatives, and its ability to win endorsements from top celebrities.
World of Women supports the participation of its community through:
Strong mission, ideology and famous followers,
Charity,
Holding art competitions,
Public grants for promising artists,
Development and scaling of own ecosystem.
Collectively, this is unprecedented in the NFT ecosystem at this point and is a clear sign of the growing popularity of the NFT space. So, the project has social value, and having WoW makes you feel proud to be part of a bigger cause.