In the (near) future, every person will have a parallel digital identity. Avatars, crypto wallets, digital goods will be the norm. Are you planning for this?

— Reese Witherspoon (@ReeseW) January 11, 2022
This tweet by Hollywood actress Reese Witherspoon became a real sensation, gaining more than 50 thousand likes and 15.4 thousand comments. It has the powerful voice of a true supporter of cryptocurrencies, NFTs and Web3.
Thanks to such statements, the actress has gained immense respect in the NFT community. She was one of the first celebrities to share her collectible tokens on social media and encourage the community, especially women, to get more involved in the Web3 world.
Who is Reese Witherspoon?
The name of a native of New Orleans – Laura Jeanne Reese Witherspoon – is one of the loudest in the United States. She is an outstanding actress, producer, philanthropist, philanthropist and NFT pioneer. Forbes listed her as one of the 100 most powerful women in the world in 2019 and 2021.
Starting her career in Hollywood at the age of 14, Reese has worked in the film and show business industry for about 30 years. Many films and TV shows with her participation have become hits. She gained worldwide recognition with starring roles in such films as Legally Blonde and Walk the Line. Among the numerous awards of the actress are two Oscars, nine Golden Globes, four SAG Awards and two BAFTAs. And in 2010, she received a star on the Hollywood Walk of Fame.
The actress is widely known for her philanthropic work. As the face of the cosmetics firm Avon Products, she headed the charity foundation of the same name. Reese also works with the charity Children's Defense Fund.
According to Forbes, Reese Witherspoon is the highest paid actress in the world in 2021 with a fortune of $400 million. Her fee for producing and starring in the Apple TV+ series "The Morning Show" is $1.2 million per episode. And that's not counting the millions from other movie roles and commercials for companies like Crate & Barrel.
Reese Witherspoon Official Links
Path of Reese Witherspoon to the NFT world
Even before the #MeToo movement, Witherspoon has been open about gender equality in show business. The production media empire she created, Hello Sunshine, is mainly aimed at supporting women's creativity.
I started this company to change the way all women are seen in media. Reese admitted in an interview with Forbes
Reese's Book Club, the cornerstone of Hello Sunshine, has catapulted the careers of writers such as Delia Owens, Megan Miranda and Celeste Ng.
A number of Hello Sunshine films and television series, including Little Fires Everywhere, Where the Crawdads Sing, and Daisy Jones and the Six, are adaptations of novels written by women.
The Reese's Book Club has already reached 2.1 million subscribers, according to Forbes, and 42 of the club's 50 selected books have made the New York Times bestseller list.
Reese Witherspoon in the NFT world
On September 2, 2021, the actress shared with the readers of her multi-million microblog on Twitter information about the purchase of the Ethereum cryptocurrency. At that time, one ETH was worth almost $3,900.
Just bought my first ETH! Let's do this #cryptotwitter. Thus, the celebrity urged her fans to follow her example
The recognition of Witherspoon caused a flurry of responses. It seemed like all of Cryptotwitter decided to greet the actress. Some congratulated her on the start of her crypto journey, others offered her their digital assets.
Among those who responded was Logan Paul – a famous showman, actor and video blogger. He asked the actress to provide her ETH address in order to give her the first NFT project, World of Women (WoW).
welcome to the club Reese 👊🏼 DM me your Eth address, I'd love to gift you this @WorldOfWomenNFT because y'all could be related. And it'd be badass for your first NFT project pic.twitter.com/epA0EZQdXG

— Logan Paul (@LoganPaul) September 3, 2021
A month later, the influencer was already a staunch supporter of the NFT. In a tweet dated December 7, 2021, she pledged to support artists who have become pioneers in the development of the NFT space, urging as many women as possible to participate in the discussion of the topic:
Crypto is here to stay. I'm committed to supporting creators who have pioneered the NFT space, and encouraging more women to be a part of the conversation. https://t.co/tq9EdwAmJC

— Reese Witherspoon (@ReeseW) December 6, 2021
The actress's promotional efforts have focused on several female-led or inspired NFT projects, most notably WoW, a collection created by a female team in July 2021: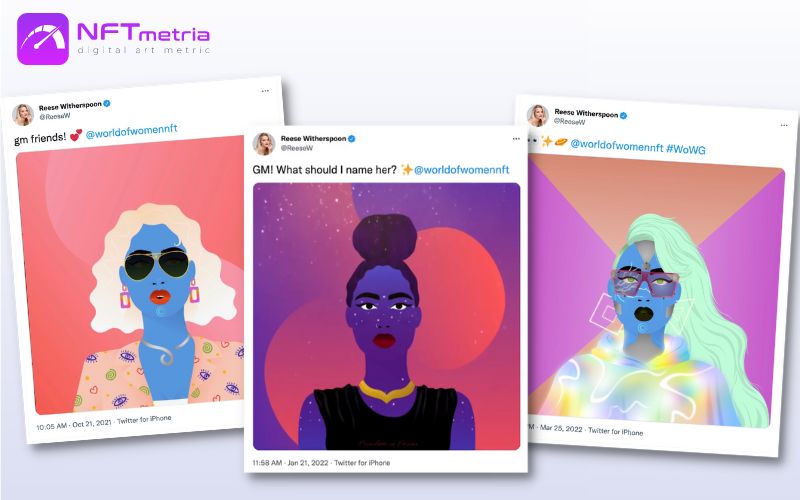 With the support of Witherspoon, WoW has reached over $40 million in sales. And by February 2022, Witherspoon had spent roughly 240 ETH (about $720k) on about two dozen NFTs. Among them, the biggest purchase was WOW 6403 for 69 ETH (approximately $200k). You can just see her in the illustration above – a tweet dated January 21, 2022.
The actress's profile photo featured tokens from the Flower Girls and World of Women collections. She has promoted other collections created by women, such as 1,989 Sisters and Boss Beauties. In the words of one of the artists behind them, "you'd be hard pressed to find a better-known supporter of NFT women artists than @reeseW"
The world of Web3 turned out to be so attractive for Witherspoon that she decided to seriously dive into cryptocurrencies, which she wrote in a tweet on February 4, 2022:
Hey #cryptotwitter , I would love to hear about the most sustainable crypto currencies. Trying to learn more !

— Reese Witherspoon (@ReeseW) February 4, 2022
NFT projects of Reese Witherspoon
On February 17, 2022, Reese Witherspoon announced that Hello Sunshine has partnered with NFT World of Women. The WoW team confirmed this in a tweet:
☀️ World of Women X Hello Sunshine ☀️

This major partnership signs a new beginning for WoW: Feature films, scripted and unscripted TV series, live events, powerful stories 📹

We couldn't have dreamed of a better partner than @hellosunshine @ReeseW to bring our vision to life🙌 pic.twitter.com/KUz0V4vqlN

— World of Women (@worldofwomennft) February 17, 2022
The goal of the project is to bring WoW characters into the entertainment industry. Hello Sunshine will expand the WoW universe from feature films and television to scripted and non-scripted TV series.
Amid the ongoing intellectual property debate, Hello Sunshine and WoW's partnership demonstrates the longevity and usefulness of tokens in the entertainment industry.
We're proud to partner with WoW to expand their universe of characters and to develop innovative scripted and unscripted content. We look forward to engaging with the remarkable WoW community at every step of this partnership and creating opportunities for WoW holders to work collaboratively with Hello Sunshine on transforming the WoW art into powerful stories. Witherspoon looks forward to the collaboration
The opinion of the actress was fully supported by Yam Karkai – digital illustrator and co-founder of WoW:
Hello Sunshine has been changing the narrative for women in Hollywood and we know they can play an instrumental role in shaping the narrative for women in the NFT space… I could not have envisioned a better partner to expand the ethos core values of our beautiful community through storytelling in new and innovative ways. Yam Karkai's comment
Collaborations of Reese Witherspoon
Prior to the partner project Hello Sunshine x NFT World of Women, Witherspoon has already managed to gain experience in successful creative collaboration:
Created by the actress in 2000, the production company Type A Films has teamed up with Make Movies, the company of producer Bruna Papandrea. The joint venture, Pacific Standard, has produced acclaimed films such as Wild and Gone Girl, as well as the TV series Big Little Lies.
In 2016, after ending their partnership with Papandrea, Witherspoon formed Hello Sunshine multimedia company (of which Pacific Standard became a part) with Otter Media. How successful this venture was can be judged by the price for which it was sold in August 2021 – $ 900 thousand (the influencer remained on the board of directors, owning an 18% stake in Hello Sunshine).
NFT Collection of Reese Witherspoon
Judging by the publications in social networks, the portfolio of the actress previously included NFTs from such collections as:
WoW,
Amber Vittoria,
Flower Girls,
Crypto Chick,
Sad Girls Bar.
Today, both as an actress and as a collector, she considers many artists and projects predominantly led or inspired by women.
Obviously, Witherspoon does not change its views, focusing on supporting collections created with female participation.
Opinion of Reese Witherspoon about the NFT market
Reese Witherspoon values the NFT space not only for collegiality, honesty and inclusiveness, but also for opportunities that are not available in the real world for creative women. She spoke about this in one of the podcasts.
Whether that's in the music industry, the film, industry, television, all of our work was always owned by studios, publishing record labels, etc… This [NFTs] has been a brand-new frontier that I just want to educate people around… It's creating real space for artists to build communities that are incredibly robust and viable. As I got more educated about NFTs I realized there's just so much opportunity for women to own their own work… I think it's really important as new worlds are being built that we bring consciousness to female creators and female entrepreneurs that is an opportunity to own your work in perpetuity. This is how the influencer speaks eloquently about the market and its prospects
Opinion of NFTmetria
Reese Witherspoon has volunteered to be the women's ambassador for the NFT world. Using social media platforms such as Twitter Spaces, she speaks at the top of her voice about the importance of NFT projects led by women, as well as the possibilities of the metaverse.
By spearheading the women's empowerment movement, Reese hopes to establish fair gender representation in web3. She openly stated this in an interview with Variety:
While the crypto and NFT space is largely dominated by men, there are inspiring leaders like World of Women creating incredible communities for women during this massive shift for media and technology. She said