Surely you have heard about the outrageous billionaire Mark Cuban. Like Elon Musk, he often surprises the community with his unusual lines. But like the Tesla owner, Mark Cuban's opinion matters a lot. When people like him sing the praises of Bitcoin or speak disapprovingly of it, it immediately reflects on the mood of the community. He once even declared that he would run for president if Bitcoin reached $1 million, which caused a lively discussion. How did the global influencer reach such a level of influence and what is his background? Let's talk about it in today's review.
Who is Mark Cuban?
Mark Cuban is an American billionaire entrepreneur who is remembered by many from the television show Shark Tank, in which he played the role of one of the "sharks of the business". Cuban is the owner of the Dallas Mavericks basketball club and is part of the owners of 2929 Entertainment along with Todd Wagner. In 2020, influencer was ranked 177th on the Forbes 400 list and is worth approximately $5.1 billion.
The billionaire is interested in everything related to cryptocurrency and is sure that it has a grandiose future. It is for this reason that he still keeps some of the digital coins that he acquired at the dawn of the crypto industry.
Mark Cuban Official Links
Path of Mark Cuban to the NFT world
Cuban entered the business world at the age of 12 when he started selling trash bags in order to buy a pair of expensive tennis shoes. He then made money from stamps and coins. But this was not enough for the ambitious Mark.
In 1982, he moved to Dallas and first worked as a bartender and then became a salesman for Your Business Software. Sometime later, the young businessman founds MicroSolutions, which gradually exceeds $30 million in revenue.
In 1990, MicroSolutions becomes the property of CompuService, and Cuban makes $2 million from the deal.
In 1995, he, along with his friend Todd Wagner, discovered the Audionet service, which was later renamed Broadcast.com.
In 1999, influencer sold Broadcast.com to Yahoo and became a billionaire for $5.7 billion.
In 2000, Mark Cuban bought the Dallas Mavericks for $285 million. As of July 2022, the Dallas Mavericks were valued at $2.7 billion.
Mark Cuban's influencer career skyrocketed in the 00s. He decided to start investing in large projects. Financial partnerships were concluded with the following companies:
Brondell Inc. (2005)
Sharesleuth.com (2006),
Mascot Books (2007), where he published their children's book Let's Go, Mavs!
Motionloft (2010),
Veldskoen.
Cuban has also started to get interested in cryptocurrencies. He invested in Dogecoin, and his Dallas Mavericks basketball club was the first in NBA history to sell tickets for matches for Dogecoin.
It's a medium that can be used for the acquisition of goods and services. The community for doge is the strongest when it comes to using it as a medium of exchange. Cuban answered a question about a similar payment method
Billionaire believed in the value of crypto assets back when many saw them as a digital innovation that would not stand the test of time. It is this belief that makes the famous billionaire not sell the once bought cryptocurrency. In this regard, Cuban follows a simple rule – when an asset is reserved, its value rises. The entrepreneur also likes the ideas of NFTs and smart contracts. Here is his opinion on the matter:
This will sound insane to many, but smart contracts and NFTs. The value of both is the ability to record provenance and have software track and trigger financial elements like royalties. Imagine if MidJourney only accepted NFTs from approved accts as input and output was an NFT.…

— Mark Cuban (@mcuban) April 26, 2023
Mark Cuban in the NFT world
Now Mark Cuban is already actively involved in NFT activities. Together with representatives of the Dallas Mavericks club, he encourages fans to attend games by offering them NFTs as a gift. Mavs NFTs are included with the ticket, but the fan must scan their ticket at the stadium before the end of the first quarter to receive the token bonus.
According to the billionaire, gift NFTs should leave fans with fond memories of the game.
Let's say Luka has a 30-assist game. There are going to be 500,000 people that say they were there, right? But the reality is, the people that are actually there and scan in are the ones that are going to get the NFT commemorating that game. Here's what he says about it
At the same time, the level of its influence on the NFT market can be understood by several facts:
Creepz Shapeshifterz, a derivative project of Creepz by OVERLORD, is dedicated to iconic personalities in the crypto world. And out of 7 personalities, one of them is Mark Cuban,
The debut NFT collection Crypto History by artist Raf Grassetti, as you understand from the name, is dedicated to the main figures in the history of the crypto market. Among such personalities as Beeple, Elon Musk, Vitalik Buterin, Snoop Dogg there is also a well-known investor.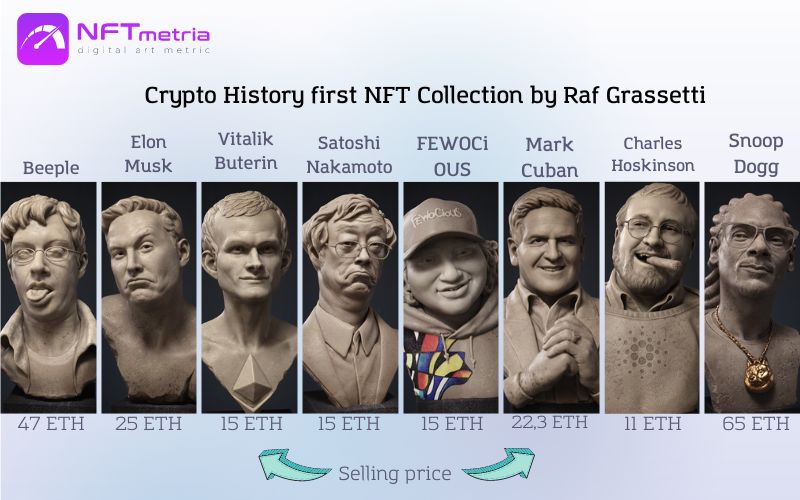 In May 2021, Axie Infinity raised $7.5 million in Series A funding from Libertus Capital, Collaborative Fund, billionaire Mark Cuban and Reddit co-founder Alexis Ohanian.
Influencer owns NFTs from top collections, including BAYC, MAYC, CryptoPunks.
NFT projects of Mark Cuban
Mark Cuban's most significant NFT project is Lazy.com, an art gallery designed to showcase digital tokens. Lazy.com is said to offer "the lazy way to show off your NFTs". Users can register on the site by providing an email address and a MetaMask wallet. The platform interface is simple and intuitive, and the built-in functionality promises an unforgettable NFT experience for crypto enthusiasts.
Collaborations of Mark Cuban
In August 2021, it became known that the digital art gallery Lazy.com announced the integration of its protocol with the Polygon blockchain. The Lazy and Polygon partnership coincided with the launch of Polygon Studios, an NFT-focused gaming space and metaverse designed to be a "hotbed of digital culture".
🙌 We welcome @LazyNFTs, a simple plug-and-play tool to a cohort of more than 300+ NFT & gaming companies built on Polygon!

➡️ Follow @_PolygonStudios to get the latest updates on #Polygon's Blockchain Gaming & NFT ecosystem!#AugustAdrenaline https://t.co/XD5jFNYhdN

— Polygon (Labs) (@0xPolygonLabs) August 5, 2021
Mark Cuban, who by the way is a big fan of the Polygon system, stated that the goal of the Lazy.com project is to support the NFT industry by making it more "accessible and understandable."
Lazy.com does exactly as its name suggests — it's the effortless way to show off your NFTs — designed to showcase NFTs in the same way galleries display art. Simple, easy, lazy. Influencer comments
Over time, WAX was added to the Lazy.com platform along with the Ethereum blockchain. Lazy.com users can now own WAX NFTs with the WAX Cloud Wallet integration and buy, sell and auction tokens directly on the site.
We are excited to add Wax NFTs to https://t.co/BgZjNxptcv, the easy and Lazy way to present your NFTs ! @WAX_io has been a leading innovator for years and https://t.co/BgZjNxptcv users will be able to lazily add their Wax collections ! Full announcement: https://t.co/QVyDwxamoj

— Mark Cuban (@mcuban) June 14, 2022
NFT collections of Mark Cuban
Mark Cuban also has his own NFT collection, The RollUp 2021, which he minted and launched on the Rarible platform at the end of January 2021. The tokens are GIFs showing Cuban wearing a Dallas Mavericks jersey and performing dance moves. Initially, tokens from The RollUp 2021 collection were sold at a price of 0.02 ETH per piece (about $26 at the then exchange rate). The tokens quickly found their buyers, and after a while the items in the collection were traded at prices ranging from 7.5 to 11 ETH. Then the price rose even higher.
NFT collector 0x_b1 @ox_b1 purchased two issues of The RollUp 2021 for 30 ETH and 35 ETH (approximately $37,500 and $43,750 respectively).
Shortly after, 0x_b1 burned one of the NFTs and shared his impressions.
9 has a better ring to it @mcuban

+more $RARIhttps://t.co/1ZYwj1g6up

— 0xb1 (@0x_b1) January 28, 2021
Mark Cuban decided not to stop at The RollUp 2021 and tokenized one of his motivational quotes "Nobody ever changed the world by doing what everyone else was doing" by setting a price of $1.7 thousand in cryptocurrency for it. The influencer notified Twitter followers about this in a special post and added a link to the Mintable trading platform.
In addition to his statement, he also posted two other merchandise on Mintable – a $2,370 motivational video for the Dallas Mavericks basketball team called "The UnderDog Has Spoken" and a 30-second "MavsSunsGameDayExperience" video in which team players score glowing basketballs. which was sold for about 0.75 ETH (more than $1.3 thousand at the current exchange rate at that time).
🤯🔥
There are only 5 "MavsSunsGameDayExperience" available 🔥from 🔥
🔥Mark 🔥
🔥Cuban 🔥
🔥@mcuban 🔥
on Mintable! 🤯🔥

It can even come with an infinite object to display the #NFT.
🤯🔥🤯🔥https://t.co/DRCGg7hro1@DCLBlogger@niftytime@pranksyNFT pic.twitter.com/KtiCA8wgRR

— Mintable (@mintable_app) January 31, 2021
Opinion of Mark Cuban about the NFT market
Mark Cuban is confident that the future belongs to NFT technologies, which are in for a big rise. In his opinion, the rise in popularity of NFTs can be compared to the early days of the Internet. Cuban also says that if it were starting a business now, it would focus on new technologies, namely blockchain, smart contracts and tokens. He believes that the use of NFTs will become the norm for emerging business processes.
NFTs, while they're hot right now and everybody is talking about them, they're really more just a proof of concept for what you can do with smart contracts and decentralization. Considers Mark Cuban
Opinion of NFTmetria
Given how actively Mark Cuban is involved in the events taking place in the NFT world, there is no doubt that he will continue to bet on this rapidly developing market in the future. The fame and authority of an influencer will give their words and undertakings a special authority, as is the case now. And personal charm, experience and entrepreneurial intuition will certainly ensure success in all his projects.