When creepy lizards appeared on the Ethereum blockchain in early January 2022, no one expected to see them soon at the top of NFT glory. However, already in the second week of January, digital reptiles were sold at 8-10 ETH apiece.
Such a resounding success attracted the attention of thousands of NFT enthusiasts. Creepz fans included such celebrities as film star and fashion model Paris Hilton, top DJ and music producer Steve Aoki, cult rap artist Jaden Smith, showman and model Brooklyn Beckham.
On February 25, 2022, Brooklyn Beckham proudly showed off his Creepz NFT lizard on Twitter.
💚 #creeps pic.twitter.com/1Zq5nxTGQI

— Brooklyn Beckham (@brooklynbeckham) February 25, 2022
How did the cold-blooded reptiles manage to melt the hearts of many crypto fans? How to explain the astonishing success of the collection, and does it have a future? Find the answers to these questions in our detailed review of the collection.
Creepz by OVERLORD Official Links
What is Creepz by OVERLORD?
Cold Blooded Creepz (CBC) is an NFT project involving digital lizards settled on the Ethereum blockchain. It was the first NFT art project to raise the topic of aliens and space invasions.
The project is based on the story of an intelligent race of alien mutant lizards that, led by Overlord, intends to take over our planet. To carry out this plan, it is necessary to activate the army of Creepz lizards. To do so, it's necessary to earn as much as possible $loomi (governance token), the in-game currency used in the Play-to-Earn (P2E) strategy.
Cold Blooded Creepz is an #NFT strategy game built on the Ethereum blockchain

✅ Multi-drop conspiracy characters
✅ Stake-to-earn game
✅ Earn $illuminati tokens

Ready player one? @ https://t.co/Glxx2GfWdy

❤️ + RT to win whitelist spot#NFTGame #PlayToEarn #DeFi #NFT pic.twitter.com/edIMU5wWbN

— Overlord (@Overlord_xyz) December 10, 2021
A kind of pass to the CBC ecosystem was the Invasion Pass collection which included 8,888 NFTs depicting spacecraft. Their holders received the right to begin minting $illuminati (utility token). They were also given access to drops, upgrades and future character releases, as well as exclusive merchandise and parties.
🚀 CREEPZ ARE YOU READY 🚀

6th Jan @ 14:30 EST – 48 hour claim window !

Exchange a mint pass (Invasion Pass or Floor x Creepz) for Genesis Creepz. Get ready to join the OVERLORD to yield $loomi 💰

>>> https://t.co/AjR6vCGgkA#NFT #NFTCommunity pic.twitter.com/dg0U8XGyGL

— Overlord (@Overlord_xyz) January 5, 2022
The release of the Invasion Pass was followed by four collections featuring humanoid lizard characters:
Creepz by OVERLORD,
Reptilian Armory,
Shapeshifters,
Loomi Vault.
We'll talk more about these projects in the Ecosystem of Creepz by OVERLORD section.
By the way, Creepz is the first NFT project whose three collections became top on OpenSea at the same time, taking the first three lines.
Creepz by OVERLORD in numbers
The collection of 11,111 Creepz Genesis NFTs was minted in early January 2022, and the minting price started at $200.
The project is ranked 54th among the best collections in terms of sales of all time on the largest NFT marketplace OpenSea.
The total volume of secondary sales exceeded 35k ETH (more than $58 million at the current exchange rate).
The floor price is 1.95 ETH, and that's quite impressive (about $3.2k).
Average sales range from 1.9 ETH to 3 ETH.
The most expensive #10349 was sold on October 27, 2022 for 36 ETH ($54k at the time of sale).
A total of 803 unique holders (7%). And 80% of all tokens are concentrated in one wallet.
Only about 2% of the collection (204 pieces out of 11,111) are for sale, among them the offers range from 1.95 ETH to 10 ETH. This shows that almost all holders see the project as a great investment prospect and are not in a hurry to part with their assets at a lower price.
Data (including exchange rates) are given at the time of publication of the article (February 24, 2023)
Who founded Creepz by OVERLORD?
Oddly enough, the authors of the Creepz collection do not hide behind pseudonyms. Their names are known to the general public:
They are the founders of the entertainment and gaming Web3 company Overlord @Overlord_xyz.
An artist named Ian Ball, better known in the cryptocommunity by his nickname @psychrome, was also involved in the process of developing the collection (he was responsible for the design of the tokens).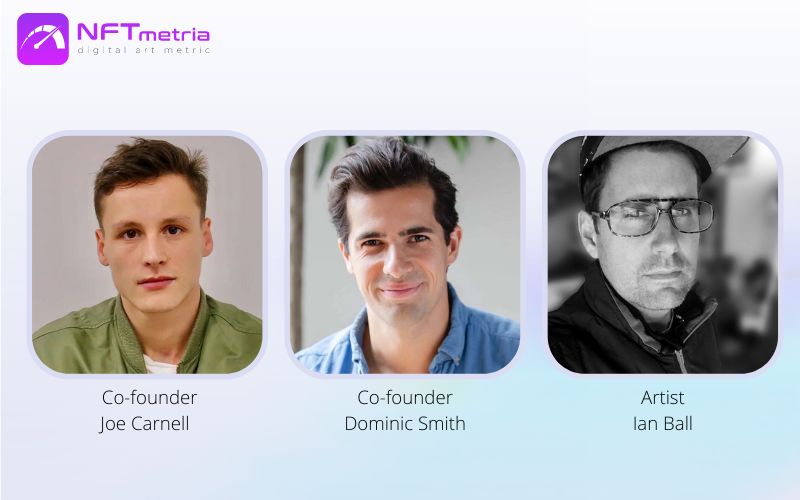 Before founding the digital lizard collection, Carnell and Smith worked in fintech. They were busy investing in various NFT projects. Over time, Carnell and Smith stopped getting inspiration from their work and decided to create their own virtual space with a strong community. All that remained was to find a fascinating legend.
Eventually Carnell and Smith stumbled upon the popular myth that an extraterrestrial civilization of lizards capable of taking the form of humans supposedly controls the higher spheres of society. Interestingly, 15 million people in the U.S. actually believe this. Carnell and Smith tried to look at the situation from a creative point of view and found that these characters could be quite amusing. So the idea for the NFT collection of digital lizards was born.
Creepz by OVERLORD Idea
Since its launch, Creepz by OVERLORD project has positioned itself as part of the NFT culture and a brand. The vision of the founders of Cold Blooded Creepz is to create a digital space that combines the interesting, the beautiful and the useful.
The mix of DeFi and NFT technology allows CBC collectors to simultaneously enjoy art, indulge in immersive entertainment, and benefit from the digital experience as a stable source of passive income.
As practice has shown, this strategic model fully meets the needs of modern society.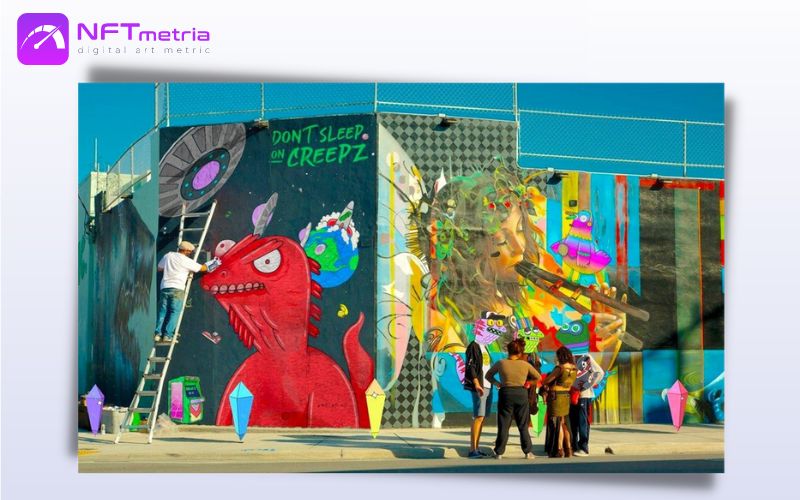 It is worth noting that the project is quite ambitious. Their general goal is to become the largest entertainment brand in the world. Just look at the Creepz roadmap, and you'll understand that the developers really plan to bring the project to a new, more advanced level with each season.
Why is Creepz by OVERLORD popular?
Here are the main reasons why Creepz is incredibly popular:
The innovative nature of the project, which is provided by advanced Play-to-Earn technology.
Competitive drive that distinguishes the game in the Creepz universe.
Fascinating space theme with aliens, conspiracies and invasions.
A loyal and active community of 20,000+ Twitter, Discord and Instagram members (95% of Creepz collectors bet and participate in Invasion Games).
Increased trust from influential brands. In particular, the Creepz team has entered into an agreement with companies such as Stoopid Buddy Stoodios, Westbrand, as well as Three Six Zero Management, an entertainment agency that maintains partnerships with such world stars as Jason Statham, Calvin Harris, and Willow Smith.
one of us 🦎 introducing three six zero's first nft partnership with @CBCreepz pic.twitter.com/iPUnRw15IC

— Three Six Zero (@threesixzero) February 28, 2022
The main reason for the unprecedented success and popularity of the project is its permanent development. The owners of Creepz are actively engaged in adding their own unique content and delighting subscribers with pleasant surprises. It mostly concerns the game experience:
We're building a portal to the future of gaming.

A unifying platform where you'll be free to explore and co-create era-defining games. pic.twitter.com/xAN01YglcW

— Overlord (@Overlord_xyz) February 10, 2023
Creepz by OVERLORD Roadmap
The development of the project is divided into rich and exciting seasons.
And here are the tasks the team sets for each season:
Season 1. The release of $illuminati tokens, the possession of which opens access to participation in drops, allowing you to get additional NFTs for free, necessary to form your own army.
Seasons 2-3. The launch of crossbreeding functions with the opportunity for collectors to purchase more valuable and rarer NFTs.
Season 4 (toward the end of the first Creepz invasion). Creation of the Members Club with a $1 million treasury dedicated to merchandising, parties, partnerships and more. Granting the owners of the largest amount of $loomi the highest status and exclusive rights.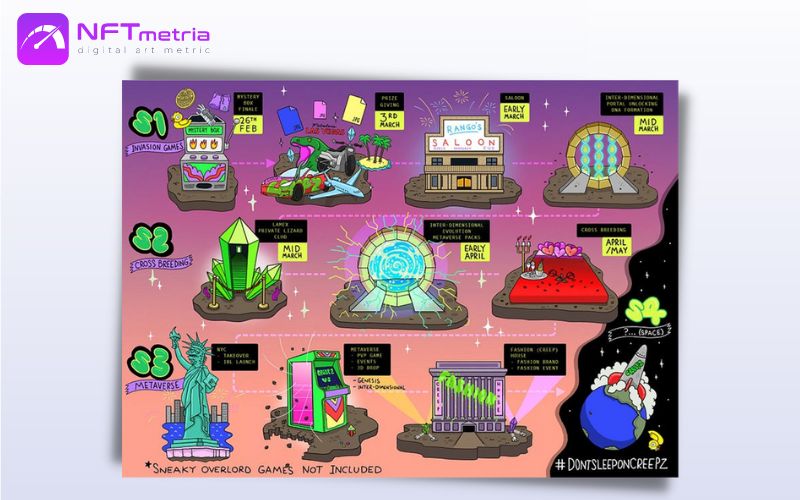 Project commercial plans include:
Creation of an animated show featuring characters from the Creepz NFT collection (based on a contract with the production company Stoopid Buddy Stoodios).
Production of stylish streetwear, which is positioned as "Compete with Supreme" ( in partnership with West Brand Lab).
Introduction of the IP project into the film and television industry on the basis of a contract with WME.
Ecosystem of Creepz by OVERLORD
The project has created a fascinating and vast ecosystem with its own legend and mission. Because of this, the project constantly maintains interest and increases the involvement of the community.
Creepz by OVERLORD
At the heart of the Cold Blooded Creepz gaming universe is the most valuable collection Creepz by OVERLORD. It includes 11,111 reptiles with 800+ features. They determine the color and shape of the eyes, skin type, equipment, accessories, background, etc. Genesis Creepz includes 5 types of NFTs. All of them participate in staking, although they differ in the degree of rarity and the size of the available daily rate:
Reptiloids: 19,000 $illuminati/Day;
Saurians: 18,000 $illuminati/Day;
Draconians: 17,000 $illuminati/Day;
Lizard People: $16,000 illuminati/Day;
Reptoids: 15,000 $illuminati/Day.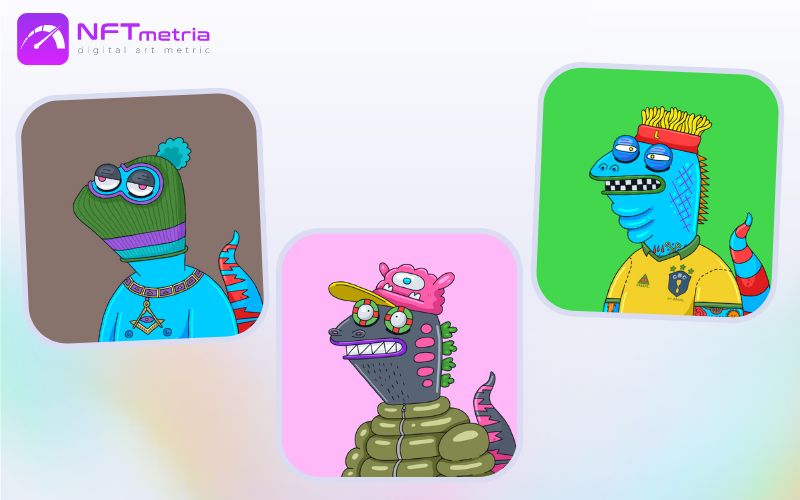 To date, the volume of secondary sales has exceeded 35k ETH, and the floor price is 1.95 ETH.
Creepz Reptile Armoury
The Creepz Reptile Armoury is the second collection of 20,000 NFTs which are designed to upgrade the armies of Genesis Creepz collectors. Reptile Armoury NFT can be minted by those who have collected 70,000 $illuminati. The Reptile Armoury collection consists of 3 types of staking NFTs with different allowable rates:
Spy birds: 4000 $illuminati/Day;
Mars Rovers: 3500 $illuminati/Day;
5G towers: 3000$illuminati/Day.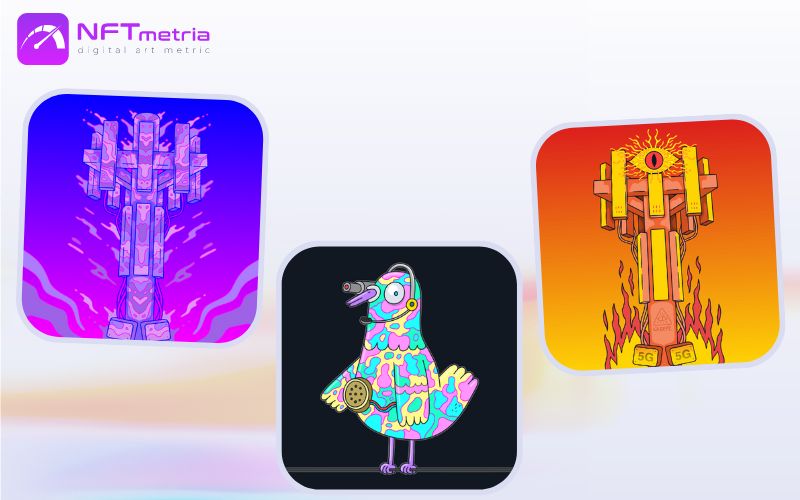 To date, the volume of secondary sales has exceeded 10.5k ETH, and the floor price is 0.07 ETH.
Creepz Shapeshifterz
Creepz Shapeshifterz is a collection of 19,994 NFTs that are available for $10,000 illuminati each (or on the aftermarket). They are notable for being given celebrity names. The release of Shapeshifterz helped burn $illuminati stock and supported the value of the project. There are 7 types of these tokens. All of them participate in staking, but also provide different opportunities:
Donald Trump (4,998 pieces),
Mark Cuban (3,999 pieces),
Paris Hilton (3,499 pieces),
Elon Musk (2,998 pieces),
Snoop Dogg (2,500 pieces),
Gary Vee (1,500 pieces),
Banks (500 pieces).
To date, the volume of secondary sales has exceeded 12k ETH, and the floor price is 0.028 ETH.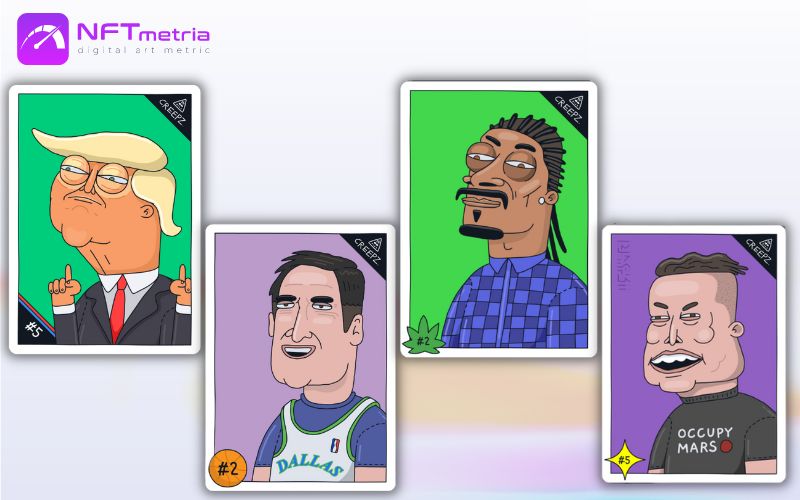 Loomi Vault
Loomi Vault is the fourth collection of 5,000 NFT lizards, allowing users to earn $500 illuminati per day by registering daily earnings claims. Due to its utility, the entire collection is one image only. The cost of minting Loomi Vault NFT amounts to 1 ETH, and is due to the success of the previous collections of the project.
To date, the volume of secondary sales has exceeded 2.5k ETH, and the floor price is 0.144 ETH.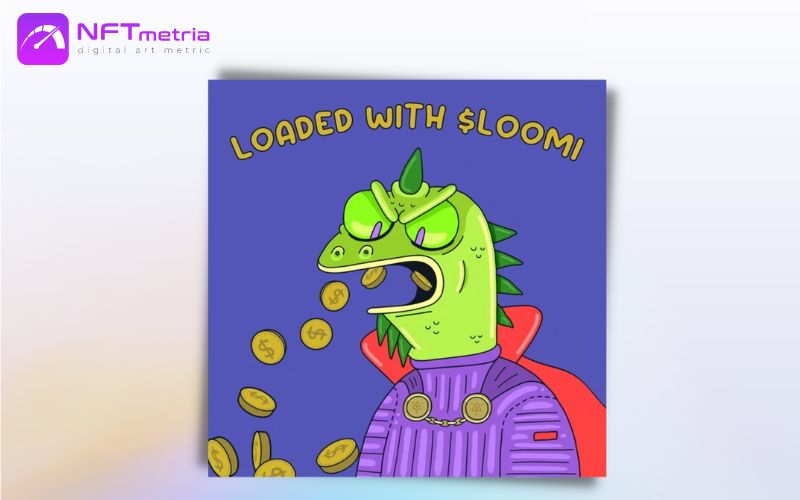 How much do Creepz by OVERLORD cost?
After minting at a price of $200 in January 2022, the project immediately became popular, judging upon the volume of secondary sales. In the second week of January, digital reptiles were sold at 8-10 ETH apiece. And how are things now?
To visualize the price dynamics, we made a slice of the average price for 1 NFT:
in February 2022: 3 ETH,
in April 2022: 1.5 ETH,
in June 2022: 1.3 ETH,
in September 2022: 1.4 ETH,
in December 2022: 2 ETH.
Now (February 24, 2023) the minimum price is 1.95 ETH. On average, the latest sales range from 1.9 to 3 ETH. And the total volume of secondary sales amounted to more than 35k ETH (about $58 million).
Most Expensive Creepz Sales by OVERLORD
The most expensive sales are led by the following NFTs from the Creepz by OVERLORD collection:
Cold Blooded Creepz #10349 was sold on October 27, 2022 for 36 ETH ($54k at the time of sale),
Cold Blooded Creepz #700 was sold on January 9, 2022 for 30 ETH ($94k at the time of sale),
Cold Blooded Creepz #5751 was sold on January 9, 2022 for 22.69 ETH ($70k at the time of sale),
Cold Blooded Creepz #7680 was sold on January 9, 2022 for 20 ETH ($61k at the time of sale).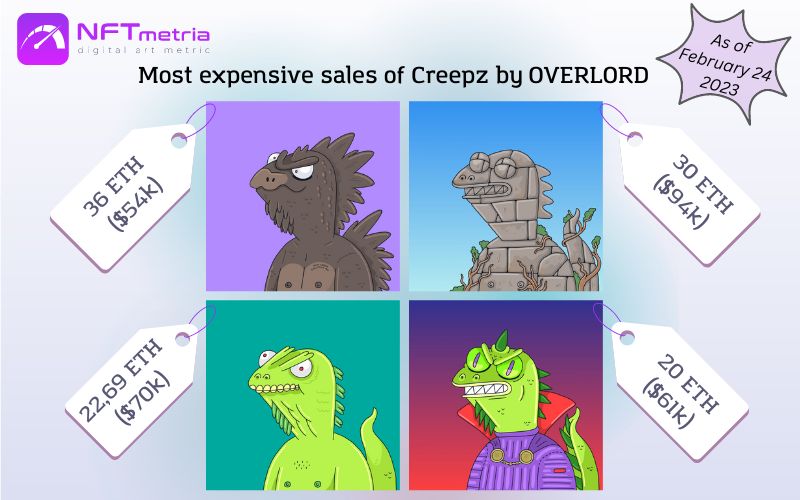 Where to buy Creepz by OVERLORD?
Currently, Creepz by OVERLORD can only be purchased on the secondary market, on such marketplaces as OpenSea, X2Y2 and LooksRare.
How to buy Creepz by OVERLORD?
Remember that initially you need to connect your crypto wallet with self-storage to the marketplace of your choice.
Next, find the official collection using the search bar on the marketplace.
Analyze and choose the NFT you want to buy; click on it and then on the "Buy" button.
Or you can bet on the token you like. Make sure you leave enough ETH for gas or transaction fees. If the seller approves your bid, the deal goes through.
Should you invest in Creepz by OVERLORD?
The project, which is an elite club and promises its participants millions in profits, is worthy of investors' attention. In addition, it is worth paying attention to the clear signs of reliability and profitability of the Creepz collection:
High demand for digital assets. At the beginning of 2023, Creepz Genesis NFT's floor price was above 1.6 ETH with trading volume reaching 34,103 ETH, according to OpenSea.
Since the $illuminati economy is based on the law of supply and demand, the Creepz team can regulate demand by reducing the supply of token generation. This means that the $illuminati price could once again hit the all-time high of $0.66 (fixed on January 25, 2022, at the time of maximum demand and low supply).
Collaboration with large companies such as Three Six Zero, West Brand Lab, WME, Stoopid Buddy Stoodios, which have connections and resources, leads to the gradual transformation of a successful NFT project into a global franchise of new generation.
Considerable project potential. The mint price of the Creepz Genesis NFT, which started at $200 per NFT, has already skyrocketed to $3,000. It can be assumed that the cost of the project will increase as it expands and introduces upgrades and cross-breeding features.
Creepz's future is also determined by the spirit of its team, which does not engage in hype and speculation, but makes real efforts to increase the value of collectibles.
In any case, do your own in-depth analysis and research when investing in NFTs, and then make your own decision.
Opinion of NFTMetria
The Creepz by OVERLORD project proves that useful NFT art is highly valued these days. The community has more confidence in collections that allow you to have fun and make money at the same time.
The Play-to-Earn strategy works without fail, motivating users to "pledge allegiance to OVERLORD" and earn $illuminati. And the variable staking opportunities allow each player to choose tactics, evaluating their own opportunities and risks.
We will surely see Creepz by OVERLORD turn into a global brand, becoming a part of TV shows, animated movies, popular products, and advertising campaigns. From this point of view, the digital reptile collection sets a precedent for other NFT projects going the way of branding.