Mutant Ape Yacht Club is the second collection of NFT monkeys released by Yuga Labs. The first, Bored Ape Yacht Club, made over a billion dollars in less than a year.
Mutant Ape Yacht Club is essentially a sequel and it was an instant hit. In the first hour, sales were $96 million, after which prices immediately doubled. And like the original collection, it passed the $1 billion mark in less than a year. In this review, we will explain what Mutant Ape NFT is and why you should buy it.
What is Mutant Ape Yacht Club (MAYC)?
Mutant Ape Yacht Club (MAYC), a non-fungible token offshoot of the popular Bored Ape Yacht Club (BAYC) collection. We previously prepared an in-depth review about them in our article "Bored Ape Yacht Club: what is it and why is it so popular?"
Mutant Ape Yacht Club consists of 20,000 unique digital art images. NFTs are created on the basis of the Ethereum blockchain and are presented in the ERC-721 token standard.
Half of the collection was sold at public auction. While the rest were created by existing BAYC NFT holders who "framed" their Bored Ape into a "vial" of "mutant serum" dropped from the air.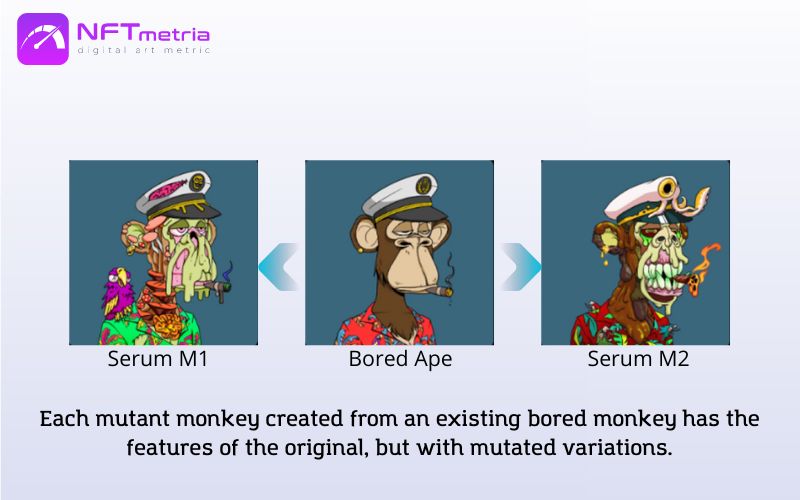 The Mutant Ape Yacht Club was one of the first NFT collections to reward the existing owner community with a free and brand new NFT.
Bored Ape Chemistry: what is it?
MAYC serum is a standalone NFT that can be purchased from Bored Ape Chemistry Club self collection. This serum turns a bored ape into a mutant ape. You can only use it once. To the delight of the owners, the monkey did not burn out after the mutation. Thus, the owner gets two independent NFTs – the original BAYC and the modified MAYC.
On the day of the release of MAYC, the authors of the project randomly distributed 10,000 of these sera among BAYC holders. And another 10,000 were put up for a Dutch auction.
In this case, the final image of the mutant depends on the type of serum used. There are 3 types in total:
M1 – minimal modifications of the monkey's face and mouth;
M2 – the appearance of various kinds of growths and changes in body parts;
M3 (Mega Mutant Serum) – a mutant monkey in a completely new way.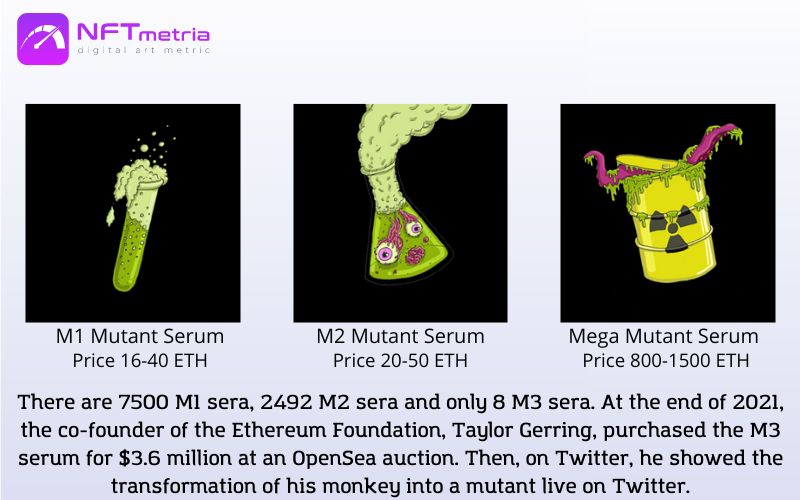 Community
Since the MAYC collection is derived from BAYC, it does not have its own personal audience and social media accounts. These two projects are inextricably linked and equally give a pass to a closed membership club. Therefore, we specify data from the BAYC collection:
MAYC in numbers
There are 20,000 NFTs in the collection, but only 19,425 pieces exist on the market. The remaining 575 pieces are in the wallets of the owners in the form of whey. For some reason, they haven't transformed their Apes into Mutants yet.
The sales volume for the entire existence of the collection exceeded 449.6K ETH ($1.51 billion),
In the first hour after the release of the collection, sales amounted to $96 million,
Market capitalization is $366.76 million,
The minimum price is about 12.69 ETH ($19000),
The average selling price for the entire period of the collection is 13 ETH ($19600)
The most expensive mutant #4849 was sold on August 29, 2021 for 350 ETH ($1.13 million),
The rarest Mega Mutant Serum sold for a record 1,542,069 ETH ($5.8 million).
The project was created on August 28, 2021, just 4 months after the successful launch of its progenitor – Bored Ape Yacht Club (April 29, 2021).
Information provided at the time of writing
Who created Mutant Ape Yacht Club (MAYC)?
Yuga Labs, the team behind the highly acclaimed and successful Bored Ape Yacht Club NFT collection, has created the Mutant Ape Yacht Club collection.
All Yuga Labs developers used pseudonyms until two of them were doxed by BuzzFeed in a February 2022 article. And after that, all four posted their real photos and names on Twitter.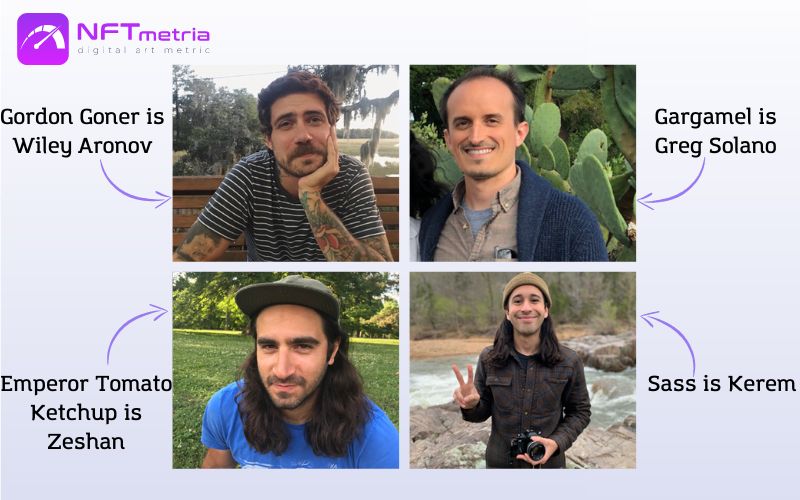 The team launched the Mutant Ape Yacht Club on August 28, 2021 using the Dutch auction system, where the price has been gradually reduced from a starting price of 3 ETH. Mutant Serum was also given away to existing BAYC holders.
Read more about the creators in our article "Yuga Labs is the leading record company in the NFT market"
How did the idea of ​​creating MAYC come about?
After the sale, BAYC quickly became one of the most famous and popular NFT collections. Yuga Labs has attributed much of the collection's success to the active community that has formed around it.
To show appreciation to their community, the Yuga Labs team has completed the first phase of their project roadmap by launching MAYC. A new collection inspired and partly based on the BAYC collection.
While MAYC was primarily a reward for existing BAYC holders, the project also aimed to welcome newcomers to the established BAYC community.
How does MAYC work?
After the completion of the public sale of the first 10,000 MAYC NFTs, BAYC holders were able to mint mutant monkeys for free (plus a gas fee) by exposing their bored monkey to a vial of the serum via a smart contract.
Any bored monkey can be exposed to an M1, M2, or M3 serum vial once. The resulting mutant monkey retains the basic attributes of the original bored monkey, but with unique mutated variations.
Applying the serum to a bored monkey visually alters the monkey's attributes in a variety of ways, from wet skin and protruding neck growths to misshapen teeth and bulging eyes. Other unique attributes might be a torn shirt, green goo dripping from the face, or a creature worn as a hat.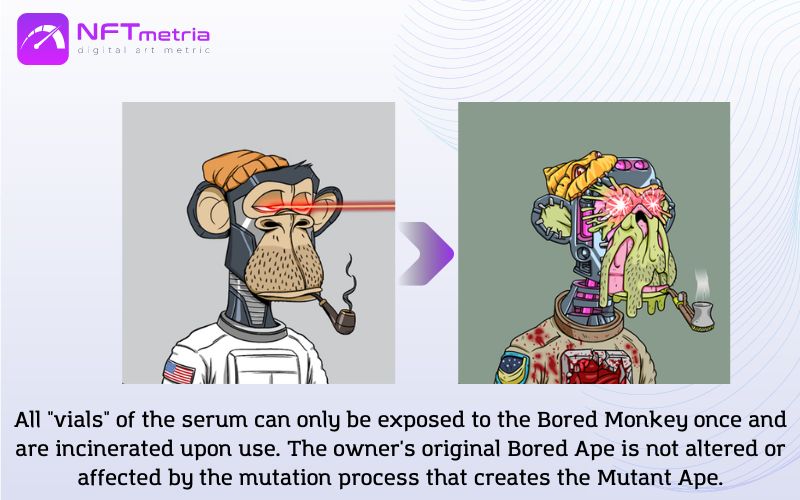 Why is Mutant Ape Yacht Club popular?
There are several reasons why MAYC's sales are on the rise:
Numerous ways to accumulate value
The association with the Bored Ape Yacht Club, an exclusive and strong community, exclusive privileges, and the rarity of the collection can all drive demand and prices up.
Rarity of Mutant Serums
And rarity, as you know, increases demand.
Commercial value
That is, the owner of a mutant monkey can receive money for using its image or release products based on this image. For example, use when creating a music label, series, show, YouTube channel, magazine, cafe, food, drinks, and so on. The list is endless, what is your imagination enough for. Note that not all projects have this possibility. Previously, the community has criticized the high-profile CryptoPunks for not having intellectual property rights to the NFT when buying.
Large and active community
Having a well-established private community helps make MAYC NFTs sought after by people who want to join an exclusive social group.
Clear project roadmap
The team has clearly stated milestones and dates in their 1.0 roadmap. They have completed all the tasks set and have already released a 2.0 roadmap with key milestones.
Strong and reliable team
Behind MAYC is the same team that launched BAYC. Having a cohesive and experienced team increases the chances of project success.
Social symbol
Owners put them on their profile pictures, wear them on their skateboards, and celebrities flaunt them on their music album covers. For example, NBA player Tyrese Halliburton showed off his Bored Ape in sneakers on the court before a game in November 2021.
8. Cheaper Entry to the BAYC Elite Membership Club
MAYC has allowed more NFT enthusiasts to join the Bored Ape ecosystem than previously thought. Accordingly, each owner gets access to an exclusive Discord server and The Bathroom virtual board, participation in online and offline events, such as private parties, as well as exclusive access to other NFT collections of the company, free airdrop of their tokens.
9. Partnership can drive mainstream adoption
BAYC and MAYC are already widely known in the NFT space. New partnerships with Animoca Brands (co-development of the OtherSide metaverse) and others could inspire further worldwide distribution.
Celebrities who have MAYC NFTs
Basically, all BAYC owners are also the owners of their followers. After all, all owners were sent a free transforming serum.
Mutant Apes owners include:
American singer and showwoman Paris Hilton,
pop legend Madonna,
singer Justin Bieber,
actor Kevin Hart,
broadcaster Jimmy Fallon,
musician Lil Baby,
rappers Snoop Dogg and Eminem.
rappers Post Malone and Jermaine Dupri,
billionaire investor Mark Cuban,
basketball players Shaquille O'Neal, Stephen Curry, Josh Hart, LaMelo Ball and Tyrese Haliburton,
American football stars Dez Bryant, Tom Brady and Von Miller,
musical groups The Chainsmokers and Waka Flocka Flame.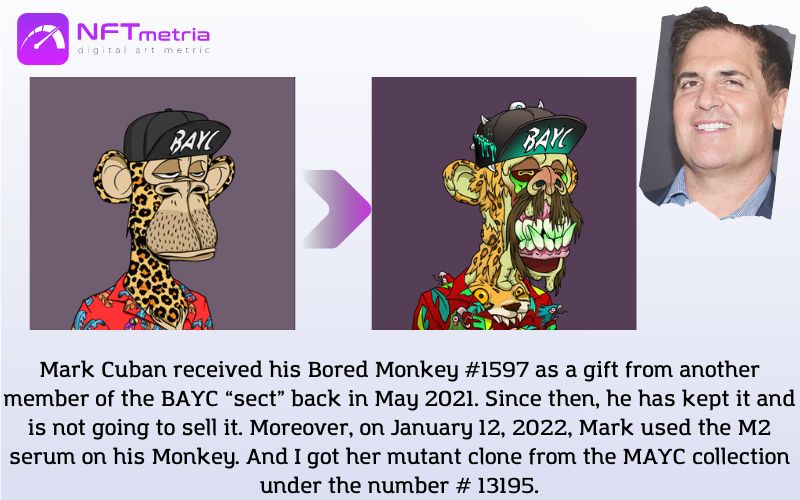 How much do NFTs MAYC cost?
To visualize the price growth, we made a cut at the average price for 1 NFT:
at the end of August 2021 after the drop – 7.4 ETH,
already in October 2021 – 4.5 ETH,
in December 2021 – 8.1 ETH,
in February 2022 – 21.1 ETH,
in April 2022 – 34.5 ETH,
in June 2022 – 22.9 ETH,
In August 2022 – 15.1 ETH.
Now (September 2022) the minimum price is 12.69 ETH. On average, the latest sales are in the range of 12-20 ETH.
Most Expensive MAYC Sales
No wonder this project is in the TOP of the best NFT collections. Let's take a look at the most expensive deals:
The most expensive mutant #4849 was sold on August 29, 2021 for 350 ETH ($1.13 million),
#1796 – for 335 ETH on 08/29/2021 ($1.07 million),
#6957 – for 250 ETH on 09/01/2021 ($887 thousand),
#9209 – for 225 ETH on 08/29/2021 ($720 thousand),
The rarest Mega Mutant Serum sold for 1,542,069 ETH ($5.8 million) on 01/2/2022.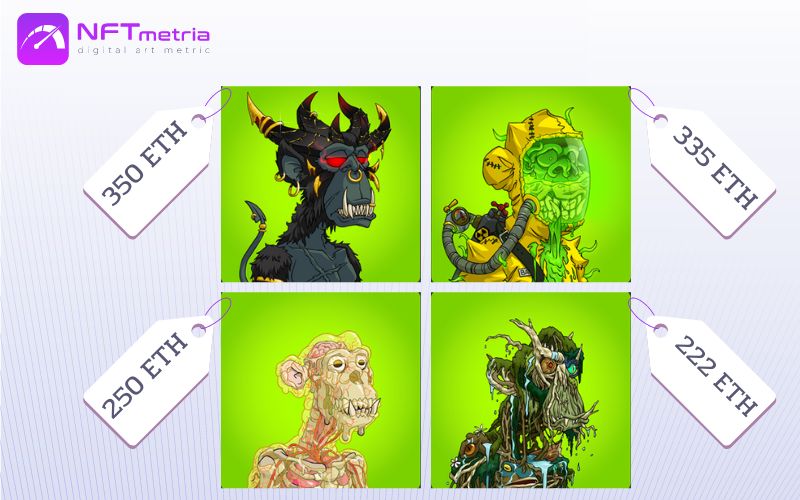 How to buy MAYC NFT?
You can become part of the community by purchasing Bored Ape NFTs and mutating them by giving them the serum, or you can buy Mutant NFTs directly. Currently, this can only be done in the secondary market, for example, on OpenSea and Looksrare. So, let's take a look at both methods.
Buy a ready-made Mutant Ape:
Visit OpenSea and connect your crypto wallet.
Once there, search for the Mutant Ape Yacht Club collection in the search bar and you can start browsing.
After you select the Mutant you want to buy, you need to click on the image, which will take you to a separate window where you can place your bid.
If the seller accepts your bid, the NFT will be transferred to your address.
Convert Bored Ape:
Also, on OpenSea, search for the Bored Ape Yacht Club collection,
Select and purchase a monkey,
Purchase the serum separately from Bored Ape Chemistry Club,
After that you will have access to the Mutant mint in your wallet.
We do not recommend using the second method, because it is many times more expensive than the first. Just the same, Mutants were designed for cheaper entry into the community compared to Monkeys.
Are Mutant Ape NFTs a good investment?
This is a difficult question to answer as everyone has different investment needs and circumstances for investing. For many, the collection is no longer available. Now the minimum price of MAYC NFT is 12.69 ETH. Even though Ethereum is down about 65% from its all-time high, the cheapest monkey is worth more than $19,000.
However, there are some benefits to owning a MAYC NFT. The social status associated with the project itself would probably be the biggest benefit of owning a MAYC NFT. In addition, the owners become part of an exclusive community. Anyone with these is often considered an expert in the NFT space. If the MAYC NFT was held earlier in the year, holders received an airdrop of Yuga Labs APECoin (which, by the way, is in the top of the best NFT coins for investment).
The barrier to entry is high, but even at today's prices, you can make money with your MAYC NFT. It could be sold for a profit once the NFT regains its bullish momentum. Alternatively, you can license magazines, marketing agencies, or music production companies to earn passive income.
Conclusion
Bored Ape Yacht Club (BAYC) and Mutant Ape Yacht Club (MAYC) are leaders in the NFT market. Images of bored monkeys have already become a new trend on the web, and mutant monkeys and mutation serums are a successful continuation of BAYC.
But this project has a unique feature – MAYC has allowed more NFT enthusiasts to join the Bored Ape ecosystem than previously thought. NFT Bored Ape, alas, remained expensive for the vast majority of players.
In fact, this project is nothing but a unique, innovative, and now historical part of the NFT market. And with these accolades, the collection is likely to remain revered for years to come.