Bored Ape Yacht Club (BAYC) is arguably the most influential NFT project in the world. For almost a year, it remained second only to CryptoPunks in terms of turnover.  The history of BAYC is a living testament to how a couple of successful deals can change an entire market. If not for one prominent NFT influencer, BAYC might not exist at all. But more on that later.
Bored Ape Yacht Club Official Links
What is Bored Ape Yacht Club?
Bored Ape Yacht Club (BAYC) is a collection of 10,000 great apes, each of which is an NFT.
Bored Ape Yacht Club attributes
All Bored Apes have unique characteristics. In total, there are seven main attributes, each of which is presented in different versions:
The background
Clothing
Earring in ear
Eyes
Mouth
Coat color
Headdress
Some attributes are rarer than others, which makes these monkeys more collectible. Therefore, they are more expensive than others. For example, apes with gold hair are rarer and more expensive than others.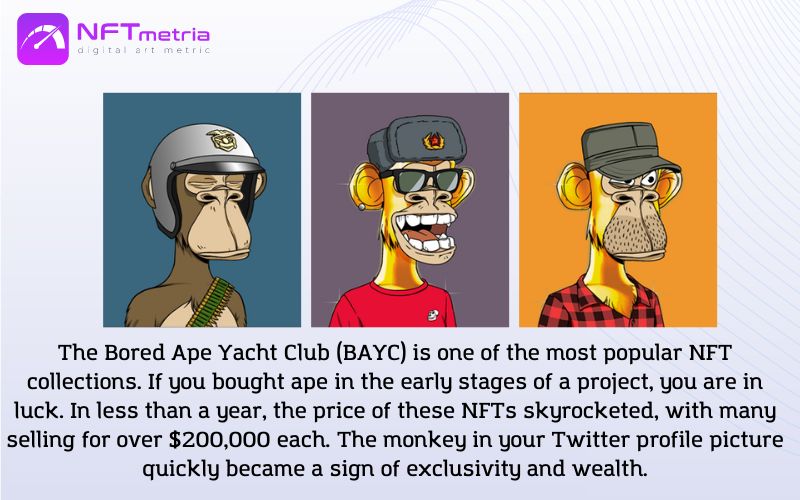 What else is special about the collection? This is one of the first collections that is hand-drawn by artists, as opposed to the pictures generated by the algorithm. This is their first and most important difference from the sensational CryptoPunks.
Bored Ape Yacht Club in numbers
The collection consists of 10,000 NFTs,
The collection is owned by 6465 unique wallets,
The minimum price is about 73 ETH (approximately 117 thousand dollars),
Sales volume is more than 1.3 million ETH (approximately $2.17 billion),
Market capitalization is about $1.17 billion,
The most expensive monkey #8817 sold for $3.4 million at Sotheby's at the end of October 2021.
In September 2021, the Yuga Labs team managed to sell a lot of 101 monkeys for $24.4 million at Sotheby's.
At the beginning of November 2021, the cult magazine Rolling Stone released an cover featuring Bored Ape with a circulation of 2,500 copies — it sold out in four minutes.
Thanks to all these records, the project is included in the TOP of the best NFT collections.
Information provided at the time of writing
Who created the Bored Ape Yacht Club?
Let's talk about how it all started. As it happens, several friends teamed up to make their own startup. This team was called Yuga Labs. You can read a detailed overview of becoming a market leader in our article "Yuga Labs is the leading record company in the NFT market".
Its members set themselves the goal of building a media empire entirely focused on NFTs. The creation of BAYC was the first step towards realizing this goal.
All Yuga Labs developers used pseudonyms until two of them were doxed by BuzzFeed in a February 2022 article.
And the aliases are:
Gordon Goner,
Gargamel,
Sass,
Emperor Tomato Ketchup.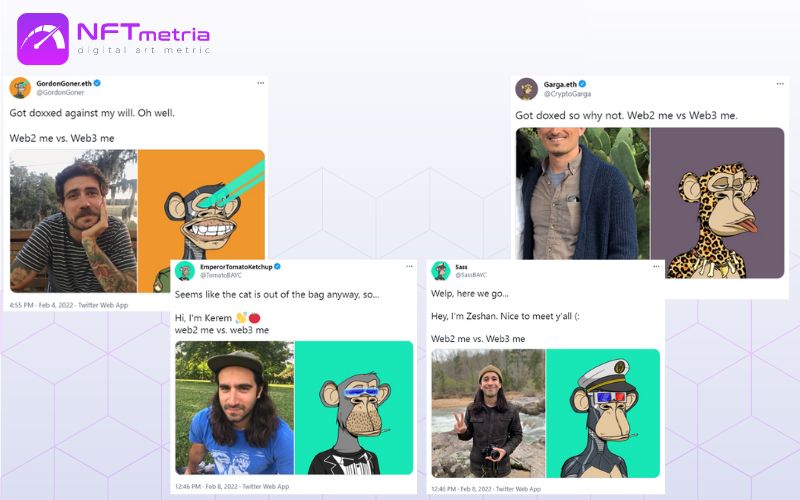 It turned out that Gargamel is Greg Solano, writer and book critic. Gordon Goner – Wiley Aronov. Sass and Emperor Tomato Ketchup revealed that their real names are Zeshan and Kerem. Both are software engineers.
Before BAYC, Gargamel and Gordon Goner had little involvement in the crypto community. None of them had development experience in this area, while the guys have been trading since 2017. Tomato and Sass were new to NFTs and cryptocurrencies. But all four teamed up and created Yuga Labs, and then launched BAYC through Yuga Labs.
Which of the founders created real art? Actually, nobody.
The lead artist of the original BAYC collection is a woman known by the pseudonym Seneca or the All-Seeing Seneca. Other artists included Thomas Dugley, Migwasher and a couple who wished to remain anonymous.
How did the idea of ​​BAYC come about?
Even before the BAYC idea was born, the group started developing the project. Yuga Labs came to the conclusion that the ideas of the art market are not relevant for the digital world. Paintings are bought to hang on the wall in the living room, NFT – on the profile picture in the social network. And, following this discovery, the team members realized that they needed some kind of "exclusive" for the club members. Thus, the idea of ​​a yacht club was born.
Yuga Labs decided that the "monkeys" who once created the world of the future will live in the club. In particular, investors who broke into cryptography and NFTs in the early stages of the development of the crypto market. Investments of such "monkeys" (members of the club) in the crypt years earlier have borne fruit: now you can relax. Over time, the "monkeys" get bored, they do not need to work, they spend most of their time on yachts or in a bar with friends.
It is reported that the Yuga Labs team quickly found well-known crypto investors who invested their savings in this idea. And only then, after the receipt of investments, the development of the collection began: they decided on the attributes, prepared illustrations and signed a contract for minting. The contract release date is April 29, 2021. NFTs were priced at 0.08 ETH per monkey (about $190 at the time), and things were slow at first.
On May 1, sales were still low. Then the popular NFT influencer Pranksy bought out almost all the monkeys. He announced this on Twitter to his many followers. Everything changed with his tweets. The BAYC collection sold out after 12 hours.
Notably, the BAYC team stated in an interview that they had no contact with Pranksy prior to the sale. Over the next month, BAYC's secondary sales began to rise rapidly.
Why is Bored Ape Yacht Club popular?
The popularity of the project in a broad sense consists of four things:
Involvement of influencers or celebrities,
Bulk potential,
Community attraction,
Long-term prospects of the project,
Benefit to participants.
Celebrity and mass potential
When famous people own NFTs, it makes others want to own them too. When celebrities like Jimmy Fallon and Justin Bieber bought Bored Ape, it caused a surge in sales and hype. And hype is what the NFT market is all about. People buying BAYC today at a steep price of over $10,000 probably believe that the brand will one day be able to grace more than just celebrity social media accounts. The target is, for example, Netflix shows, popular games and Hollywood movies.
Community attraction
The community built around the collection is the driving force behind any team initiative. But the community loves the project not just for its existence, but for various privileges, being in an elite society among stars and celebrities. NFTs double as membership cards for groups of holders. The more valuable people find belonging to this community, the less they will want to sell their.
But "public value" extends to personal financial interests as well. The higher the minimum price of the collection, the more crypto rich traders you can expect.
Long-term prospects of the project
Most of the projects on the market are visual pictures with a small legend. And their owners cannot be completely sure whether the story will continue after the mint. In the case of BAYC, things are quite different. After the release of the main collection, the team went further and created 2 more collections, then a governance token, and then a metaverse. All new projects are put together like a puzzle around monkeys, increasing their value, significance and weight. An important fact is the presence of a detailed project whitepaper, where all the plans of the team are indicated.
Utility
BAYC is valuable not only for its collectible properties, but also for its strong social component.
The buyer of BAYC acquires for just a token, but in fact, membership in a closed club of the same crypto-fans. Privileges for members of this club are constantly expanding. Here's what's included now:
access to an exclusive Discord server of over 30,000 people where all token holders, including celebrities, can chat with each other;
ownership and commercial use rights for the owner of the NFT. That is, the owner of a popular monkey can receive money for using its image or release products based on this image. For example, one of the members of the "club" BAYC started a Twitter account for his hero and came up with a little backstory. As a result, a biography written by New York Times author Neil Strauss will soon be published about the virtual valet Jenkins, who works at the yacht club.
participation in online and offline activities, such as private parties. For example, from October 31 to November 6, 2021, the first offline event for members of the BYAC club was Ape Fest in New York. The festival featured several events for monkey owners throughout the city, including a yacht party, benefit dinners and a concert featuring Chris Rock, Aziz Ansari, the Strokes and more. More than 700 people took part in the events. And in June 2022, Eminem, Snoop Dogg, LCD Soundsystem and Amy Schumer performed at Ape Fest.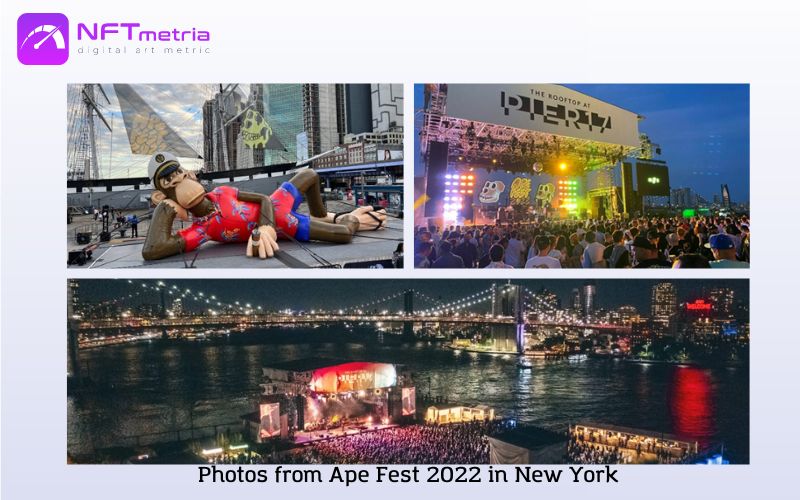 The Bathroom is a virtual board for graffiti holders BAYC. Each monkey holder can draw one pixel every fifteen minutes on a special virtual wall;
exclusive access to other NFT collections of the company, free airdrop of their tokens (we will talk about them below).
Somehow, the authors of Bored Ape Yacht Club managed to turn their monkeys into a cultural phenomenon, somewhat similar to cryptoart. Now BAYC is not just a picture, but a pass to a closed community and an indicator of social status. That is why many are willing to pay tens and hundreds of thousands of dollars for images.
Celebrities who have NFT from BAYC
It is also important that BAYC is extremely popular among celebrities. Celebrities put NFT monkeys as avatars on social networks, shoot them in videos and attend events dedicated to them. Thanks to this, hundreds of millions of people learned about BAYC.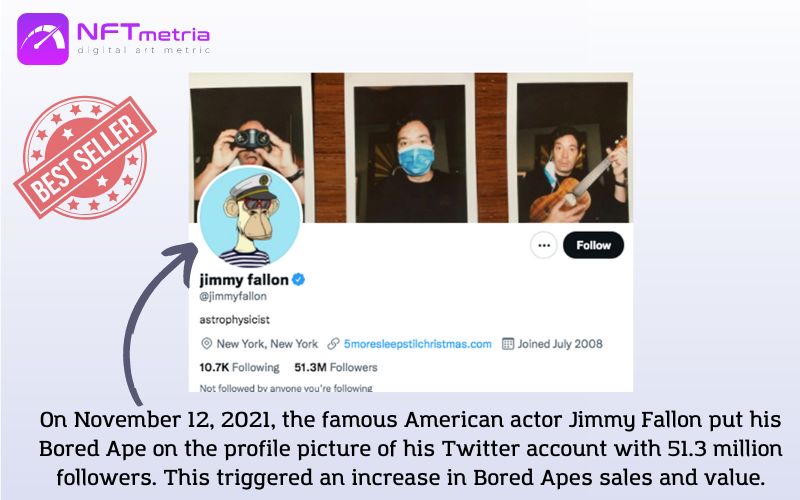 Bored Ape owners include:
american singer and show woman Paris Hilton,
pop legend Madonna,
singer Justin Bieber,
actor Kevin Hart,
broadcaster Jimmy Fallon,
musician Lil Baby,
rappers Snoop Dogg and Eminem, Post Malone and Jermaine Dupri,
billionaire Mark Cuban,
basketball players Shaquille O'Neal, Stephen Curry, Josh Hart, LaMelo Ball and Tyrese Haliburton,
american football stars Dez Bryant, Tom Brady and Von Miller,
musical groups The Chainsmokers and Waka Flocka Flame.
Post Malone even managed to show the process of buying Bored Ape through the MoonPay app in a recent clip from The Weeknd – One Right Now.
Imagine, we have listed only a small part of the celebrities who have invested large sums in these bizarre works.
Projects around BAYC
Faced with the popularity of BAYC, the Yuga Labs team released two more collections. This increased the reach, engagement and status of the company's token holders.
Bored Ape Kennel Club (BAKC)
Bored Ape Kennel Club (BAKC) – 10,000 NFT dogs with a unique set of characteristics. This collection has its own concept – a bored monkey can feel sad, and it is the companion dog that will curl up at her feet, warm and delight.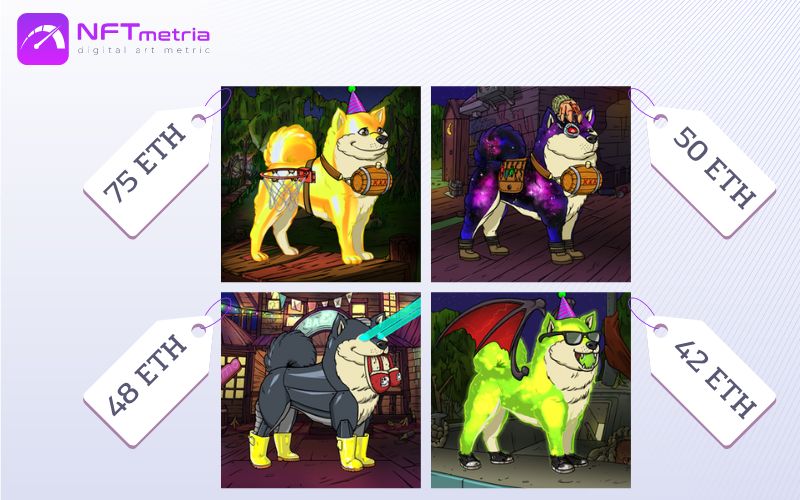 In June 2021, digital dogs were randomly distributed to BAYC owners for free as part of their perk – one dog for each monkey. Now the minimum price on the market is more than 6 ETH (more than 9K dollars).
It is commendable that the team does not forget about charity. These NFTs are subject to a royalty of 2.5%, which they transfer to dog shelters.
Mutant Ape Yacht Club (MAYC)
Mutant Ape Yacht Club (MAYC) – 20,000 mutated and disfigured apes, each with a unique set of physical flaws, such as rotting, growths, or a blurry snout. The starting price of MAYC was 3 ETH, and all MAYC tokens were sold out in August 2021 in an hour and brought the project team $96 million. And today, the cheapest Mutant Ape costs 12.8 ETH.
Also, the so-called "serums" were randomly distributed among users, with the help of which you can create a MAYC mutant from ordinary BAYC monkeys. Serums have three levels:
M1 and M2 – create a new mutant monkey that has some similarities with the original.
A "serum" M3 create a completely new mutant monkey, which increases its uniqueness.
ApeCoin Governance Token
ApeCoin (APE) is the economic management token of the Bored Ape ecosystem that contributes to the development of the community. This is an ERC-20 token that was created to empower the bored monkey community. Yuga Labs, creator of the BAYC collection, has adopted ApeCoin for all products and services.
Why are we mentioning this in the article now? The fact is that 15% of the total issue of coins was sent to the wallets of all BAYC holders. And all holders can profitably trade them on all major crypto exchanges.
By the way, according to NFTMetria, this coin is included in the TOP NFT coins for investment.
Metaverse Otherside
On March 19, 2022, Yuga Labs posted a trailer for the new Otherside metaverse on Twitter. The Otherside metaverse was created in the role-playing game genre, the main characters of which are the characters of the collections BAYC, MAYC, CryptoPunks, Meebits and Cool Cats.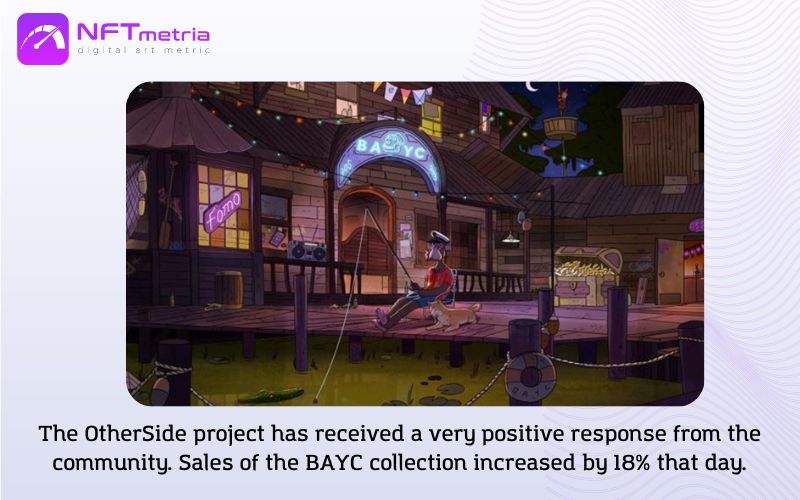 What is the price of NFT BAYC?
To visualize the price growth, we made a cut at the average price for 1 NFT:
at the end of April 2021 with a mint – 0.08 ETH.
already in August 2021 – 24 ETH.
in October 2021 – 62 ETH.
in January 2022 – 116 ETH.
in May 2022 – 159 ETH.
in August 2022 – 120 ETH.
Now (September 2022) the minimum price is 73 ETH. On average, the latest sales are in the range of 75-95 ETH. But here, for example, there are high deals. For example, on August 31, 2022, Bored Ape #6588 was sold for 769.9 ETH (approximately $1.24 million). And on June 14, 2022, Bored Ape # 7537 was sold for 1024 ETH (approximately $1.65 million). Not bad, right?
The most expensive sales
In September 2021, the Yuga Labs team managed to sell a lot of 101 monkeys for $24.4 million at Sotheby's. Soon several BAYCs were put up for auction at Christie's auction house.
#8817 – $3.4 million at Sotheby's at the end of October 2021;
#3749 – $2.92 million;
#8585 – $2.7 million;
#2087 – $2.27 million;
#8650 – $1.9 million.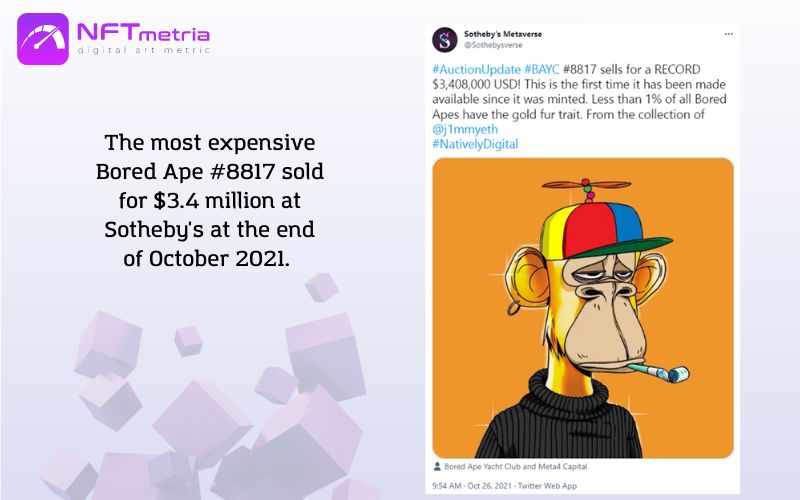 How to buy NFT BAYC?
As mentioned above, NFTs were initially issued at a price of 0.08 ETH apiece, but they were only available for a short period of time after the project was launched. Now they can only be bought in secondary markets, and the most popular of them is OpenSea.
To buy Bored Ape, you will need to visit OpenSea and connect your crypto wallet.
Once there, search for the Bored Ape Yacht Club collection in the search bar and you can start browsing.
After you select the monkey you want to buy, you need to click on the image, which will take you to a separate window where you can place your bid.
If the seller accepts your bid, the NFT will be transferred to your address.
Be sure to connect your crypto wallet through a hardware wallet (read more in our article "Crypto Wallets and Security: How Not to Get Scammed" Bored monkeys NFTs are especially expensive, and there have been many cases of owners being scammed and their monkeys stolen. We are talking about this, by the way, we'll tell you later.Security Tip
Scam
Nearly 150 non-fungible Bored Ape Yacht Club tokens have been stolen since the launch of the blue-chip fundraiser in June 2021. 143 NFTs with a total value of $13,582,962 were stolen from their owners through various scams and hacks.
Most of this value was stolen during two major hacks in 2022. In April 2022, hackers posted a phishing link — a malicious link used to steal user data — on BAYC's official Instagram page. The link led to an imitation of the BAYC website, where previously unknown "perks" were offered to users. Once users clicked on the link, the hackers would empty the victims' Ethereum wallets.
In June 2022, hackers posted a phishing link directly to the Discord channels of BAYC and Otherside, an upcoming metaverse "game" developed by BAYC's parent company Yuga Labs. The hackers introduced themselves as channel moderator Boris Vagner, whose account had already been hacked.
For example, in May 2022, comedian Seth Green announced that several of his NFTs had been stolen in a phishing scam. Green developed a TV show using his bored monkey; the hack put the future of the show in doubt.
And here is the loudest example of the consequences of such a scam. Actor Seth Green famously developed the series around his NFT Bored Ape. The series was thrown into legal limbo earlier this year when Green was hacked and his Bored Ape NFT was stolen. Because he no longer owned the NFT, Green no longer owned the intellectual property rights to his Bored Ape. Green ended up paying $300,000 to get his bored monkey back.
Collaborations with BAYC
In October 2021, Yuga Labs signed music manager Guy Osiri, who has worked with Madonna and U2. Osiri's agency Maverick Records will represent BAYC in the film, television and music markets.
In November 2021, music giant Universal Music announced that it plans to launch a virtual metaverse based on NFT monkeys, as well as promoting a virtual group called Kingship, consisting of three rare Bored Ape and one Mutant Ape.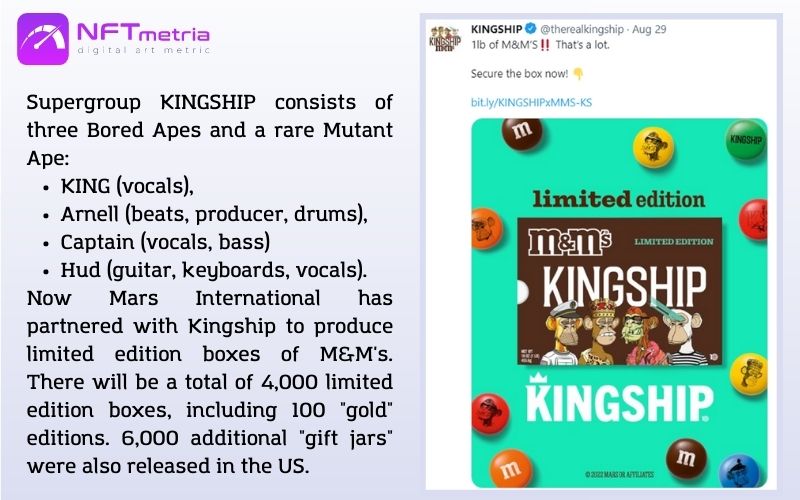 Also in November 2021, American rapper and producer Timbaland bought several BAYCs and opened Ape-In Productions. This is a company and platform that will create content for metaverse applications, including those based on BAYC images. The company introduced the virtual group TheZoo, consisting of six Bored Ape. In March 2021, the label released the first song ApeSh!t and a video for it.
At the beginning of November 2021, the cult magazine Rolling Stone released an NFT cover featuring Bored Ape with a circulation of 2,500 copies — it sold out in four minutes.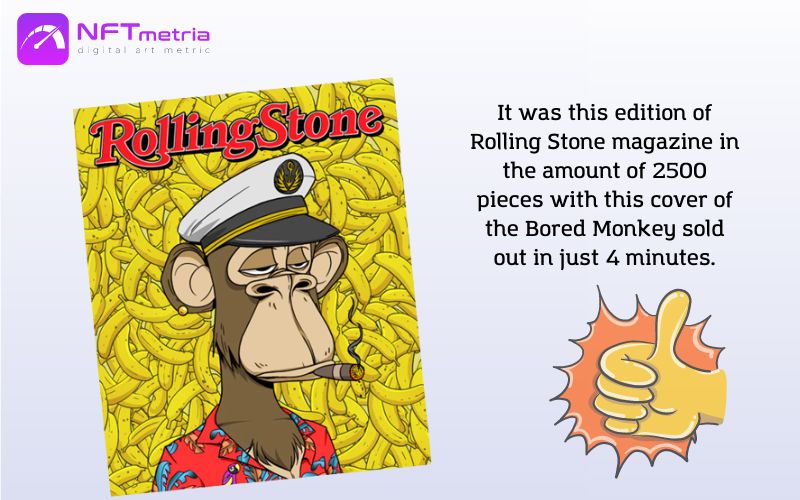 In June 2022, Snoop Dogg and Eminem released a new song and video in collaboration with the Bored Apes. In the video, the artists appeared in the form of animated monkeys. At the time of writing, the number of views on the official channel has exceeded 51 million.
By the way, Snoop Dogg is a famous NFT influencer and collector. You can read our detailed review about him "Who is Snoop Dogg? A global rap star, crypto and NFT influencer"
Adidas launched its first NFT project, Into The Metaverse, in collaboration with several NFT brands, including Bored Ape Yacht Club. Collaboration between Adidas and BAYC is coming soon on both virtual and physical wear.
The Future of Bored Ape Yacht Club
Now the Yuga Labs team is working 14 hours a day trying to add more value to BAYC. The four founders hired numerous artists, social media and Discord managers, and a CFO:
We want to be a lifestyle company for Web 3.0.Gohner told Rolling Stone
The project team hopes that in the future, users will be able to download Bored Ape in different metaverses. Yuga Labs wants Bored Ape to be the digital identity of its wearers.
The Yuga Labs team has not limited themselves to the short-term success of BAYC and is actively developing the project. We think that in the near future the excitement around him will continue and probably even increase. Following this, prices for Bored Ape will also increase.
Conclusion
There are already hundreds or thousands of NFT collections. But only a few of them really shot. The main reasons for BAYC's popularity are celebrity interest, an active community and, most importantly, a social component.
BAYC has significantly expanded the scope of NFTs. This is not just a confirmation of token ownership, but a pass to a closed community and a demonstration of social status. In part, this could be regarded as conspicuous consumption, but projects such as BAYC are clearly working for the benefit of the crypto sector. While we wait for blockchain to gain mass adoption in the financial arena, maybe it will be much more in demand in the entertainment space? Only time can give an answer to this question.