The X2Y2 project began with a statement of intent to "build a truly decentralized NFT marketplace and give it back to the community." Judging by how quickly he managed to get into the top NFT marketplaces, such statements have found a warm response in the hearts of crypto enthusiasts.
The new platform won the trust of customers not only with encouraging promises, but also with a number of advanced features, including mass listing, NFT bulk purchase, real-time notifications. Defending its right to the role of a leading player in the market, it has provided an advanced security system, a high level of transparency, and full support for decentralization.
The constant addition of new products and the elimination of compulsory royalties, as well as low commission fees and high rates, allow this marketplace to successfully expand its customer base by poaching users from competitors. No wonder you can find NFTs from blue chips like BAYC, Azuki, Doodles, Moonbirds. Among the partners of the site, you can meet such market giants as OpenSea, Nansen, Uniswap, Gemini (now Opensea Pro).
What is X2Y2 NFT Marketplace?
X2Y2 is a fully decentralized marketplace, fully owned by the community. It forgoes private funding, distributing its tokens fairly to all eligible people.
The name comes from the formula of an ideal mathematical circle – a symbol of ultimate infallibility. This is exactly what marketplace aims for, whose logo is a blue circle.
X2Y2 positions itself as "the marketplace by the people, for the people". Aiming at the demonopolization of NFT, the platform follows democratic principles in everything, trying to be convenient for everyone – both for NFT developers and traders.
Since the backend and all the functionality was developed from scratch, the platform features a number of features based on advanced technologies:
Mass listing: the platform allows clients to list all their tokens for sale at once, saving on gas tariffs.
Bulk Purchases: Traders can purchase multiple NFTs within a single trade by paying the gas fee all at once.
Push Notifications: Users receive emails when their NFTs have been bought or ordered, and traders when their bets are accepted.
Rarity statistics: The system not only keeps track of the rarity of each NFT, including its history and detailed analytics, but also reflects its current price on OpenSea.
Lending: Users can use tokens as collateral to obtain/grant loans.
Profit Sharing: Marketplace customers who list their NFTs on the marketplace receive a percentage of the commission for all transactions in proportion to their share.
Secret NFTs: the site ensures the confidentiality of information about digital items.
The last two features were first introduced on this marketplace.
Other notable features include:
Interest-free NFT loans,
Low commissions,
High stakes,
Transparency of transactions.
However, keep in mind that the platform only supports tokens generated on the Ethereum blockchain.
X2Y2 NFT marketplace Official Links
X2Y2 NFT marketplace in numbers
The effectiveness of the X2Y2 NFT marketplace can be judged by the following indicators:
The platform was launched just over a year ago, in January 2022.
Trading volume of more than 3.12 million ETH (about $5 billion).
Number of sales over 1.8 million.
Number of traders over 207k.
Fee rate is 0.05%.
Data (including exchange rates) are at the time of publication of the article (04 May 2023)
Who and how created the X2Y2 NFT marketplace?
The launch of the X2Y2 platform took place on January 28, 2022. Prior to this, the team distributed 12% of its native tokens to OpenSea clients trading on the platform prior to January 1, 2022. OpenSea users who sold/purchased any number of NFTs could take part in the airdrop on X2Y2.
To take advantage of the offer, you had to connect your wallet to the platform, specify at least one NFT from the current collection on this platform. Owners of several tokens who connected their wallet to X2Y2 automatically got access to the "Bulk Sell" option with the ability to sell the entire collection at once.
Pros and Cons of X2Y2 NFT Marketplace
Such large market participants should be considered comprehensively. Of course, it has both pluses and minuses.
Pros:
Instant notifications about the appearance / acceptance of the application and purchases,
Low trading fees,
NFT rarity tracking,
Getting by stakers 100% of income.
Cons:
The platform is only available in one language (English)
Supports only NFTs built on the Ethereum blockchain.
Interface of X2Y2 NFT marketplace
Those who are familiar with the OpenSea platform will quickly get comfortable with the design of the X2Y2. The user has three navigation options:
Collections (view NFT);
Rewards (rewards for coins X2Y2);
Loan (enhancement of tokens by turning them into a financial asset: users can apply for a loan using their NFTs as collateral).
The marketplace does not provide an interface for creating NFTs. Users can only transfer ERC-721 and ERC-1155 tokens created on other platforms to X2Y2.
Commission X2Y2 NFT marketplace
The trading fee per transaction on X2Y2 is only 0.5%. Such a small fee, combined with a flexible royalty payment system, makes this platform one of the most affordable digital collectibles to purchase.
Token $X2Y2
The $X2Y2 token is the native token of this marketplace and the control coin of the X2Y2 network, used primarily for staking. Stakers can count on a share of the trading platform profits in proportion to their locked coins.
The maximum supply of $X2Y2 is limited to 1,000,000,000 tokens and backed by an ILO of 10,000 coins via Uniswap.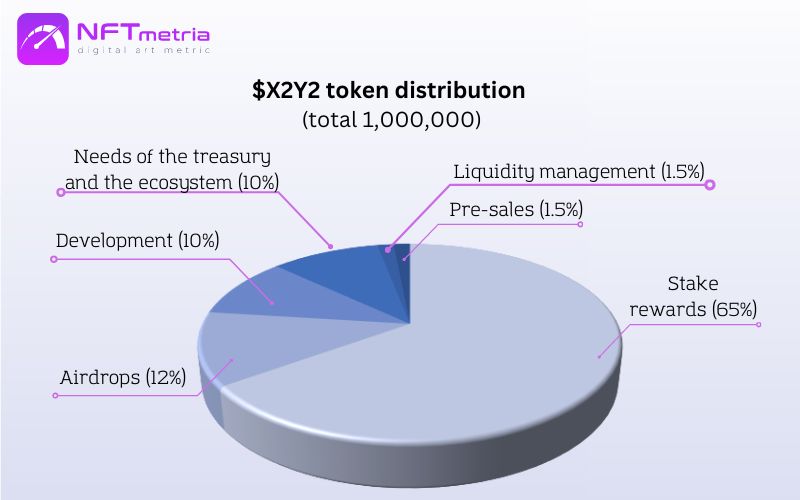 A gradual release of the token is planned. The right to receive them is granted within 720 days.
Over 1,500 ETH ($4 million) was raised as a result of the token pre-sale. Its price, which started at $1.9 on February 15, doubled to $4 in less than two days.
True, then it decreased significantly (now the token is trading at $0.04), which is partly due to the large number of people who wanted to participate in the airdrop, who subsequently sold their tokens.
Competitors of X2Y2 NFT marketplace
X2Y2's main competitors are OpenSea and LooksRare.
X2Y2 VS OpenSea
Dominating the market and supporting NFTs generated on multiple blockchains including Ethereum, Polygon, Solana, the OpenSea platform poses the greatest threat to X2Y2 in its struggle for dominance.
One of the main advantages of X2Y2 is the low trading fee (0.5%), while on OpenSea the transaction fee is 2.5%. In addition, X2Y2, unlike OpenSea, has its own token and does not require royalty payments for NFT purchases.
Both platforms allow you to buy and sell in bulk, which reduces gas fees. Instead, X2Y2 gives users the ability to import NFTs directly from OpenSea.
It is also important that the team, after analyzing the shortcomings of OpenSea, introduced a number of innovations:
Started demonopolization of the ecosystem (so far, more than 90% of all NMTs are sold on OpenSea);
Introduced a system for sharing revenue from fees among all users (while OpenSea developers assign all fees);
Seeks to get rid of the technical downtime that OpenSea suffers from;
Refused venture capital for a fair distribution of tokens (OpenSea is known to depend on Silicon Valley investors).
X2Y2 VS LooksRare
The LooksRare marketplace, like X2Y2, was based on ETH in early 2022. Both have their own token, are community-focused, have eliminated royalty fees, and are targeting OpenSea's target audience with their airdrops.
However, only users with a trading volume of at least 3 ETH were eligible to participate in the LooksRare airdrop. Meanwhile, on X2Y2, everyone was allowed to distribute. X2Y2 also wins in the struggle for the availability of trade:
Commission fee on X2Y2 – only 0.5%,
On LooksRare it is 2%.
From this comparison, we can conclude that the X2Y2 platform has enough weighty arguments to lure away the customers of its competitors.
Opinion of NFTmetria
X2Y2 is a fully decentralized platform. The platform is as young and bold as LooksRare, but more honest and transparent. At the same time, it is no less popular than OpenSea, but with the features that the NFT market has been waiting for so long. The marketplace is ready to share profits with users, was able to create a unique reward system and found a way to expand the catalog of NFT offers.
The main feature of X2Y2 is its own native token. It not only ensures the profitability of the platform, but is also considered by the holders as a long-term investment tied to the growth of the trading platform.