The OpenSea platform dominated the NFT trading market for a long time, and few people thought to challenge its primacy. But in October 2022, a group of ambitious developers released the Blur platform, presenting it from the very beginning as a resource for advanced traders. Thus, an NFT trading platform was created, which focuses not so much on NFTs as such, but on the process of trading them. Traders have at their disposal top trading instruments, placed on one site. Unsurprisingly, popularity has grown by leaps and bounds, and today the trading volume on this marketplace is more than $10 billion.
What is Blur, one of the main competitors of OpenSea? Can it stand up to the competition? Let's talk about this and much more in today's review.
What is Blur NFT Marketplace?
Blur is a modern advanced marketplace that combines the functions of an NFT trading platform and a market aggregator. Platform participants can count on sophisticated analytics, extensive portfolio management options, and the ability to compare NFT prices across multiple resources.
The digital marketplace offers traders a completely new trading experience that sets it apart from other similar platforms. In particular, it can be used to conduct NFT sweeps and snipes much faster than on other similar resources. Other features include a feed with real-time asset prices, no commission per sale, sorting by price, and an intuitive interface. Among other things, Blur can also connect as an aggregator to such popular sites as X2Y2, OpenSea and LooksRare.
Blur NFT marketplace in numbers
The site was released in October 2022.
The company was able to raise over $14 million in investments from well-known and respected investors in the market.
0% marketplace fees.
Sales exceeded 3 million ETH (more than $4.7 billion at current exchange rates).
More than 237k traders.
The total supply of $BLUR is 3 billion tokens and its current price is 0.6$.
Data (including exchange rates) are given at the time of publication of the article (May 04, 2023)
Who and how created the Blur NFT marketplace?
The impetus for the creation of the marketplace was competition with the NFT trading giant OpenSea. One of the most convincing arguments of the new platform was the large-scale drops of its own token, of which there are three in total.
The members of the team behind the project prefer to remain anonymous. We can definitely say that it includes employees with experience in organizations such as MIT, Citadel, Five Rings Capital, Twitch, Brex, Square and Y Combinator. The impressive collective experience has allowed the Blur authors to enlist the support of high-profile investors and traders around the world, such as Zeneca, Cozomo de' Medici (the real owner of the account is Snoop Dogg), and 6529.
Recently, NFT Marketplace co-founder and CEO Tieshun Roquerre, better known in the NFT world as Pacman @PacmanBlur, decided to throw off his anonymity and revealed some facts about himself.
Because the Blur community has expanded rapidly in recent years, I can only accommodate a few one-on-one phone calls as I always did. It's time to come clean about who I am in public. This is how Pacman lays out his motives for dropping anonymity.
Here are the milestones of Pacman's pre-Blur biography that he shared with the community:
Dropped out of high school at 17 to get a job at Y Combinator;
studied mathematics and computer science at MIT;
became the owner of the Thiel Fellowship, which allowed him to leave MIT and found Namebase;
completed the sale of Namebase to Namecheap.
Web2 me vs Web3 me

A thread 🧵 pic.twitter.com/9BKyNdan3x

— Pacman | Blur.io (@PacmanBlur) February 22, 2023
The rest of the team remains unknown to the general public.
Features of Blur NFT marketplace
There are many aggregators and marketplaces in the NFT marketplace, but Blur is a unique platform in many ways. This is evidenced by a convincing list of its advantages, presented below:
Today, Blur is rightfully considered one of the fastest aggregators and NFT marketplaces. In particular, one of the features of its design is the support for the high-speed batch minting function, which other similar platforms cannot boast of. This feature is one of Blur's most important competitive advantages.
Advanced sweep function. Professional NFT traders and whales prefer to use the sweeping the floor technique, which consists in buying several NFTs from any projects at their lowest price. Such a "batch" buying of tokens in a short period of time is very important for maximizing profit.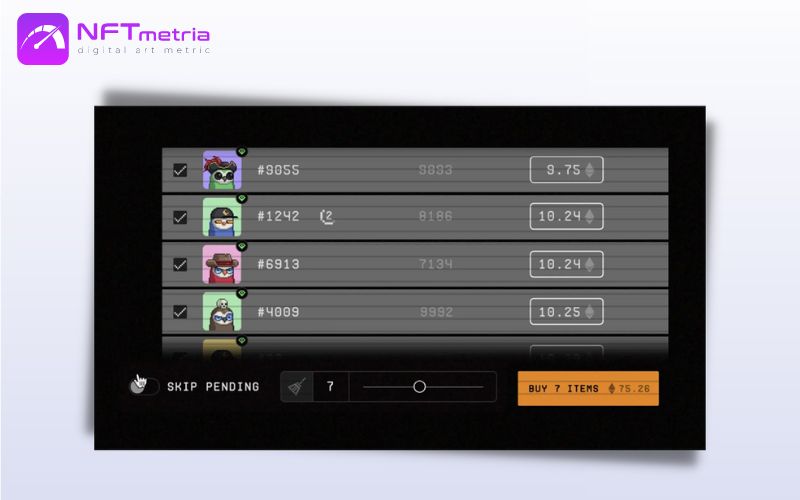 Listing opportunities. The marketplace provides FP listing, FP listing, multi-level listing, and many others. The "Activity" tab allows you to carry out sniping – instant purchases of new tokens after listing. This is considered a "hardcore" technique among sophisticated traders. Blur allows you to snipe new listings of any collection right in the tab, which receives real-time data on the time elapsed since the listing, the price and address of the person who put the token. You can buy NFT by clicking "Buy" in the same window.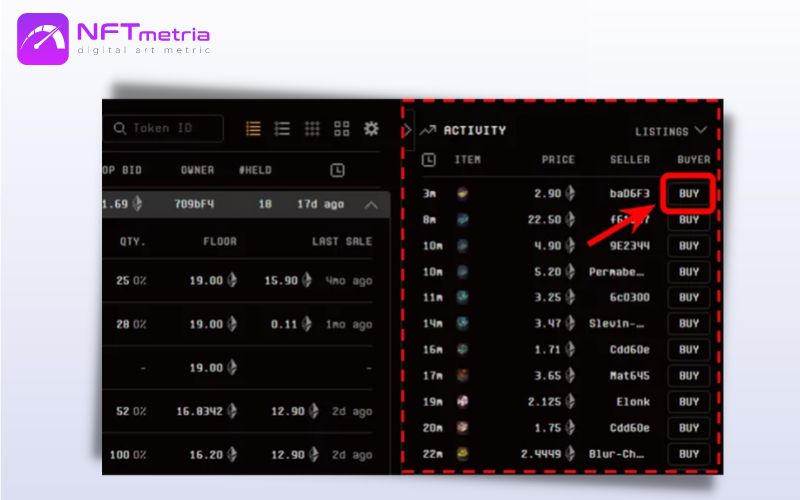 Professional analytical tools. For optimal portfolio management, the user is provided with a daily/weekly sales chart with a histogram of trading volumes and a market depth table. All analytical tools are updated in real time.
View portfolio. Connecting a user's wallet to a marketplace account automatically grants them access to the portfolio. At the same time, he receives a detailed overview of not only his assets, but also all transactions on the market with options such as filtering by collections, activity for each individual wallet, and overall activity.
NFT royalties. Users who place their NFTs on this platform can count on royalties from sales (in the amount set by them) and loyalty points. They can receive $BLUR tokens as an incentive for listing royalty-free NFTs. For traders, the royalty listing gives them access to most of the final airdrop.
In the meantime if you are a trader, you can list on Blur from now through the end of November for our second airdrop. Our second airdrop is much bigger than the first, and you'll get more $BLUR for listing with royalties. pic.twitter.com/D7FxObahR7

— Blur (@blur_io) November 14, 2022
Blur features a simple, intuitive interface. To access it, the user must link a personal WalletConnect or MetaMask wallet to their account and upload all their NFTs. After that, he will have access to all the functionality of the market, including sweeps, portfolio view, listing screener. The aggregation function will allow you to buy digital assets on several trading platforms at the same time.
Blur NFT Marketplace Commission
This platform does not charge commission for trades. This is one of the motivating factors for attracting new users, as well as holding airdrops – distribution of tokens.
$BLUR token
The platform's native token, $BLUR, is one of its governance tools.
The team plans 3 airdrop seasons, two of which have already passed.
$BLUR Airdrop Season 1
In the first season (February 2023), the marketplace ran three releases of $BLUR as Care Packages:
the first one was distributed to the most active beta test participants in October 2022 (six months before the official launch of the marketplace);
the second was addressed to traders who actively participated in the listing on the market until November 2022
The third one (also known as the final one) was intended for traders who managed to place orders on the marketplace before the day of its official launch – February 14, 2023.
Care Packages vary in rarity:
Legendary;
Rare;
Uncommon;
Unrevealed.
The level of rarity and, accordingly, the amount of remuneration are determined by the volume of trades and rates of the user.
$BLUR Airdrop Season 2
Immediately after the first season, the marketplace announced the start of the second season of distribution of more than $300 million $BLUR, and the loyalty of users became the main criterion for distribution and calculation of remuneration.
Blur vs OpenSea
Despite the leadership of OpenSea among NFT marketplaces, many professional traders still prefer Blur. And February 2023 showed that such a giant as OpenSea, with the right approach, can easily be bypassed in terms of sales. The main reasons for this choice are:
Unlike OpenSea, Blur does not charge commissions for transactions;
The thoughtful interface of Blur is convenient for users: if on OpenSea you need to switch between tabs to access your account data, then on Blur all analytics, sales history and many other data are placed on one page;
Blur offers users not only standard features (including a gas surcharge counter, an ETH quote stream, a dark screen mode), but also an aggregation function with other trading platforms;
Blur is better than OpenSea in terms of speed: updates on Blur are performed every 4 seconds, which increases the chances of successful sniping; Saving time for traders is facilitated by access to accurate current information (trading history, deep analytics of NFT rarity, etc.);
Blur traders have the opportunity to get ahead of the users of OpenSea and other marketplaces thanks to gas priority presets;
Blur's competitive gas fee structure provides financial benefits to users;
$BLUR issues and giveaways resulted in Blur's trading volume for February 2023 being four times that of OpenSea, which still has no native token at all;
According to Coindesk, Blur users recently got another benefit: Blur discovered a loophole in the OpenSea blocklist, allowing NFT collections blocked on OpenSea to be hosted on Blur.
Blur has taken over the media in the midst of criticism from the market at Opensea in disputes over the abolition of royalties for the collection's creators.
It is still difficult to say who will prevail in this fight – the NFT goliath or his young and energetic lightweight opponent. One thing is clear: tempting prospects open up for Blur to knock out the titled giant, who is confident in the inviolability of his positions and therefore does not seek to keep them with new functions and capabilities.
The fact that Blur has raised over $14 million from world-class NFT investors such as Paradigm, Andy8052, Cozomo de` Medici, Bharat Krymo, dhof, OSF, MoonOverlord, Zeneca, Deeze, Keyboard Monkey, icebergy will play a significant role in this fight. These influencers are now praising Blur on social media with the same enthusiasm that they used to promote OpenSea, and millions of followers are listening to them. This is an indicator of high trust from the community.
In short, in the near future there are no visible obstacles for Blur's popularity to continue to gain momentum.
Opinion of NFTmetria
Launched in October 2022, the Blur marketplace has already significantly changed the NFT market. In addition to advanced analytical functions and speed of work, the distribution of $BLUR tokens and trading with zero commission, Blur offers comfortable conditions for accessing other marketplaces and the ability to buy or sell several tokens in one transaction. With these achievements and more, Blur actively supports professional traders and has every chance of becoming a game changer in the NFT trading space.