The world of NFTs and digital art is a very interesting area. With its excitement, intrigue, ups and downs of projects, it resembles stock and stock markets. Now, some Wall Street traders are investing in NFTs and cryptocurrencies because they understand the principles of the industry. And even more so, few of them become artists and release their own collections, exchanging a career in the financial sector for the field of digital art.
The artist under the nickname OSF (real name Ovi Faroq) has successfully moved from the category of traders to the world of digital art. He was able not only to realize his creative potential, which was in him from adolescence, but also to combine it with the experience and knowledge that he gained while working in a bank and in the stock markets.
Who is OSF?
OSF is an acclaimed artist and seasoned investor who entered the art world after years of investment and trading experience. The real name of the OSF artist is Ovi Faroq. He grew up in Cambridge, England, and now lives in 2 countries, combining work in the US and his home in England.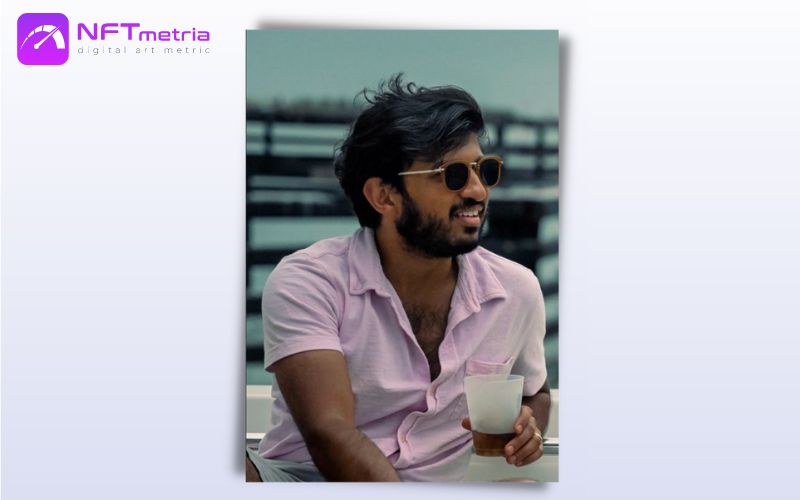 He is now a celebrity in the art world, posting his work on the Foundation, and previously he was a trader who concentrated on trading illiquid high-yielding and problem loans for ten years.
Are there any high-profile events in the life of Ovi Faroq? Naturally:
Snoop Dogg bought 2 of the first celebrities to take notice of the artist, rektguy #5865 and rektguy #2756;
The total sales of the rektguy collection exceeded 26k ETH;
Co-founder of Degenz (RPG adventure game 100% inside of Discord);
Co-founder of Tabz NFT (an art project by Alienqueen);
Co-founder of Canary Labs (a software company).
Now OSF has completely decided to abandon the career of a trader and focus on the field of digital art.
OSF Official Links
The creative path of OSF: from trading to the NFT
OSF (Ovi Faroq) from 2011 to 2018 worked in the financial sector, and then until 2021 was engaged in trading activities, namely trading in illiquid high-yield and problem loans. It was the over-the-counter market.
And as the artist later tells, he always had a penchant for creativity. He felt it, even at the moment when he studied mathematics, economics and finance.
Only his youthful years were connected with the work of OSF, when he was just beginning to get acquainted with art and experiment. When Ovi Faroq was a teenager, he bought cameras, took pictures and used Photoshop to realize his fantasies and concepts of reality as he envisioned it. But, when he entered the university, he had to do away with art, since there was no time for it at all, even as a hobby.
The worst part of being a trader was probably that it sucked away my life. We were working 7:00 till 5:00, or 7:00 till 6:00 and in the evenings we had to go to networking things, so that ended up being my life for almost 10 years without really being able to do much outside of it. This is how the artist describes his trading work
So, at one of the work meetings, he took his tablet and just started drawing. This is how "a picture of this guy wearing a hoodie with a skull face" was born, which Ovi digitized and minted as a token on the Foundation site.
But the first acquaintance of OSF with the world of cryptocurrency and blockchain technologies took place in January 2021. It was then that the artist first bought Bitcoin.
Despite the fact that after the first sales of Rekrguy, success came to the trader, they began to recognize him and many people became interested in his work, he did not dare to leave his job at the bank for a long time. It was not until March 2022 that OSF finally left the old job and focused on NFTs.
OSF in the NFT world
Artist Ovi Faroq was introduced to the world of digital art by his friend and business partner Mike Anderson (better known on Twitter as Mando). In March 2021, Ovi Faroq bought the first NFT 1/1 on SuperRare for his collection. And already in May 2021, when the NFT market was just in its heyday, Ovi saw the mint of the Bored Ape Yacht Club project and decided to invest in it big. The young man immediately bought 150 tokens, which brought him a lot of money in the future. Subsequently, OSF sold most of the tokens from the Bored Ape Yacht Club collection. By the way, the artist recently sold another 71 tokens worth $9.1 million.
An emotional decision but we remain bullish on @yugalabs holding some MAYC, Otherside, Sewer Passes, $APE and angel invested in Yuga.

Sometimes you gotta take some profits and we felt the time was right for us.

Thanks again to Yuga for changing our lives. Full royalties paid. https://t.co/7TtKm9vVLs

— OSF (@osf_rekt) February 22, 2023
And already in October 2021, OSF decided to try himself as an artist and minted his first token.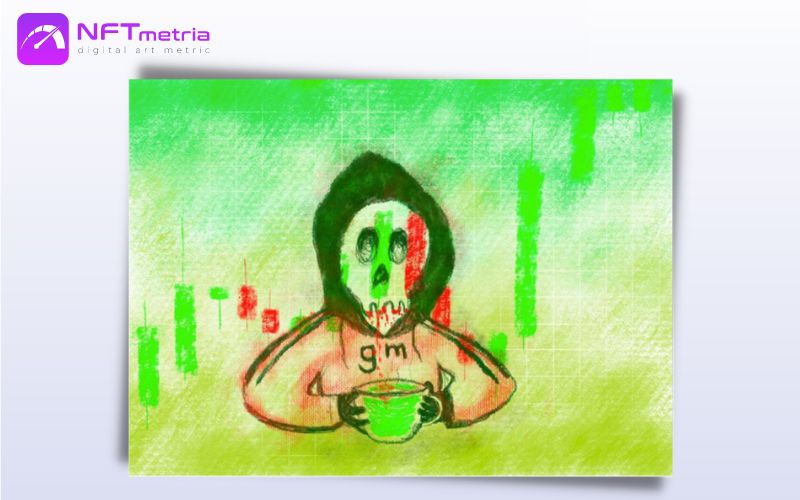 The first work was followed by the second. And then Ovi Faroq got a taste.
NFT corporate identity by OSF
The carelessness of lines, shapes and colors is what distinguishes the artist from many others. The works are animated, bright and provocative. People with an unstable psyche and susceptibility to such stories should be careful when viewing. OSF's works are very similar in style and presentation to the works of the famous artist XCOPY.
OSF himself notes that he still does not believe that he animates his work correctly and competently. It just takes a few frames, loops them and starts the animation process. According to the author, this is a type of animation that belongs to the old school and modern methods have gone ahead. But it is this simplicity that makes his work recognizable.
I just love going to different cities, walking around at nighttime, seeing the flashing lights and stuff, and you just get the vibe and atmosphere. An important factor for the artist's work is the transfer of the atmosphere of night cities.
The most famous NFTs by OSF
Artist OSF creates his NFT works both in piece format and in whole collections. In total, income from creative activities has already exceeded 31k ETH (about $50 million today).
In total, the artist has released:
More than 200 NFT 1/1 with total sales exceeding 2k ETH.
The sensational collection of rektguy, which consists of 8814 tokens, and the volume of secondary sales exceeded 26k ETH.
Collection of Red Lite District of 210 different tokens with views of a small "red" district. The volume of secondary sales exceeded 1.1k ETH.
The Editions collection, created in March 2022 and consisting of 19 unique images with a circulation of 3219 tokens. The volume of secondary sales exceeded 1.2k ETH.
7 Deadly Sins, where the author focused on the theme of the "deadly sins" of mankind and conveyed them through the prism of his vision, using a corporate character. The volume of secondary sales exceeded 460 ETH.
Rekt Cities – TYO. The collection consists of 207 tokens and was introduced in October 2022; The volume of secondary sales exceeded 50 ETH.
Rekt Cities – NYC. The collection consists of 504 tokens and was introduced in October 2022; The volume of secondary sales exceeded 40 ETH.
Rekt Cities – PAR. The collection consists of 403 tokens and was launched in October 2022. The volume of secondary sales exceeded 30 ETH.
Rekt Cities – HK. The collection consists of 241 tokens, and the volume of secondary sales exceeded 30 ETH.
Rekt Cities – LDN. A collection of 325 tokens continues the urban landscape theme and was released in October 2022. The volume of secondary sales exceeded 30 ETH.
Distillery collection of 40 images for lovers of elite alcohol. The volume of secondary sales exceeded 14 ETH.
The artist divided his works into 2 categories:
Exclusive works 1/1 on the art of SuperRare, Foundation
Mass collections on OpenSea.
Rektguy NFT Collection
The Rektguy collection of 8814 tokens was launched on May 21, 2022 and is a full-fledged PFP project. Total sales exceeded 26k ETH at the current floor price of 1.25 ETH
The main character was invented quite by accident, but later turned into a key character of the author. His name "rekt" refers to OSF's former job as a stock exchange and trader. In the industry, this was the name given to the situation when the user lost all investment.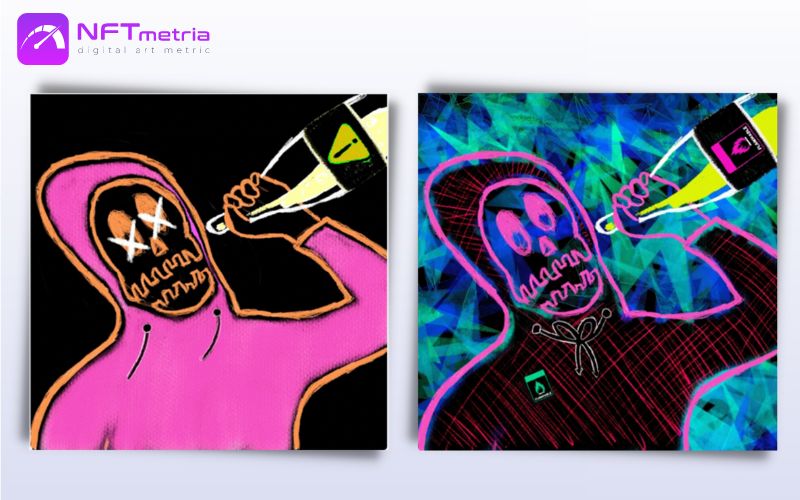 Red Lite District NFT collection
The Red Lite District collection of 210 tokens holds a special place in the artist's heart. It was released in February 2022 and total sales exceeded 1.1 ETH at the current floor price of 12 ETH.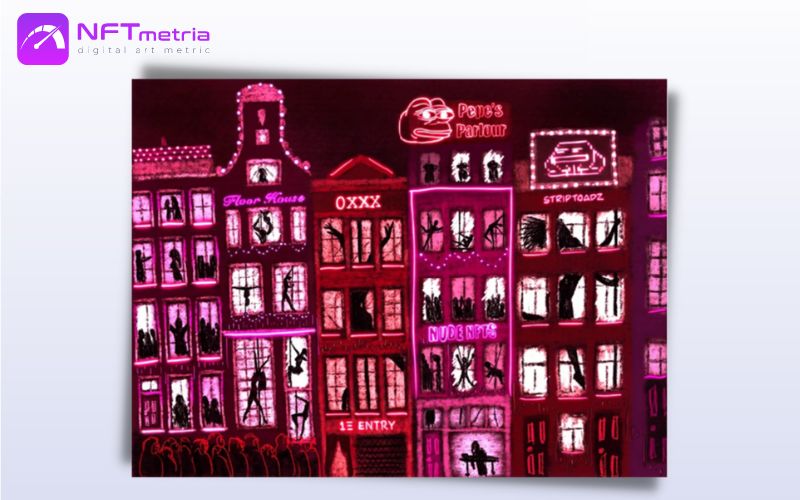 As we wrote earlier, nightscapes for OSF are of great importance. He likes to wander around the night cities and streets, admire their beauty. The author himself notes that the Red Lite District is not some kind of significant or vital place for him, he just likes the atmosphere of this place, it fascinates him.
So, I thought, why don't I take the dark side of Valentine's day. Here's a guy who is single and doesn't have anything to do on Valentine's day, and is strolling around this red-light district and is a little bit seedy. That's what I was going for with that. This is what the author himself says about the idea and concept of his collection.
Editions
Editions is another popular collection of the artist, a collection of works in his unique, signature style. The collection consists of 19 unique illustrations with a total circulation of 3219 tokens, and the floor price is 0.2 ETH. The volume of sales exceeded 1.1k ETH.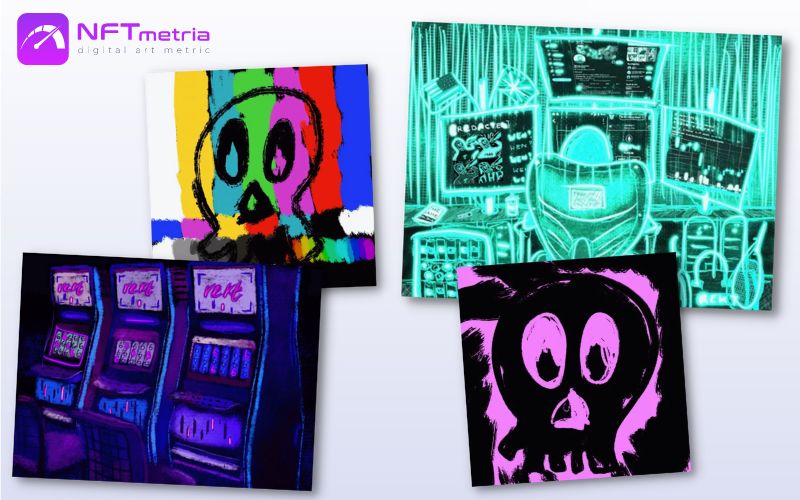 7 Deadly Sins NFT Collection
The 7 Deadly Sins collection appeared in July 2022 and consists of only 9 unique images with a total circulation of 521 tokens.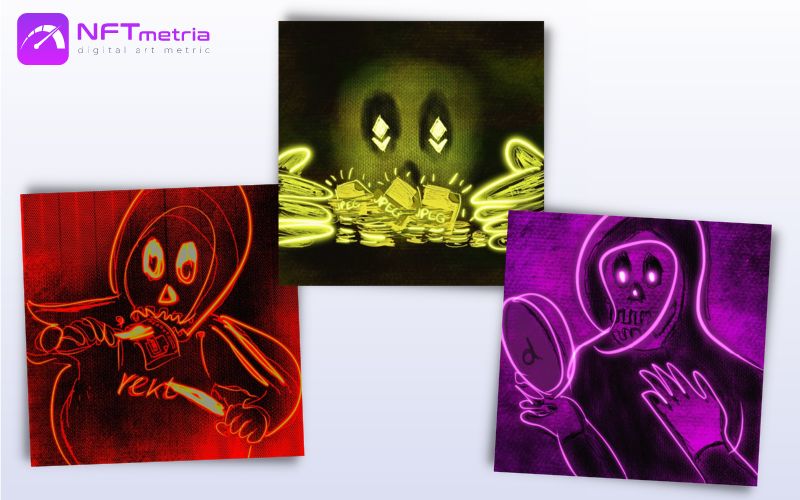 From the name it is not difficult to guess what was the motive for its creation. OSF shows the world and life as he sees and perceives it, feels it as it really is. And he decided to show the 7 deadly sins through the prism of his vision. The total sales volume exceeded 470 ETH at a floor price of 0.35 ETH.
Where can you buy NFTs by OSF?
Now the NFTs of the OSF artist are available only on the secondary market, namely on such marketplaces as SuperRare, Foundation, OpenSea, Nifty Gateway. In addition, you can follow the future updates on the artist's Twitter.
Opinion of NFTmetria
OSF is a non-trivial representative of the field of NFT art. Unlike him, other authors were precisely artists or creative people. OSF himself had nothing to do with creativity until the age of 33, and his success was caused by the idea and its implementation.
OSF has been able to achieve success due to the fact that he has a vast experience in finance, stock markets and investments. In the field of investments and NFT, he feels like a fish in water. He understands, knows and feels all the trends and tendencies of the market. Proof of this is his purchase of over 150 Bored Ape tokens, which are the most valuable asset in the entire NFT space.
In addition, the artist participated in the creation of such projects as Degenz, Tabz NFT, Canary Labs. Having such a track record and experience, he was able to realize himself not only as a bold and bright artist. Today he is an influencer, analyst and competent investor in the NFT market.