LooksRare is a top platform for trading non-fungible tokens generated on the ETH blockchain. Here you can buy NFTs from the latest collections and from legendary brands such as BAYC, Azuki, Doodles.
Recently created, the platform has already become famous for its community focus and generous reward system, including with the help of its own $LOOKS token. Thanks to the fair distribution of income, the most active users of the site became richer by $1.3 million in just one year.
Such facts arouse considerable interest in the LooksRare NFT marketplace. Who is this ambitious newcomer who changed a lot of people with OpenSea? Will he be strong enough to withstand tough competition? Can he become a key player in the NFT market? Let's dive into the details to answer these questions.
What is LooksRare NFT marketplace?
"By NFT people, for NFT people" – with such a slogan, the LooksRare marketplace entered the market, declaring in full voice about its democracy. The platform rewards all its users for all NFT transactions: selling, buying, staking, trait offers and more. And as a reward, developers, traders and collectors receive a native service token – $LOOKS.
The technical architecture of the marketplace, including the front-end, API, databases, one of the best search engines in the world, was developed from scratch. The use of the latest technologies has created a secure, high-speed, highly scalable and user-friendly platform. The modular structure of smart contracts simplifies the constant process of adding new features without sacrificing security.
LooksRare NFT marketplace Official Links
LooksRare NFT marketplace in numbers
The effectiveness of the LooksRare NFT marketplace can be judged by the following numbers:
Trading volume over 10.3 million ETH;
Number of sales over 403k;
Number of traders over 150k;
Fee rate is 2%;
Ranks second among competitors in terms of sales after OpenSea.
Data (including exchange rates) are given at the time of publication of the article (May 06, 2023)
Who and how created the LooksRare NFT marketplace?
The project team represented on the platform consists of 45 people. All of them prefer not to reveal their true names. The co-founders of the project also act under nicknames:
Guts and Zodd launched the marketplace on January 10, 2022 as a competitor to OpenSea. To attract users, the co-founder duo announced a 9-level $LOOKS Airdrop.
Opensea users with a total trading volume of at least 3 ETH for a six-month period (from 06/16/2021 to 12/16/2021) could take part in the distribution of $LOOKS – tokens. They became eligible to claim $LOOKS after listing their NFTs (ERC-721 / ERC-1155) for sale on LooksRare.
However, as Bloomberg reports, LooksRare's main source of trading volume is were not rewards in the form of $LOOKS, but the so-called "wash sales" (simultaneous purchase and sale of the same tokens).
Pros and Cons of LooksRare NFT marketplace
Pros:
Encouragement of all active users (all 100% of commission fees are used as rewards);
Staking with a $LOOKS token with income (WETH / $LOOKS) with a high interest rate;
Continuous addition of advanced features ("Bulk-buy on LooksRare", "Collection offer", "Trait offer", "Multi-cancellation");
Aggregation with OpenSea, allowing you to buy NFT from this platform in any quantity;
Quick notifications about the most important transactions;
Instant receipt of royalties (NFT creators receive royalties at the time of sale);
Aggregation with MoonPay, which allows you to instantly buy ETH, LOOKS or WETH with a credit card.
Minuses:
As yet a limited number of supported currencies and wallets.
Interface of LooksRare NFT marketplace
The platform's intuitive interface offers two operating modes (light and dark) and support for 19 languages. Thoughtful navigation makes it easy for any beginner to start their NFT journey:
To start, you just need to click the "Connect" button on the main page of the platform, which will allow you to connect your wallet to it (MetaMask / WalletConnect / Coinbase Wallet / Rainbow)
To view collection tokens, you need to enter the "Explore" or "Collections" tab and start viewing and selecting NFTs (by name / identifier / price)
The "Buy Now" button will allow you to immediately purchase NFT if the price of the token is fixed. Otherwise, you can apply to buy in ETH or WETH; the "Collections Offer" option will allow you to buy in bulk
To sell collectible tokens, you need to enter the "List an NFT" tab, which will lead the user to his wallet with a list of all NFTs, and click the "Sell" button
For NFT mining, just enter the "Manifold" tab and select the "Create a Collection" option
To start staking, you need to go to the "Rewards" tab from the main page.
LooksRare NFT Marketplace Commission
LooksRare charges a 2% commission on NFT sales. At the same time, the platform offers many reward options: for trading, for bets, trait offers, etc. In addition, the V2 version of the trading platform based on gas saving contracts, allows users to save up to 30% on gas fees compared to the V1 platform.
Native token $LOOKS
$LOOKS is the native, fungible token of the LooksRare platform. It was created on the Ethereum (ERC-20) blockchain with service functions fixed in the site protocol. $LOOKS is for internal use only on the LooksRare platform.
The platform team draws the attention of users to the fact that $LOOKS is designed to encourage active participants in the ecosystem. Using $LOOKS allows you to earn up to 31% of daily trading commissions in WETH, on top of additional $LOOKS.
The maximum offer amount is $LOOKS – 1,000,000,000. At the time of writing, the token is trading at $0.1326.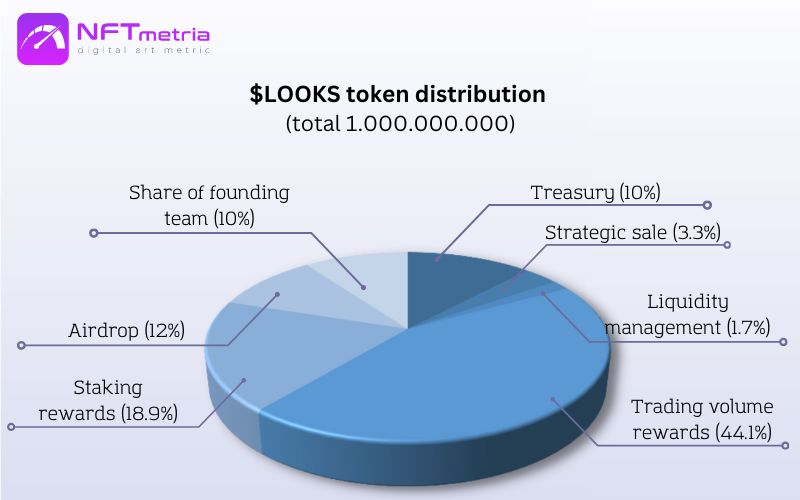 LooksRare VS OpenSea – which is better?
LooksRare is one of OpenSea's serious competitors in the NFT market. While OpenSea is currently leading in terms of all-time trading volume (over 13.1M ETH), LooksRare is in second place (over 10.3M ETH). Other advantages of LooksRare over OpenSea are:
Availability of its own token, which allows to introduce effective mechanisms for various user rewards;
Lower transaction fees (2.5% on OpenSea, 2% on LooksRare) with a 100% refund to those who place bets on $LOOKS.
At the same time, the marketplace is inferior to OpenSea according to some criteria:
While OpenSea supports 14 wallets, LooksRare is still limited to four (WalletConnect, MetaMask, Coinbase Wallet, Rainbow);
OpenSea accepts over 150 currencies as payment, while LooksRare only supports ETH and WETH.
Choosing between OpenSea and LooksRare is not an easy task. If you want to work on a marketplace with extensive experience and a wide range of supported wallets and currencies – choose OpenSea. If you are attracted by the opportunity to receive various rewards for your activity – welcome to LooksRare. Based on your own preferences, don't rush to make a choice – carefully research both platforms first.
Opinion of NFTmetria
From the very first days of its operation, the LooksRare NFT marketplace made itself known by announcing a generous $LOOKS Airdrop. Thus, the platform quickly gained popularity, giving an opportunity to make good money to all its active participants – NFT developers, traders and collectors.
Judging by the regular introduction of new features, the marketplace is not going to stop there. With further advancement at the same pace, the platform may well become the headliner of the NFT market. This is a project with great potential, opening up wide prospects.