A cult NFT brand, an anime style icon in the Web3 space, a strong community, multi-million dollar sales, confident leadership, various benefits and opportunities for holders: this is all about the Azuki NFT collection.
Since its inception in January 2022, Azuki has been a top NFT project with impressive sales, records, and a collection of 10,000 avatars. In the field of NFT anime, the project is a leading community. And his avatars feature a unique anime-inspired style that was common in the anime industry in the early 2000s.
Today we will analyze one of the top collections, which managed to create a strong ecosystem, get the blue-chip title and almost die because of the confessions of its co-owner.
Azuki Official Links
Azuki in numbers
The project was launched on January 12, 2022.
Initially, 8700 NFTs were issued, and then 1300 more were minted. The total collection is presented in the amount of 10,000 NFTs.
The first issue of the collection sold out in 3 minutes at $3,400 per NFT, generating $29 million in revenue for the team in a couple of minutes.
In February 2022, a month after launch, Azuki surpassed top collections such as CryptoPunks and Bored Ape Yacht Club in 30 days with a record $300 million in total sales.
Total sales for the entire period exceeded 625K ETH ($1.03 billion), making it the 4th best collection by sales volume on OpenSea.
Azuki #9605, declared the second rarest in the collection, was sold on March 30, 2022 for a record 420.7 ETH ($1.4 million at the time of sale).
The floor price is 4.2 ETH ($7K).
At the peak of sales, the average price of the token was 36 ETH (48.2K dollars).
A total of just over 4,260 unique owners, that is, about 42% of the total number of issued tokens.
On sale in the secondary market is now 2% of the entire collection, which is a good indicator.
Information (including exchange rates) is at the time of writing
What is Azuki NFT collection?
Azuki offers a unique NFT collection of 10,000 anime-style avatars, representing digital samurai and smoking skateboarders. These hand-drawn characters grant users exclusive membership access to The Garden community. The product gained instant exclusivity due to its high price and intricate plan, enhanced by influencers hailing it as a hot commodity.
In an unprecedented event, 8,700 NFTs were sold for $3,400 each, totaling a remarkable $29 million valuation. This astonishing sell-out occurred not in weeks, days, or even hours, but in a mere three minutes, making it one of the fastest NFT selloffs in history.
Azuki types and attributes
All Azuki NTFs have different traits in regards to hair, backgrounds, clothing, and various wearables – some characters hold swords, a coffee cup, a skateboard, or a boombox.
There are four different "types" in the collection:
Human (9018),
Blue (444),
Red (441),
Spirit (97).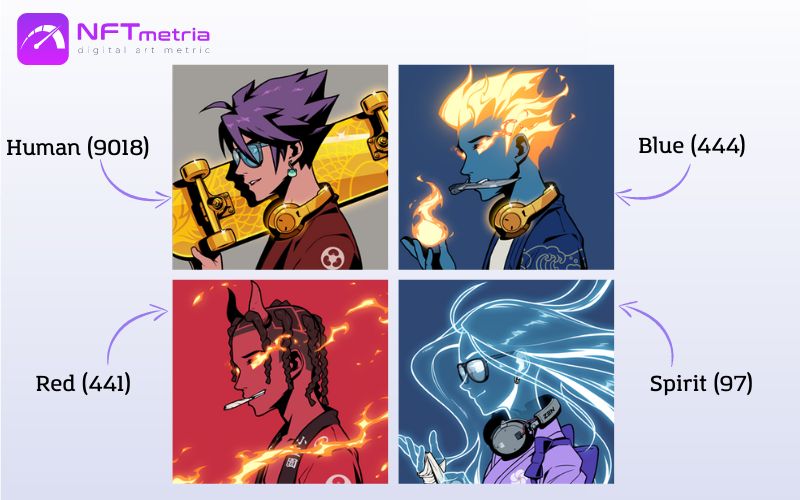 In addition to the main types in the collection, there are various attributes that differ in rarity.
Background,
Clothing,
Ear,
Eyes
Face,
Hair,
Headgear,
Mouth,
Neck
Offhand,
Special.
And various combinations of these attributes give a unique character, which also turns out to be rare or often found.
Consider examples:
Red spirit #6457 with a dark background and sakura is considered one of the rarest. And was previously sold for 66.69 ETH.
Man #4930 with headphones, red yukata and relaxed mouth is not that rare. And earlier it was sold for 11.9 ETH.
Who created Azuki?
The project was created by Chiru Labs, a Los Angeles-based team of artists and engineers with experience in games, technology, and cryptocurrency.
The band consists of: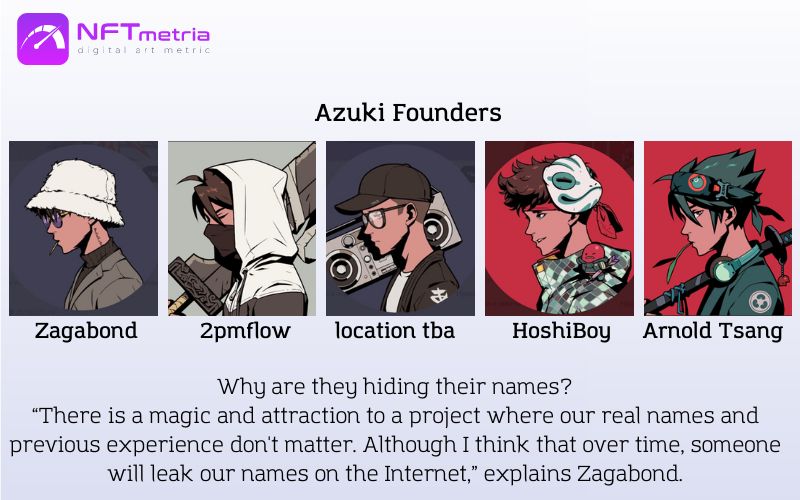 The first four founders of Chiru Labs remain anonymous, which is not surprising in a privacy freak. But the fifth key player in Chiru is relatively well-known in the gaming industry – Arnold Tsang.
Our dream is that the Azuki brand has such a large intellectual property that there will be animated series, games and other merchandise. I decided to reveal my name as a manifestation and encouragement of trust. Here I am and here is my work. Trust me. After earning money, I will not run away to a deserted island. Tsang explains
Who owns Azuki?
On August 26, 2022, Adrian Cheng, Executive Vice Chairman and CEO of Hong Kong New World Group, stated that he is LastKnight, an anonymous Web3 supporter who owns 101 Azuki NFTs
Also, in the ranks of famous owners are present:
Almost all other owners of these tokens decided to remain incognito.
How did Azuki become blue chip?
The collection was initially planned to be sold through a Dutch auction, starting at 1 ETH and decreasing by 0.05 ETH every 20 minutes until it reached 0.15 ETH. However, it quickly sold out at the initial price of 1 ETH within three minutes, bringing in over $29 million. Subsequent secondary sales added another $2 million.
In the following weeks, the collection's value soared, with transactions surpassing $300 million across major platforms like OpenSea by February 11. This remarkable growth outpaced renowned collections such as CryptoPunks and Bored Apes within just 30 days.
Chiru Labs, the project's creator, receives a 5% royalty on each resale, earning $15 million from the secondary market on top of the initial $31 million. Consequently, this project stands among prestigious assets like BAYC, MAYC and CryptoPunks in the realm of blue-chip investments.
Why are Azuki popular?
With an overwhelming influx of over 1,000 new NFT collections every month, only a handful manage to ascend to the top, leaving the majority to languish in obscurity. However, this fate was not the destiny of Azuki NFT project, and its rapid success can be attributed to several key factors:
Strong Demand in the Anime Genre: The project cleverly tapped into the fervent demand for anime-related content within the NFT market. Its aesthetically pleasing avatars found resonance, particularly in Asia where anime enjoys immense popularity. Zagabond, a prominent figure, affirmed that this project marked the first NFT purchase for many Asian investors.
Appealing to Crypto Culture: The collection encapsulated a rebellious skateboard culture, striking a chord with both crypto enthusiasts and NFT aficionados.
Exclusive Community Access: NFT owners were granted exclusive membership to 'The Garden,' a unique community hub. The development team sweetened the deal with regular releases of exclusive streetwear collaborations, NFT drops, live events, and more.
Strategic Promotions and Loyalty Rewards: The team strategically capitalized on their momentum, announcing eagerly awaited giveaways for existing holders. This not only rewarded their loyal base but also elevated the Azuki brand, taking it to new heights.
Exceptional User Experience: Collectors appreciated the project's official site, featuring a sophisticated gallery equipped with OpenSea-style filters. This allowed users to efficiently search for items based on specific criteria like hats, clothing, or facial expressions.
Innovative Smart Contract: The development team pioneered a groundbreaking change for the future of NFT collections by introducing the ERC721A token standard. This innovation significantly reduced gas costs for minting multiple NFTs in a single transaction, resulting in substantial savings, both realized and anticipated.
Thanks to these strategic decisions and innovations, this NFT project has rightfully earned its place among the best NFT collections in history.
Azuki Roadmap
If you're considering becoming a part of this project's community as a collector or investor, a thorough review of the roadmap is essential. This document allows you to assess the project's potential, team dynamics, goal execution, and promises. We discussed the importance of this criterion in our article 'Investment Valuation NFT: How to Evaluate an NFT Project?' Azuki's roadmap (2022), or rather Mindmap as per the developers' terminology, stands out as one of the best in the industry. It is worth considering that this roadmap is outdated – for 2022. The team did not provide current data (2023-2024).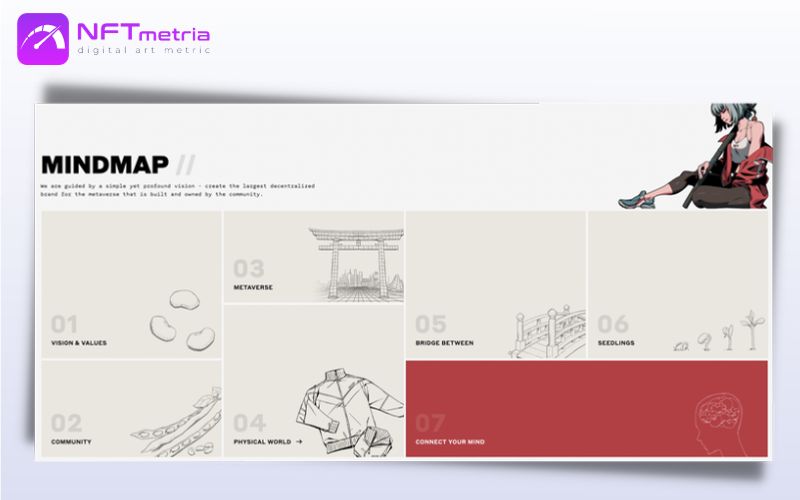 Here's what sets it apart:
Comprehensive Structure: The Mindmap comprises 7 modules, covering everything from values and vision to physical privileges and the metaverse. This comprehensive approach ensures a holistic view of the project's trajectory.
Clarity and Coherence: All modules are structured with clarity, style, and visual coherence. This design makes it easy for stakeholders to understand the intricate details of the project's development journey.
Visionary Direction: The team demonstrates a clear vision, even though specific details are subject to change. While exact deadlines might not be provided, the roadmap does offer insights into the task statuses, allowing for a transparent view of the project's progress.
In essence, Mindmap stands as a model of transparent and comprehensive project planning, providing potential investors and collectors with valuable insights into the project's trajectory and potential.
Azuki Ecosystem Projects
The Chiru Labs team has taken the best of the NFT market experience to date. So, she held a free airdrop among the holders of the main tokens, issued a token for managing the future DAO and is in the process of developing her own metaverse. All these activities, of course, increase the value and prospects of the project, increase the level of trust and the scale of the community and attract new investors. Let's take a closer look at the projects below.
Bobu, the Bean Farmer is a participation token in the future DAO
Bobu, the Bean Farmer is a 50,000 NFT collection of the Bean Farmer, Bobu, released on March 6, 2022. ERC-1155 tokens are a decentralized intellectual property experiment created by Chiru Labs.
Bobu is Azuki #40 and revolves around the story of an honest bean farmer owned by the community. This tokens are a way to join the experiment in decentralized management of character intellectual property.
To date:
• You can buy a token for at least 0.008 ETH,

• Total sales exceeded 4.7K ETH,

• Over 11K owners in total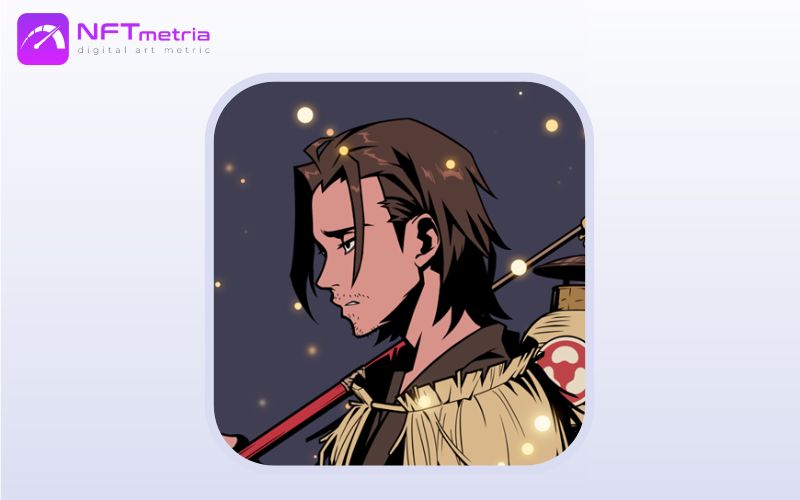 While the details have yet to be determined, it is known that Bobu will play an important role in Azuki's story as the project's universe expands.
Beanz NFT Collection
The Beanz Collection, Azuki's largest expansion to date, was released on April 1, 2022. Owners of the original anime NFTs each received 2 NFTs for free, with the claim that they serve as a sort of helper in brand development. Much like BAYC did with MAYC and Doodles did with Space Doodles, Azuki capitalized on the need to grow the brand without diluting the original collection.
Introducing BEANZ: a small species that sprout from dirt in the garden. Being a sidekick is in their DNA, although some like to kick it alone.

They're earnestly driven by the desire to help. However, certain BEANZ feel a calling to pave their own path…🧵 pic.twitter.com/jMaFF8XwgC

— Azuki (@Azuki) April 18, 2022
Beanz has helped lower the barrier to entry into the ecosystem by issuing a collection of nearly 20,000 NFTs. Additionally, Beanz owners get access to the Azuki server-only Discord channel and will be eligible to receive the following branded merchandise.
To date:
You can buy a token for a minimum of 0.3 ETH,

Total sales exceeded 169K ETH ($278k),

The most expensive Beanz #4096 was sold for 90 ETH,

Over 8K unique owners.
Metaverse The Garden
With the NFT anime, you also get membership access to The Garden, where builders, artists, and web3 wizards hang out.
The Garden is a corner of the internet where art, community and culture come together to create magic. The boundaries between the physical and digital worlds are blurring and the rules are being rewritten.
This metaverse will be home to interactive multimedia experiences, games, community incentives, and perhaps even comics and animation. However, the "bridge between" the metaverse and real-life activation seems to be Chiru's most important initiative.
But so far, according to the developers themselves, the project is under development and research. They don't have a task to do quickly. The team conceptually and technically covers a wide range of tasks, so this project is likely to be large-scale. And now this community is represented in the form of communication on Twitter and Discord.
Hilumia: Azuki's Thriving NFT Universe
From the very start, Azuki aimed for more than just being a collection of NFTs for profile pictures; they hinted at grand future plans to their community. Apart from the NFT benefits like exclusive access to The Garden and physical events, the project had ambitious goals of creating a gamified metaverse. In January 2023, the team unveiled Hilumia, their immersive virtual world.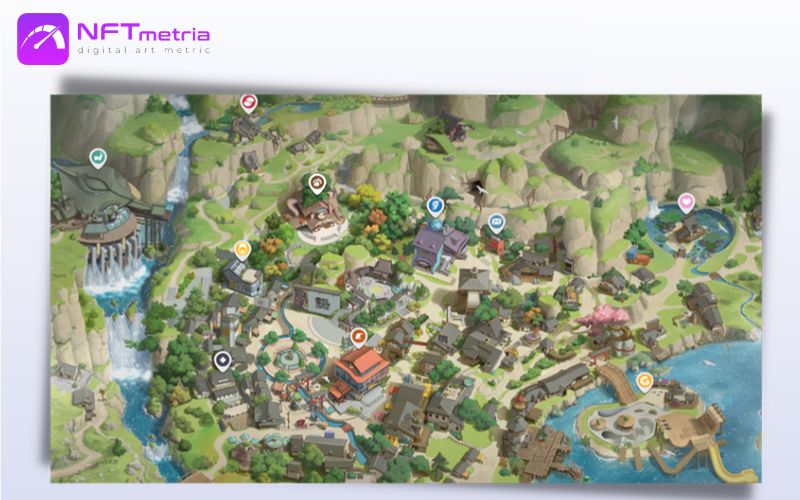 The Hilumia city interactive map marks Azuki's initial venture into the metaverse, offering NFTs an extensive journey. Accessible on the official website, it showcases 10 unique locations promising distinct experiences for the community.
This strategic move encouraged collectors to retain their investments rather than swiftly selling NFTs, recognizing Azuki's substantial value. Furthermore, a unique NFT from the collection, Bobu, is set to be fractionated and converted into the native token of the ecosystem. While the full scope of Azuki's metaverse offerings remains unknown, it undoubtedly promises an abundance of NFT storytelling.
Azuki Elementals: The Latest Collection
In June 2023, the project unveiled its latest venture – Azuki Elementals, a remarkable collection of 20,000 anime-inspired characters categorized into four elements: water, earth, fire, and lightning. While the narrative specifics were scant, the high-quality animated trailer hinted at inspiration drawn from Nickelodeon's hit series, Avatar: The Last Airbender.
Azuki's announcement on Twitter highlighted the connection between Elementals and Hilumia Garden, emphasizing their division into Four Domains. This new collection mirrors the anime style of OG collection and stands as Chiru Labs' most intricate art project to date.
Initially, 10,000 undisclosed Elementals were distributed to existing Azuki holders, while the remaining 10,000 were available for minting on June 27. The minting process, along with the option for instant purchase, stirred varied reactions within the cryptocommunity. Despite initial distribution challenges, Elementals witnessed a surge in secondary market sales, significantly amplifying the sales of Azuki's entire ecosystem.
How much do Azuki cost?
When they launched, anime-style characters cost 1 ETH ($3,400 at the time of sale) apiece. Since then, sales peaked in April-May 2022, where on average they stood at 24-30 ETH.
To visualize the price dynamics, we made a cut at the average price for 1 NFT:
In February 2022: 14 ETH,
In May 2022: 15 ETH,
In August 2022: 9 ETH,
In December 2022: 13 ETH,
In May 2023: 16 ETH.
Now (October 2023) the floor price is 4.4 ETH. On average, the latest sales are in the range of 4.2-6 ETH.
Most Expensive Azuki Sales
Azuki #9605, announced as the second rarest in the collection, was sold on March 30, 2022 for 420.7 ETH ($1.4 million at the time of sale) on the OpenSea marketplace. This is the highest price in the history of the sale of the collection.
#7257 sold on January 5, 2023 for 288.69 ETH ($362K at time of purchase).
#3602 sold April 7, 2022 for 275 ETH ($871K at the time of purchase).
#5172 sold on April 12, 2023 for 245 ETH ($470K at time of purchase).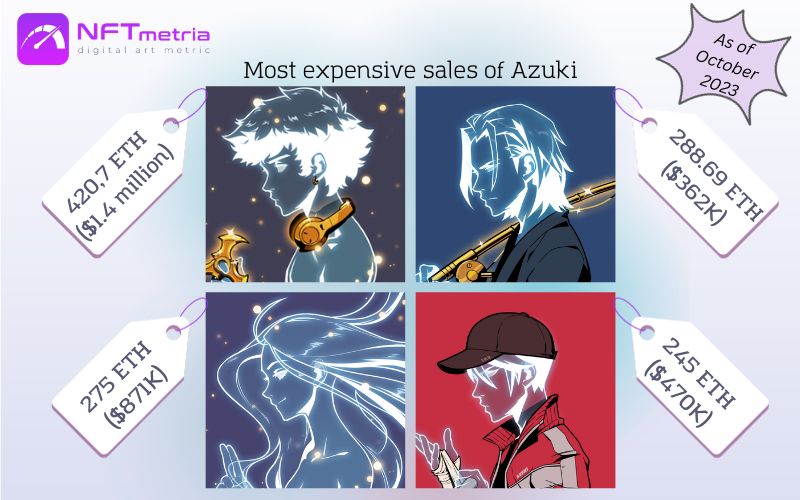 You can also see our ranking of the most expensive, rarest and most popular Azuki.
Where to buy Azuki?
In early January 2022, the NFTs were at their peak and quickly sold out. Now they can only be bought in secondary markets. You can see all NFTs available for sale on their page only on the marketplaces:
How to buy Azuki?
Remember that initially you need to connect your crypto wallet with self-storage.
Next, find the official collection (in the previous paragraph, we posted links to official accounts),
Find the NFT you want to buy, click on it and click the "Buy" button.
Or you can bet on the token you like. Make sure you leave enough ETH for gas or transaction fees. If the seller approves your bid, the deal goes through.
Congratulations, you are now a privileged member of the Azuki Club and The Garden Metaverse.
Latest news about Azuki NFT project
This extensive review would be incomplete if we did not touch on important news about the project itself. So, below are the largest of them.
Confession from Zagabond, co-founder of Azuki
During the night of May 9-10, 2022, the founder, who goes by the moniker Zagabond, shared a post on his Twitter account discussing his previous ventures in the crypto space. The post quickly gained traction on Twitter and various social media platforms, causing many holders to question their investments. Consequently, numerous holders decided to sell their rare copies at a loss.
It was revealed that prior to Azuki, Zagabond had been involved in projects such as CryptoPhunks, Tendies, and CryptoZunks. Astonishingly, all three initiatives were launched within an 8-month timeframe and experienced significant setbacks, ultimately resulting in failure. What added to the disappointment was feedback from Zagabond's former colleagues, who insinuated that these projects initiated by him were not just unsuccessful ventures but also potentially involved fraudulent practices.
As a creator of Phunks, Tendies & Zunks, I apologize to these communities which I made out to be "learnings" on the path to creating Azuki. There should've been more transparency and communication & the handovers should've been handled with more care. What we plan to do:

2/x

— ZAGABOND.ETH (@ZAGABOND) May 11, 2022
The community was deeply upset by the information they came across, resulting in a rapid drop in Azuki's floor price. This triggered a widespread abandonment of these NFTs, causing their value to plummet by 50%.
Eventually, Zagabond publicly apologized on Twitter and remained actively involved in shaping the brand. The collection managed to recover partially, largely thanks to the unwavering support of its dedicated community.
Azuki Announces Physical Backed Token (PBT)
On October 18, 2022, the team released a new product called PBT (Physical Backed Token) to create a connection between the real world and the blockchain. The PBT will use the BEAN chip, a cryptographic chip that attaches an object to the PBT for authentication and proof of ownership, can generate asymmetric key pairs, provide decentralized authentication, and track ownership of physical items.
NFL star Patrick Mahomes releases trading cards for Azuki holders
two-time Super Bowl champion Patrick Mahomes, quarterback for the Kansas City Chiefs, released trading cards for Azuki NFT holders as part of The Museum of Mahomes. The cards, featuring Patrick Mahomes himself, were designed by the NFT brand's art team.
Future of Azuki
Azuki aims to create its unique online metaverse, complete with interactive multimedia events, games, community competitions, and potentially even animated series and comics. However, Chiru believes that the pivotal project lies in establishing a "bridge" between the metaverse and real-life activation.
We are driven by a simple yet profound vision – to create the largest decentralized brand for a community-created and owned metaverse.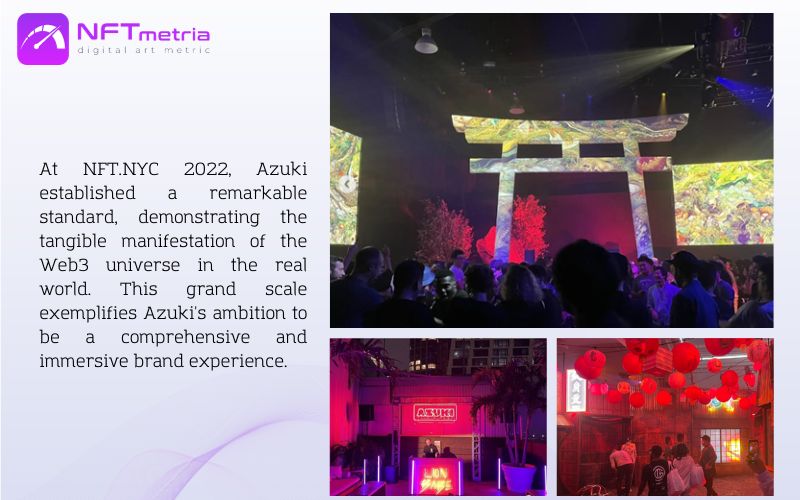 Chiru Labs representatives are outlining their strategic initiatives to expand and generate new revenue streams. Beyond the successful token sales, they are now venturing into diverse product lines and innovative concepts:
Introduction of a Clothing Line: Their upcoming clothing collection, with a red jacket as the inaugural item, will soon be available for purchase.
Integration of Artists in Show Business: Chiru Labs intends to collaborate with artists from the entertainment industry, basing their personas on characters from their collection.
Penetration into Hollywood: They are in the process of negotiating contracts with various film studios, aiming to utilize their collection's characters as intellectual property in film projects.
Brand Expansion in the Metaverse: Chiru Labs is actively working on enhancing their brand presence within the metaverse, exploring immersive digital experiences and engagements.
Should you invest in Azuki?
In just a few months post-launch, this project swiftly rose to prominence in the NFT market, owing to its distinctive concept, strategic marketing, and robust technical foundation. Even after the initial hype waned six months later, what remains is a project marked by stability and promise, devoid of erratic fluctuations. It boasts a dedicated and substantial community, a testament to the project's enduring appeal.
Crucial to its success are the project's core concept and its expansive community. The global enthusiasm for anime has steadily gained momentum over the past two decades, particularly in Asia, where its followers number in the tens of millions. As is well-known, devoted fans are steadfast in their support of their favorite idols.
Projects of such caliber are rare in the market. Hence, if you're contemplating NFT investments, Azuki merits serious consideration. However, it's imperative to base any investment decision on thorough personal research and a comprehensive assessment of all associated risks.
Opinion of NFTmetria
In an incredibly short span, Azuki has ascended to the ranks of top NFT projects, standing shoulder to shoulder with industry giants like Yuga Labs and Doodles. This achievement goes beyond mere aesthetic appeal.
Firstly, Azuki found its niche in anime, a genre boasting millions of dedicated fans worldwide.
Secondly, its success can be attributed to astute positioning, promising development prospects, and effective marketing strategies, substantiated by monthly sales reaching $300 million.
Furthermore, Azuki and the Chiru Labs team are actively shaping the blueprint for their Web3 brand's real-world presence. They are poised to invest significant resources in the coming years, bridging the gap between their existence as a PFP NFT community and evolving into a fully-fledged consumer brand. This strategic move positions them among the most popular and prosperous entities in the competitive NFT market.