Doodles is one of the best examples of the potential use of NFTs to build a global collectibles brand and global media corporation in the long run.
In just a few months, the colorful cartoons have made Doodles one of the best NFT projects today. In our in-depth review, you will find out why they are so popular, who is at the head of the team, what derivative projects have managed to show the world, whether these non-fungible tokens are worth investing in, and much more.
And also watch our video review about the collection:
Doodles Official Links
Doodles in numbers
The project was launched on October 17, 2021,
The collection is ranked #11 on the OpenSea marketplace for all-time sales,
A total of 10,000 different cartoon avatars in the form of people, cats, cucumbers, monkeys, skeletons, aliens and many more.
Mint of the collection was produced at a price of 0.123 ETH, which was quite expensive at that time.
Sales exceeded $530 million,
Market capitalization exceeded $105 million,
Today you can buy the cheapest NFT from the collection at a price of 1.3 ETH (over $2k),
The most expensive NFT was purchased by renowned NFT influencer Pranksy for 296.69 ETH ($1.05 million at the time of sale)
In less than a year, the creators have already produced 5 airdrops for holders of the main tokens.
After a $54 million investment in the project by Reddit founder Alexis Ohanian, the company is valued at $704 million.
The data is given at the time of publication of the article (including exchange rates)
What is Doodles NFT collection?
Doodles is a collection of 10,000 cartoon NFTs that launched on October 17, 2021 at a minimum price of 0.123 ETH each (roughly $300 at the time). The collection is based on the Ethereum blockchain based on the ERC-721 token standard.
The hand-drawn pastel images consist of playful characters in animal costumes, colorful jewelry, sunglasses and more. There are also non-human characters such as cucumbers, cats, skeletons, and monkeys scattered throughout the collection. These attributes have been mixed and matched to create over 100 rarity traits that influence their popularity and value in the secondary market, similar to other collections such as CryptoPunks and Bored Ape Yacht Club.
In addition, the community voting process (DoodlesBank), its anti-fraud culture, and artist-focused entertainment helped advance the trend behind the project.
Doodles attributes
The artists depicted various cartoon characters in bright pastel colors. Artist Burnt Toast designed variations of each trait category to fit different rarity levels. There are 265 different traits in total.
So, what are the traits and attributes?
Background (33 varieties),
Body (55 varieties),
Face (56 varieties),
Hair (73 varieties),
Head (45 varieties),
Piercing (3 varieties).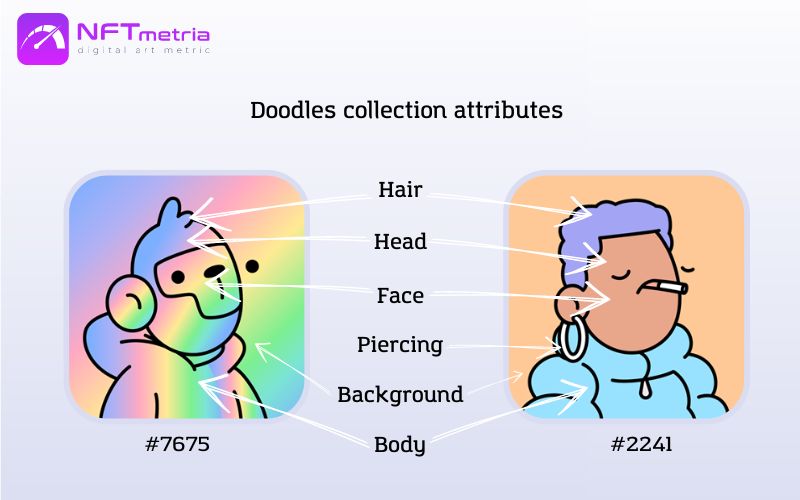 Accordingly, either popular or rare characters get from a combination of these traits.
For example:
#7675 (owned by Pranksy, by the way) is considered very rare and one of the most expensive. He has 5 traits, 3 of them are the only ones in the collection, and the Holographic hoodie is found only on two characters. Thanks to so many unique attributes and their combination, the token was sold for 250 ETH ($697K at the time of purchase).
In contrast, #2241 has all 6 popular qualities. Every tenth character has his hoop and tan, every thirteenth has an orange background, and every eighteenth has a chill cig. So, its market price is now 8.2 ETH ($10.6K at the time of writing).
Who created Doodles?
Doodles is the brainchild of co-founders Scott Martin (alias Burnt Toast), Evan Kist (Tulip), and Jordan Castro (Poopie).
Scott Martin, the artist behind the project, is an illustrator, designer, animator and muralist. He is also known to the public under the pseudonym Burnt Toast. In January 2022, he said his focus was on "making good art and reaching a wide audience". Prior to Doodles, he has created art for brands such as Google, Skillshare, Dropbox and Adobe.
Evan Kist @evankeast, also known as "Tulip", is the branding face of the project. He previously worked at Dapper Labs and led the marketing for the popular blockchain game CryptoKitties.
Jordan Castro @poopie, alias "Poopie", specializes in products and worked alongside Kist at Dapper Labs as Product Lead for CryptoKitties.
In May 2022, the team added former Billboard President Julian Holguin as a partner and CEO to "make music, gaming, premium content and consumer products."
In June 2022, the brand engaged musician and producer Farrell as the project's chief brand officer for "music projects, animated film and TV productions, and direct creative product launches."
The team itself consists of experienced professionals within 30 people. And their headquarters is in Miami, Florida, USA.
Who owns Doodles?
The collection has aroused the interest of many popular collectors.
Among them are the following individuals:
Had to stop my show to celebrate my excitement on my doodle! Nfts make me feel like a kid again 🎁 @doodles pic.twitter.com/hJU0rE3EpT

— Steve Aoki (@steveaoki) January 12, 2022
#NFTs and chill @doodles pic.twitter.com/BjiNrLTIwN

— Pranksy 📦 (@pranksy) January 19, 2022
Entrepreneur and influencer Gary Vee,
Reddit co-founder Alexis Ohanian,
And many others.
How did Doodles become blue chip?
On October 17, 2021, the creators released the collection, initially priced at 0.123 ETH per mint. At the time, the price of a mint was considered relatively high. Prior to them, most of the PFP projects implemented minimum prices below 0.1 ETH. However, the founding team chose this higher price to secure an initial coffer of ~420 ETH.
During the deployment of the Doodles project, they tried something that seemed to have never been done before in the PFP project. About a month before the project went live, the team closed Discord when the membership reached just over 1,000 people. This made it so that new members could not join, creating an additional layer of exclusivity within the project's community.
However, as the release date of the collection approached, the number of followers of the project continued to grow. And the decision to shut down Discord has come to be seen as a groundbreaking way to reward early supporters of the NFT project.
Shortly after the supply of tokens sold out, the Discord server was reopened, bringing many new collectors and enthusiasts to the community. In the months that followed, a large number of NFT influencers and famous celebrities joined Doodles as collectors, further solidifying the project as one of the most popular PFP communities.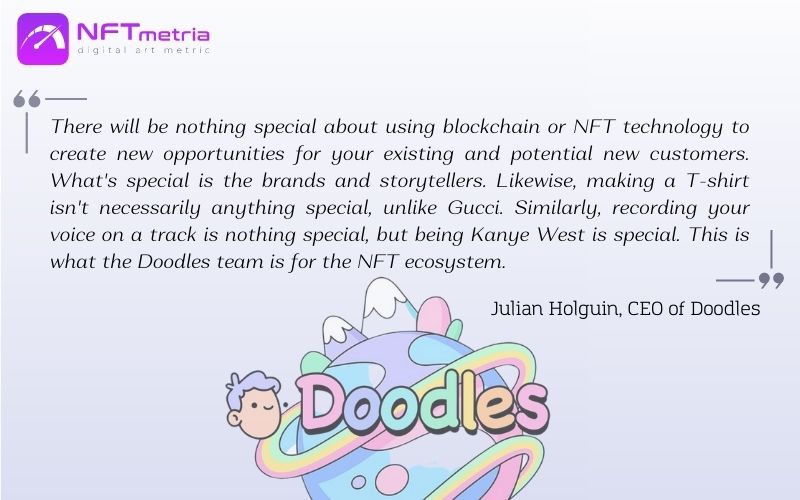 Why are Doodles so popular and expensive?
There are several factors that contribute to the growth of the popularity of the project and, accordingly, the cost. Their distinctive art style, unique community structure, and member benefits make for a powerful combination of assets.
1. Initial hype
Before the release of the collection, the creators successfully increased curiosity when they shut down their Discord after only 1,000 members had joined. No NFT community has done this before. And the resulting exclusivity factor created even more awareness over the next month before the public mint. Shortly after the entire collection was sold out, the creators reopened Discord. There was an influx of interested people and collectors wanting to know more about the project, its unique community and its distinctive design.
2. Community focus
While other NFT communities encourage member communication and artwork, Doodles takes it one step further. In the community and treasury of Doodlebank, all members have a voice and potential influence on projects. Members can submit ideas, vote and collaborate with others.
3. Colorful art style
Artist Burnt Toast managed to create a great look. A vibrant rainbow of pastels blended together and a painting style set the collection apart from many other darker designs. The style is so unique that one quick look at Noodles or Space Doodles reveals that they are related to the regular Doodles. You can see for yourself in the further analysis of projects in this article.
4. Experienced team
The rich experience of the creators also adds to the appeal of these NFTs. One of the co-founders was the head of the CryptoKitties product and the other was the head of the marketing department. In addition, another co-founder of Burnt Toast is an influencer who has been gathering fans of his work for more than a decade.
5. Own airdrops
Who in the existing market can spend at least 5 additional airdrops for their holders in less than a year? But Doodles can. And this amazes the public, and for the owners it causes delight and loyalty to the managers. The team scales the brand as much as possible, thereby increasing the value of its name and asset value. Read more about all derivative projects later in our article.
6. Perspectives and Utilities in the Real World
The company aims to become a global web entertainment company, including art installations, concerts and merchandise. Already, 2 offline large-scale events have been held, a recording studio has been created, and our own merch is being sold. And how many more goals the company has in this direction – one can only guess.
7. Culture of anti-fraud and supporting artists
The collection quickly became the inspiration for numerous derivative and replica designs. The team seems to have foreseen this issue as they have already created a kind of derivative approval system in their Discord.
Developers were invited to submit official proposals for projects based on the main collection. Numerous projects submitted by the Doodles community have been voted on. And collections like Noodles and Pukenza were obtained directly from the 1 Doodle = 1 Vote system.
A scam alert channel has also been added to the Doodles server, encouraging a "saw something, said something" mentality. To date, a large number of fraudulent accounts and projects have been registered there. And it looks like the channel has been very helpful in reducing unauthorized forgeries and potential scams.
Doodles Roadmap
While many projects have a clear goal roadmap and timeline, the Doodles roadmap is different. As stated on the website, token holders have the right to vote on community features, events, and products. The community voting structure makes the Doodles roadmap collaborative. And this means that the owners and founders ultimately make the decision to channel it through Doodlebank. One look at Doodlebank shows just how much better it can be than the official roadmap. There are many good project proposals. Although they do not have a long-term roadmap, visiting the website shows the current status of proposals, ideas and projects.
Doodles Ecosystem
Airdrops and various projects from the creators of Doodles have helped make this collection so popular. Moreover, by their number, you can see for yourself how versatile and deep the ecosystem the team creates. And they achieved all these results in less than a year. Very impressive.
Let's finally see what the creators were able to bring to life.
DoodleBank is a community DAO
Doodlebank is the treasury section of the community. Essentially, it provides a forum for suggestions and ideas on what to do with a community-voted project. In this case, the owners receive 1 vote for each Doodle that they have.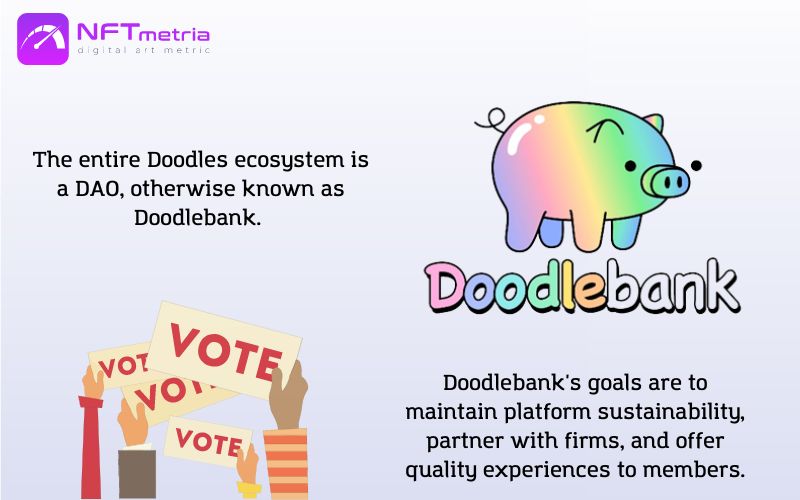 And this is a really working mechanism. From recent events, the community has voted for:
expanding the project team, hiring employees,
decisions about where to send charitable donations,
Secondary/derivative projects such as Noodles and Pukenza.
Noodles NFT Collection
A group of Doodles NFT holders proposed a derivative project called Noodles to the community in November 2021. A food-based project inspired by the art style of Burnt Toast was the first officially approved derivative venture through Doodlebank.
Noodles was released on December 15, 2021. In total, the collection consists of 5555 pieces. Doodle owners who got the role of Free Mint and sent their ETH address for mining to Discord were able to mint 1 noodle for free. The public sale was for the remaining Noodles at a price of 0.05 ETH.
To date, the most expensive Noodles have sold for 20.18, 15, 7.5 ETH. And the average sales fluctuate around 0.05-0.1 ETH. In general, sales for the collection reached a level of 2.9K ETH.
Pukenza NFT Collection
Another approved project called Pukenza was released on December 23, 2021 with 8010 pieces. Pukenza was a free edition of generative art for Doodle holders from Degen Art Club. The project was inspired by an article by Tyler Hobbs on Flow Field and Fidenza.
Doodle owners had to get a free Pukenza by February 2022 and add it to their original tokens to change accessories, background color, or other features.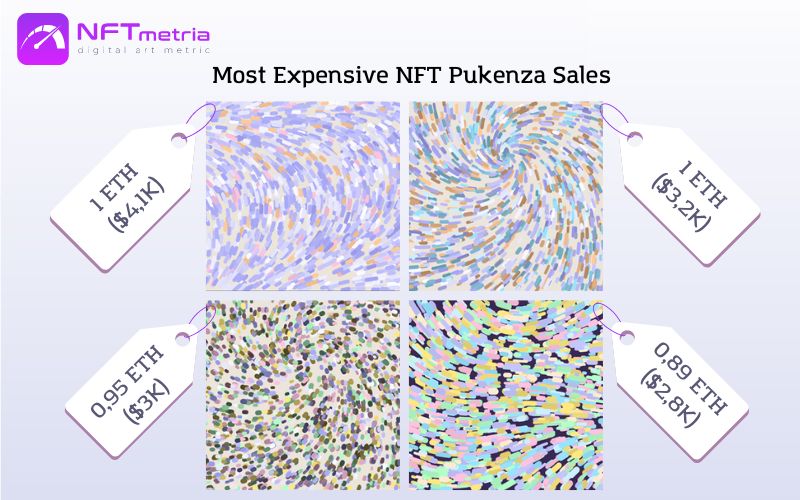 To date, the most expensive Pukenza NFTs have sold for 1, 0.95 and 0.89 ETH. And the average sales fluctuate around 0.01-0.03 ETH. In general, the sales volume for the collection reached the level of 823 ETH.
Space Doodles NFT Collection
In February 2022, Doodles released Space Doodles. This is a collection of 5659 animated sonic spaceships for owners of the main collection to go into space with. Tokens have over 200 traits. And they're made to wrap around doodles, which results in each NFT's appearance changing as a character variation. While holders can own a space doodle or a regular one, they are not allowed to own both as the platform's smart contract logic does not allow it.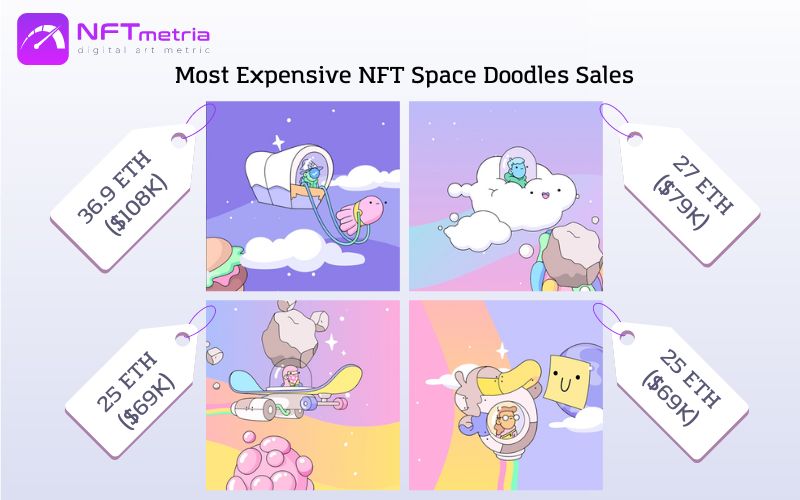 To date, the most expensive tokens have sold for 36.9, 27 and 25 ETH. And the average sales fluctuate around 11-16 ETH. In general, the sales volume for the collection reached the level of 2K ETH.
Dooplicators NFT Collection
In May 2022, Doodles announced the launch of Dooplicators, which were free to owners of the main collection. This is a collection of 9375 mystery backpacks that can be used in Doodles2.
The application period ended on June 21st. During the NFT.NYC presentation from the creators on June 22, people learned that NFTs come in rare, common, and uncommon levels. Rare NFTs make up 11% of the collection. Their exact usefulness remains unknown, and not all doodle owners have claimed their duplicators. However, the creators have stated that these NFTs are backpack-sized devices with useful and extraordinary abilities.
This project was a particularly important strategic move for the team. When investors heard about duplicators, they rushed to buy Doodles to get additional utilities. Unlike Pukenza, Dooplicators' utilities promise more potential than aesthetic changes. Shortly before the Dooplicators' filing deadline, the Doodles represented 15% of all Ethereum-based NFT sales. On that day, they overtook the famous Bored Ape Yacht Club in sales on Ethereum.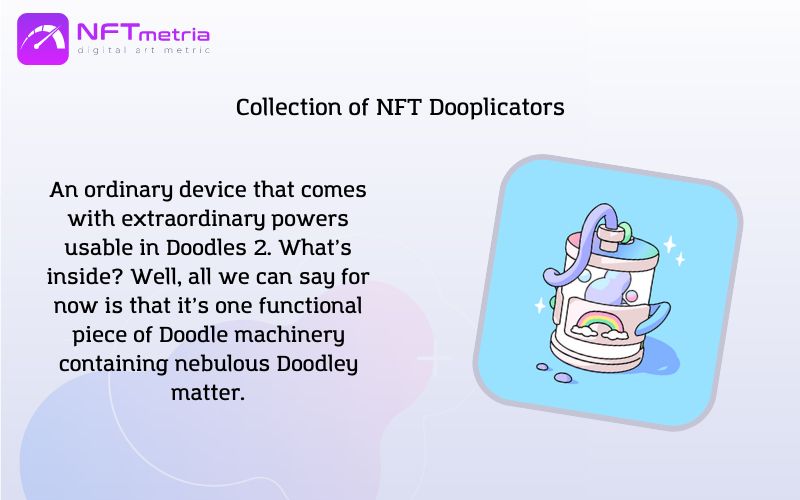 To date, the most expensive tokens have sold for 12.69, 12 and 11.5 ETH. And the average sales fluctuate around 1-3 ETH. In general, the sales volume for the collection reached the level of 10.7K ETH. But the real value of each backpack is still a mystery.
NFT project Doodles 2
In June, the creation team shared a trailer for Doodles 2, the brand's second NFT release. After the increase in funding, it became clear that the community was ready to see what the project had to offer. During NFT.NYC, the brand stated that its next collection of NFTs would not be released on the Ethereum blockchain, but did not reveal which blockchain it would move to.
Doodles 2… coming soon. https://t.co/8gw3OeeQfs pic.twitter.com/c33BB0GLqP

— doodles (@doodles) June 22, 2022
Doodles 2 will allow new collectors to create a base-level Doodle, select common traits such as skin tone and hair color, and then customize it with wearable items of varying rarity.
It is supposed to be a dynamic NFT where owners can change their look as often as they like, switch between full body or PFP view and unlock an animated version of their NFT with original music.
NFT Collection Genesis Box
The company also held a successful auction in June for its Genesis Boxes, which will be critical to the Doodles 2 ecosystem.
Genesis Boxes are the first set of accessories available to customize NFT Doodles 2. There are 24,000 Genesis Boxes in total. Doodle owners and their guests received the first 4,000 boxes of Genesis in person at NFT.NYC.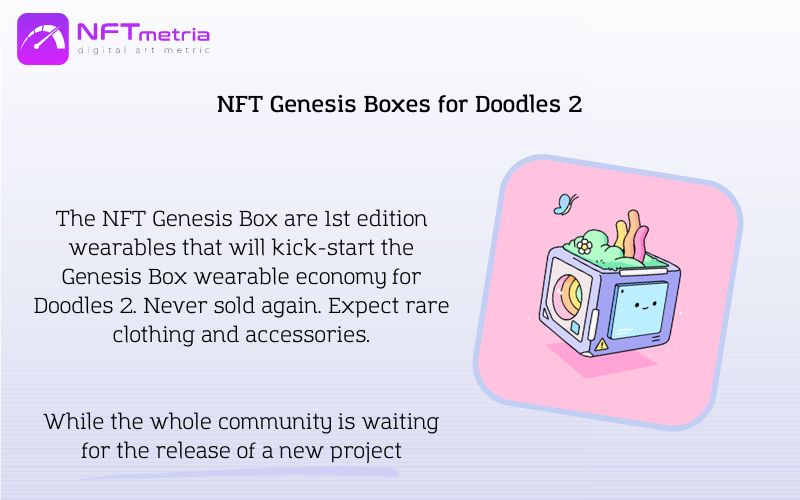 To date, the most expensive tokens have sold for 2 and 0.6 ETH. And the average sales fluctuate around 0.2-0.3 ETH. In general, the sales volume for the collection reached the level of 2K ETH. But the real value of each box is still a mystery.
Doodle Records
Doodles Records is another new area of ​​the brand that fans can look forward to.
Little is known about the record label. But it was announced that American artist Pharrell Williams is the executive producer. The label will feature original music created by Farrell, hand-drawn album art by Doodles lead artist Scott Martin, and limited-edition Doodles 2 wearables.
The first volume was created in collaboration with Columbia Records and will include music that Doodles 2 owners can add to their new animated NFTs.
Offline entertainment events
From the very beginning, the collection has tried to be more than just another web3 project. It aims to be a web-based entertainment company that includes art installations, concerts and merchandise.
How have they been able to show themselves?
First, the Doodles team partnered with The Heart Project to host a large-scale event during Art Basel Miami in December 2021. The event, which included a gallery, exclusive merchandise, live music and more, was planned and implemented in a very short time frame, according to the cost proposal.
The second event, Doodles Genesis Factory, debuted with NFT.NYC in June 2022. The activation helped communicate the company's desire to stand out and show even more, setting the stage for the announcement of many upcoming initiatives.
How much do Doodles cost?
Initially, a mint was traded at a price of 0.123 ETH.
To visualize the price dynamics, we made a cut at the average price for 1 NFT:
At the end of October 2021 after a mint – 1.8 ETH,
In December 2021 – 4.2 ETH,
In February 2022 – 15.3 ETH,
In May 2022 – 18.2 ETH,
In August 2022 – 8.9 ETH,
In December 2022 – 6.9 ETH,
In May 2023 – 2.3 ETH.
Now (September 2023) the floor price is 1.3 ETH. On average, the latest sales are in the range of 1.2-6 ETH.
Most expensive selling Doodles
#6914 was sold on January 5, 2022 for 296.69 ETH ($1.05 million at the time of purchase) to one of the most famous NFT influencers Pranksy.
#2238 sold on January 7th for 296.69 ETH ($946K at the time of purchase) to global DJ and NFT influencer Steve Aoki.
# 7675 sold on February 1 for 250 ETH ($697K at the time of purchase). And here the buyer is Pranksy.
#5337 sold on January 22 for 230 ETH ($554K at the time of purchase). Guess who the seller was? That's right, Pranksy.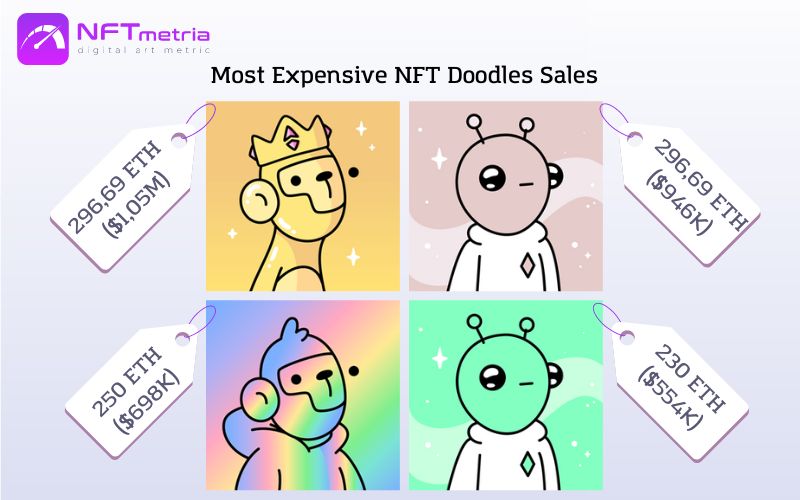 Where to buy Doodles?
Primary NFT sales took place on the Doodles website. Doodles can now be purchased on many secondary marketplaces, including:
How to buy Doodles?
Remember that initially you need to connect your crypto wallet with self-storage.
Next, find the official collection (in the previous paragraph, we posted links to official accounts),
Find the NFT you want to buy, click on it and click the "Buy" button.
Or you can bet on the token you like. Make sure you leave enough ETH for gas or transaction fees. If the seller approves your bid, the deal goes through.
Alexis Ohanian of Reddit led the $54 million investment in the project
On September 13, 2022, the brand announced on Twitter that it had closed a $54 million Series A fundraising round at a $704 million valuation.
Seven Seven Six, Alexis Ohanian's venture capital firm, led a funding round involving Acrew Capital, FTX Ventures and 10T Holdings. Ohanian was one of the first doodle collectors, who later introduced Seven Seven Six founding partner Kathleen Holloway to the project. Holloway spearheaded the Doodles deal, the venture firm's second investment in the non-fungible token project.
Doodles is well positioned to continue to define the NFT industry, connect millions of people to the blockchain, and become one of the most inclusive, creative and joyful media brands in Web3 and beyond.says Caitlin Holloway, founding partner of 776
The creators of Doodles shared on Twitter that the new capital will be used to fund product development, acquisitions, media, more experiences for collectors, and proprietary technologies. Part of the funding will also go towards hiring, among others, the engineering, creative, marketing and top teams of the project.
The future of Doodles
One of the most enticing aspects of the next phase of Doodles is allowing collectors to personalize their NFTs. After creating a base level NFT from Doodles 2, owners can choose traits such as skin tone, hair color, and outfits.
To fulfill all their plans, Doodles plans to more than double their team this year. The company plans to increase its team from 11 to 30 employees. The team will soon open applications to fill positions such as CFO, Social Media Manager and Head of Marketing.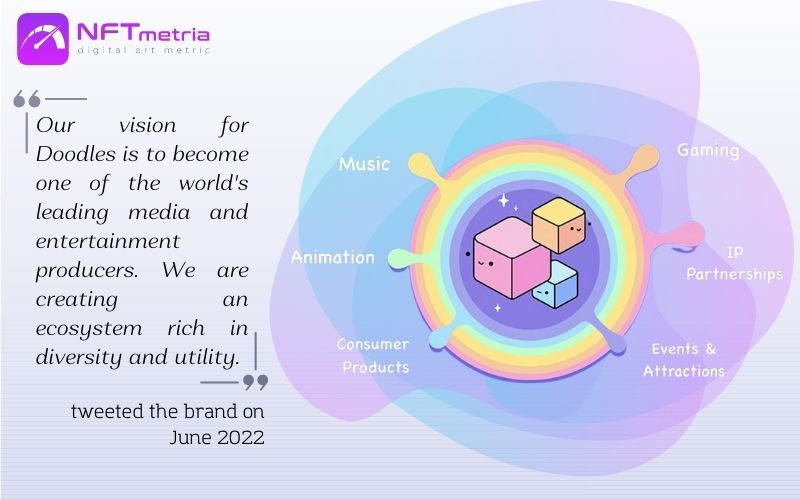 The creators said that the company aims to become one of the largest consumer brands in the world.
All in all, Doodles has a lot of work to do. While no hard deadlines have been set for his plans for the future, the speed of their growth suggests that it won't be too long before it's time to mark your calendar again.
Should you invest in Doodles?
Look at the project from the point of view if you are investing in an NFT project. Given their popularity and growing value, Doodles still seem like a good investment.
What will the future growth of these tokens look like? All of these NFTs are fairly new, so it is still unclear how much their value will increase. Doodles are especially valuable for people who want to be part of a community that jointly determines the future of a project. And also for those who want to be able to offer ideas or work with other like-minded people. As an investor, this allows you to connect with other investors from the community while you attend exclusive Doodles events.
Since NFT Doodles 2 will be much larger than the original non-fungible tokens, the base collection is likely to be of high value.
Opinion of NFTmetria
Aside from the typical hype cycle of price increases, popularity, controversy, and celebrity sweeping the Doodles community, it seems like the project has always been about strengthening its community.
Emotions aside, it's clear that Doodles plans to take their community on a wild journey in the coming years, given the millions of dollars currently in Doodle's bank and the upcoming launch of a major fundraising campaign.
The Doodles project shows no signs of slowing down – from live, immersive events to the development of unique innovative projects. Therefore, we look forward to further developments and news with interest.