Operating in the NFT world since 2017, Pranksy has one of the largest collections of non-fungible tokens in the world. He is the owner and co-founder of the NFTBoxes project and a supporter of the Blue Dragon's Children Foundation.
His rise to fame and success is arguably one of the most remarkable in crypto: amid a single $600 initial deposit, Pranksy now claims to operate a collection of over $9 million worth of non-fungible tokens, of which nearly $7 million is on NBA Top Shot.
Who is Pranksy?
Pranksy is an investor and also an NFT collector with legions of social media fans. Basically, his strategy is to invest in cryptocurrency as soon as it enters the market and collect a large number of tokens. This gives the project liquidity and volume. After an initial investment of $600, Pranksy's NFT collection has grown so much that he now has one of the largest collections in the world.
I have always had a passion for technology and collecting. For many years he was fond of video games and microeconomics. I was interested in why people make the decision to buy anything, and how it depends on the level of income. I wanted to understand how such decisions affect the market and the price level.Says influencer
In the non-fungible token space, Pranksy is a role model for collectors. But who exactly he is – unknown, he remains anonymous. The only thing that is known is that he is 29 years old, he is married, has two children, lives in the UK and previously worked as a mobile game developer.
About Pranksy in numbers
According to recent estimates, his fortune is estimated at more than $ 20 million.
At the time of writing, in his crypto wallet 239 ETH (approximately $377k) @pranksy.eth.
The maximum amount of his wallet was on September 5, 2021 in the amount of 1628 ETH (6.4 million dollars).
In his wallet on the sports marketplace NBA Top Shot 19355 moments @Pranked
He has over 36000 tokens in his collection on marketplace OpenSea @Pranksy
There are 105 Doodle tokens alone in his wallet at a price of 0.05 ETH to 296 ETH.
Made $1.2M Reselling Cryptopunk in 8 Hours.
Was swindled out of $335,000 into buying Banksy's non-existent NFT.
The volume of investments in the NFT is over $9 million. According to the influencer, about $7 million of this amount was spent on valuable moments at the NBA Top Shot.
The influencer owns non-fungible tokens from 82 collections, a record among collectors.
He has over 432K followers on Twitter @pranksy
His Instagram has more than 23.7K followers @pranksynft
Pranksy's path in the NFT world
At the end of 2017, a friend told me that people started buying pictures of cats on the Internet – NFT. He gave me the first cat, then I decided to buy a cat for him in order to get offspring. After crossing, I got the third token. So, I started collecting.
In just a few weeks, his deposit grew to over $30,000 as the CryptoKitty mania took over and slaughtered Ethereum for days on end.
After the first deal, he gradually increased his turnover and bought more and more expensive tokens. At some point he got access to the best collections on the market.
2018-2020 was tedious as hell, digging around looking for NFTs here and there when ETH was $200.Pranksy said
You can study his account on marketplaces and social networks like a textbook on the history of the NFT world with thousands of projects and tokens.
Pranksy strategy
His strategy was to invest in the project when it launched, managing the massive supply of tokens in circulation and then providing liquidity and volume to the project. For example, Pranksy purchased 1,000 BAYCs when the collection was released, which is approximately 10% of the entire collection. And his most expensive acquisitions are Cryptopunks. At least three times he paid more than 500 thousand dollars for them. He saw in them prospects and opportunities for successful resale due to their rare properties.
I prefer to invest in projects that are historically significant for the industry or offer a new use case for technology, for example. Now you can create tokens that change over time, as if they are getting old. There are non-fungible tokens that have a "worn out" effect with each new resale.But not only profit interests the influencer
Thus, he uses several investment strategies at once, which we described in the profile article Top NFT investment strategies.
Projects
Pranksy has several projects that have also brought success to the influencer. Let's talk about them in more detail.
NFT Boxes
The NFT Boxes project is a monthly mystery box subscription of high quality random NFTs. For example, in a box for 0.65 ETH per month, you will receive 7 tokens. And for 5,265 ETH you will get about 75 tokens. Their influencer chooses after a deep analysis of the collector himself.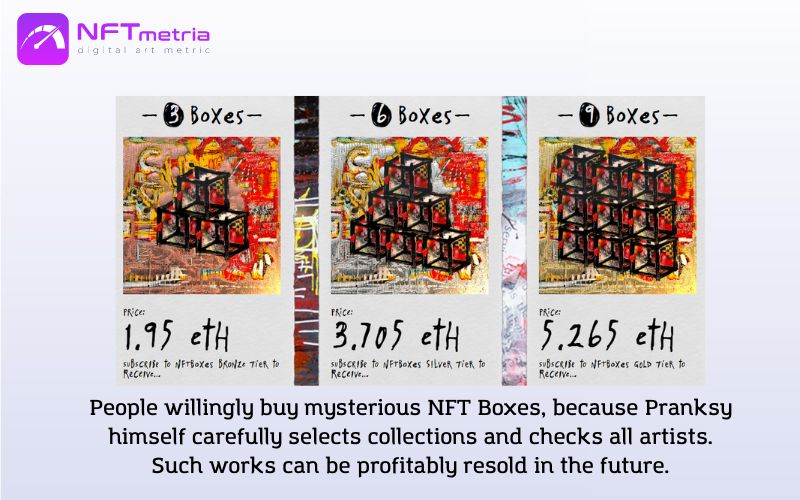 With them, the owners can do whatever they want: immediately resell or wait until the price rises. The project includes artwork created by freelance graphic designers as well as many well-known digital artists. In addition, non-fungible tokens from previous projects are also included.
NFT Vault
On July 19, 2022, NFTboxes and Pranksy announced the launch of NFT Vault in partnership with Coincover. This project is the world's first digital asset protection service.
Unfortunately, various fraud schemes in the crypto world are increasingly stealing money from market participants. Perhaps the influencer decided to create a similar project after he himself was defrauded of more than 300 thousand dollars. But we will talk about this further.
The service is aimed primarily at servicing NFTboxes owners, who, along with the purchase, receive free protection for up to 12 months. In addition, current owners can also activate protection for the entire duration of the purchased subscription. To do this, just contact Coincover.
We are thrilled to partner with NFTboxes and Pranksy to launch the first product to offer security for NFTs. The popularity of digital assets has skyrocketed, but our research shows that there are still legitimate concerns about the security of these assets. As a result, we have expanded our cryptocurrency security offerings to give artists, marketplaces and consumers the peace of mind to buy and store NFTs safely.Coincover co-founder and CEO David Janczewski
The loud rise and fall of an influencer
Any investor has successful transactions and failed investments. The well-known influencer is no exception. We talk about the two most high-profile cases associated with his name.
Made $1.22 million in 8 hours
On September 4, 2021, Pranksy acquired CryptoPunk #6275 for 1000 ETH, i.e. for approximately $3.9 million at the time of the transaction. Such a high cost is due to the unique characteristics. This is one of the 88 zombie punks that make up the CryptoPunks collection.
However, on the same day, Pranksy decided to get rid of the purchased non-fungible token only. its price jumped to 1320 ETH or $5.12 million. Thus, the collector replenished his wallet with a huge amount of $1.22 million through a quick resale.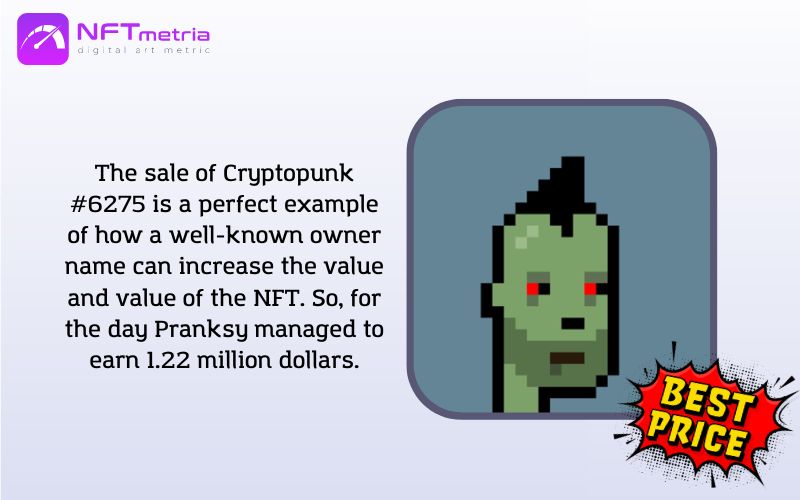 $335,000 Banksy NFT scam
On August 31, Pransky spotted a page on the official website of popular anonymous artist Banksy promoting an NFT auction on the OpenSea marketplace.
Having doubts, the Pranksy collector nevertheless purchased the work. He paid 100 ETH for it (~$335,000 at the exchange rate at the time of the transaction). A few hours later, a duplicate token was sent to him, and the link to the OpenSea auction was removed from Banksy's website. The attackers returned Pranksy 97.69 ETH back a few hours later. Why do you think? It's simple – the influencer figured out the scammer and subscribed to him on Twitter.
Pranksy's Opinion on the NFT World
The influencer does not invest in cryptocurrencies – this market is too unpredictable and manipulative. Non-fungible tokens do not have such problems, because there are no huge groups of people who would benefit from price spikes.
I think I will be doing NFT for the rest of my life, whatever happens to the industry. I believe in her incredible potential.
Conclusion
Dappradar estimates Pranksy's current net worth is over $20 million (as of March 2022). Remembering that he started with around $600, Pranksy definitely got it right and made a big impact not only in the non-fungible token scene, but also made positive contributions around the world. His purposeful path shows us that the future of the world of non-fungible tokens is multifaceted and promising. And we are constantly monitoring the development of the influencer, and we are sure that grandiose victories are yet to come.