Anything that offers an opportunity to earn money will always be seen as an interesting option. This is where NFTs and NFT games come into play, as they offer a new and relatively easy way to make money through the Play-to-Earn model. This is a world that is in full growth, and it is very likely that this area will only grow rapidly in the near future. Therefore, if you want to start playing and earn money, we will tell you about the best NFT games today.
Axie Infinity
What: A 2D platform fighting game where the player breeds NFT creatures and fights.
Blockchain: Ethereum, Ronin
Internal token: SLP, AXS
Investments: from $18 for a team of three characters.
Platform: Android, iOS, Windows, Mac OS.
Discord: over 709K members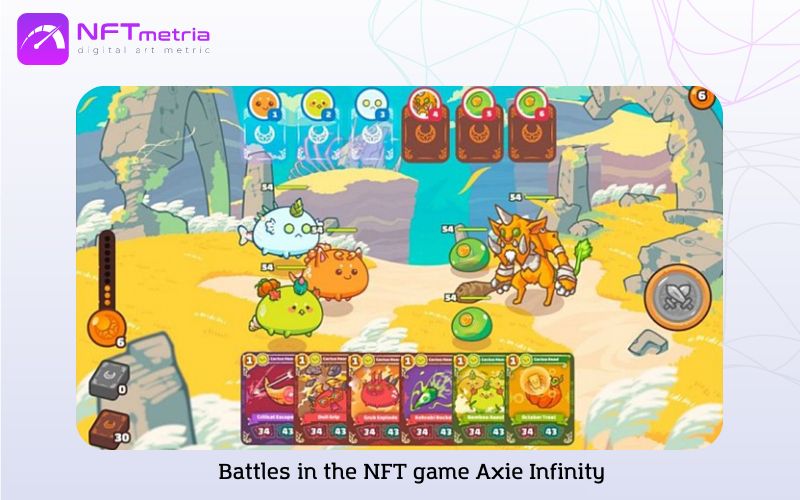 One of the biggest games on the blockchain remains Axie Infinity by Sky Mavis, founded by Jeff Zirlin. In many ways, the project repeats the formula of CryptoKitties and the Pokémon series, but adds elements of its own. The player is also encouraged to collect and breed digital tokenized pets, but the main goal is to fight in PvP.
It has its own Ethereum-based NFT marketplace where players can trade pets called Axies. The cost of pets depends on the rarity and uniqueness of their characteristics. For each battle, the player receives local SLP currency – at the current rate, it is valued at $ 0.004 per SLP. The project also involves another token, AXS, which is valued at $14.08 at the current rate. Both tokens in the ecosystem work according to the ERC-20 standard and can be used for trading on the Ethereum network.
According to Zirlin himself, his company was the first to implement the "play to earn" principle. The head of the organization said that thanks to Axie Infinity, half of the project users get acquainted with the cryptocurrency and started using it for the first time. The developers have already managed to earn $2.4 billion in the NFT market.
In the spring of 2022, one of the biggest cryptocurrency thefts in history took place. About $620 million was stolen from user accounts. Proceedings are still ongoing, the developers promised to reimburse all losses to users.
CryptoKitties
What: A 2D dApp where the player breeds and collects cats
Blockchain: Ethereum
Internal token: ETH
Investments: from $15 for two cats
Platform: Windows, Mac OS.
Discord: over 43K members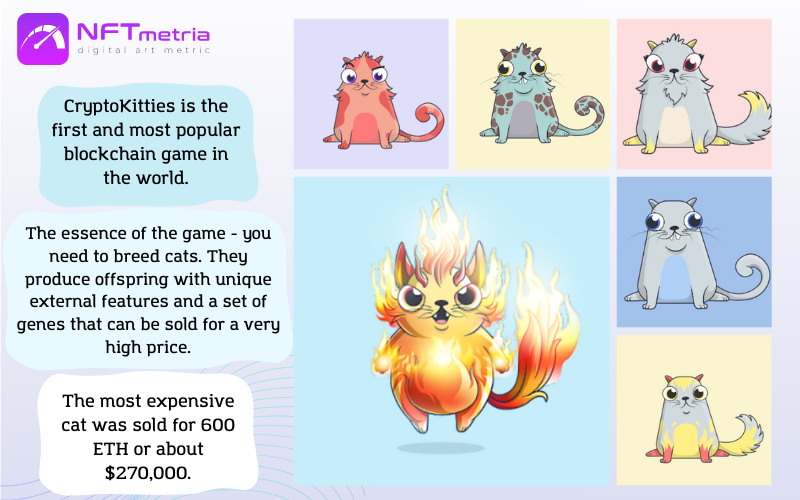 For the first time, the developers of Axiom Zen (further founded the company Dapper Labs) used one of the token standards, Ethereum ERC-721. It is also the first game built on the principle of the DAO and using the NFT. In general, we have a revolutionary in the gaming industry.
The essence of the project comes down to breeding and collecting cats, while gamers pay a commission in Ethereum for each transaction. The developer studio receives 3.75% from each sale and purchase transaction.
CryptoKitties was released in 2017, and by December, players had spent about $6.7 million — the maximum cost of one Cryptokitty reached $114.5 thousand, with an average price of $25. Sales at that time amounted to 1.3 million dollars. The most expensive lot was sold in September 2018: a user under the nickname rabono bought a Dragon crypto cat for 600 ETH.
Despite the decline in global interest in the project, a large number of people still continue to play it, and the developers are preparing an update and new features.
Gods Unchained
What: a collectible card game with tactical and strategic principles
Blockchain: Ethereum, Immutable X
Internal token: GODS
Platform: from $2.5 per card
Versions: Windows, Mac OS
Discord: over 84K members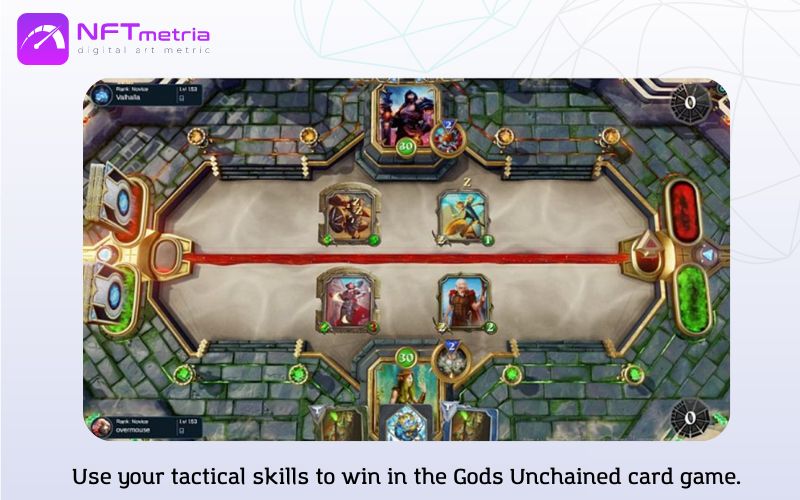 Another successful example is Gods Unchained. Its developers, Immutable, took the formula of card games as a basis and introduced NFT technology into it. As with any collectible card game, Gods Unchained fans collect decks by purchasing cards from other players or by looting them in PvP battles.
NFT does not clash with the classic card game formula – tactical and strategic skill is still at the forefront. Gods Unchained uses a ranking system, so players of equal level compete here in every match. For a victory, the player receives experience points, and after filling out a special scale, he moves to a new level or gets to the next level of the rating, receiving a new deck of cards as a reward. Each card comes with an ERC-721 token, allowing users to trade them on the platform's own market or on the Ethereum network.
It is noteworthy that thanks to the Immutable X blockchain, all transactions take place without gas.
Since its launch in 2018, Gods Unchained has managed to earn $15 million. The project is being led by brothers James and Robbie Ferguson, with Chris Clay, who previously worked on Magic the Gathering: Arena, as head of development.
Alien Worlds
What: a space simulator whose goal is to find planets
Blockchain: WAX, Binance
Internal token: TLM
Investments: from $0.03 per card
Platform: browser
Discord: over 40K members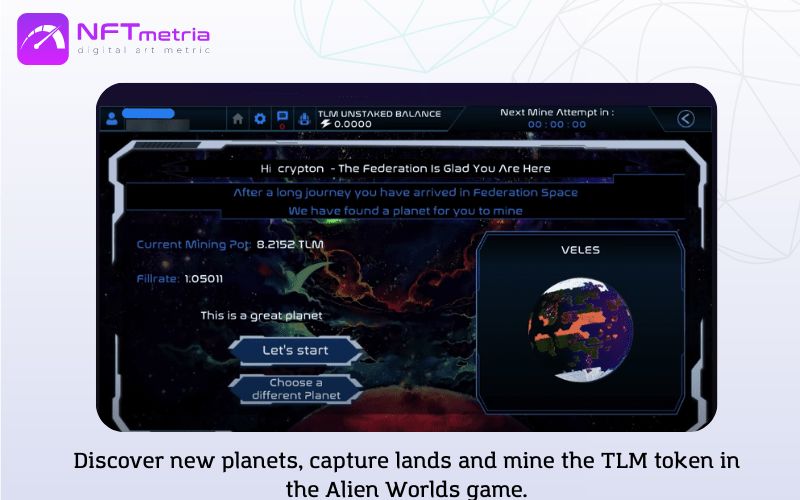 In Alien Worlds, players will have to explore seven planets in search of a special tokenized resource – Trulium. This resource provides access to additional content and is necessary for managing decentralized autonomous organizations on planets.
A feature of the gameplay in socialization: players can both cooperate with each other and compete in an attempt to achieve a goal. In the Alien Worlds metaverse, users can purchase Trulium mining NFT tokens, participate in battles, and complete quests.
The volume of transactions made by players daily reaches 7.7 million dollars, while the value of assets in the cryptocurrency market is estimated at 16 million dollars. Alien Worlds is currently one of the most popular blockchain games with over 700,000 monthly active users.
According to PRN, since beta testing at the end of 2020, the number of registered users has grown to almost 3.6 million. According to the founder of Forgame developer Kevin Wang, Alien Worlds is based on the concept of making the most of NFT tokens and blockchain technology. by creating a socio-economic structure that gamers could explore and use to their advantage in a variety of ways.
Splinterlands
What: a collectible card game with automatic battles
Blockchain: WAX, HIVE
Internal token: SPS
Investments: from 10 dollars
Platform: Browser, Android, iOS
Discord:  over 60K members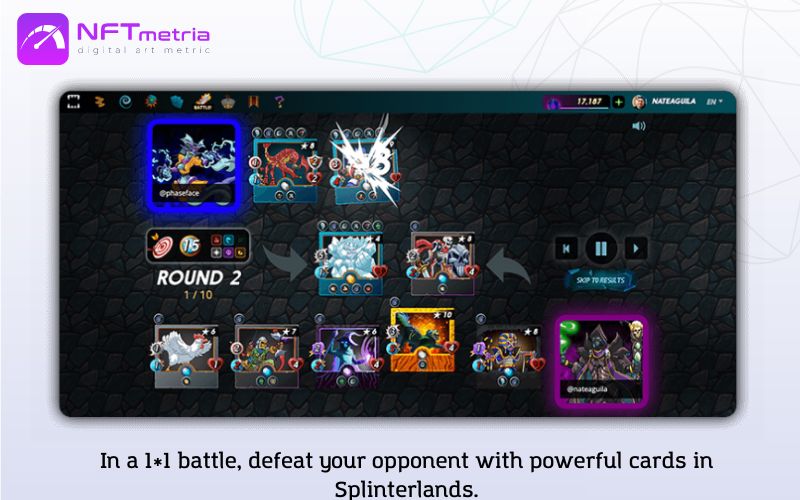 Battles take place automatically; the player's task is to collect a good deck. Every item in the game is an NFT token. Earnings in Splinterlands are based on two principles: reselling cards or receiving tokens for winning battles. Splinterlands is free to play, but without earning. To start receiving tokens, you need to buy a starter deck for $10. With this deck, you can complete daily quests and receive rewards for victories.
Conclusion
The blockchain game industry using NFT tokens is one of the youngest, which has a long way of development with ups and downs. It is not known how many of the projects we have listed will remain afloat in a year and a half. However, the development vector has been outlined, games with NFT have already firmly taken their unique place in the digital entertainment industry, and in the foreseeable future they will become "daily work" and routine for some. At the same time, the "caste of workers in the field of NFT" is being formed right now. So it's time to get into the game!