In addition to the news that the sensational pre-sale Azuki Elementals raised $38 million and sparked FUD, in today's NFT news digest for the past week of June 24-30 you will find:
FC Barcelona and World of Women released the Empowerment NFT,
Sotheby's launches Gen Art Program on the Art Blocks Engine,
Lacoste releases dynamic NFTs for its UNDW3 community.
Sensational pre-sale of Azuki Elementals raised $38 million and sparked FUD
One of the hottest news stories this week is the record-breaking surge in the popularity of the Azuki Elementals NFT collection.
— Azuki (@Azuki) June 24, 2023
The minting began on June 27 at 9 a.m. for Azuki token holders, and 10 minutes after that, the release for Beanz holders began. A Dutch auction was also planned, with a starting price of 2 ETH and a gradual decrease of 0.1 ETH every 5 minutes. But a sensation happened: 10,000 tokens were sold out in 15 minutes of pre-sale, raising a total of $38 million. And the public minting never started.
Azuki Elementals have sold out in the presale with the entire allocation going to the Azuki and BEANZ community. There will be no public sale.

Trading and reveal will open shortly. pic.twitter.com/CVk3kRIqU6

— Azuki (@Azuki) June 27, 2023
What are Azuki Elementals NFTs?
Azuki Elementals is a new collection of 20,000 NFTs (PFPs) in the Azuki ecosystem from the legendary creators of Chiru Labs. Of these, 10,000 NFTs have already been dropped to Azuki holders as undisclosed Elementals. And the remaining 10,000 pieces were available for minting on June 27.
This collection follows the anime style, as does the OG collection. It is said to be Chiru Labs' most "complex art project to date". In all, the digital assets include four unique natural elements:
Fire,
Lightning,
Earth,
Water.
Each demonstrates a unique and enticing element in Azuki's distinctive universe. It is not yet clear which of these elements will be more rare and valuable.
Community reaction to Azuki Elementals
Azuki Elementals' minting mechanism, as well as its instant buying out, caused mixed reactions among members of the cryptocommunity. Many users (mostly those who already owned Azuki tokens) did not hide their enthusiasm about the new project's success; others expressed skepticism due to crazy hype. Azukis had no restrictions on the number of items to be mined, so some users were able to mint more than 10 NFTs, and one crypto fan even managed to get 332 Elementals.
Nevertheless, some Beanz owners were not successful at minting:
So lets recap this @Azuki Elementals mint:

– Paid 1.5ETH for a Beanz so I could mint
– Was there on the exact time of the drop
– Could not mint
– Now my Beanz is worth half the price and I have no Elementals

Good work from the @Azuki @BEANZOfficial team.

*HUGE DISAPPOINTMENT*

— digui.eth (@atDiguimon) June 27, 2023
The disclosure of Azuki Elementals art
The same ambiguous reaction was caused by the art design of the new collection. In particular, many people noted that Azuki Elementals bear a striking resemblance to the OG project.
Elementals are essentially the same art and style as the OG Azuki collection, but with some new traits. AshRobin, one of the Azuki owners, tweeted
In fairness it should be noted that the Elementals collection has some distinctive features: animal traits were added and "kid" versions of Azuki were introduced.
Elementals feature six different character subtypes:
Sloth,
Classic,
Frog,
Kid,
Red panda,
Cat.
FUD and its impact on the Azuki ecosystem
As we already know, users encountered serious glitches during the minting process. In response to outraged comments from community members, the Azuki team was forced to admit that it failed to provide a normal, standard minting experience. Azuki representatives miscalculated the time frame required for the first and second stages of the pre-sale.
We hear your feedback loud and clear. The mint experience was not up to the Azuki standard. Want to give some clarity on what happened during the presale and some general thoughts

1/8

— location tba (@locationtba) June 27, 2023
As a result, FUD developed, which caused both Azuki and Beanz floor prices to fall.
By comparison:
Azuki floor price dropped from 15.5 ETH to 8.5 ETH after minting,
Beanz floor price dropped from 1.2 ETH to 0.6 ETH after minting.
We can only hope that the Azuki team will learn a lesson from this incident and be more responsible in the future when launching new projects.
FC Barcelona and World of Women released the Empowerment NFT
The famous football club Barcelona, in collaboration with NFT project World of Women, launched Empowerment, the second token from its Masterpiece collection.
Introducing Masterpiece #2: Empowerment ✨

In this NFT auction, @FCBarcelona invites you to join the movement of honoring women in football, in collaboration with World of Women ️⚽️

Dropping June 26th, exclusively on @opensea 📅 pic.twitter.com/N9AwlgfWOZ

— World of Women (@worldofwomennft) June 24, 2023
As a result of the OpenSea auction that started on June 26 and ended on June 28, the legendary token was sold for 162 ETH (about $300K).
The purpose of this edition is to pay tribute to the stunning play shown by Spanish player Alexia Putellas in the semifinals of the Women's Champions League 2021/22 against Wolfsburg. By the way, the match was attended by a record 91,648 fans.
More about Empowerment NFT
1/1 Empowerment NFT was created by artist Rhiana Madeline. She is widely known for her mastery of combining traditional approaches in the visual arts with new techniques from the field of programming. In this way, she pushes the boundaries of creativity.
Rhiana began her work on Empowerment by creating a three-dimensional sculpture of Alexia Putellas. Then she added digital artwork and special effects to it, and didn't forget about the fans' chants and lights. For Empowerment, Rhiana Madeline didn't skimp on the gold, which was supposed to symbolize Alexia Putellas' sporting achievements.
The owner of NFT Empowerment was guaranteed a meeting with Alexia Putellas herself and a pair of soccer boots signed by the athlete. A physical object of art was also supposed to be released.
The owner of Empowerment will receive a unique item: a physical seat taken from Spotify Camp Nou, emblazoned with a portrait of Putellas by the renowned Catalan artist Oscar Tusquets and signed by the player herself. The official press release says
The goal of the FC Barcelona and World of Women collab
Both Alexia Putellas and FC Barcelona actively advocate for women's empowerment in sports. The collaboration between Barcelona and World of Women seeks to engage young audiences and gain their loyalty. Moreover, both brands aim to redefine the NFT concept by offering their fans a premium quality product that carries a certain message.
Sotheby's launches Gen Art Program on the Art Blocks Engine
On July 26, auction house Sotheby's will auction off works of generative art. The auction will be part of a Gen Art Program campaign using blockchain technology. The project will be launched on the Art Blocks Engine, the Art Blocks team's infrastructure solution for creating and storing generative NFTs online.
Vera Molnár will be the first participant in Sotheby's Gen Art Program
The famous digital artist Vera Molnár will be the first program participant. Her works will be sold online on Sotheby's Metaverse platform. The presented collection "Themes and Variations" includes 500 generated images.
Vera Molnár has devoted dozens of years (since the 1960s) to experimenting with algorithmic art. Her vision was greatly influenced by her collaboration with the creative generative artist Martin Grasser. Molnár's work is striking in its paradoxical combination of pure abstract forms (letters) with a desire for disorderliness.
Molnár is one of the undisputed legends of generative art, whose decades of experimentation with the form has paved the way for what we know of today as algorithm-based digital art. Michael Bouhanna, Head of Digital Art and NFT at Sotheby's, praised Vera Molnár's work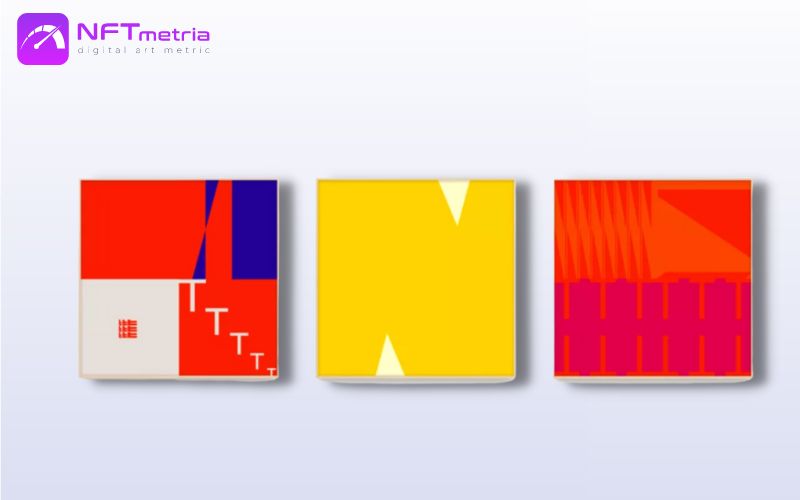 Sotheby's unusual Gen Art Program auction format
For the first time in its 300-year history, Sotheby's has chosen the Dutch auction format. This involves a public sale, in which the auctioneer gradually lowers the declared price until a buyer is found.
Art Blocks has practiced Dutch auctions since 2021, that is, since its foundation. This format creates a new pricing model and encourages bidders. The bids at Sotheby's will start at 20 ETH.
Sotheby's: from tradition to innovation
The integration of Sotheby's auction house with the Web3 team of Art Blocks provides talented digital artists with a unique opportunity, that is, to put works for sale in the primary market. The organizers have promised to attract up to three participants a year through the Gen Art Program, expanding the market for generative art.
Significantly, back in May of this year, Sotheby's auctioned the NFTs of the bankrupt Three Arrows Capital. This hedge fund's collection includes such NFT masterpieces as CryptoPunk #6649, Fidenza #216 from Tyler Hobbs and Ringers #879 from Dmitri Cherniak.
Earlier, Sotheby's announced the sale of the manuscript of Neal Stephenson's popular science fiction novel Snow Crash. Supposedly, it was in this work that the term "metaverse" first appeared.
Lacoste releases dynamic NFTs for its UNDW3 community
Lacoste, the French fashion giant, decided to add value to its Genesis UNDW9 NFT collection. The dynamic cards unveiled by the company will give NFT holders access to exclusive Web3 features.
Crocodiles,

The UNDW3 Card represents a new chapter in our project – a unique opportunity for brand builders and entrepreneurs to shape the future of the Lacoste brand while unlocking a whole new level of utility.

Let's dive in. 🧵 pic.twitter.com/FV7YDcoA4U

— Lacoste UNDW3 (@undw3_lacoste) June 28, 2023
Dynamic NFTs are the gateway to UNDW3's gamified ecosystem
12 months ago, in June 2022, Lacoste launched its first NFT project, the UNDW3 Genesis pass. It included 11,212 NFT avatars featuring the crocodile, the company's mascot. All the collectible tokens were identical, not differing in the level of rarity.
Lacoste's current innovation, the introduction of dynamic NFTs, will allow everyone in the UNDW3 community to increase the rarity of their tokens. In addition, Lacoste offers its customers an exciting personalized experience that includes the creation of a gamified UNDW3 ecosystem.
As mentioned, the gateway to this ecosystem will be dynamic NFT cards. They will allow UNDW3 Genesis pass holders to participate in experimental programming, provide exclusive rewards, and enhance the usefulness of digital assets.
Catherine Spindler, deputy CEO of Lacoste, commented on the launch of dynamic NFTs:
Pioneering the concept of a dynamic NFT within our industry is a testament to our bold vision. Beyond the fleeting trends surrounding NFTs and the metaverse, we see blockchain as an accelerator, ushering in a more inclusive and experiential digital realm.
Exclusive features of Lacoste's updated NFT program
By connecting their crypto wallets to the new Lacoste UNDW3 portal, NFT UNDW3 holders will have access to various events, quests, drawings, and interactive conversations with Lacoste representatives. In addition, activity points will be sent to the UNDW3 wallets and the users' Discord accounts. As points accumulate, their NFT rarity will increase. This means that the value of these tokens will also grow. Community points earned for activity will be displayed in a leaderboard on the Lacoste website. Those at the top of the leaderboard can expect to win unique prizes, such as a week-long tour of the Lacoste factory in Paris.
It is hoped that dynamic NFTs will become a long-term digital trend, not only for Lacoste, but also for other brands seeking to get closer to customers.