Have you heard about the Cool Cats NFT collection? You might be thinking, "Another NFT series? What's so special about them?" But these NFTs are more than an art project. Owning one of them allows you to do a lot of things. Your Cool Cats can go on adventures, complete quests, build houses, go into battle. And in the future, you will be able to cross and breed them, as in the CryptoKitties project, which once blew up the market with this particular function.
Due to the fantastic initial response, the creators of collection want to move from simple NFTs to a community driven project. The goal of the team behind this is to create a gamified ecosystem called Cooltopia.
Official Links Cool Cats NFTs
Cool Cats NFTs in numbers
Collection launched July 1, 2021.
All NFTs from the collection were sold out in a couple of days at the initial price of 0.06 ETH with a further decrease to 0.02 ETH.
Ranked 14th in OpenSea's top collections with over 143k ETH ($250 million) in sales.
Market capitalization exceeded $43 million.
Over 40K deals were made for the whole period.
The floor price is 0.5 ETH.
The most expensive NFT #1490 was sold on October 5, 2021 for 320 ETH ($1.1 million at the time of sale).
The entire collection is distributed among 5.7K unique wallets, that is, 57% of unique owners, or about 2 tokens per wallet. This is a healthy balance of liquidity, supply and demand.
Currently, only 2% of all NFT are listed for sale, indicating a minimum of quick speculation and a long-term community perspective on their acquisitions.
Data (including exchange rates) are given at the time of publication of the article
What are Cool Cats NFTs?
Cool Cats NFTs are non-fungible tokens (NFTs) representing 10,000 hand-drawn cats, each with an algorithmically generated set of traits.
Each cat featured in this series has its own unique set of traits, which is a combination of some of the hundreds of different traits found in the collection. Combinations of traits, including different body shapes, facial expressions, clothing and accessories, help ensure that no two cats are the same in the collection.
The aesthetic simplicity of pictures stands out from the hyper-detailed visuals of some other collections. The collection is designed simply, reminiscent of Saturday morning cartoons. Nothing more than a cartoonish head and shoulders, perhaps it is this nostalgic simplicity that contributes most to the collection's popularity.
How Cool is your Cat?
There are several levels that Cool Cats can take. Each level has a different number of NFTs as well as points.
Cool – 4600 images with 3-4 points
Wild – 3000 images with 5-6 points.
Classy – 1750 images with 7-8 points.
Exotic – 649 images with 9-10 points.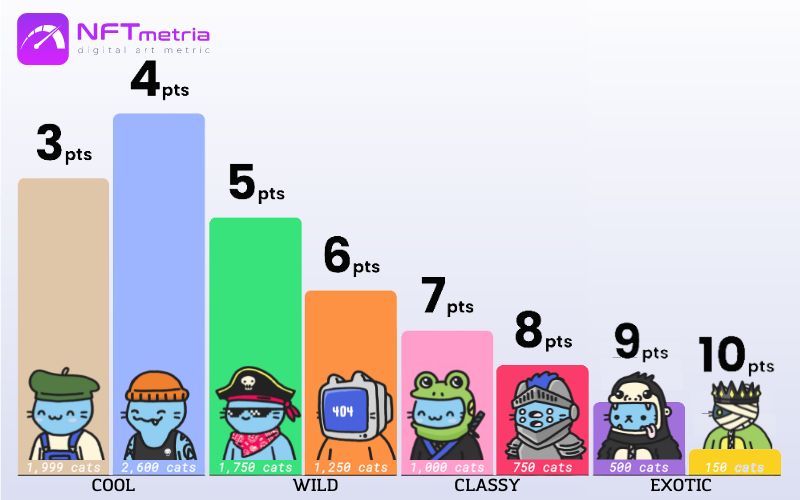 Apart from these levels, rarity is also determined by specific traits or combinations. For example, a Cool Cat dressed as a robot or a skeleton is less common than others dressed in a plain shirt.
Who created the Cool Cats NFTs?
The Cool Cats project is run by four main contributors, each with a specific role:
The team is passionate about crypto, art, and making cool stuff. Moreover, from a young age, Colin always drew cartoon characters. In high school, Colin loves to draw cats and he drew Blue Cat. All cats in the collection are descended from this blue cat.
Which celebrity owns the Cool Cats NFTs?
It was the celebrity involvement and ownership of these NFTs that made the project so popular in the first place.
Boxing legend Mike Tyson, who changed his PFP on Twitter to Cool Cat ten days after the launch of the project,
— Mike Tyson (@MikeTyson) July 9, 2021
Actress Reese Witherspoon,
Reddit co-founder Alexis Ohanian,
DJ Steve Aoki,
NFT influencer Farokh,
American mixed martial arts fighter Mario Batista,
Top manager, billionaire, Chairman of the Board of Directors and CEO of Salesforce Corporation Mark Benioff.
How did Cool Cats NFTs become blue chip?
The NFT collection was launched in July 2021 at a price of 0.06 ETH each, which was around $150 at the time. Then the creators sold 300 NFTs for the first time. The team then reduced the price to just 0.02 ETH per mint (about $50). The sale took about eight hours.
In the following days, the project began to rapidly develop in the NFT ecosystem. The NFT price quickly rose to 0.66 ETH (around $1,000). This low entry price made the community feel "really positive" in its early days.
And then a few days later, Mike Tyson updated his Facebook profile picture on the NFT from this collection. And as you understand, popularity and prices flew up.
In September 2021, the creators began to expand their ecosystem by issuing a derivative collection of Cool Pets and a local $MILK token. Then it, of course, strongly raised sales for the first time to double-digit prices.
By October 2021, the average price has skyrocketed to almost 15 ETH per NFT. The collection was even advertised in Times Square.
#tbt when my @coolcatsnft was on a gigantic billboard in the middle of Times Square lmfao pic.twitter.com/Pv8vKAgoOe

— Jeenius (@JeeniusETH) February 18, 2022
There was some lull in activity after that. But now the project is gaining momentum again, developing its ecosystem and following its roadmap.
Why are Cool Cats NFTs so popular and expensive?
There are several reasons for their popularity, and, accordingly, their cost:
The participation of famous people, influencers and celebrities in the project, after which the popularity of Cats began.
A non-exclusive license gives holders the right to use their NFTs in any way. Similarly, the team of creators can use any of their 10,000 NFTs if they need them for marketing, merchandise, etc.
Beautifying your social media profile with NFTs can earn you some serious online credibility.
You can hold non-fungible tokens for future rewards such as additional egg collections and community rewards such as MILK tokens.
Going forward, the tokens will be involved in all aspects of Cool Cats gaming, such as NFT breeding and new mini-game adventures.
What to do with Cool Cats NFT?
While Cooltopia is still under development, here are a few things you can do with your Cool Cat right now:
Coolness contests. Every Cool Cat has a points system. Common items are worth less points than rarer ones. Each NFT can be worth 3 to 10 points. These points affect your contests and sweepstakes and will become more useful over time.
Contests and Giveaways. The Cool Cats team believes in a sense of community. This is why they promise to return 20% of the collected Ethereum (ETH) to the community through contests and sweepstakes.
Voice in the community. Owning this NFT allows you to influence the future of the platform. By contributing, you have the ability to direct the program as it adds features such as breeding, the Cool Cats app, and more.
Project Roadmap
According to the project roadmap published in July 2022, Cool Cats plans to:
Own metaverse Coolverse,
Development and scaling of own Cooltopia ecosystem with internal tokenomics based on the $MILK token,
Launch of the second generation of Cool Cats with the possibility of breeding,
Quests with bosses,
Creation of the Council for regulation of the community,
Offline sale of branded merchandise and soft toys.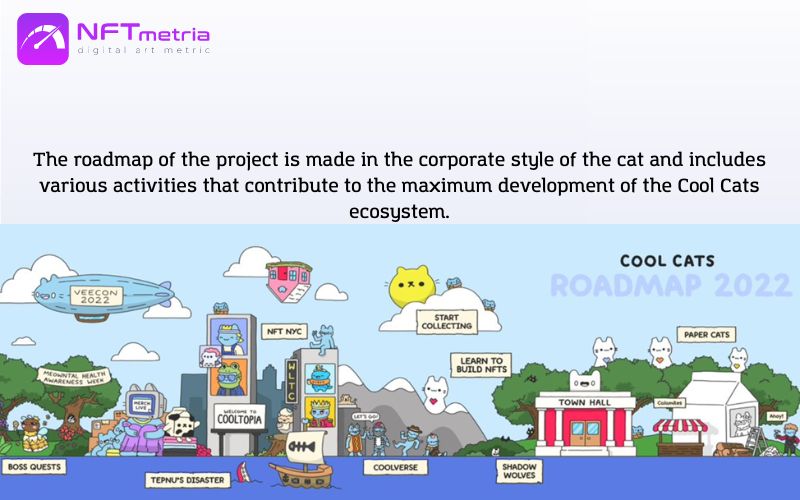 Unfortunately, there are practically no comments on the roadmap from the creators. Therefore, we will closely monitor the news and notify you.
Project Ecosystem
The ecosystem of the project called Cooltopia is now in its infancy and promises to be very large-scale. To date, a derivative collection of Cool Pets and an internal $MILK token have been implemented.
And there are still various drops ahead, a metaverse, a second generation with the possibility of breeding (similar to CryptoKitties), a full-fledged working economy of the project.
Cool Pets NFT Collection
Cool Pets is a derived collection. It was minted on February 1, 2022 and includes 19,999 NFTs. 10,000 of them went free to Cool Cats holders, while the other half was publicly sold.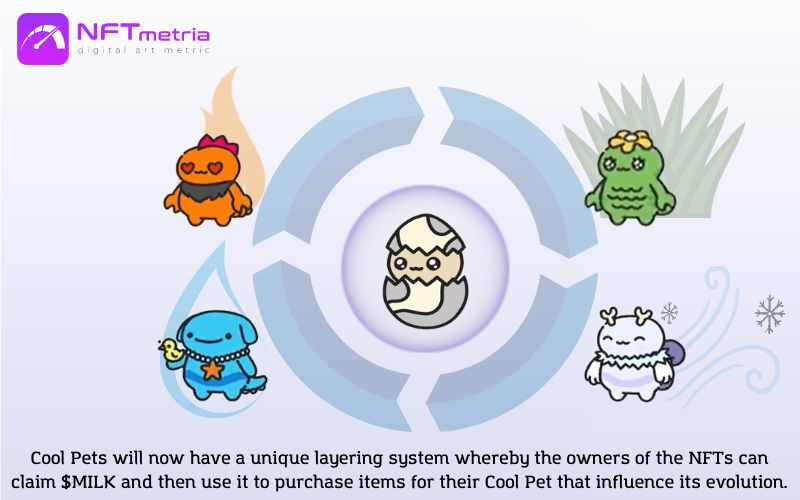 Initially, this is an NFT in the form of an egg, from which one of 4 types of pets hatch in accordance with the natural element: grass, fire, water or air. The food and items given to the egg determine the appearance and element of the creature. Users can develop and upgrade their pets, but this feature will open on a large scale only in the future.
☁️🔥💧🌱 COOL PETS. JANUARY 28, 2022. 🌱💧🔥☁️ pic.twitter.com/einYypByXx

— Cool Cats (@coolcats) January 7, 2022
To date, the floor price is 0.19 ETH, average sales are in the range of 0.15-0.3 ETH. And the most expensive pets were previously sold for 48 and 30 ETH.
Native token $MILK
$MILK is an ERC-20 social token in the Cool Cats ecosystem based on the Ethereum and Polygon blockchains. $MILK is needed for a wide variety of things, including purchasing pet chests, battle chests, housing chests, completing quests, and future gamification.
Users have ways to earn and spend $MILK, and the token can be used for activities throughout Cooltopia.
The activity is divided into two separate parts:
This is a purchase of items in the Cool Shop. Players can purchase the chest from the Cool Shop. The contents of the chest are unknown prior to opening, but contain either pet supplies or items that help players progress through Cooltopia.
Completing quests. You can send cool pets on quests. The amount of $MILK earned depends on the evolution stage of the cool pet.
The announcement of $MILK also led to a new trend in the community: the milk sip. Community members and developers have started posting videos of themselves drinking from a small glass to a full gallon of milk.
AS PROMISED, HERE'S MY 10 ETH FLOOR MILK VIDEO!!! CONGRATS TO ALL, AND WE LOVE THE CATS!!!!!! 🥛🥛🥛🥛❤️❤️❤️❤️🆒🆒🆒🆒🐱🐱🐱🐱 pic.twitter.com/LMmWDJy69f

— Farokh (@farokh) September 26, 2021
Cool Shop Marketplace
The Cool Shop is an in-game market where you can sell items and buy consumables using $MILK. Here, owners can easily monetize or expand their collections. The marketplace allows buyers to buy, sell, and trade items.
Own Cooltopia Ecosystem
After a long wait, Cooltopia was launched in mid-April 2022.
Cooltopia is a Cool Cats ecosystem that includes all Cool Cats components that interact with each other:
Cool Cats NFT collection,
Cool Pets NFT collection,
Gamified and tokenized economy,
Controlled by $MILK,
Quest system,
Trading platform Cool Shop,
And much more.
In Cooltopia, owners of NFT will be able to complete tasks to earn $MILK.
The goal is to create the most accessible gamified NFT experience; be a place where having Cool Cats NFT provides you with evolving access to games, tokens, community events, collaborations and more.The creators of the project told about the plans of Cooltopia
Cool Comics
On September 2, 2022, the team of creators announced the launch of unique comics in the ERC-721 standard on Ethereum for NFT holders.
The first series of Comics begins with The CATaclysm, which consists of four parts. From him, the storylines that will come together in the following series will begin and will cover events from all over Cooltopia. The images in this series are based on the Blue Cat, a character created by the author. The story is set in a world where cats are reimagined as humans with animal traits such as whiskers, tails and ears.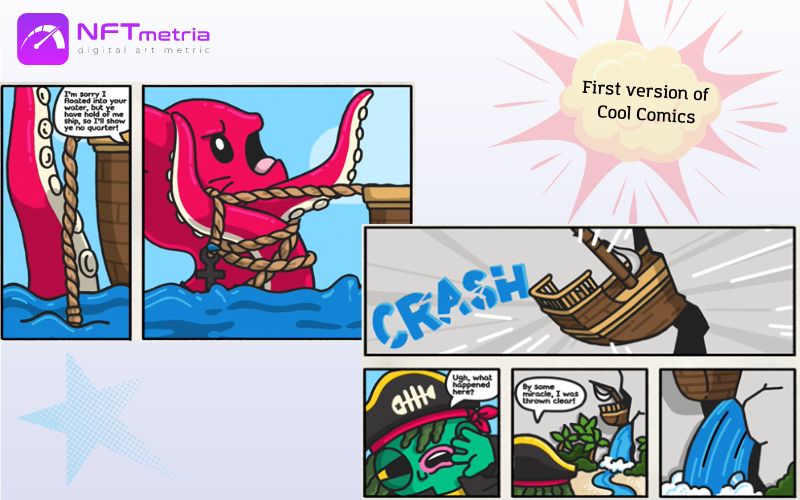 Each comic has a fixed maximum number of editions, so they are available on a first come, first served basis. Also, the animated comic will be constantly broadcast on the official Youtube channel.
In addition, each owner:
Gets a real, physical version of the comic. You only need to pay for shipping.
Exclusive real goods. But the team is still keeping the intrigue and does not say which ones. Perhaps it is a branded merch.
Access to further comic drops.
How much do Cool Cats NFTs cost?
Initially, on July 1, 2021, NFTs were sold at a price of 0.06 ETH. Then they bought only 300 pieces. Then the creators reduced the price to 0.02 ETH, and as a result, all the tokens were sold out in 8 hours. Now, of course, the price is completely different.
To visualize the price dynamics, we made a cut at the average price for 1 NFT:
In August 2021 – 2 ETH;
In October 2021 – 12.8 ETH;
In December 2021 – 8.1 ETH;
In March 2022 – 8.7 ETH;
In June 2022 – 4.2 ETH;
In September 2022 – 3.1 ETH;
In May 2023 – 0.9 ETH.
Now (October 2023) the floor price is 0.5 ETH. On average, the latest sales are in the range of 0.5-5 ETH.
Most Expensive Cool Cats NFT Sales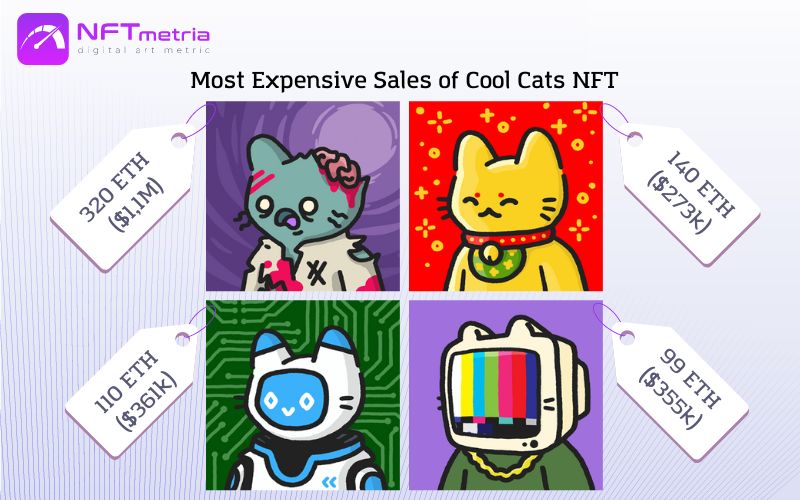 #1490 sold on October 5, 2021 for 320 ETH ($1.1 million at the time of sale). This is one of the rarest exotic (series 2) zombie cats (only 1% of the entire collection has this trait). His shirt, head and face are unique and no other NFT in the collection has such features.
#4695 sold on May 12, 2022 for 140 ETH ($273K at the time). This is one of the rarest exotic (series 2) cats, only 1% of the entire collection has this trait. And he is unique in his kind, having all the features of a "lucky one". No other NFT has such traits.
#3330 sold on August 20, 2021 for 110 ETH (361K at that time). It is also one of the rarest exotic (series 2) robot cats. There are no more analogues for such features.
#5635 sold on October 7, 2021 for 99 ETH (355K at the time of sale). This is one of the rare exotic (series 1) cats, only 5% of the entire collection has this trait. He is also wearing a rare green sweater with a chain (only found in 0.75% of the tokens from the entire collection), and he also has a white TV head (appears in 0.7%), whose picture has no signal (found in 0, 19%).
Where to buy Cool Cats NFT?
Currently, Cool Cats can only be purchased from secondary markets such as:
How to buy Cool Cats NFT?
Remember that initially you need to connect your crypto wallet with self-storage to the marketplace of your choice.
Next, find the official collection using the search bar on the marketplace,
Analyze and choose the NFT you want to buy; click on it and then on the "Buy" button.
Or you can bet on the token you like. Make sure you leave enough ETH for gas or transaction fees. If the seller approves your bid, the deal goes through.
Latest news about the project
This extensive review would be incomplete if we did not touch on important news about the project itself. So, below are the largest of them.
Cool Cats NFT in the new OtherSide metaverse
A 3D version of the Cool Cat NFT appeared on March 18, 2022 in a trailer for the Otherside metaverse by Yuga Labs.
The next day, the project saw an inevitable surge in sales, reaching 199 sales on OpenSea. The fact is that at that time there were suggestions that the presence of Cool Cats would give Otherdeed free land in the form of an airdrop. But then it turned out that Cats owners would not receive any immediate financial benefits or early access to the Otherside game.
Despite this, the presence of these NFTs in the new metaverse provides undeniable advantages over other collections. Namely, they will be transformed into 3D models ready to be used as playable characters using the ODK (Open Data Kit). There is no further information yet as the metaverse is still in testing and early limited launches.
Collaboration with Time magazine
In August 2021, the Cool Cats team announced a huge collaboration with Time of the Year magazine. For this collaboration, they minted 400 NFTs of famous characters reading Time magazine. These are four different cats with different designs that belong to the creators of the collection.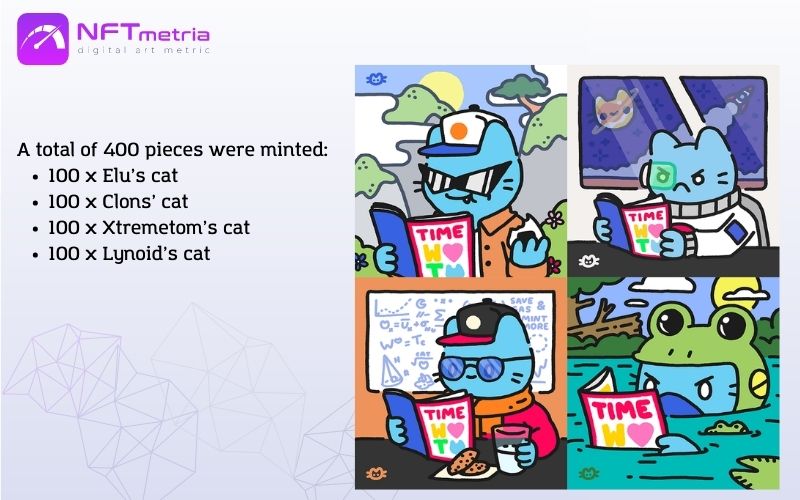 To get one of these Cool Cats X Time NFTs, you had to enter a meme contest run by Time Magazine and 392 of these NFTs were reserved exclusively for Cool Cats owners.
The collaboration came about because the Cool Cats community exudes positivity and optimism, as well as being family-friendly and able to communicate across generations.Time president Keith Grossman tweeted
Signing a contract with CAA
In March 2022, the creators of Cool Cats signed a contract with CAA (Creative Artists Agency). It is the leading Hollywood talent agency based in Los Angeles, California.
The agency will identify and create opportunities for Cool Cats characters across a wide range of areas, including licensing and merchandising, animated content, brand partnerships, live events, publishing and more.It was said in a press release
Toikido will showcase branded toys and merchandise
In April 2022, a new collaboration between Cool Cats and Toikido became known. They announced a deal to manufacture and distribute a wide range of merchandise, including plush toys, branded merch and other branded merchandise.
In addition to traditional in-store and online distribution, Toikido will work with Cool Cats to create exclusive drops for the community as well as special events.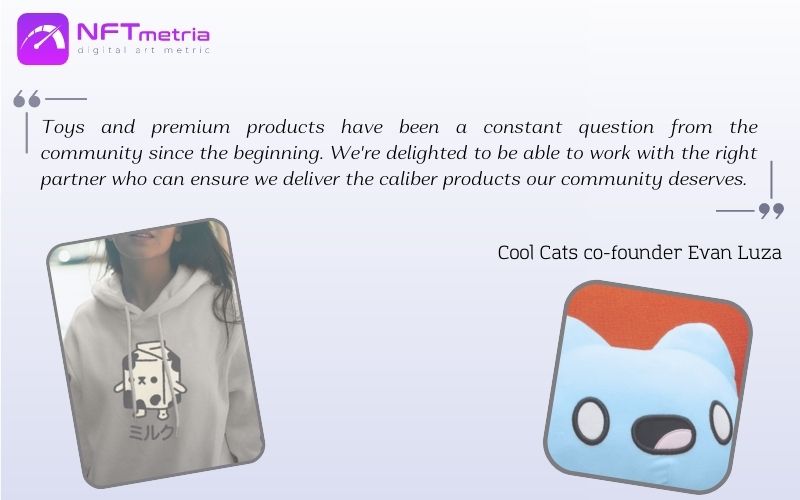 Receiving investment from Animoca Brands
In October 2022, the project team announced that it had received a strategic investment from Animoca Brands. The partnership will help Cool Cats continue to grow as a successful NFT brand and media company. In addition to this investment, the team also announced their partnership with GAMEE in September.
GAMEE is a subsidiary of Animoca and specializes in virtual casual game spaces. Through this partnership, NFT owners will have access to exclusive NFT drops, sweepstakes and gifts.
Cool Cats have entered the new Reddit Gen 4 Avatars
In July 2023, Cool Cats NFTs became the heroes of the next Reddit Gen 4 Avatars. This collaboration goes far beyond the avatar collection; this includes engagement, community participation, and collection growth. And given that Reddit Avatars cost only $5 to $200, it's likely that this partnership will significantly increase Cool Cats' weight in the NFT market.
Cool Cats Becomes the First NFT Brand to Participate in the Macy's Thanksgiving Day Parade
On November 23, 2023, amidst the bustling streets of New York City, Cool Cats will etch its name as the first-ever NFT brand to be physically featured in the Macy's Thanksgiving Day Parade. Cool Cats secured this golden opportunity through an online competition organized by the retail behemoth, Macy's.
The future of Cool Cats NFTs
Having accomplished its original goals, it looks like a new era is dawning on the horizon of the project. The team has already published a list of future additions for their game and released a new roadmap including:
Boss quests for Cooltopia,
Plush toys,
Plans to create a 3D metaverse called Coolverse. This 3D multiplayer world, developed in parallel with the web game, will allow you to immerse yourself in Cooltopia.
NFT breeding (similar to CryptoKitties), which will allow users to create new NFTs based on the heritage of parent tokens.
People's perception of Cool Cats right now exists solely as an NFT, but it's really just our launch platform for the brand as a whole, so we intend to use it in almost every possible way. Co-Founder Luza told The Hollywood Reporter
Should you invest in Cool Cats NFTs?
Now is a good time to invest in Cool Cat NFT. The fact is that the ecosystem of the project is now actively expanding. And not everyone knows in such detail all the prospects that the creators promise to realize. And they implement them in every possible way, especially having received investments from the industry giant Animoca Brands.
So, you can expect richer, more fun and interesting experiences as a valued member of the Cool Cats community. Indeed, with so many exciting plans in the works, you can expect this NFTs to maintain their visibility and liquidity, and the investment will actually carry a lot of X's.
But in any case, do your own in-depth analysis and research when investing in NFTs, and then make your own decisions.
Opinion of NFTmetria
Cool Cats NFT is a promising project based on the active participation of the community.
The cool pet drop mechanic and the gamified experience the team has created is a testament to their vision and commitment. Without a doubt, they will continue to move forward, pushing the boundaries. There are many collaborations, the art is cute and interesting. Cats have taken the web3 world by storm and there is no doubt that this is the most recognizable and original collection of NFT cats.