The Meebits project is an outstanding achievement of the Larva Labs team (they also created the famous CryptoPunks). After launching in May 2021, the collection has exceeded all expectations. In fact, the rapid sale of about 9,000 NFTs in just 8 hours after launch speaks volumes about their popularity. In addition, the total value of the sale at that time was 2250 ETH (nearly $75 million).
The NFT collection also opens up good prospects for digital representation in the web3 ecosystem. Moving away from 2D art, Meebits 3D NFTs marked a new evolution in the art of NFTs created with algorithms.
This has led to it earning its place as a blue chip NFT collection and in the Best NFT collections.
Meebits Official Links
Meebits in numbers
Meebits is a collection of 20,000 3D voxel NFT characters that can be traded, animated, and used as metaverse avatars.
NFTs were released on May 4, 2021 by Larva Labs, creators of the hugely popular CryptoPunks collection.
Primary sales were carried out in the form of a Dutch auction at a price of 2.5 ETH. As a result, the sale ended in 8 hours and ensured the sale of 9,000 NFTs in the amount of 2,250 ETH (about $70 million at that time).
On March 12, 2022, Yuga Labs announced the acquisition of intellectual property rights to Meebits and CryptoPunks. Thanks to this, in the context of 24 hours, sales increased by more than 10 times.
All-time sales exceeded $660 million,
Market capitalization exceeded $1.33 billion,
Today you can buy this NFT for at least 3.2 ETH, with an all-time average of 5.5 ETH.
On July 28, 2022, Larva Labs set a royalty on all secondary sales of 5%.
Data (including exchange rates) are given at the time of publication of the article
What is Meebits?
Meebits is a collection of 20,000 3D voxel symbols designed with a custom generative algorithm. All 3D characters are registered on the Ethereum blockchain and operate on the basis of the ERC-721 token standard.
Most importantly, the NFT contract also includes a dedicated trading platform not only for selling but also for exchanging your NFTs, and there are no transaction fees. With these NFTs, the developers aimed to evoke the same experience in people as children when they collected cards and exchanged them with friends.
Larva Labs transferred intellectual property rights to the project to Yuga Labs on May 4, 2021. Since then, these NFTs have been selling like hot cakes, cementing their place in the top NFT collections and blue chips.
Meebits types and attributes
Meebits of various types, attributes, and rarities can be bought, sold, and collected. Among the 20,000 NFTs, there are 7 types:
18,881 people
711 – pigs,
256 – elephants,
72 – robots,
57 – skeletons,
18 – visitors,
5 – dissected (imagine people without skin).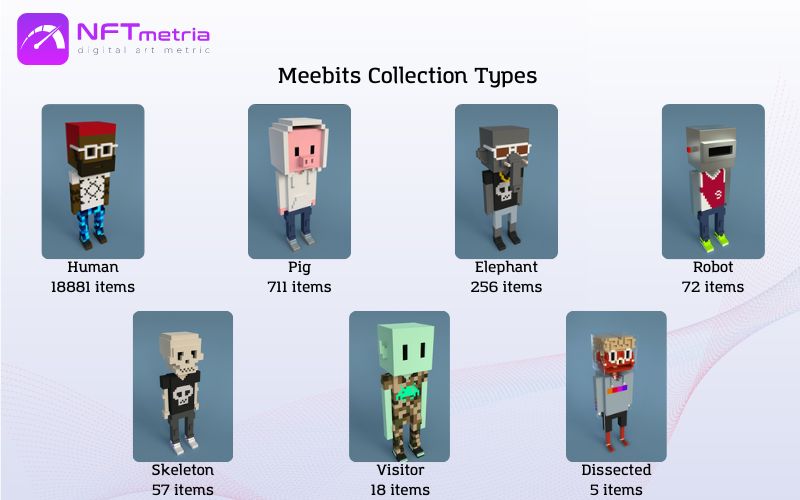 Visually, they resemble characters from games like Minecraft or Roblox, and this is the key selling point.
Along with these seven types, the various attribute categories (20 in total: tattoos, t-shirt numbers, earrings, necklaces, beards, etc.) make each NFT unique and should help potential buyers find the right character for them.
Who created Meebits?
Meebits released Larva Labs, the team of developers who created the pioneering The CryptoPunks NFTs in 2017. Having made a name for themselves with the first collection, Larva Labs has ensured the success of voxel 3D NFTs.
Larva Labs is owned by Matt Hall and John Watkinson. Before starting the joint studio, Matt Hall graduated from Trinity College in 1998 with a degree in computer science and mathematics, after which he worked in various positions in the field of development. And John Watkins graduated from the University of Toronto in computer science and worked as a tech lead for various companies.
Which celebrity owns Meebits?
Notable Meebits holders and celebrities include:
How did Meebits become blue chip?
Only 9,000 Meebits were put up for sale on May 4, 2021 in the form of a Dutch auction. The starting price was 2.5 ETH, then the price managed to drop only to 2.4 ETH. Within eight hours of trading, they were sold for over 21,500 ETH (approximately $75 million over the course).
The rest of the NFTs (11,000 in total) went to The CryptoPunk and The Autoglyp holders as an airdrop. The collection soon gained momentum and sales reached tens of millions of dollars.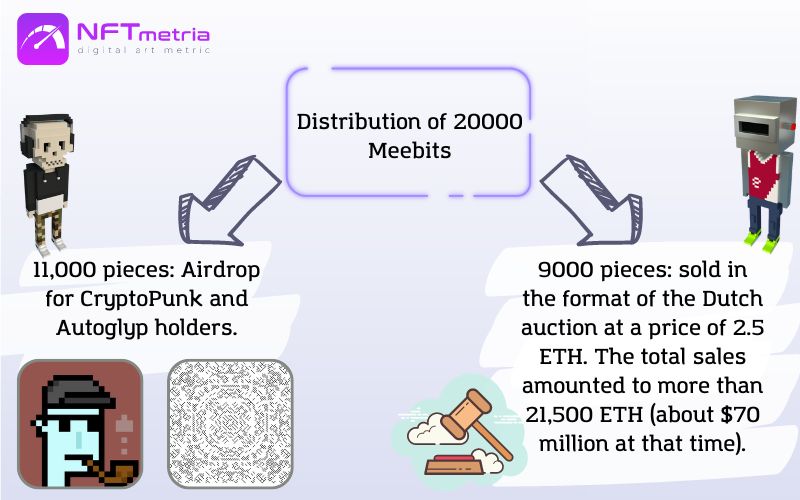 A week after launch, his coinage contract was attacked, resulting in over $1 million in NFT being stolen. Although the team suspended minting and trading in time to stop it, the project's trading volume dropped by half a year. It was not until January 2022 that trading volume was restored.
On March 12, 2022, Yuga Labs, the company behind the Bored Ape Yacht Club, announced that it has acquired the intellectual property rights to the CryptoPunks and Meebits collections. This transaction allowed all NFT owners from these collections to now use their acquisitions to earn money for any purpose, which was not possible before.
Of course, this event increased the average price in the secondary market from 3.5 ETH to 7 ETH, while the series increased trading volume between March and April.
Meebits performed well and NFTs have been selling like hotcakes ever since. The main goal of the project was to make it fun, like the collectible cards we collected as kids, and add a lot of useful stuff to it.
Why are Meebits so popular and expensive?
We can identify several reasons for the high popularity and value of this NFT collection:
Meebits are popular and expensive not because they are new to the industry or because they use fancy 3D voxel characters. But because they are created by the same team – Larva Labs, which introduced CryptoPunks to all of us.
The most important news of this year immediately raised the popularity of the collection. We are talking about the ability to use the character for any commercial purposes. And this means that you can open a cafe with the brand of your NFT, release a collection of clothes, broadcast it on YouTube – a channel or use it in your own video. There are many options, choose only yours.
Owning a character from this collection automatically includes the holder in the elite community and informs everyone about your status. Not everyone can afford to buy such an NFT, right?
NFTs are indeed the perfect 3D avatars for the metaverse as well as the Web3 ecosystem, just as CryptoPunks were great 2D avatars for Web2.
Another advantage of owning these NFTs is the possibility of future airdrops. CryptoPunks owners received free Meebits. And future NFT projects from Larva Labs could do the same.
Another feature is a unique private marketplace. It allows you not only to trade NFTs, but to exchange them in order to maintain the spirit of the collector as in childhood. And also, you save money on every transaction. Larva Labs does not charge any commission on any completed sale. And when it comes to buying for hundreds of thousands and even millions of dollars, a few percent of the commission play a role.
What to do with Meebits? What are they useful for?
The acquisition of the popular NFT brings with it not only involvement in the elite community, but also some other advantages and benefits:
The most important thing is the ability to use your NFT for any commercial purposes. This opportunity only appeared in the summer of 2022, when Yuga Labs bought the rights to the intellectual property. Now each holder is limited only by his own imagination.
Meebit owners get a resource pack that includes a full 3D model, a T-pose animation OBJ file, and a high-resolution rendering of the character. There has never been a single project in this format before.
Owners can further customize and play with their character in various games. Right now, you can play with Meebit in over 20 virtual worlds, apps and games.
Another amazing use is to 3D print them. Imagine you have a super cool avatar in your room.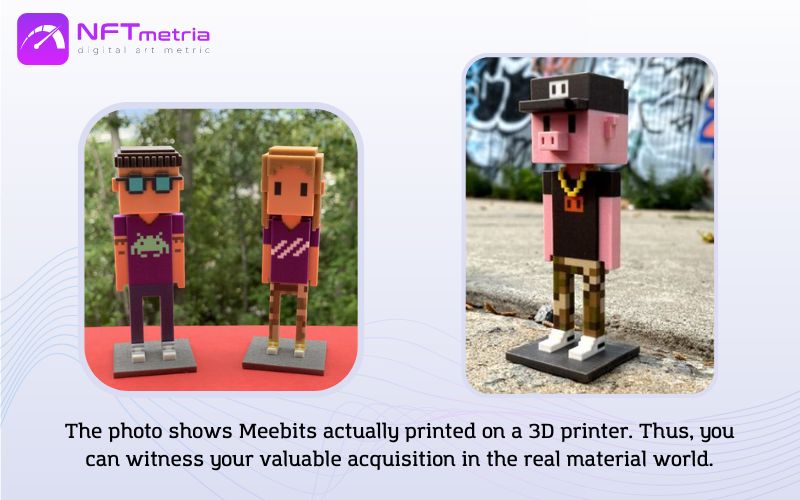 NFTs are perfect 3D avatars for metaverses like Decentraland, Cryptovoxels and The Sandbox. Such avatars are a sign of status and belonging to the community.
Here is how one of the co-founders of TheSandboxGame says about it:
Meebits should be interoperable across all Metaverses.

The era of the Avatar has just begun 🚀

Can't wait to see them across @cryptovoxels @decentraland @SomniumSpace and of course @TheSandboxGame where you could equip and play with them! pic.twitter.com/RADotroEo9

— Sebastien 🏞 (@borgetsebastien) May 4, 2021
How are Meebits different from CryptoPunks?
Despite the fact that the two collections are released by the same studio and are conceptually related, there are fundamental differences besides the appearance:
Meebits are more like an updated version of CryptoPunks. CryptoPunks are pixelated 2D icons, while Meebits are voxel-rendered 3D characters upgraded from head stickers to dynamic voxel puppets.
In terms of supply, these NFTs are twice as large as CryptoPunks: CryptoPunks is 10,000 and Meebits is 20,000.
In addition, the biggest innovation of the collection is that it changes from static NFT to dynamic NFT and becomes a true 3D character.
By the way, there is an important similarity that their creators gave them. Also, as with CryptoPunks, a portion of the value of Meebits is determined by the order in which they are minted. Moreover, the earlier ones are usually more valuable than the later ones.
Meebits Roadmap
Meebits doesn't have the traditional roadmap you see on most existing and future projects. Yuga Labs hasn't revealed what else it's building for the project.
The vision is focused on embracing the currents that are already key to the community – gaming, DIY experimentation, tech minimalism and interoperability – and picking them up more and more. The Yuga Labs team reported on their blog
Earlier in the article "Investment valuation NFT: how to evaluate an NFT project?" we told you that the presence of a well-developed roadmap is an important criterion for assessing the investment attractiveness of a project. And indeed, it is. But in the case of top projects, this does not always work. The level of trust and loyalty on the part of the community, and the weight and authority of the creators of the collections is so great that a high level of sales and further development of the project, as a rule, are guaranteed even without a roadmap.
Meebits DAO
After the release and increasing popularity of the collection, the creators decided to create their own DAO. After the launch, many people had a lot of ideas that can be implemented using NFTs. However, pitching ideas is the easy part, and Meebits DAO wants to help those ideas come to fruition through a structured roadmap and accountability.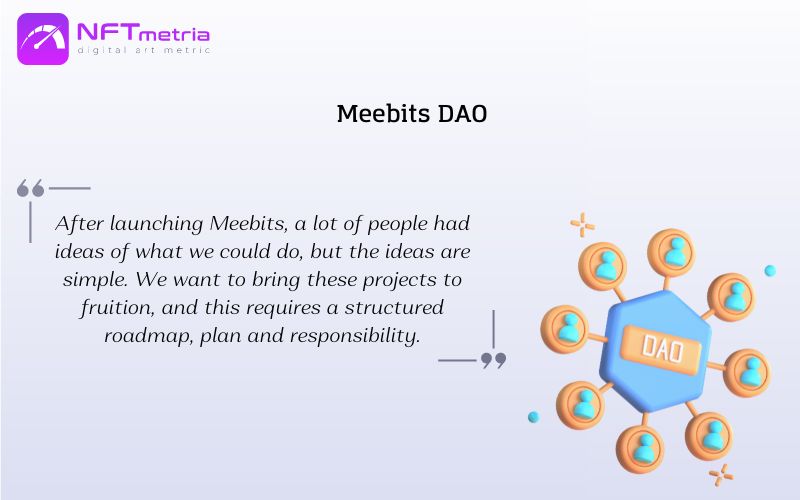 The DAO structure looks like this:
Advisory Council, which organizes and supports the entire community, and also actively participates in decision-making. It includes experienced qualified specialists, who were appointed by the creators. We list some of them:
Kai Turner. He is a creative director with over 25 years of experience creating digital products.
Bart Decrem. Previously, he coordinated the creation of the GNOME Open Source Foundation and led the marketing and commercial issues for Firefox 1.0.
Jim McNelis is CEO of NFT42 and previously founded Dito, an enterprise cloud provider.
Mark Mayo – Formerly director of product at Mozilla and curator of Firefox at Quantum's launch, CTO of cloud computing pioneer Joyent.
Voting Members – Initially founding members, but voting rights will be further tokenized (ERC-721) and transferable. It is the governing body of the DAO.
Non-Voting Members – General Membership Token Holders (ERC-20) who do not have voting tokens will still be able to "pledge" their tokens into voting members who can act as delegates.
Sponsors – may participate in funding the administrative and infrastructure costs of running the DAO with budgets to be approved by the governing body of the DAO.
To become a part of Meebits DAO, you need to register NFT for general membership on their official website. The membership token gives you access to a private Discord channel, a membership project, or DAO governance, and the ability to contribute to the future of the ecosystem.
How much do Meebits cost?
Initially, on May 4, 2021, the Dutch auction was held at a price of 2.5 ETH. To visualize the price dynamics, we made a cut at the average price for 1 NFT:
In June 2021: 1.3 ETH,
In September 2021: 7.5 ETH,
In December 2021: 5.2 ETH,
In March 2022: 6.9 ETH,
In June 2022: 4.2 ETH,
In August 2022: 4.4 ETH,
In March 2023: 3.1 ETH,
Now (June 2023) the floor price is 1.5 ETH. On average, the latest sales are in the range of 1.49-2 ETH.
The most expensive sales of Meebits
Although Meebits look different, they have one thing in common: they are invariably expensive. However, some of them, especially the rarer ones, cost more than others.
#4092 sold on January 19, 2022 for 15,200 ETH (about $48 million at the time of the deal).
#13824 sold on January 12, 2022 for 15,000 ETH (about $50.6 million at the time of the deal).
#4704 sold on January 19, 2022 for 15,000 ETH (about $47.4 million at the time of the deal).
#6014 sold on January 17, 2022 for 14,905 ETH (about $47.9 million at the time of the deal).
Where to buy Meebits?
Larva Labs has created an integrated Meebits marketplace where users can trade up to 100 tokens per transaction. The transaction limit applies to both sides of transactions, which means 50 buy and sell cycles.
Leading NFT trading platforms such as OpenSea, Rarible, CoinBase also actively trade this collection.
The difference between the sites is that Meebits does not charge a fee for transactions up to 100 NFTs compared to marketplaces where the minimum fee is 2.5%.
How to buy Meebits?
Meebits are currently only available for purchase in various aftermarkets.
To buy NFT, you will need to visit the NFT marketplace and connect your crypto wallet.
Once there, search for the Meebits collection in the search bar and you can start browsing.
After you select the character you want to buy, you need to click on the image, which will take you to a separate window where you can place your bid.
If the seller accepts your bid, the NFT will be transferred to your address.
Don't forget to have enough funds to pay for gas and marketplace fees.
Latest news about the project
This extensive review would be incomplete if we did not touch on important news about the project itself. So, below are the largest of them.
Yuga Labs acquires Meebits and CryptoPunks and gives commercial rights to the community
On March 12, 2022, Yuga Labs (the company known for creating the Bored Ape Yacht Club collection) acquired the intellectual property rights to the collection from Larva Labs (and also to their first product, the CryptoPunks collection). And opened commercial rights to the whole world. They did this so that all owners of NFTs could fully promote them and not risk copyright lawsuits from Larva Labs (and there were such concerns among media influencers).
Meebs, the IP licenses agreement for the Meebits collection is now live at https://t.co/A5gssvPrrq. These terms will guide the community's creations, both in the metaverse and real life. More details in the 🧵 below

— Meebits (@MeebitsNFTs) August 15, 2022
This means we now own the brands, art copyrights, and other intellectual property rights for both collections, as well as 423 CryptoPunks and 1711 Meebits. Yuga Labs said in a blog post
Meebits involvement in the new Otherside metaverse
On March 19, 2022, Yuga Labs posted a trailer for the new Otherside metaverse on Twitter. They are developing it with Animoca Brands, the company behind The Sandbox virtual world. The trailer showed the most popular NFT collections: Meebits, CryptoPunks, Bored Ape Yacht Club, Mutant Ape Yacht Club, Cool Cats, World of Woman.
While the metaverse is in development, a massive sale of land to Otherdeed for Otherside is underway. All of the above characters will occupy key positions in it. But, as you understand, the participation of the Mibits in such a global project for the industry will have a positive impact on the value and cost.
Establishing Royalties on secondary sales of Meebits
Since Yuga Labs acquired Meebits from Larva Labs earlier this year, it has not charged any royalties so far. And in general, royalty was not included in the policy of Larva Labs and their smart contract.
And now according to the announcement on July 28, Yuga Labs will receive 5% of the sales of NFTs. Fees will be charged on secondary sales of the collection through all marketplaces and its own marketplace on its official website.
Meebits exhibited for the first time at Christies Auction
It looks like Yuga Labs has started to act and promote Meebits outside of marketplaces and the world of Web3. Auction house Christies put up for auction several NFTs from the sensational collections from Yuga Labs. These include CryptoPunks, Bored Monkeys and Meebits.
4 characters were submitted for auction. The results of the auction are as follows:
#2838 sold for 875,000 HKD (about $111K),
#4983 sold for 625,000 HKD (about $80,000),
#6337 sold for 4,375,000 HKD (about $557K),
#2463 sold for 625,000 HKD (about $80,000).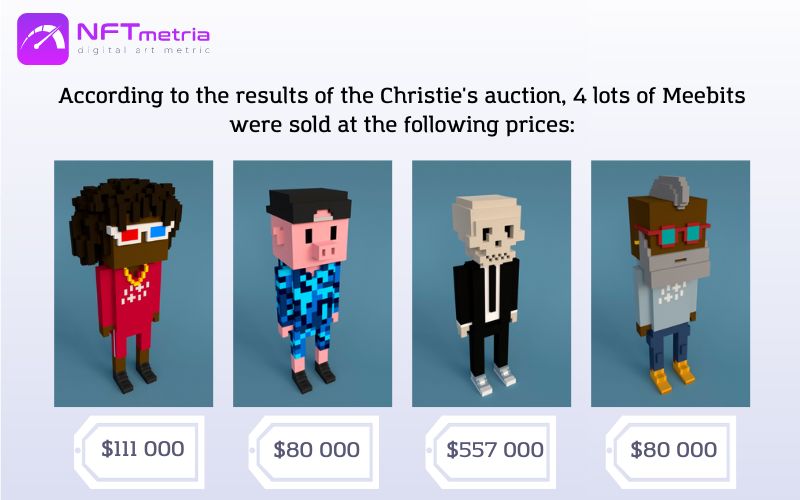 The "No Time Like Now" sale for the Asian market began on September 17 at 2:00 pm Hong Kong time and ends on September 28 at 2:00 pm Hong Kong time. But all NFT lots have already been sold and the results have been published.
Whats next?
It looks like Meebit has a bright and exciting future because it is developed by Larva Labs. 3D Voxel NFT Characters is a one of a kind digital art that provides extensive customization, 3D rendering as well as easy trading through NFT marketplaces.
Following the global merger, Yuga Labs did not reveal its future plans for the collection, but promised to maintain the core values ​​of the Meebits community: "DIY experimentation, tech minimalism, and compatibility."
Some followers believe that network-connected unique characters from 3D voxels have untapped potential for use in video games and virtual environments. For these buyers, owning Meebits could be an intriguing opportunity to further immerse themselves in the metaverse experience.
The new head of brand @dannygreene is very cryptic about future plans:
As @gordongoner said a few months back, "big things take time." There is a lot on the horizon, but I can't get into the specifics yet. You'll be hearing more from us soon.https://t.co/XdKKTjUMIN

— dannygreene.eth ⚇ (@dannygreene) August 8, 2022
Should you invest in Meebits?
It is impossible to say with any certainty whether an investment in Meebits is a good investment or not. However, certain factors determine the long-term sustainability of any NFT project. When it comes to Meebits, one of the most important aspects is the team behind the project.
The value of the Larva Labs brand comes from the success and popularity of its co-founders and their successful history. Utility is the next important factor. At the moment there is not much usefulness, but we can expect this to change when virtual world projects like The Decentraland, The Sandbox, The OtherSide become mainstream.
Although the number of Meebits (20,000) is double that of most NFT projects (10,000), sales are steadily growing. With a growing community and ecosystem around these 3D voxel avatars, it can be predicted that the collection will grow even more and become a good investment choice. Especially now, against the background of a general slight decrease in the price of these NFTs, you have the opportunity to invest your funds not at the peak.
But remember, under no circumstances is a historical return on investment a guarantee of a return on investment in the future.
Opinion of NFTmetria
Larva Labs created a large-scale project for the market, which quickly became a blue chip. It was the big name of the creators and the innovation in the form of 3D moving characters that made Meebits famous. But further development was in doubt until Yuga Labs intervened.
Judging by the track record of Yuga Labs, we will probably see more events with Meebits in the future. Especially when it comes to the movements of the Yuga Labs ecosystem.
To be sure, this NFT project is still a testament to the many opportunities that decentralization has opened up, and many more. Further decentralization, enabling greater transparency and flexibility, is key to the future of NFTs. Obviously, projects like Meebits will help make that future a reality.