Fantasy films and books about parallel universes, connecting the digital and real world, are becoming a reality. The Metaverse is the big word for 2022 and most likely for the next 5-10 years. One of the most global and famous is Decentraland. Tens of millions of dollars are being invested in it. It is she who joins the world's best brands, companies and celebrities. It was in it that the first music festival was held, which entered the history of the metaverses. And the company's capitalization exceeded $1.2 billion.
In our new extensive review, you will find out what Decentraland is, what they do in the metaverse, what brands are represented there, what is the project's tokenomics, and much more.
Decentraland Official Links
Decentraland in numbers
The project has been developed since 2015, and in 2017 it was presented to the general public.
The Metaverse consists of 97832 LANDs.
In 2017, the company raised $26 million in an ICO.
There are 1.86 billion MANA tokens in circulation, which is in the TOP of the best NFT cryptocurrencies for investment. Today, its rate is $ 0.65.
Capitalization of the project is 1.24 billion dollars.
Sales exceeded 179K ETH (over $232 million).
In 2017, lots were selling for about $20, in 2021, during the NFT boom, lots were selling for between $6,000 and $100,000.
The most expensive land was sold for almost $2.5 million in November 2021 in the prestigious Fashion Street area, which houses a complex of high-end stores, boutiques and shopping centers.
Today the cheapest plot costs $2185 (3525 MANA).
The first four-day Metaverse Festival, held in October 2021 at Decentraland, featured artists such as Deadmau5, AlunaGeorge, Paris Hilton and Alison Wonderland.
What is Decentraland?
Decentraland is a 3D virtual platform built on the Ethereum blockchain and compatible with the Polygon blockchain. The platform is a metaverse where users create, sell and monetize their digital content and virtual real estate. You can own anything and everything in Decentraland, from an art gallery to hangouts, from convention centers to luxury homes. These virtual properties can be purchased as NFTs using the MANA cryptocurrency. The main coins you can use in the metaverse are MANA and LAND. Each of these tokens has a specific purpose in the ecosystem, which we will discuss next.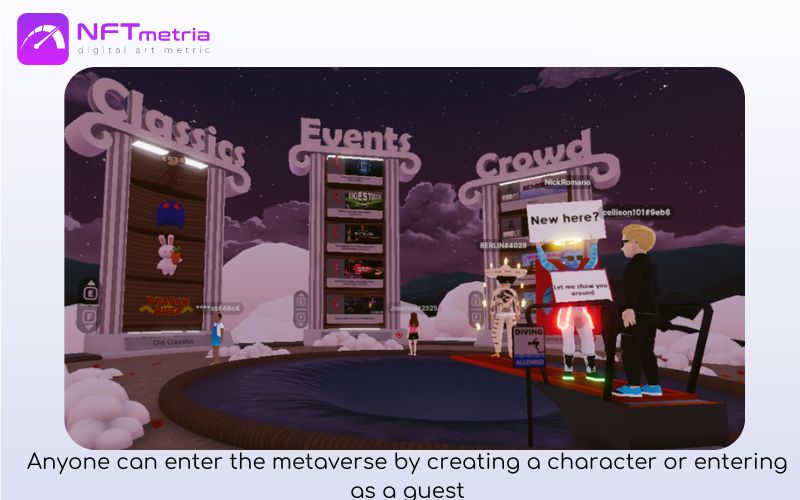 As the name suggests, Decentraland is made up of two words: decentral and land. This means that the platform is completely decentralized and is an ideal option for anyone who is well versed in cryptography and augmented reality who wants to venture into the virtual world of Metaverse.
Who created Decentraland?
The Metaverse was first released in August 2015 by a foundation called the Decentraland Foundation, which was founded by two people: Ariel Meilich and Esteban Ordano. Meilich has extensive experience with startups and entrepreneurship, while Ordano has a much stronger technical background. The two combined their unique skills to create a powerful project and attract partners from Binance and Samsung.
Decentraland success story
Decentraland was created by Argentines Ari Meilich and Esteban Ordano and has been in development since 2015.
Initially, the project was just a pixel grid that gave users ownership of pixels using a proof-of-work algorithm. Decentraland was later converted into a 3D platform.
When it launched in 2017, digital land plots were selling for around $20 and MANA tokens were selling for $0.02. The game's first map, Genesis City, consisted of 90,601 plots of land.
In 2017, the company raised $26 million in an Initial Coin Offering (ICO).
In October 2018, Decentraland and Animoca Brands made a mutual investment through the exchange of shares and MANA tokens in the amount of $0.5 million each. Investors also include Digital Currency Group, Kenetic Capital, FBG Capital, CoinFund and Hashed.
In April 2021, during the NFT boom, lots were selling for between $6,000 and $100,000.
In 2021, Atari partners with the Metaverse. The company owns a piece of land in the metaverse set aside for the Atari casino.
That same year, Playboy magazine opens its own virtual art gallery on site to celebrate its first NFT collection.
Also, in 2020, The Coca-Cola Company sold unique NFTs for Decentraland on the OpenSea marketplace and received a winning bid of approximately $576,000.
In June 2021, London auction house Sotheby's created a digital replica of its New Bond Street headquarters as a virtual gallery to showcase digital art.
In late 2021/early 2022, big brands entered or bought "real estate" in the metaverse. These include Samsung, Adidas, Atari, PricewaterhouseCoopers and Miller Lite, while Sotheby's held its first Metaverse auction.
The four-day Metaverse Festival, held in October 2021, was the first music festival in the metaverse. It included performances by the likes of Deadmau5, AlunaGeorge, Paris Hilton and Alison Wonderland.
In November 2021, the Government of Barbados signed an agreement to acquire land for an embassy in Decentraland. Thus, Barbados became the first state in the world with an embassy in the metaverse.
And in March 2022, Metaverse Fashion Week was held in the metaverse, where major fashion brands appeared, including Dolce & Gabbana, Tommy Hilfiger, Elie Saab, Nicholas. Kirkwood, Perry Ellis, The Imitation of Christ, and Estee Lauder.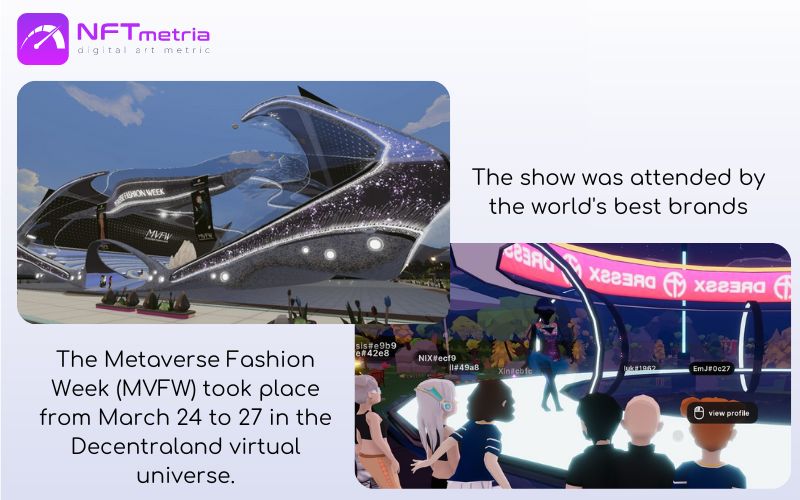 Opportunities of the Decentraland Metaverse
From the very beginning of the development of the metaverse, its potential for new use cases in blockchain-based communities was taken into account. Their whitepaper describes five main use cases:
Applications: Users can create applications and 3D scenes in the Decentraland programming language and enhance interaction.
Content curation: neighborhoods have emerged that attract like-minded people with similar interests, thus contributing to the natural growth of communities.
Advertising: Filling neighborhoods with players has resulted in advertising brands buying space and installing billboards.
Digital collectibles: NFT items are collected, created and sold on the internal Marketplace, which provides users with ownership rights.
Social: Social media communities and offline groups have a more interactive way to communicate with friends.
As with most blockchain economy games, there is money to be made in the metaverse. Speculation is common here, and some sought-after plots of land are being sold for huge sums of money.
What are people doing in Decentraland?
Decentraland is a virtual environment, just like any other metaverse project. You can explore the map and take part in one of the many social events. In the crypto sector, communities do everything from concerts and gambling nights to movie screenings where people gather in one place and have a good time.
You can also participate in the in-game economy by purchasing and/or trading digital art with other players on the platform. Players can interact with the platform and keep track of LAND plots, which are real estate plots. These NFTs can be bought and sold by users.
However, unlike other VR games, Decentraland members have direct control over the rules of the platform. As a result, users can directly vote on the game and organization policy through the DAO we talked about above.
Decentraland Map
The virtual world is located on a site of approximately 310 by 310 plots. Each 16 by 16 square meter square on the map represents NFT LAND. In total, there are 97832 such plots today.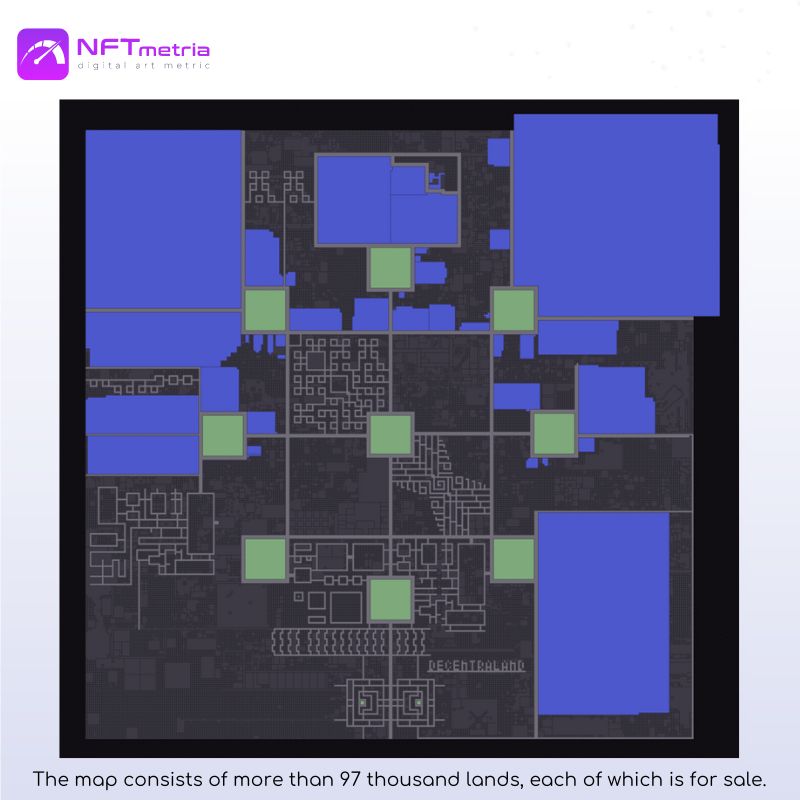 Land plots are further formed into districts. A neighborhood is a group of LANDS with common interests, styles, or communities.
Districts and their characteristics
All areas in the game are different from each other. Each of them has its own characteristics and capabilities.
Aetheria
The largest region in the world. It includes more than 10 thousand sites. Aetheria itself is made in the style of cyberpunk, so it attracts fans of the films "The Fifth Element" and "The Matrix". All lovers of the dystopian world of the future gather here. The main building of the area is the Fractus nightclub. It is located in such a large building that it also has:
Hall for tournaments on online games,
Casino,
Arena for tournaments.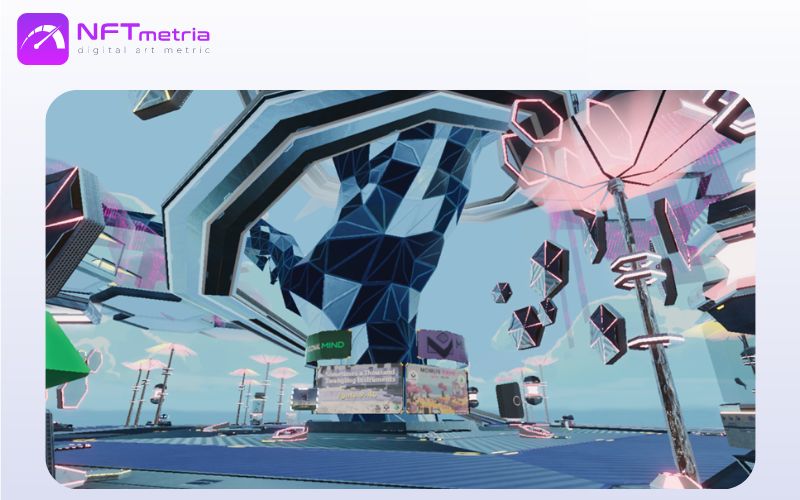 All ideas are still in the testing and development stage, so significant changes in the concept of the district are possible.
Vegas City
An area consisting of almost 7 thousand lands. As the name implies, it is the center of attraction for gamblers. VegasCity is originally a casino, shops and nightclubs. In addition, there is an arena for broadcasting various tournaments.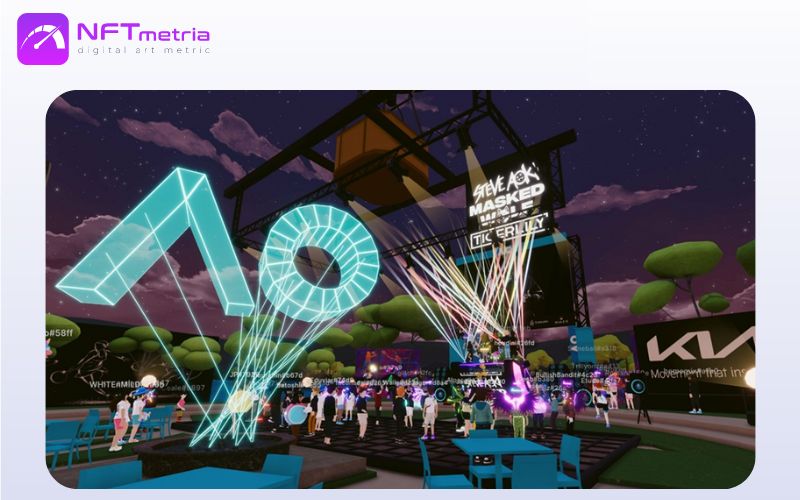 Dragon City
A region where two different cultures met: West and East. Accordingly, all buildings are made in a combined style. There are buildings similar to Tiananmen Square and the famous buildings of Western Europe. In this part of the world there will be no such active development of commercial activities. Of course, here you can find shops and casinos. But all this will not affect the sharp price hikes within the region.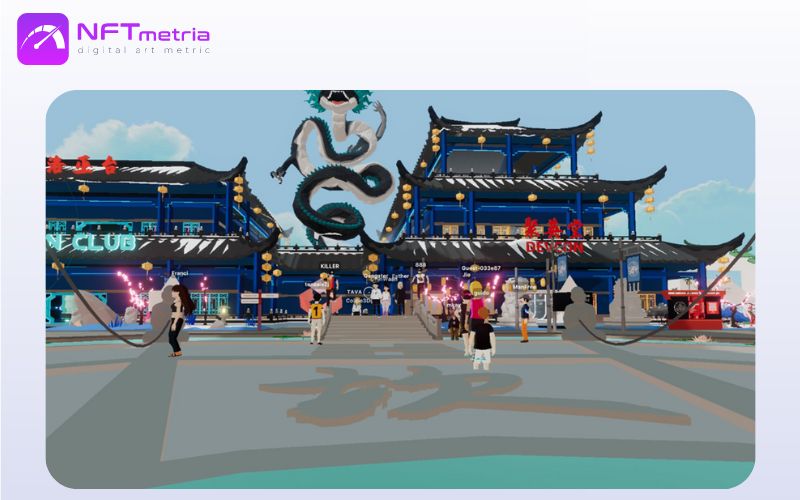 Fashion Street
A place where all the most famous brand stores are collected. Here users can try on any thing they like using virtual reality glasses. Of course, while the technology is somewhat "raw", but over time, technology will make a real breakthrough. Thanks to this, players will be able to instantly pay with cryptocurrency or fiat money for a handbag or a T-shirt. In addition, fashion shows and exhibitions will be held in the region.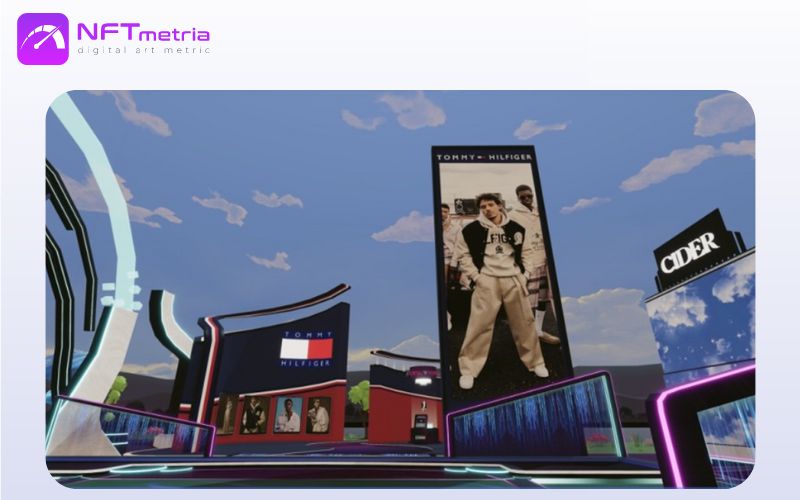 Red light
Area for adult users. Here you can participate in live chats, visit adult shops or use the dating service. It is very easy to monetize your own land on the "street of red lights" and make a profit from it.
Such diverse regions are available to Decentraland users. In addition, it is planned to create themed areas for engineers, science fiction lovers and many others.
What is the role of the DAO in Decentraland?
One of the interesting aspects of Decentraland is its focus on decentralization. The DAO allows token holders to directly vote on in-game and organizational policies. This mechanism extends to everything from the types of items allowed to investments in the DAO treasury.
The DAO uses an offline voting setup for the community. This gives token holders a fair chance to vote and participate in decisions and governance proposals. The DAO owns the most important smart contracts that make up the metaverse.
Changes are made based on the results of voting. For its implementation, smart contracts are used – the owners of MANA and NFT LAND can take part in voting and initiate them.
Land owners are entitled to two thousand votes. MANA holders can also manage DAO, however, this requires converting assets into wrapped tokens (wMANA). Each coin is entitled to one vote.
Decentraland Tokenomics
The hallmark of Decentraland are the two different tokens MANA and NFT LAND that help manage the operations of the metaverse:
MANA is an ERC-20 utility token. The initial emission of MANA amounted to 2.8 billion coins. As of October 2022, it has decreased to 1.86 billion dues to incineration. MANA is used to buy land, game items and services. The token is needed to build buildings and manage the platform.
LAND is an NFT ERC-721 representing a location in the metaverse. The owner of the NFT is the manager of the territory with the corresponding coordinates. If the user owns a group of plots, he can receive an Estate token (real estate). You can create a crypto asset from two or more sites.
During the formation of the metaverse, MANA was used to buy NFTs from LAND. The lands were sold at auctions in December 2017 and December 2018. At the same time, MANA tokens were burned.
Two tokens are responsible for managing the metaverse. It has no central authority and the entire ecosystem is under the control of users. The virtual world actually works in the form of a virtual ecosystem, helping users to make the most of all the possibilities of the metaverse.
Let's talk separately about each of the two ecosystem tokens.
MANA token
MANA is the platform's official in-game cryptocurrency and one of the best NFT cryptocurrencies to invest in. It is an ERC-20 token that helps users buy NFT LAND and make payments for in-app purchases. The currency is used to buy real estate, avatars, wearables, and exclusive names in the virtual cluster. When you buy or sell a piece of land on a platform, MANA is burned, or shall we say, exchanged for land.
In addition, there is a second use of the token. It is used as a governance token, meaning it can be used to vote on where the project will go in the future. This feature is possible through the DAO, which gives token holders the right to vote in the direction of the project.
In total, there are 2.2 billion MANA tokens, of which 1.86 billion are currently in circulation. The Decentraland block can be mined to add new tokens to the network. Since it is powered by Ethereum, the portal uses the Proof of Work consensus algorithm.
The MANA rate is volatile on the market: it fell from $3.2 in January 2022 to $0.65 at the time of writing.
NFT LAND
In Decentraland, the virtual space where the user interacts and creates is called NFT LAND. According to the team, NFT LAND is a limited and easily transferable 3D space representing an NFT collectible that can be owned and sold. Owners can use their virtual space to create exclusive scenes, applications and games. Each NFT LAND is an ERC-721 standard asset that powers the project's core ecosystem.
The most expensive NFT LAND sales in Decentraland
Most Expensive NFT LAND Fashion Street Estate Sold $2.42 Million November 22, 2021. The owner is the Canadian investment company Tokens.com, focused on the field of decentralized finance (DeFi). The site consists of 116 lands, and it has a complex of high-end shops, boutiques and shopping centers.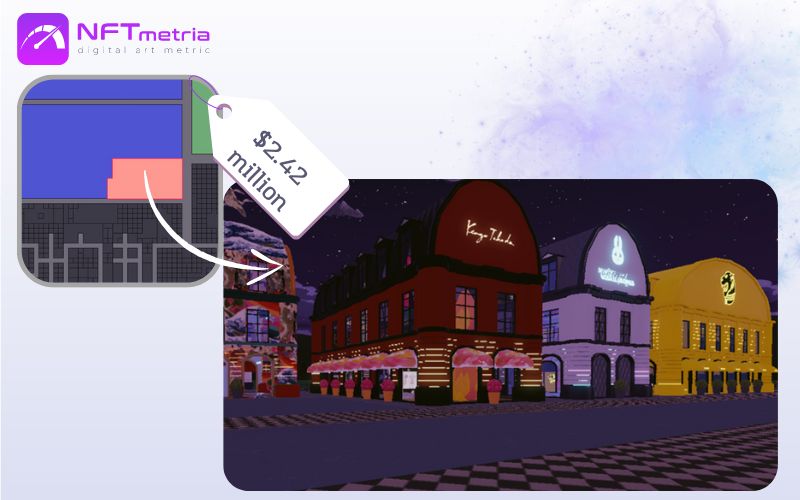 NFT LAND PLEIN PLAZA, consisting of 65 lands, sold for $1.32 million on February 3, 2022. The owner is a world-famous PHILIPP PLEIN brand. The future development will include luxury retail stores, entertainment, an art museum, a hotel and luxury residences.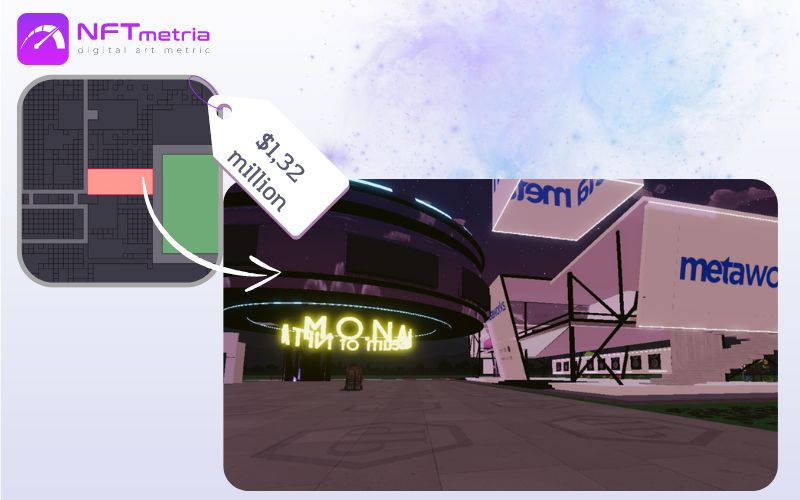 NFT LAND Mega Soho DISTRICT, consisting of 52 lands, sold for $1.19 million on January 20, 2022. The owner remains anonymous. The territory offers for sale first-class real estate at SOHO Plaza. It's one of the biggest and best places in all of Decentraland, but so far it's undeveloped and is just an empty field.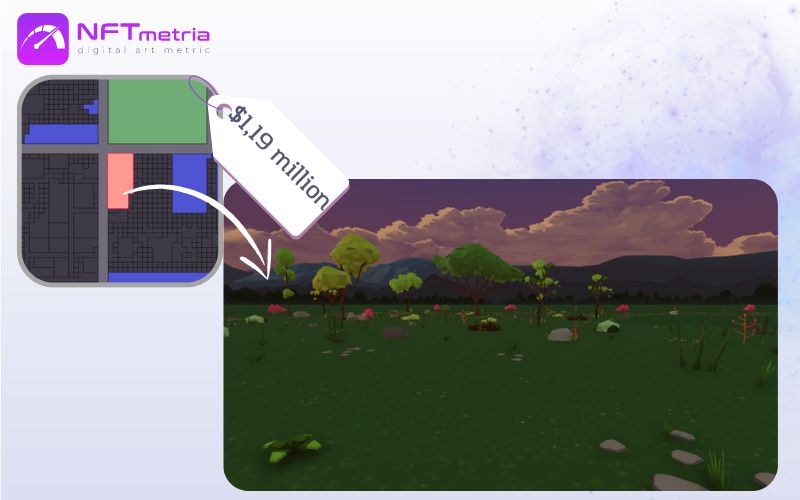 How much does NFT LAND cost in Decentraland?
Initially, in 2017, NFT LANDS sold for about $20. At the peak of the NFT boom, the price ranged from $6k to $100k. Now prices have more or less stabilized.
At the moment (October 2022), the minimum price of NFT is 3525 MANA (1.69 ETH). On average, the latest sales are in the range of 1.25-3.2 ETH.
How and where to buy NFT LAND Decentraland?
Like any NFT, LAND can be bought on the relevant marketplaces, such as OpenSea. Decentraland also has its own official marketplace where you can buy land and give it a name.
Members can use the marketplace to manage and exchange LAND NFTs that are valued in MANA. In addition, owners can use the marketplace to buy, sell, and trade packages, clothing, and other in-game products such as wearables and unique names. It is worth noting that all transactions are resolved between Ethereum wallets and are thus verified by the Ethereum network and recorded on its blockchain.
How to join Decentraland?
So far, you can visit this world only from a computer, but the developers are already working on a mobile version. There are no hard and fast PC requirements, but if your PC meets these minimum requirements, traveling through the Metaverse will be more enjoyable:
i3 processor (second generation or higher) or AMD equivalent,
4 GB of RAM, better from 8 GB,
NVIDIA GT 730 video card or its AMD equivalent.
If you're accessing through a browser, it's best to use Chrome or Firefox. VR glasses will enhance the experience, but they are not required.
You can access Decentraland through its website. There are two ways to log in: as a guest and as a regular user. Login for the user goes through the MetaMask crypto wallet.
Next, you create your avatar: choose its gender, clothes, hair length and accessories. Everyone, you are in the metaverse, you can go explore the world.
How to make money in Decentraland?
There are several ways to make money in the metaverse:
It is profitable to buy and then sell NFT land with a difference in price,
lease space for advertising,
create virtual meeting rooms and chats,
conduct trainings and seminars,
hold exhibitions or rent out land.
Latest news about the project
This extensive review would be incomplete if we did not touch on important news about the project itself. So, below are the largest of them.
Second Annual Metaverse Music Festival Announced
Decentraland has announced the second annual Metaverse Music Festival, taking place from November 10-13, featuring some of web3's top music talent and global celebrities.
Save the dates📅

Metaverse Music Festival 2022 comes to #Decentraland November 10-13, and it's going to be a weekend to remember!🤘

Who do you want to see perform at #MVMF22?👀

RSVP here👇https://t.co/ZK1Jg2sdkA pic.twitter.com/8jHZBZsqAl

— Decentraland (@decentraland) October 8, 2022
This will be the second festival in their history. Last year's Metaverse Music Festival (MVMF) featured 3Lau, Alison Wonderland, Deadmau5 and Paris Hilton among others. All of these artists are committed to the Web3 world and actively participate in it. What's more, the festival has gone beyond musical performances to include airdrops, POAPs, giveaways, virtual fashion, and more. The first festival was one of the most extensive metaverse events on the planet.
Metaverse Music Festival in 2021:

4 days🗓️
80+ artists🎤
11,204 NFTs received🖼️
51,947 POAPs claimed✋

Now it's time to get ready for #MVMF22🤘, and it's going to be even bigger and better!

More details coming soon… pic.twitter.com/vSNyHBg8aj

— Decentraland (@decentraland) October 5, 2022
For information on what's expected this year and how to get to the festival, read our weekly NFT news digest.
Is there only 8 daily active users in the metaverse?
A recent September report from data aggregator DappRadar claimed that there were only "8 24-hour active users in the metaverse.
Since then, Decentraland creative director Sam Hamilton has hit back by saying that not all users are registering.
"DappRadar doesn't track our users, only the people interacting with our contracts," Hamilton said, before adding that the platform averages 8,000 users a day. He noted that the peak of visitors came in March, and the number of "tourists and spectators" after it cooled down.
Decentraland has since posted a message on Twitter stating that they saw "1,074 users interacting with smart contracts" in September.
Let's have a look at some of September's data:

56,697 MAU
1,074 Users interacting with smart contracts
1,732 minted Emotes
6,315 sold Wearables
300 Creators received royalties
161 created Community Events
148 DAO Proposals

— Decentraland (@decentraland) October 7, 2022
It also noted 56,697 "active users per month" in line with their definition of "active user" as "people who log in and then log out".
Decentraland and competitors
The Metaverse faces some serious competition, primarily from companies like Meta and The Sandbox. Meta has yet to release its metaverse to the public, so Decentraland has a competitive edge in this regard. However, Meta may release Metaverse to the public in the near future. Since Meta is a much larger company with a much larger user base, its Metaverse could become larger than Decentraland's.
The Sandbox is another metaverse project that also uses blockchain. It is similar to Decentraland in that it has its own currency and resides on the Ethereum network. However, MANA has a larger market capitalization than SAND, which may indicate that markets are favoring MANA. Regardless, these 2 projects are direct competitors and are constantly adapting to try and stand out.
The future of the project
At the moment, Decentraland is mainly used as a game. While there have been other uses, such as virtual business development, the main use is video games.
Many assume that the metaverse will become more and more useful in the future, especially when it comes to marketing and brand building. Things like video calls and concerts could be done in the metaverse. Decentraland hopes to bring its technology to a much wider consumer base and implement the project into everyday life.
The goal of Decentraland is to be a fun and entertaining platform with a thriving community that educates and introduces people to the Web3 philosophy and technologies, and empowers creators in the hope that when the masses understand why decentralization is important, there will be a viable option. and the next iteration of the Internet will not be monopolized by a handful of corporations.
Is it worth investing in Decentraland?
Many people believe that the metaverse will become more useful in the future. For example, things like video calls and concerts can take place in the metaverse. However, the project aims to bring its technology to a much larger audience and integrate the initiative into everyday life, making it an important investment asset.
However, it is now difficult to judge the further acceptance of the Decentraland metauniverse by society. Therefore, the purchase of NFT LAND should be approached with caution.
Conclusion
The project has been in existence for over seven years. Users still note the shortcomings of the software and the poor quality of displaying objects. But at the same time, a growing number of brands, companies and celebrities see the promise in this metaverse. Also, the development team is committed to continuous improvement, thereby bringing the wider society closer to accepting the metaverse format itself.
If Decentraland achieves the adoption that its supporters are hoping for, we may be witnessing the birth of an entirely new ecosystem of businesses and experiences right before our very eyes.