In today's NFT news digest for the past week October 08-14, you will learn:
Yuga Labs, creator of the Bored Apes NFT, is under SEC investigation,
CFO of OpenSea left the company,
Decentraland Announces Second Annual Metaverse Music Festival,
Dapper Labs finally announced the launch of a subsidiary football marketplace LaLiga Golazos,
Beverage company Neuro Brand buys Bored Ape for $1 million.
Yuga Labs, creator of the Bored Apes NFT, is under SEC investigation
The United States Securities and Exchange Commission (SEC) launched an investigation into Yuga Labs, one of the largest companies in the NFT market. He scrutinizes the operations and transactions of the NFT firm to determine if it represents stocks and shares investments.
Yuga Labs is a leading company in the Web3 space and is credited for the wildly popular Bored Ape Yacht Club collection with over $2.2 billion in sales. In addition, the company has created a full-fledged economic infrastructure around the project with various dividends to NFT BAYC holders, including airdrops from Bored Ape Kennel Club, Mutant Ape Yacht Club, Otherdeeds in The Otherside metaverse, and its own cryptocurrency ApeCoin.
This whole multi-billion-dollar corporation has understandably brought the company under closer scrutiny by the SEC. One of the questions the SEC will try to address is whether NFTs are like stocks. And, if so, should they follow the same rules. Shares are subject to several laws, including disclosure laws. Currently, there are no such rules in the NFT space, and this is contrary to the Web3 world.
Currently, Yuga Labs has shown great willingness to cooperate with the SEC as it conducts its investigation and hopes that other high-profile projects in the NFT space can follow suit in providing transparency.
We look forward to working with the rest of the industry and regulators to define and shape a growing ecosystem. As a leader in this field, Yuga is committed to fully cooperating with any request along the way.Yuga Labs opinion on the investigation
What are the prospects and consequences of the investigation?
The process is expected to be precedent-setting, as the explosion of Web3 and NFT is a gray area for legislators with an outdated set of laws. The fact is that most cryptocurrency holdings and assets are subject to securities regulation laws passed by the Supreme Court in 1946. In this landmark ruling, the Supreme Court gave the SEC the ability to determine whether an investment is a security when a profit is expected.
Already, this news has dropped the value of ApeCoin by 12% over the past 7 days. If, in relation to Yuga Labs products, the SEC itself establishes a relationship similar to securities and profits from them, then the company may face multimillion-dollar fines.
It is highly likely that this investigation will lead to key decisions and a principled position of the SEC regarding the NFT market, which in 2021 exceeded $17.6 billion.
CFO of OpenSea left the company
OpenSea CFO (Chief Financial Officer) Brian Roberts stepped down after approximately 11 months with the company. So far, neither side has made statements about the details of his departure. He announced his departure via LinkedIn in his October 07 post. He also said that he would continue to work as an adviser to the company.
In his official statement on LinkedIn, he said he remains optimistic about web3 and especially OpenSea. He also said that the company is "building headfirst" and that the best is yet to come.
I had a rare opportunity to build a team literally from scratch and manually select people who change the rules of the game.Says the former CFO of OpenSea.
NFT market leader OpenSea has formed a really strong team during its work. And probably such personnel changes will only lead to new achievements of the company, because just recently there was a update of OpenSea. By the way, it was positively accepted by the community and added various other advantages compared to other marketplaces.
Decentraland Announces Second Annual Metaverse Music Festival
One of the largest metaverses, Decentraland, has announced its annual Metaverse Music Festival, taking place from November 10-13, featuring some of web3's top music talent and global celebrities.
Save the dates📅

Metaverse Music Festival 2022 comes to #Decentraland November 10-13, and it's going to be a weekend to remember!🤘

Who do you want to see perform at #MVMF22?👀

RSVP here👇https://t.co/ZK1Jg2sdkA pic.twitter.com/8jHZBZsqAl

— Decentraland (@decentraland) October 8, 2022
This will be the second festival in their history. Last year, 3Lau, Alison Wonderland, Deadmau5 and Paris Hilton and more performed at the Metaverse Music Festival (MVMF) at Decentraland. All of these artists are committed to the Web3 world and actively participate in it. What's more, the festival has gone beyond musical performances to include airdrops, POAPs, giveaways, virtual fashion, and more. The first festival was one of the most extensive metaverse events on the planet.
What is expected this year?
This year, Decentraland is setting itself even higher goals. Although the official line-up has yet to be announced, they tweeted that the event will be "a day off to remember". Undoubtedly, this is the place for everything related to web3 and music. With all the new updates and innovations, they've made in the last year, Decentraland is paving the way for their biggest ever experience.
How to get to the festival?
Register via the official link  to receive an invitation to the event. Also, in order not to miss any of the giveaways or giveaways, download and connect your digital wallet to Decentraland. What is important – the event is free for everyone; tickets or virtual reality glasses are not needed.
Thus, we can observe an ever-increasing scaling of the metaverses, in whose circles there are already thousands of famous artists, athletes, businessmen, brands and companies. Despite the fact that this sector is still very young and only in its infancy, the prospects for development are unambiguously global and promising.
Dapper Labs finally announced the launch of a subsidiary football marketplace LaLiga Golazos
After a long silence from one of the NFT market leaders, Dapper Labs finally announced the debut of the LaLiga Golazos platform, which will take place on October 27th.
🥁 Introducing… @LaLigaGolazos ⚽🔥

Be among the first to #OwnThePassion and collect LaLiga's most epic Moments from legends like Messi, Cristiano Ronaldo, Zidane, Forlán, Ronaldinho and current stars like João Félix, Benzema and Fekir 🙌 pic.twitter.com/QFWfBVJCyr

— Dapper Labs (@dapperlabs) October 6, 2022
What is NFT LaLiga Golazos?
NFT LaLiga Golazos is a sports-specific NFT marketplace that will feature key video moments from the historical games of the Spanish top league football, LaLiga.
The video moments will be converted into a trading card-style package with match data, key statistics, and live commentary. The partnership will operate similarly to other Dapper sports venues such as NBA Top Shot and NFL All Day. All of them are based on the highly efficient Flow blockchain, developed in-house by Dapper Labs.
The new assets will be the first bilingual NFT collectibles from Dapper Labs. As a result, collectors have access to key information in both English and Spanish, making it more accessible than ever before. As a result, fans will be able to collect, trade and share LaLiga-themed digital collectibles.
How to join LaLiga Golazos?
However, access to the beta version will be limited and available only to selected users who have entered the waiting list. You still have the opportunity to join the pioneers by creating a Dapper Labs account and registering on their official website. After all testing, the platform will be available to everyone.
What is La Liga known for?
LaLiga, also known as the Campeonato Nacional de Liga de Primera División, is the top division men's football league in Spain. La Liga is popular among Spanish and foreign football fans due to Spain's success in international leagues. It is also the sixth richest professional sports league and one of Europe's Big Five leagues. Its players include such world stars as Messi, Cristiano Ronaldo, Zidane, Forlán, Ronaldinho, João Félix, Benzema and Fekir.
Beverage company Neuro Brand buys Bored Ape for $1 million
Neuro Brands, a health drink company, purchased NFT #8585 from Bored Ape Yacht Club's acclaimed collection for 777 ETH (a little over $1 million at the time of purchase). This deal was the third most expensive in the history of the collection and the most expensive in the last 3 months.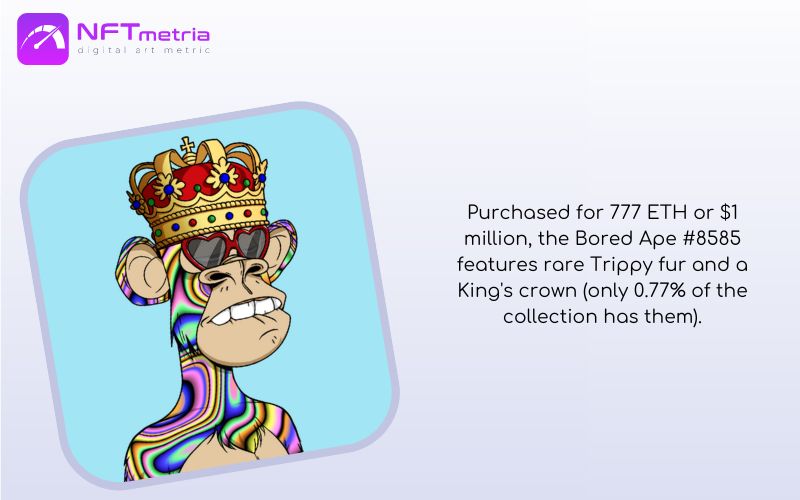 I founded Neuro during the great financial crisis of 2008/2009. The NFT market is scared and the fear is negatively affecting the market. I believe in the future of NFT and Bored Apes and want to empower the NFT community. This Bored Monkey is gorgeous and goes great with Neuro's beautiful and bold approach to life.Says Sanela Diana Jenkins, Neuro Brand CEO.
The company is going to release a new line of drinks KingsDrinkNeuro using the crowned Monkey. But not only that, the brand has already voted for the best NFT hoodie design.
Here are our top 3 hoodie designs for #KingsDrinkNeuro

Thank you to everyone who participated 🔥🔥 pic.twitter.com/e6NTj9rdYP

— drinkneuro (@drinkneuro) October 8, 2022
And this case is another example of how the NFT world breaks into the offline world, being a crazy sales driver and marketing lever in commerce. After the hype and boom around the NFT in 2021, the promising market has stabilized. And is now showing strong momentum, attracting global brands, celebrities and many other people from the offline world.