Every day, dozens and hundreds of events take place in the world. We read the news while in traffic jams, at work, at home, on vacation. Sometimes, from this news, something changes in our lives, and some of them simply remain in our memory, expanding our own horizons.
Almost the same in the NFT world. There is only one significant difference – this market is very young, promising and in its infancy. The one who was able to stand on the crest of the wave will win. Whether it's a profitable investment in the NFT, acquiring the digital work of an artist you like, or entering the elite circles of the community.
What is the NFT news digest about?
Accumulating all the news over the past week, we, the NFTMetria team, are among the first to deliver all the most important news from the NFT world:
global brands,
celebrities,
multi-million-dollar transactions,
new promising projects and personalities,
Opportunities to invest in NFTs,
various insiders.
Stay up to date with all the events and do not miss anything important. So, let's begin!
Apple allowed the sale of NFT in applications in the App Store
Tech giant Apple has approved the sale of NFTs in apps on the App Store. The company charges them a standard commission of 30%. Apple's high fees have been criticized in the cryptocurrency community as leading NFT marketplaces charge up to 5% for their services. Tech blogger Florian Muller called Apple's commission "insulting but consistent".
Everyone is focused on the fact that Apple wants 30% of every transaction, not realizing that this can put an ETH wallet in every mobile game with a total audience of more than a billion people. said Gabriel Leydon, head of mobile games developer Limit Break
And here is what Epic Games CEO Tim Sweeney thinks:
Now Apple is killing all NFT app businesses it can't tax, crushing another nascent technology that could rival its grotesquely overpriced in-app payment service. Apple must be stopped. https://t.co/4KChp6jtFZ

— Tim Sweeney (@TimSweeneyEpic) September 23, 2022
We will continue to monitor the reaction of the tech giant Apple and the entire NFT market to such actions.
Christies Launches Its Own NFT Auction House on Ethereum
Auction house Christie's is already known in the vast NFT market. He was the first among his "colleagues" to enter the NFT market, selling NFT artist Beeple's "Everydays: The First 5000 Days" for $69.3 million in March 2021. The legendary auction house now fully embraces the decentralized spirit of Web3 by launching a new marketplace that hosts auctions on the public Ethereum blockchain.
The first ever global auction house to host fully on-chain sales: introducing Christie's 3.0

Built from the ground up together with three leading companies in the Web3 community @manifoldxyz , @chainalysis & @spatialxr. (1/4)https://t.co/3zcQxNtBLy

— Christie's (@ChristiesInc) September 27, 2022
The launched Christie's 3.0 marketplace is built in such a way that transactions are fully recorded on the Ethereum blockchain. Previously, virtually all transactions were usually not conducted on the network. Thus, the natural process of working in the blockchain was violated – there was no transparency of transactions.
Christie's 3.0 changes this approach with online transactions more similar to transactions on marketplaces such as OpenSea and Rarible.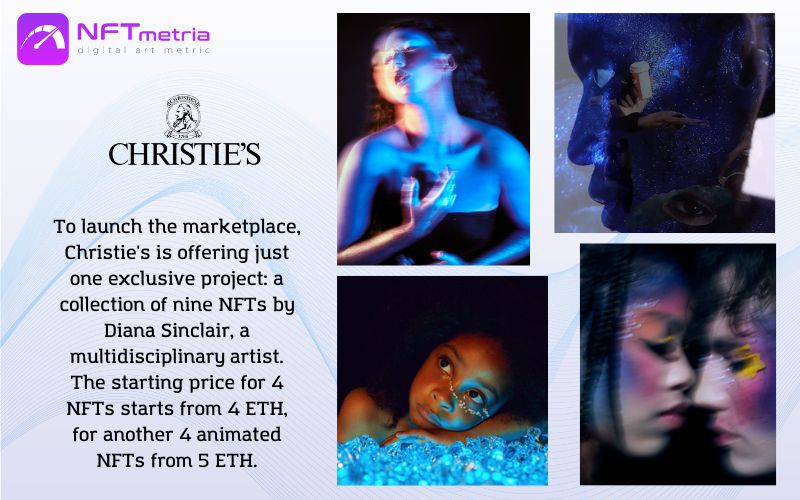 The new Christie's platform was created in collaboration with Manifold. It is a startup focused on smart contracts.
CryptoPunk Sells for Almost $4.5 Million
On September 28, at almost 10 PM, one of the largest NFT trades in the history of this market took place. CryptoPunk #2924 sold for a whopping 3,300 ETH ($4.42 million at time of purchase). This deal is now the fourth most expensive in the history of CryptoPunks.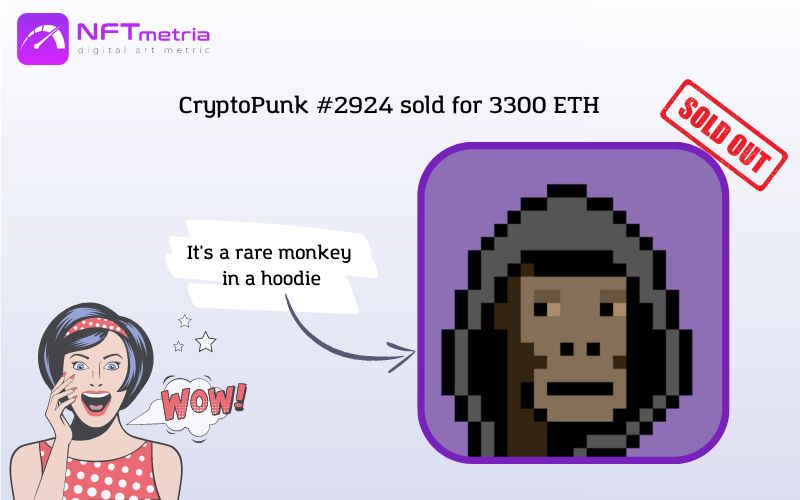 What is special about Cryptopunk #2924?
Among the entire collection, he is a rare monkey – only 24 NFTs out of 10,000 are monkeys (0.24%),
It has only one attribute – only 328 images have this combination (3%)
And this attribute is also rare – hoodies. It occurs in 259 NFTs out of 10,000 pieces (3%).
A monkey in a hoodie is generally exclusive – only Cryptopunk #2924 has such a combination!
Who sold and bought Cryptopunk #2924?
Unfortunately, the buyer remains anonymous for now. But by analyzing wallets, we see that the deal was planned in advance. The buyer did not use his crypto wallet for 1948 days.
But the seller is well known. This is NFT collector DANNYSECURE. There are 20 different CryptoPunks in his wallet, and many other well-known and not so well-known works.
With many claiming that this is a bear market, NFT and CryptoPunk activists are setting new records.
NFT project Art Blocks announced brand renewal
The generative art project Art Blocks announced the start of the transition to an updated version of the Art Blocks 2.0 project. Founder Eric Calderon said the company has begun work on a new version, including updates to the brand and requirements of the Board of Curators.
The platform is aiming for a more refined experience in the new version of Art Blocks 2.0 and is ending the NFT Curated series at this stage. declared Calderon
Recall that the Art Blocks project was launched in 2020. And this is not just one NFT collection. This is a collection of various projects from different authors, which are selected and approved by the Board of Curators. Three lines of work can be distinguished on a large scale: Curated, Playground and Factory.
Art Blocks, thanks to their out-of-the-box approach, have long earned themselves a well-known name in the community. And getting an artist into their ranks is a huge success. On OpenSea, the Art Blocks Curated collection ranks fifth in terms of trading volume with 313,000 ETH since launch.
This large sales figure is made up, among other things, of the most expensive sales not only within the collection, but throughout the entire NFT market.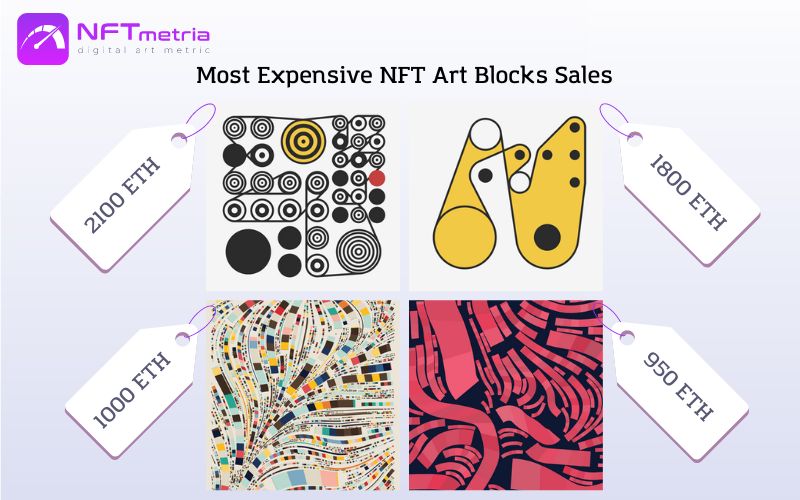 Here are the price winners:
Ringers #109 sold for 2100 ETH,
Ringers #879 sold for 1800 ETH,
Fidenza #313 sold for 1000 ETH,
Fidenza #77 sold for 950 ETH.
Disney hires lawyer for NFT and DeFi deals
The day before, Disney posted an ad on LinkedIn for an unusual job. The company is looking for a lawyer for transactions, including NFT. The mode of operation is described as "accelerated and aggressive". The announcement also said that the transaction lawyer will "collaborate with business teams as they plan new global technology projects" in additional segments such as the metaverse and decentralized finance (DeFi).
Recall that Disney is no longer new to the world of NFTs. They have previously created official NFT collections that have been quickly snapped up by fans of cartoon characters, including Marvel. The company places its NFT projects only through its official partner, the VeVe trading platform.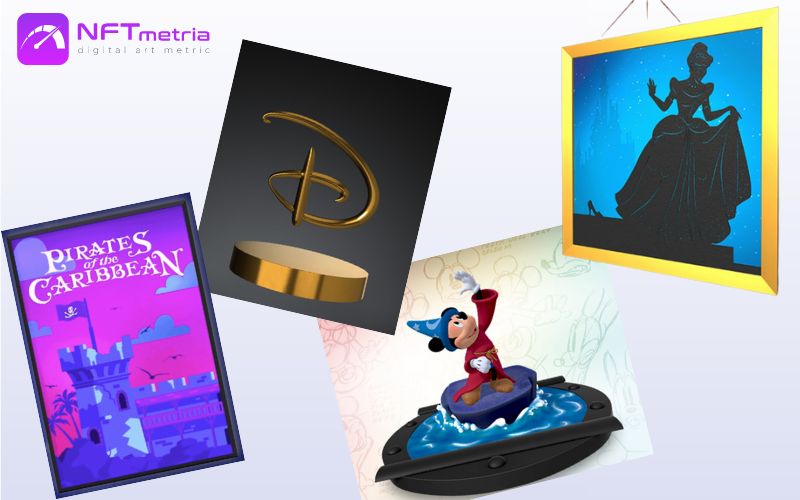 Balmain Fashion House Introduces NFT Membership Program
As one of the early adopters of NFT among the fashion giants, Balmain is getting deeper into the Web3 world. He has now launched an NFT membership program dubbed the Balmain Thread. The Web3 Center for 10,000 brand fans and program partners was launched on September 28 during the special annual program of Paris Fashion Week called the Balmain Festival. To bring the Balmain Thread program to life, the fashion house has partnered with the sustainable XRP Ledger blockchain and the MINTNFT marketplace.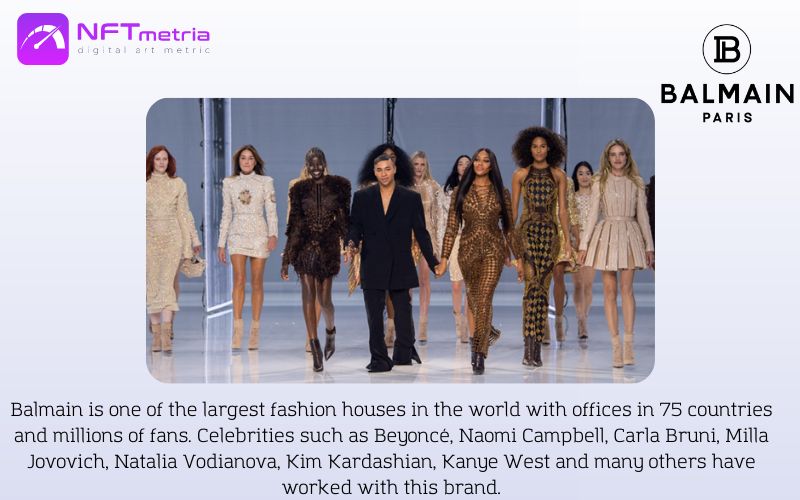 It is worth noting that neither knowledge nor possession of cryptocurrency is required to join this community. According to Balmain's marketing director, Txampi Dees, Balmain Thread is based on the company's strategy to reward and engage its fans, dubbed the Balmain Army. In this way, every member of the community will benefit from in-person and virtual events and will have a voice in the community.
We believe that Web3 will spark a new wave of engagement, allowing companies to open up and deliver a richer experience to their communities like never before. As a leader in innovation in both fashion and technology, Balmain is the perfect partner to power the next evolution of NFT and blockchain.James Sun, CEO and Co-Founder of MINTNFT
Balmain festival goers could access the Balmain Thread in three ways:
Those who were physically present at the event could join after receiving tickets,
Viewers of the live broadcast could follow the links on Balmain's official website.
Visitors to the show could take photos from their mobile devices in order to later freely post them on the blockchain using The Moment mobile photography application.
Full-scale NFT collections will be another part of the program, Balmain said, with more details to be announced in due course.