In today's NFT news digest for the past week October 01-07, you will learn:
Meta Announces NFT Integration on Instagram and Facebook for the US and Gets a Lot of Criticism
OpenSea announced the launch of NFT mass listing, purchases and offers
Metaverse The Sandbox announced the Bug Bounty program
Animoca Brands invests in Cool Cats NFT collection
Warner Music Group partners with OpenSea to create NFT songs
XCOPY announced a competition for free NFT Grifters
Meta Announces NFT Integration on Instagram and Facebook for the US and Gets a Lot of Criticism
US Instagram and Facebook users can now share their NFTs thanks to the latest integration, Meta confirmed in a statement. In fact, creators can also list their digital assets on both platforms with a single click. However, you must first connect your digital wallet, which means that Meta will know the exact owner of the digital wallet. Now the NFT community is debating one question: is it worth the price?
How can you share NFT via Facebook or Instagram?
First you need to open the Instagram or Facebook app.
Next, you must connect your digital wallet (MetaMask, Trust Wallet, Coinbase Wallet, Dapper Wallet or others compatible with this feature).
Once you connect your wallet, you will be able to see all your NFTs through the Instagram or Facebook app.
You can select an NFT to publish, add a signature, and simply click the "Publish" button.
All in all, the new Meta NFT integration is a breeze. However, the NFT community is not at all enthusiastic about this.
Why is the crypto community so angry at the news?
The main issue is that users must connect their digital wallets to the Facebook and Instagram apps. This process basically reveals the identity of your anonymous wallet using social media data.
For example, the well-known CNBC Crypto Trader criticized on Twitter:
BREAKING: $META just announced that US users can connect their crypto wallets to their platforms to use NFT/Digital collectibles.

Also, if you connect your wallet they literally link your anonymous wallet to an identity (KYC) and get your entire crypto transaction history.

— Ran Neuner (@cryptomanran) September 29, 2022
In conclusion, US users have mixed opinions about NFT integration in Meta so far. However, many collectors are already sharing their collectibles via Facebook and Instagram.
OpenSea announced the launch of NFT mass listing, purchases and offers
The largest NFT marketplace, OpenSea, has announced that users can now list and buy up to 30 NFTs in a single stream.
We're officially live with bulk listing and buying! 🛒

You can now list and buy up to 30 items in a single flow on OpenSea.
Let's walk through what this experience looks like in this 🧵

— OpenSea (@opensea) October 5, 2022
So, let's take a look at how you can wholesale and bulk buy in OpenSea.
How can you Bulk List on OpenSea?
In the collected items tab, you can access bulk listings by clicking the '+' symbol when hovering over an item card, or by clicking 'list for sale' in the 'More options' dropdown." After that, you can select up to 30 items for the list at a time.On October 5, in a Twitter post, OpenSea explained how the new stream works
Buying works in a similar way: add up to 30 NFTs to your cart and buy more in one transaction. This way you will of course save a lot on transaction fees (gas). And in general, it is more convenient for multiple purchases.
Metaverse The Sandbox launched the Bug Bounty program
Since the metaverse is a relatively new industry, its creators are constantly looking for opportunities to improve. In this vein, the metaverse's leading platform, The Sandbox, has announced its new Immunefi bounty program for finding bugs.
This program encourages its users to find existing flaws in their system and report them in exchange for payment.
Report bugs in our blockchain ecosystem 🪲 Earn upto US$200,000 in $SAND 🪳 Secure the #metaverse!

Join our Bug Bounty program – with @immunefi https://t.co/utnRdaFfnB

— The Sandbox (@TheSandboxGame) October 2, 2022
What is the Immunefi Reward Program?
This new development means that users of The Sandbox metaverse will be able to improve the ecosystem while using it. According to the official announcement, the reward level is based on the Immunefi V2.2 vulnerability severity classification system. This is a 5-level scale that determines the severity of each vulnerability. In addition, all claimed vulnerabilities must be accompanied by a PoC with an end effect affecting the asset in question before any bounty can be provided.
The post also explains that the reward for critical smart contract vulnerabilities is limited to 10% economic damage. Finally, The Sandbox will also set a minimum reward of $50,000 and a maximum reward of $200,000 for critical smart contract bug reports.
As more of these bugs are discovered and reported, they will be fixed for the betterment of the community.
Animoca Brands invests in Cool Cats NFT collection
The Web3 company behind the Cool Cats blue-chip collection, Cool Cats Group LLC, has announced it has received a strategic investment from Animoca Brands. The partnership will help project continue to grow as a successful NFT brand and media company.
How will Animoca Brands and Cool Cats work together?
This strategic investment is the result of a longstanding relationship between Ya Siu (co-founder and executive chairman of Animoca Brands) and Ken Krohn (executive chairman of Cool Cats Group). In addition to this investment, Cool Cats also announced their partnership with GAMEE in September.
GAMEE is a subsidiary of Animoca and specializes in virtual casual game spaces. Through this partnership, NFT owners will have access to exclusive NFT claims, sweepstakes, and giveaways.
Yat is one of web3's foremost thought leaders and has built one of the most important companies in the industry. Working more closely with Animoca Brands will greatly benefit Cool Cats and its community. Our new CEO Steven Teglas and the entire Cool Cats team are very excited to get started.Said Cool Cats Group executive chairman Ken Krona
Warner Music Group partners with OpenSea to create NFT songs
In the past few years, the music industry has been finding more and more ways to monetize web3. Warner Music is known for being the record label for big names like Ed Sheeran and Dua Lipa, while OpenSea is one of the largest NFT marketplaces in the world.
So, Warner Music Group signed an agreement with OpenSea. Warner Music artists will now publish their musical NFTs, have expert help from the OpenSea team, and be easier to spot among the many other NFTs on the site. The marketplace, of course, has its own great interest in this – this is all traffic from the fan base of artists.
Our collaboration with OpenSea is helping to facilitate these [fan] communities by opening up Web3 tools and resources to create opportunities for artists to establish deeper participation, access and ownership.Said Warner Chief Digital Officer Oana Ruxandra.
The debut in this project was the Probably A Label NFT collection  of 5555 music tokens. It was released on October 7 and has already sold NFT for 466 ETH at a minimum price of 0.13 ETH.
XCOPY announced a competition for free NFT Grifters
Celebrity NFT artist XCOPY has launched an exciting 'Build-a-Grifter' contest to celebrate the new homepage of the Grifters NFT Collection and the popularity of the NFT Collection.
Grifters have a new home thanks to @AsyncArt 🙌 pic.twitter.com/xIc4wfeMYo

— XCOPY 🏴 (@XCOPYART) October 3, 2022
Also, if you enter this contest, you will qualify for a free NFT of the famous XCOPY design.
How to get free NFT from XCOPY?
To participate, simply visit the new Grifters homepage  and click 'Build-a-Grifter'. Then, in Build-a-Grifter mode, you can create your own Grifter by choosing one of the customization options. These include variations such as gouge, wretch, flimflam, and shady. After creating your scammer, tweet and tag #griftszn. As a result, you will put your name in the header for the free XCOPY NFT.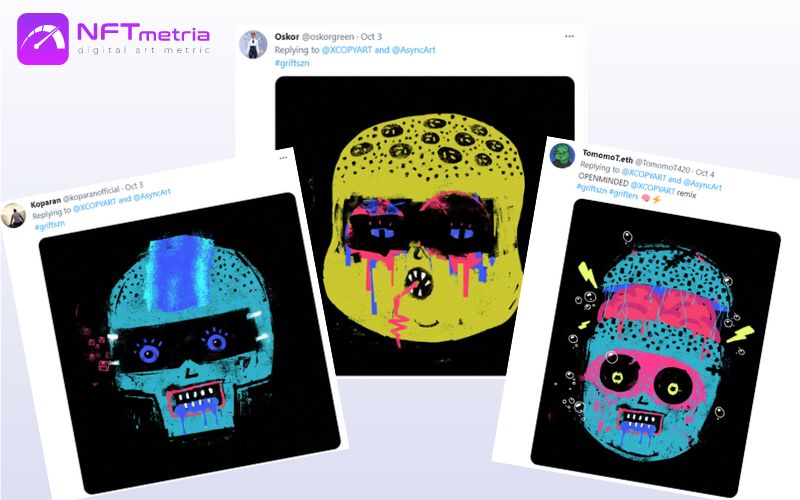 Who are the Grifters from XCOPY?
Grifters is a collection of 666 PFP NFTs from XCOPY. Launched in December 2021, the Grifters collection features creepy humanoid faces in blue, dark yellow and green on a black background.
It's safe to say that Grifters captured the imagination of NFT collectors as they maintained high floor prices in a bear market. Now the floor price is 14.45 ETH. Impressive, right?
Thus, this competition gives one lucky person the opportunity to earn high value NFTs. Not only that, but this free contest continues to solidify Grifters' popularity in the NFT space.