Animoca Brands is a mobile game developer and publisher specializing in artificial intelligence, blockchain and gamification. Also one of the giant venture capitalists. The company closely monitors games on the blockchain, Web3, and the metaverse. As such, she has invested in several high-profile metaverse and digital asset projects, including The Sandbox and Sky Mavis.
Animoca makes Web 3.0 more accessible to a wide range of gamers by offering play-to-earn products. We talk about the history of the company, successful investments, projects and plans.
What is Animoca Brands known for?
Animoca Brands is a Hong Kong-based company that spun off from mobile game developer Animoca in 2014. The company was founded in Hong Kong by Yat Siu and David Kim. The headquarters is in Hong Kong, and branches are located in Australia, Czech Republic, Germany, Estonia, Canada, Argentina, South Korea, Finland, France, USA.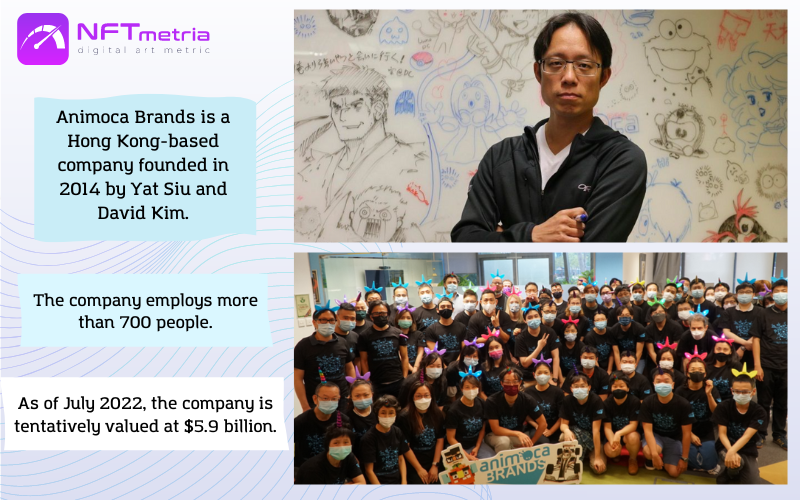 The company and its subsidiaries develop their own original games. You may have heard of most of them: The Sandbox, Crazy Kings and Crazy Defense Heroes.
In addition, they are actively investing in blockchain companies that are associated with NFTs. Most of them you probably also know: Sky Mavis, Dapper Labs, OpenSea, Harmony, Bitski, Metamask, Polygon and Alien Worlds and others.
Social activity
Company figures
Animoca Brands, thanks to its productive activities, shows very impressive results. The numbers speak for themselves:
The company employs more than 700 people;
As of July 2022, the company has reached a preliminary valuation of $5.9 billion;
As of April 2022, the investment portfolio is estimated at more than $1.5 billion across 340 projects;
The company is actively pursuing funding rounds, with the firm successfully raising $359 million in January 2022 and raising $75 million in a second round in June 2022.
As a result of the funding rounds, Animoca Brands venture capital has 1.8 billion shares, which are distributed among more than 340 companies.
Successful Animoca Brands projects
All projects of the company can be divided into sectors: blockchain games, Metaverses, NFT marketplaces, DeFi, infrastructure, crypto wallets. Among them are both the company's own projects and investment projects.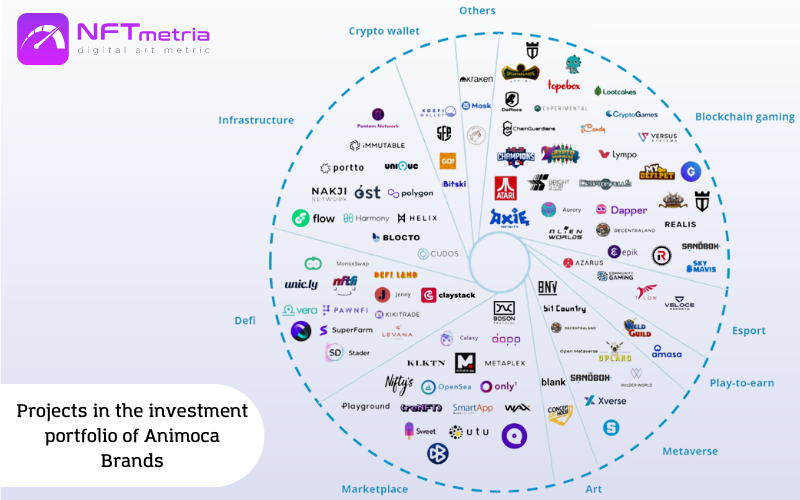 In the case of Animoca Brands, we think it's better for us to reflect all the steps towards the company's insanely cool results than to describe projects. Let's explain why: the company is not focused on the release of a few super-popular projects. It captures the blockchain market by investing in existing projects, making them popular. So, let's move on to the success story.
Animoca Brands Success Story
In late 2017, Animoca Brands entered the blockchain and NFT space through the CryptoKitties project. The acquaintance happened by chance: Animoca entered into a deal to take over the Canadian studio Fuel Powered, which shared an office with Axiom Zen. Together they developed a game in which you could collect virtual cats, breed them and sell them.
The Fuel Powered co-founder joined Dapper Labs as a co-founder, and in 2018, Animoca executives became shareholders of Dapper Labs and publishers of CryptoKitties.
Assessing the potential of NFT, the company began to actively invest in Web3.0. In 2018-2019, she invested in Sky Mavis, the developer of Axie Infinity, OpenSea (the largest NFT marketplace), Wax and Decentraland, and also acquired Sandbox.
In addition to the mobile games market, Animoca is developing businesses in the fields of fitness and health, artificial intelligence, machine learning and blockchain. OliveX was recently launched to develop and publish AI-powered mobile products designed to improve user health.
And now we will analyze in detail.
Significant events in 2018
They participate in conferences on gaming NFTs with Decentraland (a metauniverse platform based on Ethereum № 1 in terms of capitalization in the Metaverse segment according to СoinMarketCap), Coinbase (№ 2 most popular crypto exchange in the world).
Holly Liu, co-founder of KABAM (game developers for Disney and Marvel) joins the company.
Co-founder Rovio (the developer of Angry Birds) is involved as an advisor.
HTC Corporation is developing a blockchain mobile phone.
They buy games and hire The Sandbox Game for $5 million (The Sandbox is No. 2 in the metaverse ranking). This is the perfect example of what Animoca Brands can bring to the project. They bought it for $5 million and pumped it up to $4 billion capitalization + 1 billion land capitalization. And these are the minimum estimates.
Collaboration with the development platform from Tencent (LoL, PUBG developers, owners of 40% of Epic Games shares).
She announced her strategy for introducing the play-to-earn format in modern games.
The Hong Kong government issues a grant to the company to develop a fitness app.
Xbox co-founder becomes strategic advisor to Animoca Brands.
They create a joint product with Atari (the developers of cult games such as Pac-Man, DragonBall, BattleZone).
After working closely with CryptoKitties, they are investing in Dapper Labs. Animoca Brands subsequently actively participated in the creation of the Flow blockchain and the widely popular NFT marketplace NBA Top Shot.
Collaborate with Decentraland to bring newly acquired The Sandbox Game to blockchain.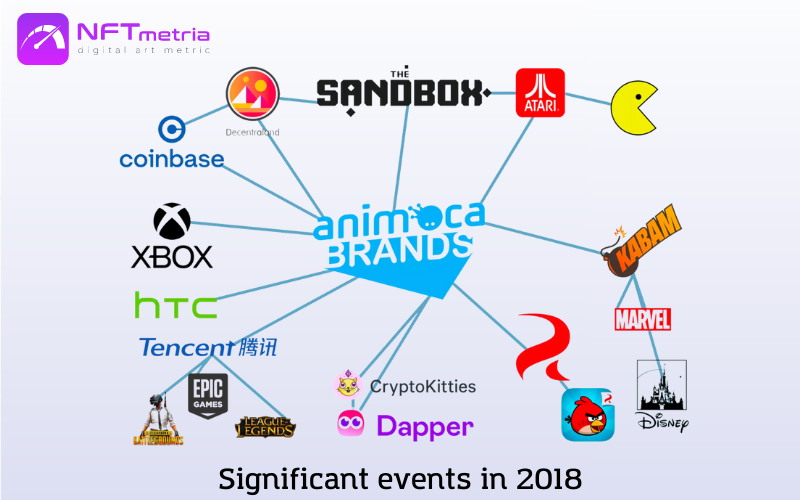 Results of 2018 for Animoca Brands
The rapid growth of "gaming" capacities: the company has been taking an active position in the crypto industry since the beginning of the year.
Promotes the idea of blockchain games together with Coinbase, Decentraland.
Acquires a valuable asset in the form of experience in the success of Angry Birds, strengthens ties with Disney pop culture, Marvel through a collaboration with KABAM, become friends with Atari.
Acquisition of Sandbox and its development through a collaboration with Decentraland.
Collaboration and investment in Dapper Labs.
With such activity, Animoca Brands already have a big name in the industry, but as it turns out, this is just the beginning.
Significant events in 2019
Collaborate with WAX and exchange their shares for project tokens. WAX (The worldwide assets eXchange is an NFT, video game and collections platform. In 2021 was the center of the first wave of NFT hype).
Raising initial investment for their recent acquisition of OliveX, a fitness app integrating blockchain technology and artificial intelligence.
Official collaboration with Formula 1 to create the F1DelthaTime blockchain game.
Bringing the previously mentioned Dapper Labs to a future collaboration with MLB – Major League Baseball.
The former managing director of Sony is now responsible for partnerships.
Partnership with accelerator BRINC for joint development in the eSports market, complementary partnership with Leaderio, an event management platform
Collaboration with 9GAMES – the gaming division of Alibaba.
Partnering with Harmony (fast and open blockchain with cheap transactions) to acquire QUIDD, an NFT marketplace.
Warner Music invests in Dapper Labs and partners with Ubisoft and Animoca Brands to develop a racing game.
Animoca Brands has received a license from MotoGP (very popular motorcycle racing in the US) to develop a collectible card game on the blockchain.
Invest in Axie Infinity (the most popular and capitalized play-to-earn game that set the trend for the whole world).
Acquires nWay, game developers for Power Rangers and WWE.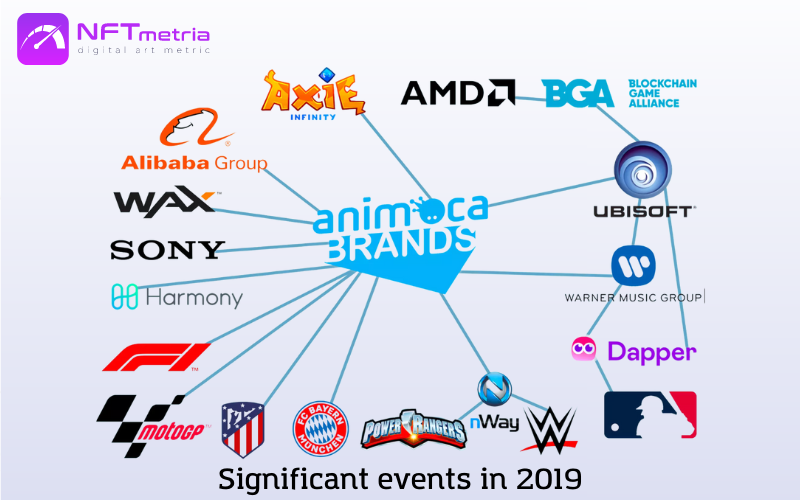 Results of 2019 for Animoca Brands
We are no longer just an investor, but a huge ecosystem for the production and maintenance of metaverses at all stages from technical production to marketing support and mass. Also, through Alibaba, they are mastering the Chinese gaming market. Recall that Alibaba are distributors of CryptoKitties in China. At the same time, Animoca Brands continues to increase its "gaming" influence, now developing the direction of e-sports and adapting sports entertainment to the world of cryptocurrencies.
Significant events in 2020
Animoca Brands №5 in the global ranking of blockchain companies.
Dapper Labs is in talks to collaborate with the UFC, with help from Animoca Brands.
Square Enix, creators of Final Fantasy, are investing at The Sandbox.
Animoca Brands joins Ubisoft, AMD and MakerDAO as 2020 sponsors.
NBA Top Shot has officially launched.
Animoca Brands is gradually selling off a portfolio of previously created mobile games and pouring capital into the blockchain.
Acquisition of GAMEE, a browser game platform.
The company reports record revenue. Against the backdrop of Covid-19, interest in blockchain gaming is growing.
Strengthening partnerships with Binance.
IEO Sandbox. Explain: Initial Exchange Offering (IEO) is an analogue of IPO in the stock market, only in our case, projects conduct an initial offer of their tokens using a centralized exchange.
The VP of Sandbox came from Universal Music.
The company invests in the now most popular NFT marketplace Opensea.
Additionally, investing in Axie Infinity, and furthering Axie Infinity's partnership with Ubisoft.
Acquires blockchain fitness app LYMPO.
UNICEF join The
They create NFTs for Bratz, collectible and mini games for Manchester City.
Co-founder Animoca Brands talks about the DeFi revolution in NFTs.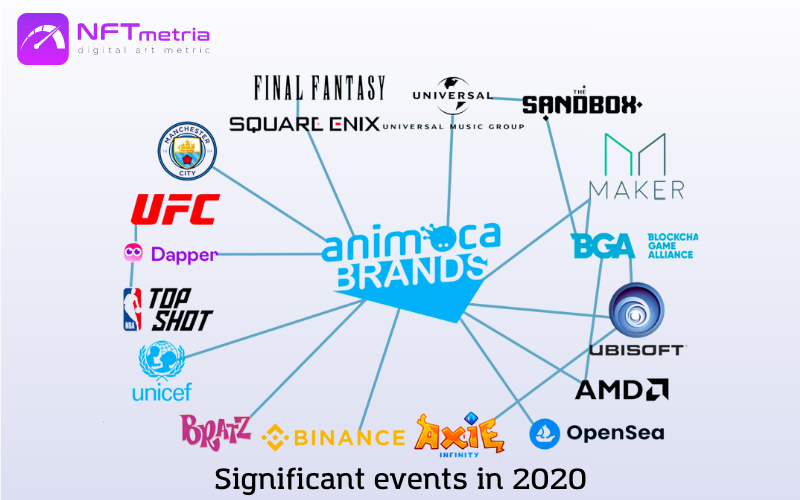 Results of 2020 for Animoca Brands
Already the fifth in the world ranking of blockchain companies, but continue to grow further:
Strengthen ties with Ubisoft, AMD, MakerDAO.
The company follows the trajectory of sports platforms and replenishes the portfolio of UFC, NBA, ManCity, fitness connections.
Sandbox becomes a tangible trump card: partnerships are established through the product, both cryptocurrency and pop culture, attract investment and intellectual resources.
They continue to engage in visionary work: Axie Infinity is being brought to the state of an ideal case for the future of blockchain games.
The tangible investment in Open Sea shows the company's vision for the future of the NFT industry.
Bratz and Manchester City are learning to integrate brands into the blockchain environment lightly.
Early thoughts from DeFi + NFT voiced.
Significant events in 2021
Form a strategic partnership with Binance Smart Chain.
MotoGP launch
Partnership with blockchain company Immutable, and all the hype around $IMX.
An investment in Alien Worlds, one of the most popular play-to-earn games in 2021.
Partnership with ZEPETO is a metaverse platform, a fast-growing avatar service that has been collaborating with Disney, One piece, Gucci, Nike, The North Face since 2018. They have a user base of over 200 million people.
Invested in AMASA, a micro-income management platform. What are they doing? For example, you are a streamer, you run a public, and you also have tokens staked somewhere, and the profit from all this can be automated and reinvested.
Partnership with the Olympics: Collaborative video game release agreement and NFT release in the form of Olympic badges. The NFTs will be officially licensed by the International Olympic Committee.
Investment in CUDOS is a project that scales computing power for blockchain companies.
Adds Prosper, a cross-chain forecasting market and hedging platform, to the portfolio.
Replenishes the Bondly asset, which simplifies the introduction of brands into the blockchain sphere,
An investment in the Blockchain Monster Hunt, whose team includes ex-developers Google, Facebook, Garena.
A subsidiary of OliveX is launching the $DOSE token, which serves to integrate sports applications with the blockchain. You run and get cryptocurrency. That is, they started the run-to-earn format before it became mainstream.
Investment in MAD is a platform for protecting the rights of artists in crypto.
An investment in the most popular Metamask crypto wallet today.
We invested in Forte, a provider of blockchain solutions for games. Raised a record $750 million.
Collaboration with the most popular and expensive NFT collection – Bored Ape Yacht Club to create a play-to-earn game.
Partnership with the already sensational P2E Sidus Heroes.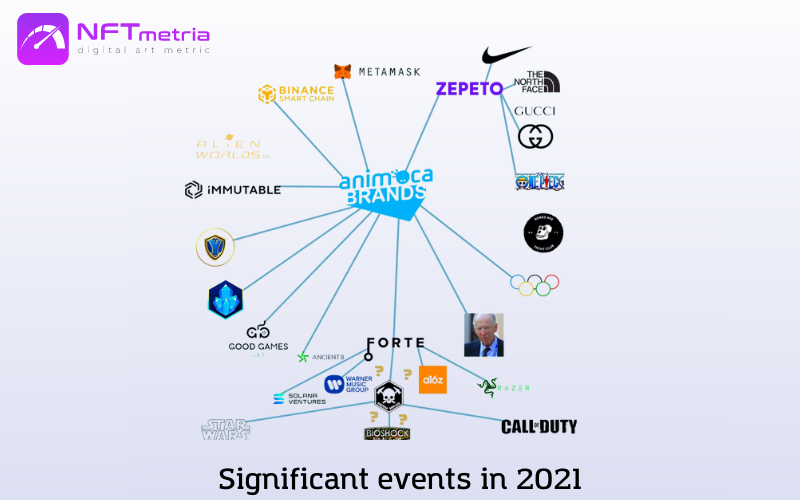 Results of 2021 for Animoca Brands
2021 can be marked as the heyday of the company, when resources, knowledge and experience begin to give tangible results:
Early investments in Axie Infinity, Decentraland, OpenSea and the development of Sandbox have paid off – the projects have taken a leading position in their segments.
NBA Top Shot can rightfully be considered the project that reborn the idea of the NFT and caused the first wave of hype.
In parallel, WAX, with which Animoca Brands previously partnered, is becoming the site of the second wave of the NFT hype. Alien Worlds accompanies this.
Animoca Brands are attracting additional investments, getting stronger in the crowd and shining absolutely everywhere: Immutable, BAYC, YGG.
The company no longer predicts trends, but defines them itself.
Significant events in 2022
Investing in CryptoSlam is an NFT analytics service.
Strengthens relations with the Hong Kong government: Sandbox is part of the city's cultural project.
Investment in Sygnum – the first bank of digital assets. The partnership aims to expand the web3 market.
Investment in Ancient8, Vietnam's largest guild.
Investment in TRLAB – a platform for finding and interacting with the world's leading NFT artists.
We bought a license from the Anime title "The Golden Warrior Gold Lightan" to produce an NFT game.
Strengthened friendship with Warner Music Group – Sandbox will replenish the musical universe.
Building NFT3 – the first unified decentralized identity and lending network for Web3.
Vitalik Buterin attends the lectures of their Advisor.
Investments in Soma Finance. The project aims to launch trading in tokenized stocks, ETFs and cryptoassets. Has the only SEC and FINRA approved offer license.
The results are impressive, right? We are sure that this stellar runway is just the beginning of such an incredible and truly gigantic corporation Animoca Brands.