Owners of Bored Ape Yacht Club (BAYC) and Mutant Ape Yacht Club (MAYC) can now officially register their goods, services or company under the NFT brand by Yuga Labs based on a unique online license. This format is implemented by Yuga Labs on a specially launched "Made by Apes" platform, created in partnership with the SaaSyLabs blockchain protocol. The organizers themselves refer to this platform as "first-of-its-kind on-chain licensing for a club full of builders".
Made by Apes is here — Members can head to https://t.co/bQd1bSuMQK to request a license now.

We're proud to introduce this first-of-its-kind on-chain licensing for a club full of builders, done in partnership with @SaaSyLabs.

Follow the thread below for more on Made By Apes 🧵 pic.twitter.com/qqRrm59TzR

— Bored Ape Yacht Club (@BoredApeYC) July 24, 2023
How does the Made by Apes Network License work?
The official Yuga Labs website states that the Made by Apes license is a certification that the product/service provider owns or has licensed a legitimate BAYC or MAYC NFTs. In order to use this license, the owner of Bored Ape Yacht Club (BAYC) or Mutant Ape Yacht Club (MAYC) must first connect their digital wallet that contains this NFT and register the license.
Made By Apes application submitted! We'll hopefully have a new logo to engrave on our contact cards soon!🦾 pic.twitter.com/rzXjd19S1R

— Balou.eth (@BalouBAYC) July 25, 2023
According to the official release, there are 2 types of licenses:
Primary License – for a particular BAYC or MAYC,
Product License – needed to link NFTs to different products.
It should be noted that there are no restrictions on the number of licenses. That is, one NFT can be used by one owner in different projects and become a brand of different goods and companies.
Once a license is issued, owners may display the Made by Apes logo alongside the image of the NFT itself. But there are several conditions:
The logo must be used without any modification,
The logo cannot be placed more prominently than the BAYC or MAYC NFTs itself.
Along with this innovation, Yuga Labs' online catalog The Bodega is also launched, featuring all licensees with showcases of their businesses and products. In addition to expanding enterprise integrations, The Bodega is also a way to validate the official license by Yuga Labs.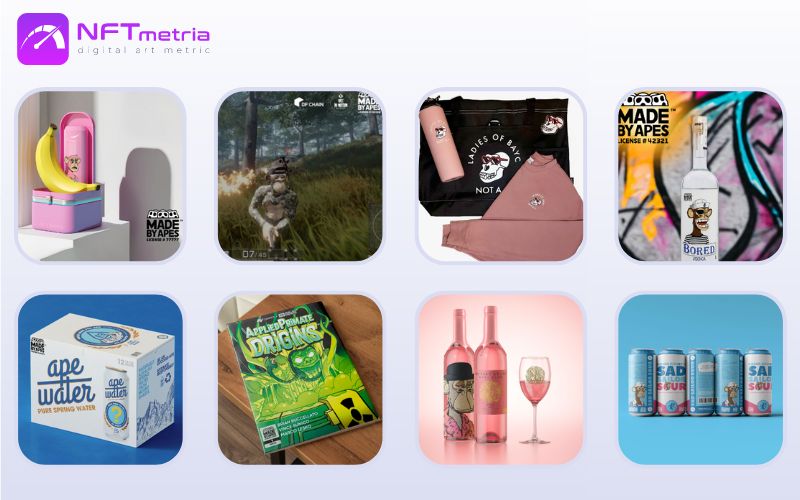 Thus, Yuga Labs has once again stepped ahead of the entire NFT market by introducing an innovative approach to the global expansion of the brand.