The world of NFT is much like the realm of traditional collecting. There are many categories of goods that are purchased mainly because of their association with a big brand, as well as their sentimental or symbolic value. Despite the potential inherent in the interaction of these two spheres and their integration with each other, we see such examples quite rarely. Adam Bomb Squad, a project of the street fashion brand The Hundreds, is an exception to the rule.
The desire of the traditional clothing brand to enter the new field of Web3 definitely caught the attention of the public. Their first NFT collection was sold out almost instantly, which later happened with their first clothing collection with images of NFT designs. Thus, the brand's successes in the digital and traditional fashion markets contribute to and enrich each other. Despite the onset of what some call the "crypto winter" period, NFT projects like Adam Bomb Squad have successfully continued to maintain investor demand and interest since their launch.
Adam Bomb Squad Official Links
What is Adam Bomb Squad?
Adam Bomb Squad (ABS) is a collection of 25,000 NFTs issued on the Ethereum blockchain in the ERC-721 token standard. They are unique procedurally generated jpeg images of The Hundreds brand mascots:
Adam Bomb,
Madame Bomb,
Badam Bomb.
The characters are depicted in a variety of styles and color palettes. Each character image and background references pieces of clothing produced by the brand over the past 20 years.
Adam Bomb Squad in numbers
ABS collection of 25k tokens went on sale on August 27, 2021 at a price of 0.1 ETH per token with discounts when buying 5 or 10 tokens.
The collection sold out in just 40 minutes.
The total volume of secondary sales exceeded 22k ETH (over $39 million at the current exchange rate).
Floor price is 0.13 ETH (about $200).
Average sales range from 0.1 ETH to 0.5 ETH.
The most expensive #23205 was sold on May 30, 2022 for 99 ETH (about $335k at the time of sale).
Total 8,360 unique holders (33%).
Only about 3% of the collection (649 pieces out of 25,000) are for sale, among them the offers range from 0.13 ETH to 5 ETH. This shows that almost all holders see the project as a great investment prospect and are not in a hurry to part with their assets at a lower price.
Data (including exchange rates) are given at the time of publication (March 17, 2023)
Adam Bomb Squad types and attributes
The collection is endowed with unique combinations of characteristics. There are a total of 855 attributes divided into 25 categories. And here are some of them:
Background name (10 types),
Body color (34 types),
Bomb type (6 types),
Character (228 types),
Colorway (150 types),
Lips color (35 types),
Outline color (35 types),
Tooth color (34 types),
Year (18 types).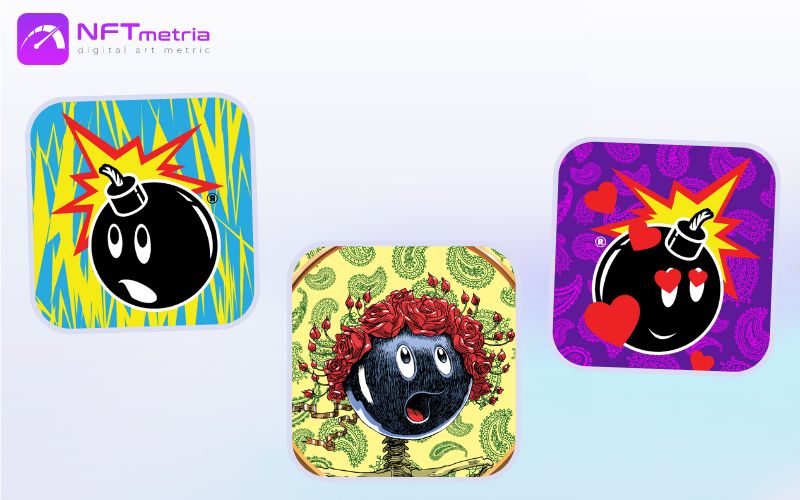 Who Created the Adam Bomb Squad?
The Adam Bomb Squad NFT collection is the brainchild of The Hundreds, one of the biggest street fashion brands in the world. It was founded 20 years ago in Los Angeles and has since become a household name in the fashion industry. Among the celebrities who have worn the brand's clothes are rapper Jay-Z, actors Jonah Hill, Dustin Hoffman and JamieFoxx. The brand collaborates with famous franchises such as Pokemon and Harry Potter.
Adam Bomb, who looks like a cartoon character like Mickey Mouse, quickly became the brand's main mascot. His "explosive" character and willingness to take risks and live on the edge resonated perfectly with young people, the target audience of The Hundreds. Adam can be found on skateboards, tattoos, billboards in Times Square, and once even appeared in a Pixar movie. As time went on, Adam Bomb's story was marked by new characters like his romantic interest, Madam Bomb, and his antagonist villain, Badam Bomb. Together, the group of characters became known as Adam Bomb Squad.
The Hundreds was founded by Bobby Kim and Ben Shenassafar (or as they call themselves, Bobby Hundreds and Ben Hundreds). Bobby Kim is the main face of both the brand and the Adam Bomb Squad NFT project. He is known in his professional field as a clothing designer, photographer, illustrator and author. He was the original creator of the brand character. His essays on fashion, Web3 and the metaverse can be found on his projects' websites.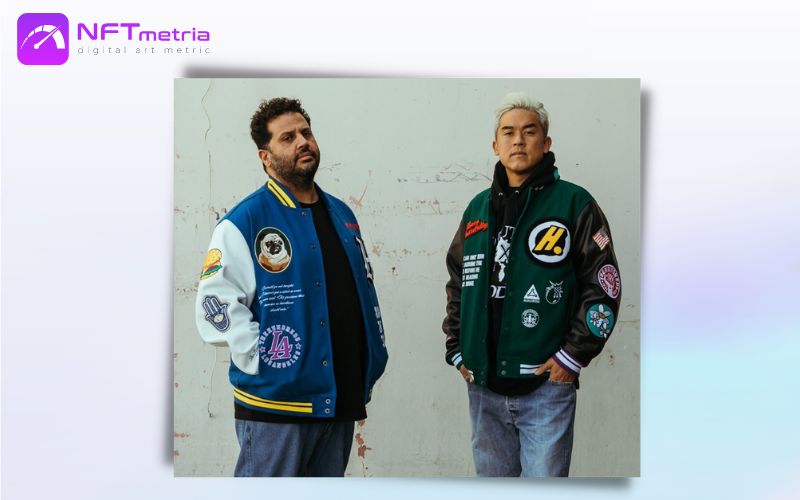 Why is Adam Bomb Squad popular?
As noted earlier, the first ABS collection was immediately noticed by investors and fans of The Hundreds and was sold out within the hour. In the run-up to the minting of Badam Bomb Squad, the brand's second NFT collection, transactions were up 550% and amount of holders was up 300%.
There are several reasons behind the success of the ABS project:
A recognizable brand that has managed to form a reputation and popularity with the target audience.
Association with a premium clothing brand that has already become a status symbol in the field of traditional fashion.
An appealing narrative that resonates with both The Hundreds' traditional audience and NFT investors.
Demonstrating a responsible attitude toward the Web3 space and advocating for the rights of artists and illustrators in this sphere.
Adam Bomb Squad Idea
Over the years, the Adam Bomb mascot has been a symbol of prestige, of belonging to the street culture and movement it represents. All along, The Hundreds have cultivated a community based not only on a love of the brand, but also on shared interests and values. Members of that community have their favorite variations of mascot bombs associated with a particular year and specific memories from their lives. And now that the lines between physical and virtual realities have begun to blur, the project has been reborn in the form of an NFT collection.
By the way, this NFT collection is closely tied to the brand's well-earned reputation and closely tied to its history. Each bomb and background image is based on clothing items released from 2003 to 2021. ABS token holders get access to exclusive merch and can be the first to purchase clothing items from the brand's new physical collections.
In November 2022, the OpenSea marketplace issued a statement saying that it was not responsible for any resale payments to the creators of NFTs. In protest, ABS cancelled the release of its second NFT collection, Badam Bomb Squad, on the platform and instead released it on its own site. Interestingly, owners of ABS tokens that contained images of the Badam Bomb mascot received tokens from the new collection as a gift. Moreover, holders of these ABS tokens receive royalties from each resale of the BBS tokens linked to them, which in an original way increases their value as an investment object. The decision to release the second wave of NFTs was made due to the fact that the target audience of the brand is used to regular releases of new fashion collections every season.
Adam Bomb Squad Roadmap
The project has published a roadmap for Q1 2023, according to which the team plans to:
Automate royalty collection from BBS token sales for ABS holders;
Develop a search interface for both collections;
Have a presence on some.place, a platform for interaction between brands, creators and their fans.
In addition, from the very beginning, ABS planned to give token holders the opportunity to buy T-shirts depicting their "bombs", as well as receive royalties from the sales of their "bombs". The Hundreds first tried this in early 2022, when they released a clothing collection with unique bombs borrowed from token designs. Token owners received payouts of at least 10 percent on each piece of clothing sold. The summer "Fruit Adam" T-shirt collection will be the fourth experiment of its kind, in which each NFT holder of this type will receive royalties on sales.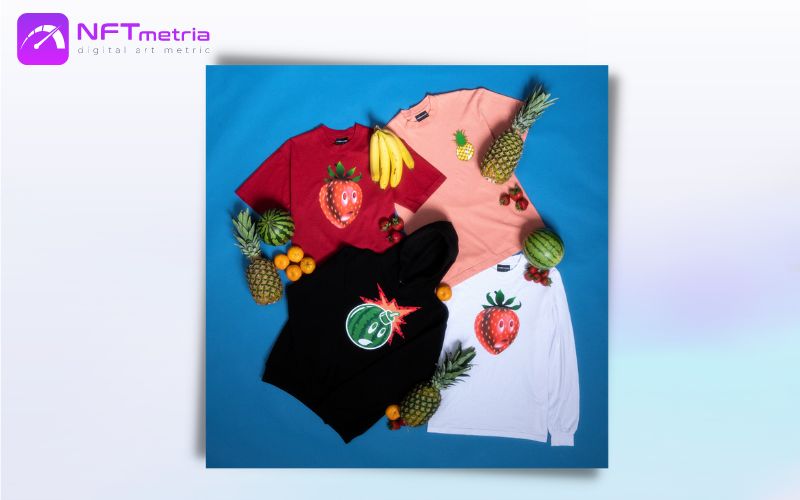 Adam Bomb Squad Ecosystem
In addition to the main NFT collection, the project ecosystem includes several companion projects. A distinctive feature of the ABS collection is that token holders receive payments when they sell clothing items with their "bombs". The ecosystem as a whole is built on the idea of interaction between fashion and Web3, that is, between physical and virtual worlds.
Badam Bomb Squad NFT collection
One year after dropping the main collection, The Hundreds released a second collection of Badam Bomb Squad NFTs in November 2022. That said, some of the tokens from the second wave are tied to tokens from the first wave in such a way that NFT owners from the first wave receive a royalty on each sale.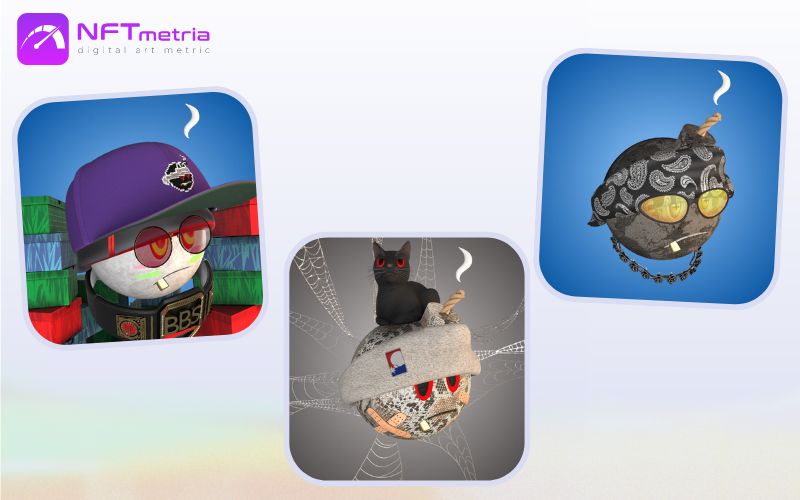 Legend has it that Badam Bomb is a villain and opponent of Adam Bomb, but his image can also be interpreted as an anti-hero who is undeservedly rejected and misunderstood by society. The collection consists of 5,000 tokens, of which 500 were reserved and did not go on general sale, and another 1,113 tokens were donated to the owners of ABS tokens with the image of Badam, from 1 to 5 tokens (depending on the type of NFT).
Broken Backgrounds NFT Collection
Broken Backgrounds is another, smaller NFT collection that was created in part as a joke for the community. When first dropped on OpenSea, some of the NFTs were not displaying as a result of a graphical glitch. The problem was fixed, and the holders of these tokens received NFTs made in glitch aesthetics as an excuse for the inconvenience.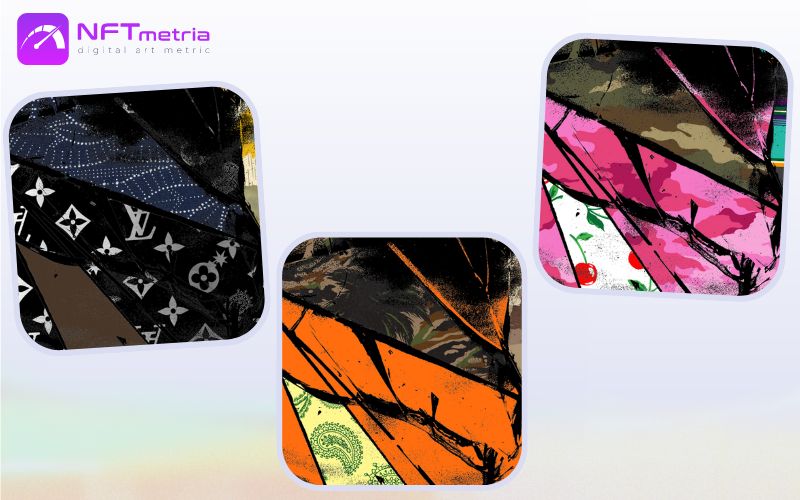 Digital clothing collection for the Decentraland metaverse
In addition, The Hundreds have released a collection of digital clothing for the Decentraland metaverse. The digital clothing items, like their physical counterparts, contain images of their mascots. Although this project is not a priority for the ABS team at the moment, ideologically it reflects the future of fashion in the Web3 era. Users are able to buy a unique branded T-shirt or hoodie, "wear" their avatar and communicate with people in virtual reality.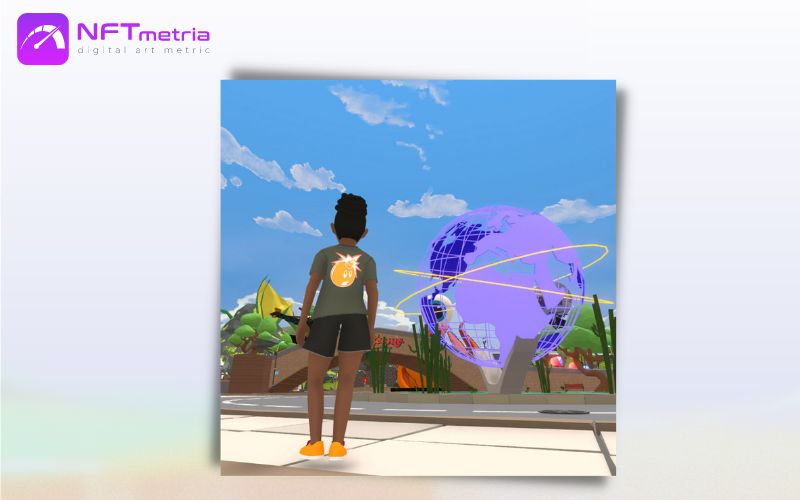 How much do Adam Bomb Squad NFTs cost?
The Adam Bomb Squad collection was released on August 27, 2021 at a minting price of 0.01 ETH. That same month the collection began trading on the secondary markets, where there was great demand for it. And how are things now?
To visualize the price dynamics, we made a slice of the average price for 1 NFT:
In October 2021: 0.2 ETH;
In February 2022: 0.9 ETH;
In June 2022: 0.5 ETH;
In October 2022: 0.3 ETH;
In February 2023: 0.17 ETH.
At the moment (March 17, 2023) the floor price is 0.13 ETH. On average, the latest sales range from 0.1 to 0.5 ETH. And the total volume of secondary sales amounted to more than 22k ETH (about $39 million).
The Most Expensive Sales of Adam Bomb Squad
The most expensive sales are led by the following NFTs from the Adam Bomb Squad collection:
#23205 was sold on May 30, 2022 for 99 ETH (about $335k at the time of sale),
#16187 was sold on December 24, 2022 for 35 ETH (about $43k at the time of sale),
#23069 was sold on September 2, 2021 for 15 ETH (about $57k at the time of sale),
#10675 was sold on October 11, 2022 for 15 ETH (about $19k at the time of sale).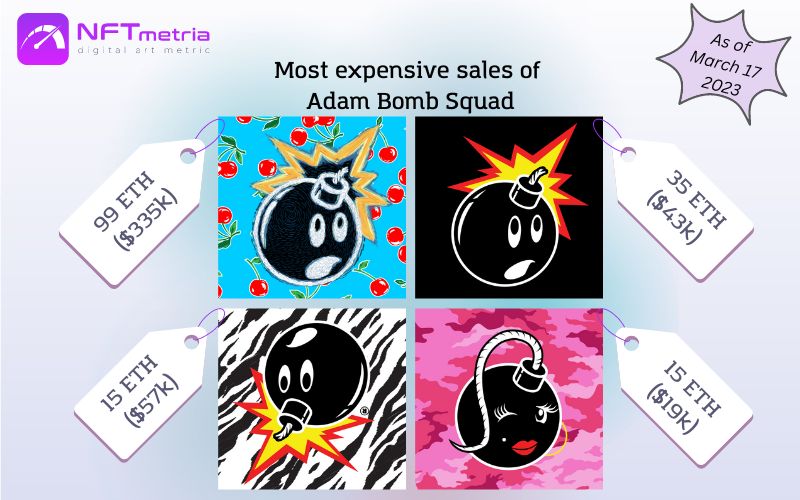 Where to buy Adam Bomb Squad?
Currently, Adam Bomb Squad is only available on the secondary market, on marketplaces such as OpenSea, X2Y2 and LooksRare.
How to buy Adam Bomb Squad?
Remember that initially you need to connect your crypto wallet with self-storage to the marketplace of your choice.
Next, find the official collection using the search bar on the marketplace.
Analyze and choose the NFT you want to buy; click on it and then on the "Buy" button.
Or you can bet on the token you like. Make sure you leave enough ETH for gas or transaction fees. If the seller approves your bid, the deal goes through.
Should you invest in Adam Bomb Squad?
ABS is attractive as an investment asset for several reasons:
There has been no noticeable growth in the value of ABS tokens in recent months, but demand remains stable.
The minimum entry threshold is higher than the initial cost of NFTs and has increased from 0.1 ETH to 0.14 ETH. The average price of an NFT from the collection is $355.
Relationship to a famous brand.
Future drops of both digital and physical collections ensure that they are not in danger of sudden depreciation and complete loss of interest from the Internet community.
In any case, do your own in-depth analysis and research when investing in NFTs, and then make your own decision.
Opinion of NFTmetria
Adam Bomb Squad stands out among other NFT projects both through its association with the world of street fashion and youth culture, and through practical innovations, such as unique royalty systems for token holders. NFTs in the digital age are known to be similar to traditional collectibles, from artwork to Nike sneakers, but Adam Bomb Squad actively brings the two worlds together, which definitely makes it an interesting and unique project.