On December 20, 2021, aliens landed on our planet via the Ethereum blockchain. Who do you think they were? Our Earth was visited by a collection of Alien Frens, cartoon-style avatar tokens that came straight from the planet Fren. They didn't scare anyone, but rather caused a commotion and a real furore on the NFT market. As of October 2022, Alien Frens' floor price was already 1.7 ETH (even though the price of a mint was 0.02 ETH)!
Even the famous NFT collector and Influencer Gary Vee got interested in the project and bought one of the rarest tokens of the collection for about $31,000, as well as 40 more digital aliens. And cryptoworld legend Andrew Wang set a collection token specially created for him as profile picture of his Twitter-account.
However, Alien Frens is not a hype story. The project has an ambitious roadmap, powerful creative potential, and a close-knit, friendly community. Thus, in general, it has all necessary things for becoming an attractive project for investment. But first things first.
Alien Frens Official Links
What is Alien Frens?
Alien Frens is a community-driven project based on the Ethereum blockchain. It was created by 2D/3D artist Mason Crowe with the help of Web3 studio Metaseed Labs. The collection includes 10,000 randomly generated ERC-721 tokens. Human and alien features are intricately intertwined in these digital assets. There's a lot to see here, like characters with three pairs of eyes, cowboy hats, heads placed in a cube… even zombies!
Alien Frens in numbers
A collection of 10,000 tokens was released on December 20, 2021.
The minting price was 0.02 ETH.
The total volume of secondary sales exceeded 30k ETH (more than $50 million at the current exchange rate).
Floor price is 0.23 ETH (about $400).
Average sales range from 0.2 ETH to 0.4 ETH.
The most expensive #668 was sold on April 10, 2022 for 51 ETH (about $163k at the time of sale).
Total 6,209 unique holders (62%). This shows the low chances of whales interconnection within the project. Thus, the risk of artificial project management from the inside is minimal.
Only about 4% of the collection (364 pieces out of 10,000) are for sale, among them the offers range from 0.23 ETH to 27 ETH. This shows that almost all holders see the project as a great investment prospect and are not in a hurry to part with their assets at a lower price.
Data (including exchange rates) are given at the time of publication (March 16, 2023)
Alien Frens types and attributes
The collection is endowed with unique combinations of characteristics. The rarity of Alien Frens is ranked as follows:
1 of 1 (6 types),
Background (13 types),
Body (8 types),
Clothes (74 types),
Eyes (19 types),
Hats (61 species),
Mouth (19 types).
Tokens are also divided into 4 rarity fractions that have different colors:
XENOS (4,000 tokens),
FEMI (3,000 tokens),
LOCHIAS (2,000 tokens),
OLU (1,000 tokens).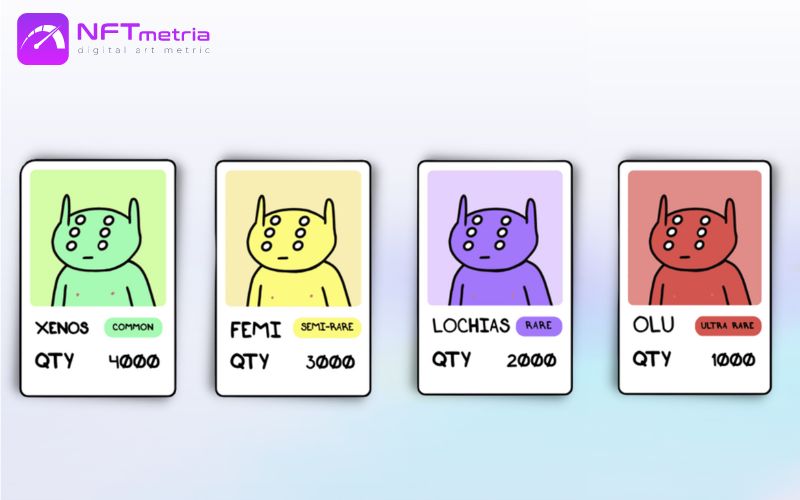 The degree of rarity of the tokens determines the number of perks that will be available to users who own them. The prizes can be anything from Cool Cats NFTs to cryptocurrency gifts. In addition to the fact that NFTs from rare factions are worth more on the open market, their owners can get rewards during special invasion events which happen quite regularly.
INVASION INFO

PLANET COOL CAT

When? – Jan 15th 1PM PST
Where? https://t.co/TMPN5n83DP
What? 14 prizes

1 OLU – 1 Cool Cat
4 Lochias – 1 little Lemon friend
4 Femi – Kumo world
5 Xenos – Oculus Quest 2

This invasions bonus will go to OLU and will receive 1 Cryptomorie (: pic.twitter.com/eXEuhI9dMe

— alien frens (@alienfrens) January 11, 2022
Who founded Alien Frens?
The team behind the Alien Frens project includes 6 professionals whose talents complement each other:
Mason Crowe @_masoncrowe. 2D/3D artist and filmmaker from Ohio, now living in California. He is the founder of the Alien Frens project and the author of the idea, as well as a big fan of alien creatures. Before entering the world of NFT, he worked on music videos, films and commercials.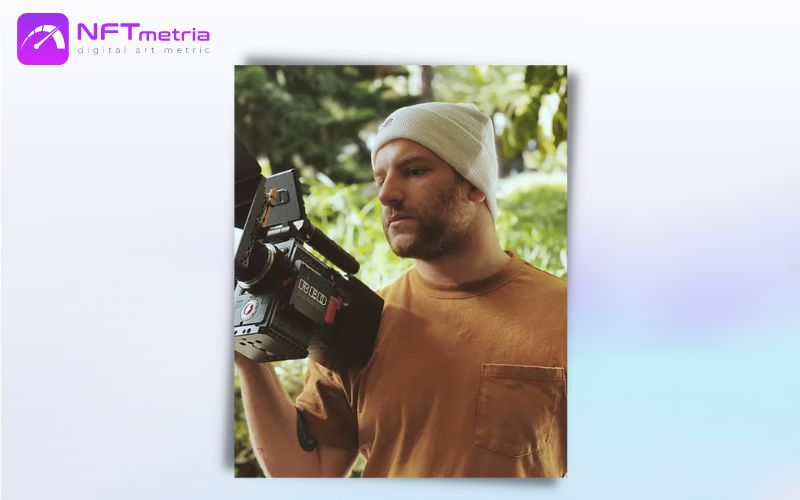 All members of the Alien Frens team are active on social media and participate in the life of the official Discord channel of the project.
Why are Alien Frens popular?
The Alien Frens project has caused a great stir in the NFT world. It is still widely supported by crypto enthusiasts, and for good reason:
Tokens give their holders access to a large community of like-minded people, gifts, IRL events (the team holds up to 3-4 live events a year), merch, and whitelisting for future giveaways. Holders have been known to be  whitelisted to participate in projects such as Quirkies, Cool Pets, 3Landers and others.
Frens, we're getting quirky! 🖖💚

We're teaming up with @quirkiesnft to give out 200 whitelist spots for their upcoming Quirklings collection!
To join visit our invasion website to join the raffle! Visit our discord for more info 🙂https://t.co/EtpqXglbiU pic.twitter.com/9hHQhbP52z

— alien frens (@alienfrens) May 11, 2022
Owners have exclusive access to the Discord community channel, which means they can directly participate in the life of the project and the first to know about all the news related to it.
Tokens allow you to earn special FREN coins which can then be spent in the Alien Frens store.
The team uses an unspoken follow-for-follow approach on Twitter. If you follow the Fren PFP on Twitter, you can get an extra 200 followers.
Support of the project by famous figures of the crypto world (for example, Gary Vee) gives it a status and raises it in the eyes of NFT collectors.
It's a nice project by nice people with a nice community and pricey but not insane like many others .. it's been fun to watch and cheer for it 💜 https://t.co/5lnlAIZop0

— Gary Vaynerchuk (@garyvee) January 1, 2022
Influential supporters of Alien Frens include such personalities as:
Alien Frens Idea
The Alien Frens project has no officially declared idea. However, it is known that Mason Crowe's goal was to create one of the most famous and influential communities in the metaverse. Given the result we see now, that goal has been achieved. Perhaps on top of that, the creators also wanted to break one of the stereotypes of modern pop culture. Usually, aliens are shown as not too friendly creatures. Alien Frens, on the other hand, are quite funny and harmless.
Alien Frens Roadmap
The project team says it is abandoning any quarterly roadmaps and replacing them with missions. These missions are posted on the project's official website, where it will be possible to track their progress in percentage. According to the project's creators, this approach allows for a more targeted investment in community development, based on market realities and the current preferences of token holders.
So far, the completed missions of the project include:
Participation in the Art Basel fair in Miami (held on December 1, 2022).
FRENS MIAMI 🏝🖖
Thursday December 1st
6pm-12am
Let's start the week of Art Basel off right! We can't wait to see you.
If you plan on attending the event please fill out this form💚 https://t.co/zmldXXzbvn pic.twitter.com/Kv86jqINWu

— alien frens (@alienfrens) November 17, 2022
A special merch drop in honor of Black Friday (November 25, 2022). Merch could be purchased with U.S. dollars. Discount cards were also valid.
It's happening..
ALIEN FRENS BLACK FRIDAY/ CHRISTMAS DROP 🖖

November 25th

Time – 10am Pst

Items will be available on https://t.co/rwhkzctP6W in USD, with global shipping options.

Discount cards will be available in the Fren coin marketplace. 💚 pic.twitter.com/jHgUfJiIj2

— alien frens (@alienfrens) November 20, 2022
Opening up the possibility for owners to earn coins on their own. Changing the formula for earning Fren Coin, which allowed OG Frens to generate Fren Coin. The AFE and UFO derivative collections were not affected by this change.
Participation in the NFT London event.
Issue 1 of Comic Book featuring characters from Alien Frens. A digital copy is available as a pdf on the official website, and a physical copy of the book will be available to token holders at a future date.
Launch of their own marketplace, where you can buy some cool stuff for Fren Coins and plunge into the world of exciting adventures.
Alien Frens events scheduled or in progress:
Investment of 200k to entrepreneurs who have created businesses based on Frens and use IP rights to promote their brands. It is also planned to place all IP partners with whom the cooperation relationship will be developed on the official marketplace of the project.
Use your IP rights Frens 🖖 we want to see all those fren run businesses 💚

— alien frens (@alienfrens) August 3, 2022
Alien Frens Photography. The team is investing in the NFT photography space and working to develop a platform that would support photographers from their community and help expand token holders' portfolios.
Micro Meetups Schedule. It means making a schedule of meetings of community members in real life to communicate and have fun together.
NYC micro meetup making irl frens 💚 pic.twitter.com/ndD6LGDDfB

— alien frens (@alienfrens) March 4, 2023
Next Incubator Burn. Incubator token burning for a utility that the team has not yet announced.
The release of Fren Song, the product of the creative endeavors of Murda On The Beat @murdabeatz, a successful Grammy Award-winning producer.
Launch of branded vinyl figurines.
Fren Slam Bonus. That's the Fren Coin multiplier.
Oh and one last thing… fren slam multiplier confirmed. Coming soon 💚🖖

A fren coin multiplier for when you get a fren slam. (1 of each of the 4 factions)

— alien frens (@alienfrens) December 29, 2022
Camp Fren. This milestone, listed in the "Missions" section of the official website, the team has not yet commented.
Collaboration with Liquid Death N' Murder Heads Club.
Alien Frens Ecosystem
The Alien Frens ecosystem includes several derivative collections:
Full Send X Alien Frens
The Full Send X Alien Frens collection appeared in February 2022 as a gift to NFT enthusiasts through a collaboration between Full Send Metacard Project @metacard and Alien Frens. The Full Send brand was founded by the Nelk Boys group @nelkboys. This group has millions of YouTube subscribers and their president John Shahidi @john is a very influential person in the crypto space. The new tokens were owned by 500 people from one community and 500 people from the other one. Trading volume exceeded 1k ETH, and floor price is 0.62 ETH.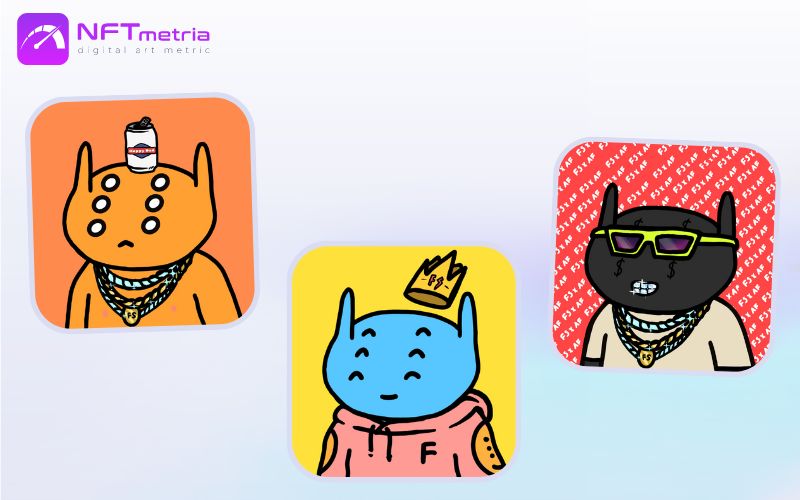 Alien French Evolution
In April 2022, every OG token holder could purchase a so-called incubator. After burning the incubator, a token from the new Alien Frens Evolution collection was obtained. To date, there are about 12.2k tokens, the secondary trading volume has exceeded 2.6k ETH, and the floor price is 0.052 ETH.
To clear up confusion.

If you purchase an incubator, you will be able to burn that to receive an Alien Frens Evolution. You will be able to burn the incubator on the 15th to receive your new AFE fren 💚🖖🏼

Collection here – https://t.co/LcD9Jx160W pic.twitter.com/kJPEjn9LLA

— alien frens (@alienfrens) April 13, 2022
Alien Frens UFO
In June 2022, original token holders could create their own UFOs for their Frens. UFOs allowed users to participate in covert invasions and earn even more Fren Coins. Secondary trading volume exceeded 92 ETH, and the floor price is 0.002 ETH.
UFO MINT IS LIVE https://t.co/CoyZe8Q9qG

go customize your free UFO now 💚🖖 pic.twitter.com/rDIuGLdAus

— alien frens (@alienfrens) June 19, 2022
How much do Alien Frens cost?
The Alien Frens collection was released on December 20, 2021 at a minting price of 0.02 ETH. That same month the collection began trading on the secondary markets, where there was great demand for it. And how are things now?
To visualize the price dynamics, we made a slice of the average price for 1 NFT:
In February 2022: 2 ETH;
In June 2022: 0.7 ETH;
In October 2022: 0.5 ETH;
In February 2023: 0.3 ETH.
At the moment (March 16, 2023) the floor price is 0.23 ETH. On average, the latest sales range from 0.2 to 0.4 ETH. And the total volume of secondary sales amounted to more than 30k ETH (about $50 million).
The Most Expensive Sales of Alien Frens
The most expensive sales are led by the following NFTs from the Alien Frens collection:
#668 was sold on April 10, 2022 for 51 ETH (about $163k at the time of sale),
#7603 was sold on February 17, 2022 for 42 ETH (about $121k at the time of sale),
#4103 was sold on February 17, 2022 for 40.69 ETH (about $130k at the time of sale),
#125 was sold on January 10, 2022 for 28 ETH (about $88k at the time of sale).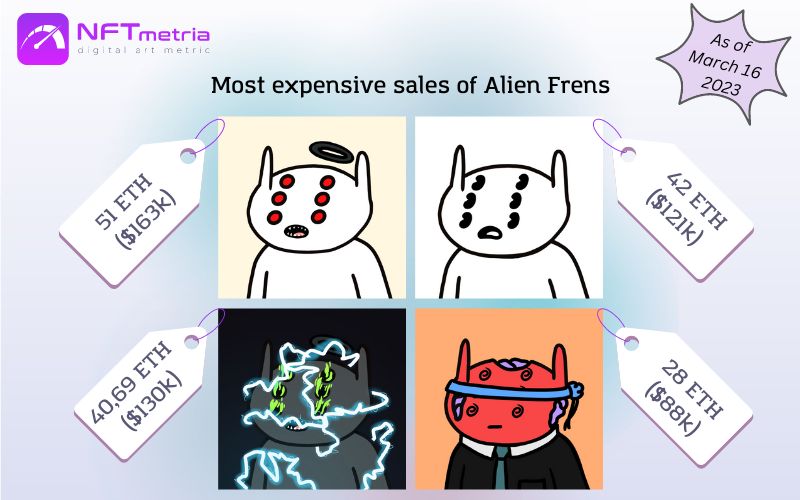 Where to buy Alien Frens?
Alien Frens are currently only available on the secondary market, on marketplaces such as OpenSea, X2Y2 and LooksRare.
How to buy Alien Frens?
Remember that initially you need to connect your crypto wallet with self-storage to the marketplace of your choice.
Next, find the official collection using the search bar on the marketplace.
Analyze and choose the NFT you want to buy; click on it and then on the "Buy" button.
Or you can bet on the token you like. Make sure you leave enough ETH for gas or transaction fees. If the seller approves your bid, the deal goes through.
Should you invest in Alien Frens?
A potential investor should take a close look at the Alien Frens NFT project and here's why:
The project has strong support from influential people in the NFT space, such as Gary Vee and John Shahidi, which speaks of its promising future.
Token holders get exclusive access to drops, merch and various IRL events.
Opportunity to grow your Alien Frens brand business with investments and all kinds of support from the community project.
Derived collections allow you to take advantage of a vast ecosystem.
Chance to be included in the whitelists of other top projects.
Opportunity to earn native $FREN Coin.
In any case, do your own in-depth analysis and research when investing in NFTs, and then make your own decision.
Opinion of NFTmetria
Alien Frens is a unique phenomenon in the NFT world. The project was able to attract fans of digital art from all over the world, from artists and developers to investors and crypto enthusiasts. This is one of the key advantages of the collection.
Another aspect of the Alien Frens project is the inventive use of modern technology. The authors were able to rely on the versatility of the blockchain to create a truly unique and valuable experience for their users. They have developed a whole digital world populated by funny alien creatures whose lives are full of adventures. The creators do not forget about drops, IRL events and support of businesses related to the brand. All this creates an atmosphere of reliability and promise around the project, attracting the attention of the general public.