You must love exciting stories with creative characters fighting evil and destroying all the plans of the enemies. This is exactly the kind of stories the founder of Quirkies, known as Syntribos (by the way, Syntribos means "destroyer" in Ancient Greek), was fond of. As a kid he spent a lot of time playing online games based on mythological stories, and then he created an amazing NFT collection based on his childhood fantasies.
Quirkies NFT project was launched on February 22, 2022, and immediately drew attention in the Web 3.0 space. In April, when the market was in a bearish trend, the average collection price reached a record 3.6 ETH.
At the time of writing, the total volume of Quirkies reached 19k ETH, and the floor price was at 0.6889 ETH. Considering that the value of minting in February 2022 was 0.005 ETH, selling these NFTs today is a pretty nice deal, given the current floor price. And on April 20, The Great Migration of Quirkies, Quirklings, and Comics to new smart contracts in airdrop format took place. As for now, the base collection is called Quirkies Originals – OLD. It seems to be a whole revolution and new horizons for the whole project.
What made the Quirkies NFT project a hit, and how is it going to conquer the Web3 universe? Let's discuss it in today's review.
Quirkies Originals Official Links
What is Quirkies Originals?
Quirkies Originals are 5,000 PFP category NFTs minted in the Ethereum blockchain ecosystem on February 22, 2022. Each Quirkie is a unique character NFT, the second self of its owner, its companion and guide to the metaverse. Endowed with hundreds of trait variations, Quirkies tokens are essentially digital expressions of their owners' identities.
According to the legend of the project, these bizarre creatures are capable of traveling through time, space and different dimensions. By nature, they are all leaders, innovators, and creators. The presence of all the characters' antennae (a signature feature of Quirkies) reveals them to be alien beings that are always attuned to contact and ready for mutual understanding, friendship and love.
Benefits of NFTs:
They can be used as an alternative form of currency;
They have enhanced security features against theft or fraud (cannot be duplicated);
These NFTs are endowed with hundreds of features so that each owner can find the ones that suit them best;
They give collectors a sense of close connection with their digital version;
There is no limit to the number of traits that can be selected.
Quirkies aren't just a community, we are a movement…#quirkiesoriginals pic.twitter.com/rOrkpoo9tJ

— Quirkies (@quirkiesnft) February 24, 2022
Quirkies Originals in numbers
A collection of 5,000 NFTs was minted on February 22, 2022.
The cost of minting was 0.005 ETH.
In April 2022, the average price of the collection reached a record 3.6 ETH.
The total volume of secondary sales exceeded 19k ETH (over $35M at the current exchange rate).
Floor price is 0.72 ETH, which is 144 times more than the minting price.
Average sales range from 0.6 ETH to 0.9 ETH.
#1799 sold on April 7, 2022 for 55 ETH (over $174k at the time of sale).
A total of 1,900 unique holders (38%).
Only about 2% of the collection (88 pieces out of 5,000) are for sale, among them the offers range from 0.72 ETH to 4.4 ETH. This shows that almost all holders see the NFT project as a great investment prospect and are not in a hurry to part with their assets at a lower price.
Data (including exchange rates) are given at the time of publication (April 24, 2023)
Quirkies Originals types and attributes
Signs of Quirkies Originals:
Antenna (41). Of these, 12 attributes are unique.
Backgrounds (22). Of these, 4 attributes are unique.
Body (103). Of these, 32 attributes are one unique.
Faces (106). Of these, 33 attributes are unique.
Hats (92). Of these, 21 attributes are unique.
Heads (49). Of these, 26 attributes are unique.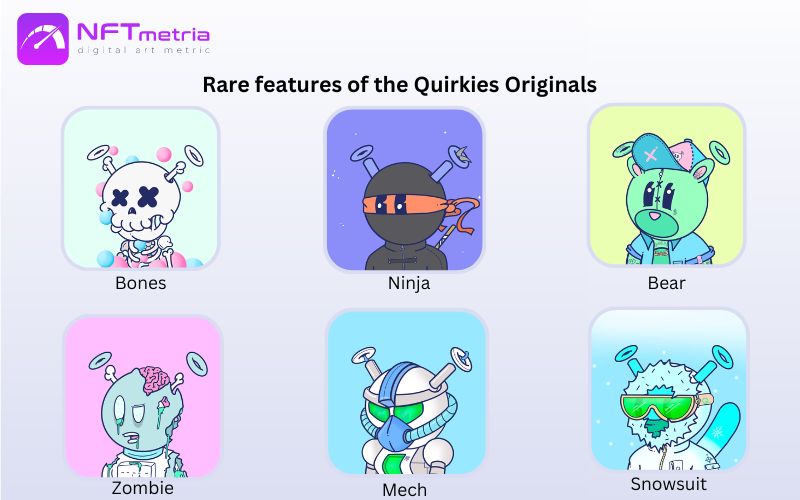 Analyzing the atributes and their rarity, we can conclude that the rarest and most valuable are the characters in the style of zombies, ninjas, apes, and skeletons.
Who founded Quirkies Originals?
The Quirkies NFT team is based in Australia and prefers to go public under pseudonyms. It includes:
Syntribos (Syn) @SyntribosStable, concept creator and founder of the project. According to him, he spent 10 years in research of possibilities of global financial markets and cryptocurrency industry and was one of the first investors of several big NFT projects, including such "blue chips" as BAYC and Cool Cats.
Finch O.N.E. @Finch_O_N_E, an artist whom Syn considers a "creative genius."
Developers Soulest, Space Invader and Quacamole;
Marketers;
Moderators;
Quirksville Help Desk.
Why is the Quirkies Originals popular?
Among the many reasons for the popularity of this collection, we'll highlight the most important ones:
The collection inspired iconic American musician and rap artist Brandyn Burnette to write 12 hit soundtracks.
Community membership opens up access to exclusive online events (cyber tournaments), level rewards, and real meetings.
Motivating system of privileges of 4 levels:
Alpha (for holders of Quirkie/Quirkling NFT pairs with matching IDs),
Omega (for holders of any OG Quirkie and Quirkling set),
Gamma (for OG Quirkie holders),
Delta (for Quirkling holders). The higher the level of the collector, the more global their possibilities.
Creative ways of gamification. Quirkmasters will allow many interesting card collecting techniques and burning mechanisms that help increase the value of less sought after or rare traits.
While the team is developing its own universe, work is underway to incorporate characters into already established metaverses. In October 2022, a partnership between Quirkies and the Helix Metaverse was concluded, due to which in-game assets such as digital wearables will be available to Quirkies collectors.
We are excited to announce we have officially partnered with @HELIX_Metaverse!

In partnership with Helix we will be gifting holders in game items dependent on your Quirksville holder tier including a cross partnership special item…

Tiers matter.

Quirk Quirk. pic.twitter.com/UULZ8EWGQe

— Quirkies (@quirkiesnft) October 20, 2022
The opportunity to buy comics, toys, sportswear, skateboards; in addition, with the launch of a full-fledged streetwear brand, the NFT project team promises a number of amazing "IP surprises".
Friendly community. There is no disagreement here, as there are no divisions into ranks, races, or age categories. There is no gender discrimination as in much of the NFT space, where the leading roles are played by men. One of the videos is dedicated to the "amazing, talented and inspiring women" who have joined the community.
The Quirkies community is filled with some of the most amazing, talented and inspiring women.

Surfs up ladies!! 🤙#quirkiesoriginals #quirkies pic.twitter.com/cyyDKf3wB3

— Quirkies (@quirkiesnft) March 22, 2022
 Quirkies Originals Idea
To understand the authors' attitude to their NFT project, it is best to know their opinion:
We are an art-based project with a focus on community and culture. We are inspired by our founders love of the surf/skate culture and look to implement this throughout our brand. We are above all else entirely inclusive and will always celebrate our own and everyone else's quirks. Team vision for the project concept
The founders expressed their vision and mission in more detail in a short video called Quirkies Vision:
Quirkies Originals Roadmap
The NFT project has an elaborate roadmap consisting of several blocks, which are already in the progress:
Development of Quirkies Originals,
Entertainment productions,
Quirks culture,
Quirk e sports,
In addition, the following is expected in the future: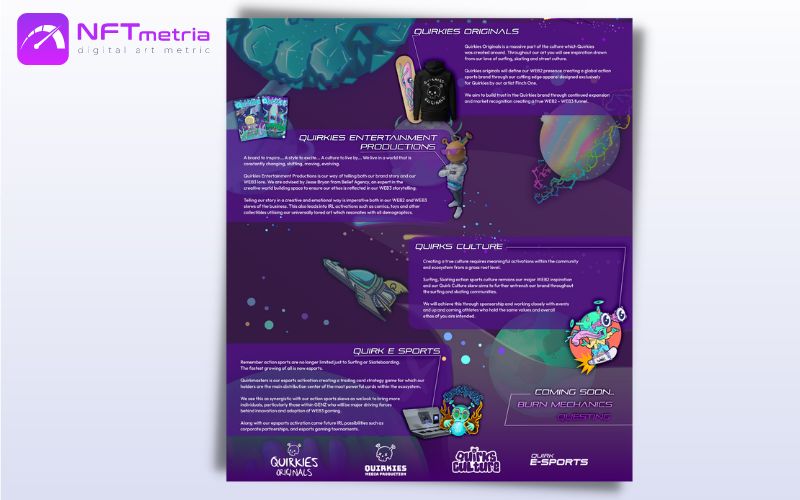 Quirkies Originals Ecosystem
According to the team, the project will be constantly expanding, giving NFT owners exclusive access to the latest products and events.
Quirklings
Among the products already created is Quirklings. This is the project's second collection of 10,000 NFT characters. According to lore, they are allies of the Quirkies in the fight against evil in their home metaverse of Quirksville.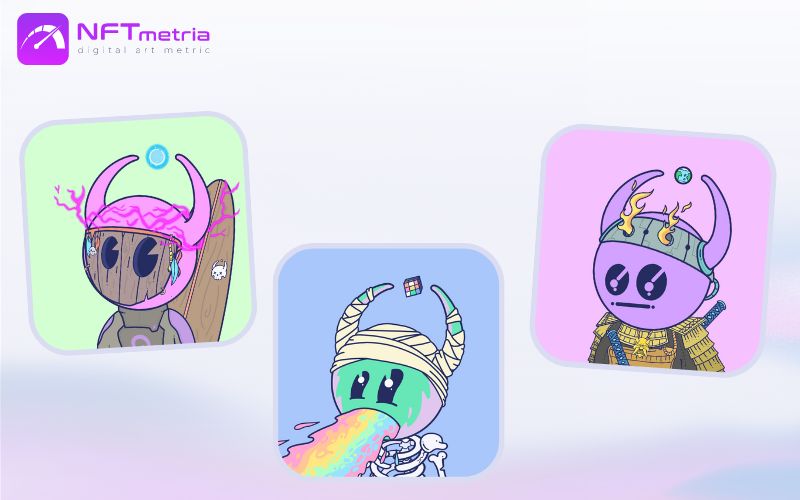 The minting was set for June 3, 2022. Each Quirkie owner had 60 days to claim ownership of one Quirkling. The remaining 5,000 Quirklings were put up for sale to expand the community. Total volume of Quirklings is more than 3.6k ETH, the floor price is 0.0928 ETH, number of owners is 2,740.
Quirkmasters
The next Quirkmasters product is in development.
What an exciting day, bringing QUIRKMASTERS to Quirksville.

A way to reward holders, introduce and onboard new users and create the foundation for continued growth.

Below we outline some of the major reasons to incorporate cards into our ecosystem. pic.twitter.com/mDxrmzg8BH

— Quirkies (@quirkiesnft) December 1, 2022
This is the name of the collectible cards and future game for the Quirksville Universe, which will allow the community to enter the cybersport sector. Quirkmasters cards, initially on ETH blockchain, will be available for purchase/sale on exchanges, OpenSea and other marketplaces.
Unlike traditional IRL card games, Quirkie and Quirkling holders will not need to purchase boosters or expansion packs. Currently, you can apply for two cards for one Quirkie or Quirkling at official website.
How much do Quirkies Originals cost?
The public minting of the collection of 5,000 NFTs took place on February 22, 2022. The minting price was at 0.005 ETH. At the same time, the collection began to be traded on secondary markets, showing a strong positive trend from the very first days. The average selling price was as follows:
In March 2022: 1.4 ETH;
In June 2022: 1.3 ETH;
In October 2022: 1 ETH;
In February 2023: 1 ETH.
At the moment, on April 24, 2023, the floor price is 0.72 ETH, which is 144 times more than the minting price. On average, the latest sales are range from 0.6 to 0.9 ETH. And the total volume of secondary sales amounted to more than 19k ETH (more than $35 million at the moment).
The Most Expensive Sales of Quirkies Originals
The most expensive sales are led by the following NFTs from the Quirkies Originals collection:
#1799 sold on April 7, 2022 for 55 ETH (over $174k at the time of sale);
#364 sold on April 6, 2022 for 50 ETH (over $158k at the time of sale);
#2243 sold on March 29, 2022 for 25 ETH (over $85k at the time of sale);
#4604 sold on April 1, 2022 for 23 ETH (over $79k at the time of sale).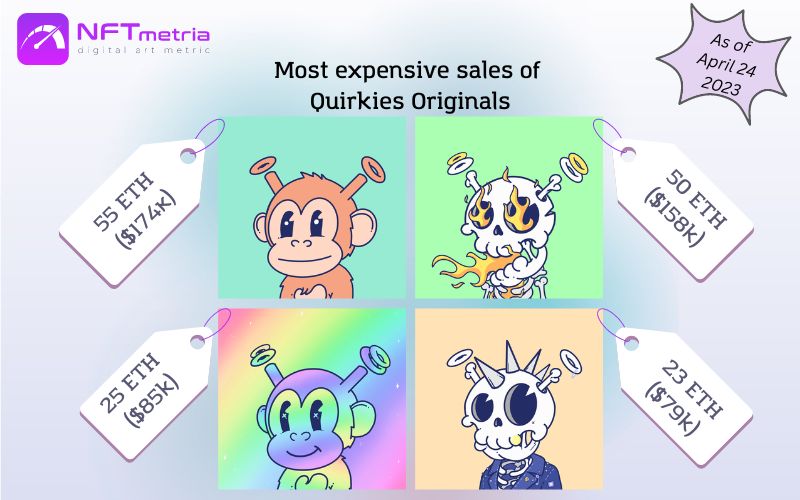 Where to buy Quirkies Originals?
Currently, Quirkies Originals can only be purchased on the secondary market, on marketplaces such as:
How to buy Quirkies Originals?
Remember that initially you need to connect your crypto wallet with self-storage to the marketplace of your choice.
Next, find the official collection using the search bar on the marketplace.
Analyze and choose the NFT you want to buy; click on it and then on the "Buy" button.
Or you can bet on the NFT you like. Make sure you leave enough ETH for gas or transaction fees. If the seller approves your bid, the deal goes through.
Should you invest in Quirkies Originals?
Potential investors in this NFT project should look first and foremost to its partners on the Quirkies advisory board:
Steve Brudzewski. Founder, manager and president of Global Sales, whose key clients include Adidas, Riot Games, Warner Brosers, Bored Ape Yacht Club and Budweiser. Steve is committed to product innovation, helping corporations move from Web2 to Web3.
Frank Rotman. Founding Partner and Chief Investment Officer at QED Investors. QED has successfully invested in 200+ organizations and now has over $4.8 billion under management. Frank Rotman was also behind the creation of U.S. financial services giant Capital One.
Jesse Bryan. Founding Partner and CEO of Belief Agency. Jesse has worked with brands such as Microsoft, Amazon, and Starbucks. He is one of the most respected persons in Web3 technology. The founders of Quirksville believe that with Jesse Bryan's help, they can successfully engage with a global audience.
Anna Rosenthal. Anna is at the helm of the Brand Experience and Digital Innovation team at BBH London. She has worked as Business Lead for high profile organizations such as Amazon, McDonald's, Google, Unilever, Audi. Anna Rosenthal is an advertising business veteran with a good understanding of market needs and an excellent understanding of Web2 and Web3 technologies.
One cannot but agree that each of the listed persons adds value to the project ecosystem. In addition, future NFT investors should consider the following points:
An active community of many thousands that regularly hosts Twitter Spaces and is growing at a rapid pace.
A trustworthy NFT project team that does not make empty promises, but has shown itself in action, as can be seen in a whole series of really cool videos:
Its not a phase mom, its a Quirkstyle!!#quirkies #quirkiesoriginals pic.twitter.com/K9iB1gSS1u

— Quirkies (@quirkiesnft) March 15, 2022
The Quirkies community is filled with some of the most amazing, talented and inspiring women.

Surfs up ladies!! 🤙#quirkiesoriginals #quirkies pic.twitter.com/cyyDKf3wB3

— Quirkies (@quirkiesnft) March 22, 2022
The professionalism of the team leader, who has 10 years of experience in the financial sector and is confident in his abilities. This is evidenced by his interview with Ascend Agency, during which he said:
Dealing with volatile markets is not new territory, since assisting businesses in surviving tough markets is where I have had so much success. Prospering in a bull market is easy, but surviving a bear is not so much. Professional opinion of the founder of the project Syntribos on the state of market 
An investment in the Quirkies NFT project gives you access to an expanding ecosystem and a global brand to be developed in IRL, Web2 and Web3, which promises endless possibilities, from corporate IP partnerships to land acquisition in the Quirksville metaverse.
In any case, do your own in-depth analysis and research when investing in NFTs, and then make your own decision.
Opinion of NFTmetria
Quirkies is one of the few NFT projects proclaiming the inclusivity of everyone in the world. It is designed for collectors who wish to have a closer connection to their NFTs. "You are intended" is the guiding principle that community members unconditionally follow, accepting and welcoming each other's quirks.
The team focused on a cohesive community and action sports culture diligently builds bridges between IRL, Web2 and Web3. Striving to become a leading cultural brand, the art project tackles everything from producing streetwear inspired by skateboarding and surfing to gaining experience in the metaverse.